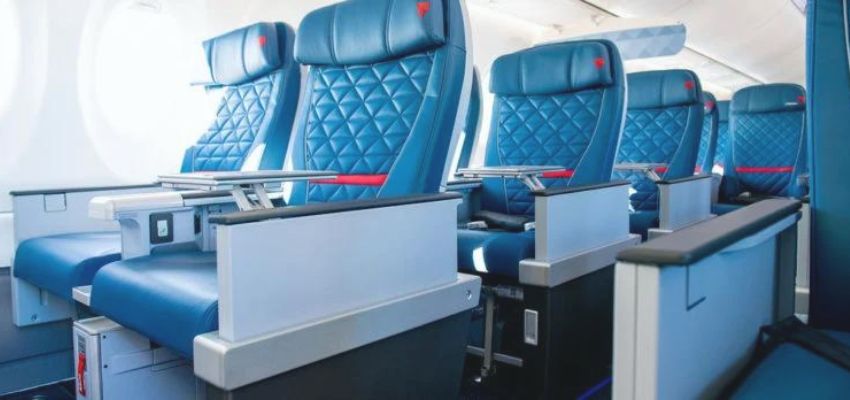 The days of getting on Delta upgrade list by dressing nicely are all tricks of the past. Unlike, other airlines, Delta has strict guidelines that assure that the upgrades are allocated to the elite members or requested before the scheduled departure.
Delta Airlines upgrade rules are complex, but the airlines takes it a step further by adding a layer of discretion to the process.
The airline neither discloses upgrade availability nor gives third parties access to it. If an upgrade is offered, you may pay cash or utilize miles during the booking process or for an existing reservation.
Knowledge is power when it comes to getting on the coveted upgrade list, and knowing how the process will give you an edge every time when you request the upgrade.
Our article discusses the many upgrade options offered by Delta, the upgrading procedure, the benefits of owning a Delta-branded credit card, suggestions for improving the upgrade experience, and more.
Types of Delta Upgrade
Delta provides various upgrade possibilities, such as mileage upgrade, free upgrade for Medallion or Elite status members, and many among others.
Free upgrade – Upgrades are offered for free to Medallion Elites on most domestic routes to Delta One, Comfort Plus, or first class, and is subject to availability.
Global upgrade certificate – Diamond Medallion Elite members can use Global Upgrade Certificates to upgrade to First Class on domestic, international, or regional flights operated by Delta
Regional upgrade certificate – Platinum and Diamond Medallion Elite members can use these to upgrade to the Delta One cabin class on regional flights within the US and Hawaii.
Upgrade Using Miles – When making a reservation, you can use miles to upgrade on some flights within the 50 United States. Upgrades can be purchased with miles on selected international flights with confirmed reservations. The only fare classes that can be upgraded internationally with awards are Y, B, M, H, Q, or K.
Companion upgrade – Passengers who are flying with Medallion Elite members on the same reservation are eligible for complimentary companion upgrades.
Same-Day Standby Upgrades – These are available to all passengers for a price on the day of departure for a selected route primarily in North America, the Caribbean, and Cancun, depending on availability.
Upgrade Priority: Who gets on Delta Upgrade List First
Delta complimentary upgrade hierarchy – Below is the table that will tell you how the airline determine your spot on the upgrade list –
| | | |
| --- | --- | --- |
| Priority | Free upgrade hierarchy | Class of service |
| 1 | Medallion status | NA |
| 2 | High Priced fares | B, M, H, Q, K, L, U, T, X and V |
| 3 | Delta SkyMiles Reserve American Express Card | Any Cabin Class or Delta fare, except Basic Economy |
| 4 | Delta corporate travelers | Except Basic Economy |
| 5 | Card members who earned medallion status | NA |
| 6 | Medallion Miler status. | NA |
| 7 | Date and time of upgrade request. | Any Cabin Class or Delta fare, except Basic Economy |
How to get on Delta Upgrade List?
Have you ever waited at the gate while a lengthy upgrade list was being whittled down to just a few names? You are longingly crumpling up your boarding pass, indicating a middle seat in the back of the plane, as your fellow passengers get on the upgrade list.
Here's how to get on a Delta seat upgrade list if you're tired of being an outsider.
Attain a Medallion Status
Members of the Delta Medallion upgrade programme are entitled to unlimited, cost-free upgrades to first class and Delta Comfort Plus. On flights within the United States, free upgrades to Delta One business class are also offered.
International passengers, however, are not entitled to free Medallion upgrades.
Your elite status tier counts when it comes to the timeliness of upgrade clearance, or when your new seat is confirmed. Because top-tier members are given precedence, the greater your elite level, the more likely you are to be upgraded.
Upgrades to Delta Comfort Plus are available to Medallion members in the following order, and is subject to availability.
| | |
| --- | --- |
| Delta Medallion Status | Upgrade confirmation timing |
| Diamond members | Right after the booking gets ticketed. |
| Platinum members | Right after the booking gets ticketed. |
| Gold members | Starting 72 hours before departure. |
| Silver members | Starting 24 hours before departure. |
Here is the time frame for when Medallion members can expect a Delta free upgrade to become available for first-class seats –
| | |
| --- | --- |
| Delta Medallion status | Upgrade confirmation timing |
| Diamond Medallion. | Starting 5 days before departure. |
| Platinum Medallion. | Starting 5 days before departure. |
| Gold Medallion. | Starting 72 hours before departure. |
| Silver Medallion. | Starting 24 hours before departure. |
Get the American Express card
Holding the American Express SkyMiles Card of any category will definitely push you ahead of other Medallion members in the same tier on the upgrade list.
It should be noted that complimentary Delta upgrades are not available on basic economy.
If money is short, be aware that choosing a basic economy ticket will prohibit you from getting on the upgrade list.
Use an upgrade certificate
Upgrade certificates are exclusively offered to Platinum Medallion and Diamond Medallion members. They can be used only on flights operated by Delta.
Types of Delta upgrade certificates – The airline offers two types of upgrade certificates –
Delta Regional upgrade certificate are valid on flights within the U. S., and Canada. It also includes flights to and from Mexico, the Caribbean, Bermuda, Central And South america.
Delta Global upgrade certificates can be used on flights to any continent, including South America, Europe, Asia, and Oceania, are only accessible to Diamond Medallion members.
Availability of upgrade certificate – Depending on your Medallion level, you will have access to several types of certifications.
Four regional upgrades will be given to Platinum Medallion members who choose to receive upgrade certificates.
Diamond Medallion members can select from the following rewards:
4 worldwide upgrades.
8 regional upgrades.
4 regional upgrades and 2 global ones.
How to use Delta upgrade certificates?
To get on Delta upgrade list from upgrade certificate, contact Delta Airlines Customer Service.
Using a certificate gets you a priority for a free Medallion upgrade, but it does not guarantee an upgrade.
And, depending on the service classes available on your flight, you may find yourself on a waiting list.
If the flight you're traveling doesn't have a Premium Select cabin, you can be upgraded to Delta One as soon as a seat becomes available.
If there is no availability and you are unable to use it, you do not lose the upgrade certificate. It simply returns to your SkyMiles account till the next time.
Notably, regional and worldwide upgrade certificates lapse at the conclusion of your Medallion year. However, you can use them to upgrade Delta flights for other passengers who are traveling with you in order to keep them.
Delta upgrade with miles
It is possible to get on the Delta miles upgrade. This is applicable on existing domestic and international Delta Airlines booking.
How to upgrade with miles at the time of booking?
When booking a Delta flight within the United States, the Delta Upgrade with Miles option can be available.
To book your flight, log in to your Delta account and select the Main Cabin flight ticket. Passenger will be offered the option to upgrade your reservation for cash or for miles at a cost of 1 cent per mile. You can choose to redeem 45,000 miles, for instance, if the upgrade costs $450.
Travelers can assess the offer's value by looking at the pricing, which will be displayed. But, it's not always the case.
How to Upgrade an Existing Reservation Using Miles?
It's possible that you can use a mileage upgrade award to upgrade your existing reservation. When you log in to your account and see your trip, you may see the opportunity to upgrade with miles.
You will need to speak with a Delta SkyMiles team if you are unable to upgrade online. If the reservation qualifies for Delta upgrade request, the person will inform you and give you the price estimate.
If the upgrade is confirmed, your account will be deducted for miles.
Depending on the route, certain fare classes are only eligible for upgrades. The following fare classes are eligible for Mileage Upgrade Awards in North America and Central America: Y, B, M, H, Q, K, L, U, and T. For international flights, the fare classes include Y , B, M, H, Q, and K.
Delta Free Upgrade
Delta offers limitless free upgrades to first-class and Delta Comfort+ seats on to all Medallion tiers. In addition –
All Delta Medallion elite members have access to limitless free upgrades to the Delta One experience on flights within the United States, and to Hawaii.
Provided that the flight must be operated and marketed by the Delta airlines.
Pro tip – However, it's important to note that Delta is steadily selling more first-class tickets. The airline continues to sell more of its forward cabin rather than giving it away as an upgrade. Its revenue maximization methods are pricing first-class tickets in a way that encourages more people to buy them outright. In addition –
It goes without saying that Diamond Medallions are given preference over lesser-tier Medallions for Delta upgrade priority.
If room is available, Diamond and Platinum Medallion members can immediately transfer from Main Cabin to Comfort+ after booking.
Delta Silver medallion upgrade members must wait until 24 hours prior to departure to clear into Comfort+, while Gold members must wait until 72 hours.
All the reservations which include purchased tickets, SkyMiles award tickets, Pay with Miles tickets, and SkyMiles Companion Certificates, are eligible for Delta free upgrades:
Delta Comfort Plus
First class
Delta One (all Delta-operated domestic flights, including Hawaii and Alaska).
However, passengers on the Delta upgrade list would be considered on the following basis too –
Elites who attained status in the current year or previous will be given Delta upgrade certificates to elites whose status was prolonged. For instance, the Medallion members with earned status will have a higher likelihood of getting upgraded extended elite status.
All Medallion members with Y-class tickets are eligible for Delta free upgrades.
If two Platinum Medallion members have K-fare tickets but only one of them has a Delta Reserve credit card, the passenger with the card will be given priority.
Delta first class upgrades are available to Diamond and Platinum Medallion members starting 5 days before scheduled departure.
Please note that not all class of service are eligible to be on Delta upgrade list –
Basic economy fares
Delta Premium select
Upgrade to Delta One is not eligible for reservation outside the US.
Delta complimentary upgrade service would not be available onboard.
Delta companion upgrade must be requested 3 hours before the scheduled departure.
Reservations or ticketed fares that do not earn miles.
How to increase your chances for upgrade?
Passengers can get a secure upgrade with or without the Delta SkyMiles Medallion Elite Status.
With Delta SkyMiles Medallion Elite Status – For members, this is how to get on an upgrade list.
Obtaining the status of Delta Diamond Medallion Elite will grant you access to regional and global upgrade certificates.
Earn Regional Upgrade Certificates by being a Delta Platinum Medallion Elite member.
Get a Delta Reserve debit/credit card.
Same day flight upgrade for Diamond, Platinum or Gold Medallion members. There is no change fee.
Without Delta SkyMiles Medallion Elite Status – Without Medallion Elite membership, there are limited options to request the upgrade. Such as –
Request Delta Comfort Plus upgrade up to 3 hours before scheduled departure.
Spend miles to upgrade an existing flight.
Book discounted business, first, and Premium Select fares on partner airlines like China Eastern, and Aeromexico.
When a flight is overbooked, offer to give up your economy seat in return for a Delta complimentary upgrade.
Wondering how to upgrade to First Class on Delta? Book last minute first-class upgrade
Frequently Asked Questions (FAQs)
How to request an upgrade on the Delta app?
Find your reservation using the Fly Delta app or My Trips. Submit a Delta Comfort+ Upgrade request and select "Upgrade Preferences" on the form. 

Select "Request upgrade". 
At the drop down menu , select the "Only upgrade if my Seat Preferences are available".
Confirm your selection, and pay the required fee.
How to upgrade Delta flight?
There are plenty of ways to upgrade the Delta flight. SkyMiles members can use miles. In addition, Medallion members are eligible for complimentary upgrades. Diamond and Platinum medallions members can utilize regional or global certificates.
How to upgrade on Delta international flights?
Passengers can upgrade using the My Trip section or simply call the airline's customer service. Request for upgrade needs to be completed up to 5 days before the scheduled departure.
How does Delta upgrade list work?
If the search results on delta.com don't show availability for your flight, you can still call Delta Reservations to utilize your Upgrade Certificate and ask to be added to a waitlist.

Also, Upgrades will become available automatically based on Medallion Status.
How to get on the upgrade list for Delta?
Here are the few ways to get on the airline's upgrade list – 

Reach a Medallion status
Get the right credit card.
Use regional or global upgrade certificate
Upgrade using SkyMiles for cash.
Can I upgrade my Delta flight after purchase?
Customers can upgrade from Main Cabin to Delta One, Delta Premium Select, First Class, or Delta Comfort+ at any time after a ticket is issued until 3 hours before departure or until the check-in window closes.
How to get free upgrades on Delta?
Delta Medallion members of all categories are entitled for limitless complimentary upgrades to first-class and Delta Comfort+ seats.

Medallion members are also eligible for complimentary upgrades.
How to upgrade seats on Delta?
Passengers with Medallion membership or through miles redemption can upgrade their existing reservation. To upgrade seats go to the My Trip section.
How to use Delta regional upgrade certificates?
Log in to delta.com, click "book," and then search for the flight of your choice. A feature will display the availability of Upgrade Certificates for particular flights and cabin experiences.

Call airlines when you're prepared to get on Delta upgrade list
Be prepared to supply the flight number as well as your certificate number, which can be located in My Profile 
Wait for confirmation. If upgrade is available you would be notified 24 hours before scheduled departure.
How many miles to upgrade on Delta?
The value of the upgrade will determine whether you should utilize Delta SkyMiles to upgrade your seating class. The standard amount for upgrades at Delta is $0.01 per mile.
How to get upgraded to first class on Delta?
You can use miles to upgrade the Delta One, Premium Select, First Class or Comfort Plus fare for all flights within the United States. The upgrade request can be completed at Delta.com or with Delta reservations.
Can Delta companion tickets be upgraded?
You can ask for Delta companion upgrade at delta.com during the booking process, later in My Trips, or at check-in before departure provided you and your companion must be in the same reservation.
Can I upgrade from basic economy to main cabin with Delta?
No. With a Delta Basic Economy ticket, you are not qualified for either paid or free upgrades. Additionally, paying for priority boarding to board the aircraft earlier is also not permitted. You are not eligible for an upgrade or a preferred seat even with Medallion Status.
Does Delta give complimentary upgrades on international flights?
Yes. You will get to know about the Delta airlines upgrade at the time of check-in. These are generally booking with cash or SkyMiles rewards. You will get upgraded to one higher class of service.
Does Delta platinum get international upgrades?
Platinum Medallion members earn global upgrade certificates which they can redeem on international flights.