Flying with AirBlue Airlines? Learn everything here about AirBlue Baggage Policy, costs, limits, allowance and secure your belongings.
Note: For the most current baggage policies and pricing visit the official website.
What is AirBlue Baggage Allowance and Policy?
AirBlue baggage policy include the following statements:-
Each passenger can check-in with 1 piece of luggage.
Maximum weight of 30kg and maximum dimensions of 158cm (62 inches) is allowed.
Passengers can carry-on one piece of hand luggage.
Additional or overweight baggage may incur additional fees.
It's always best to check the AirBlue website or contact their customer service for the most up-to-date information. Below are some helpful details on carry-on and checked baggage costs and allowances.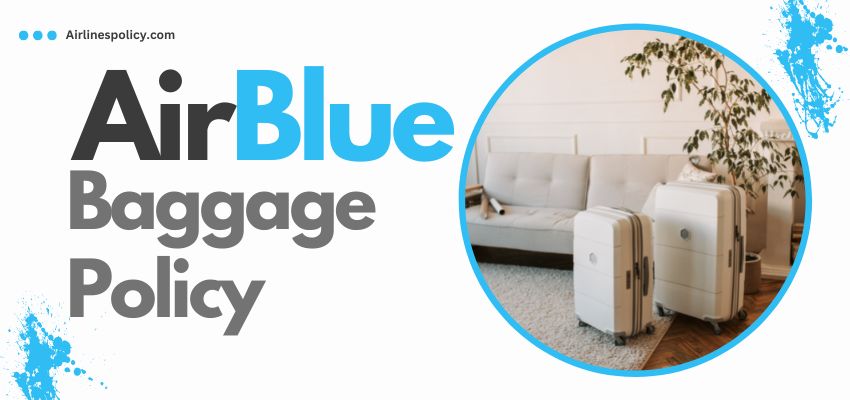 Carry On Baggage Policy, Costs and Allowances of AirBlue
Passengers can carry-on bag and one personal item such as a purse, laptop bag, or briefcase. The carry-on bag should fit in the overhead space or under the seat in front of you and must not exceed the following dimensions and weight limits:-
Baggage Size for Carry-on – The size of the carry-on bag must be within 22 x 15 x 8 inches.
Carry-on Baggage Weight – The weight of the hand luggage must be within 7 kg.
What is the AirBlue Checked Baggage Policy?
The checked baggage allowance on AirBlue flights varies depending on the fare type and route.
Checked baggage allowances on domestic flights:–
The allowance for a Flexi fare is typically one bag with a maximum weight of 20 kg and maximum dimensions of 54 inches.
For a Extra fare, the allowance is typically two bags with the same weight and dimension restrictions.
No checked bag is allowed for free under Mint fare.
| | | |
| --- | --- | --- |
| Airfare | Checked baggage allowance | Weight |
| Economy Extra | 2 bags | 40 kg |
| Economy Flexi | 1 bag | 20 kg |
| Economy Value | No free checked baggage | |
How to Maximize Benefits with AirBlue Extra Baggage Allowance?
Below is the overview of the excess baggage fee if the checked baggage weight exceed 20 kg and the size surpasses 54 inches.
| | |
| --- | --- |
| Travel Routes | Excess baggage fee per kg (in USD) |
| Domestic | 2 |
| To/From UAE | 3.6 |
| Saudi Arabia (To/From) | 5 |
| To/From Oman | 4 |
What is under AirBlue Lost/Damage Baggage Compensation?
Baggage is lost or damage while traveling with AirBlue? you can file a claim for compensation by visiting the AirBlue website or nearest office and filling out the baggage claim form. You will need to provide information about your flight, baggage, and the damage or loss that occurred. Once you submit claim, AirBlue will review the information and determine the appropriate compensation. It's worth noting that compensation for damage baggage is typically limit to a certain amount per bag.
The maximum liability for damaged or missing baggage is 20 USD per kg on international flight. For flights with Pakistan, the liability for damaged or missing baggage is 12 USD per kg.
How to File a Lost Baggage Complaint with AirBlue?
To file a lost baggage claim passengers can make a call to the officials at (+92) 51 111-247-258. Prepare the following keys to make file claim easily:-
Representative will ask to share your personal information, flight details, and a description of your lost baggage, including the brand, color, size, and any unique characteristics.
Passengers have to share relevant documents, such as a copy of your baggage tag or a purchase receipt for items in your lost bag to the agent.
AirBlue has a strict time limit to file a lost baggage claim, passengers have to connect to the officials and get the updates.
Add Checked Baggage to Air Blue Flight
To add checked baggage on an AirBlue flight, you can do so during the online check-in process or at the airport check-in counter. The cost for checked baggage varies depending on the route, the number of bags, and whether or not it is added during online check-in or at the airport. You can check AirBlue's baggage fees on their website for more information.
Add Online
To add checked baggage on a AirBlue flight online, you can follow these steps:
Go to the AirBlue website and log in to your account.
Select the "Manage Booking" option from the menu.
Enter your Booking Reference (PNR) & First or Last Name.
Click on "Retrieve My Reservation" to go further.
Find the flight for which you want to add checked baggage.
Add the number of bags and pay for the baggage fee.
Confirm the changes and check your itinerary to make sure the baggage has been added successfully.
Note – Fees and allowances for checked baggage may vary depending on the route and fare type.
Add Over the Phone
To add checked baggage on an AirBlue flight over the phone, you will need to call AirBlue's customer service number. Once connected with a representative, inform them that you would like to add checked baggage to your flight booking.
The representative will ask for your booking information and the number of bags you would like to add. They will then assist you in adding the baggage to your booking and provide you with information on the additional cost and baggage weight allowances.
Learn more >> Updated AirBlue Cancellation Policy
Frequently Asked Questions – FAQs
How much baggage is allowed on AirBlue?
Passengers are allowed to bring one carry-on bag and 1 personal item, such as a purse or laptop bag, on board for free.
Can I take 2 bags as checked luggage on AirBlue?
Yes. Economy Xtra fare allows two checked bags. 
How much does 1 kg of excess baggage cost?
For flights within Pakistan, 2 USD per kg would be charged for additional baggage allowance. For flights to and from UAE, 3.69 USD per kg would be applicable. For flights to and from Saudi Arabia, it is 4 USD per kg.
Can I carry more than 7 kg in hand luggage with AirBlue?
No. However, it's always best to check with the airline directly for the most up-to-date and accurate information.
How many kg is allowed in a cabin bag with AirBlue?
The carry-on baggage must be within 7 kg on all flights operated by AirBlue.
Can I carry perfume in my cabin bag on AirBlue?
Passengers are permitted to bring one clear, transparent, resealable plastic bag, measuring 1 liter, holding a limited amount of liquids, gels, pastes, aerosols, or other materials of a similar texture.