Generally, using the Airlines official website is the quickest option to receive a refund and cancel your reservation. The AirBlue cancellation policy allow to cancel and get a refund for fully unused tickets within 24 hours of booking. Fee for flight cancellation will always varies depending upon the type of fare, ticket and the route.
However, for non-refundable fares, cancellations may result in a fee, and no refund will be provided. To obtain specific information about the cancellation policy for a particular itinerary, it is best to contact AirBlue directly.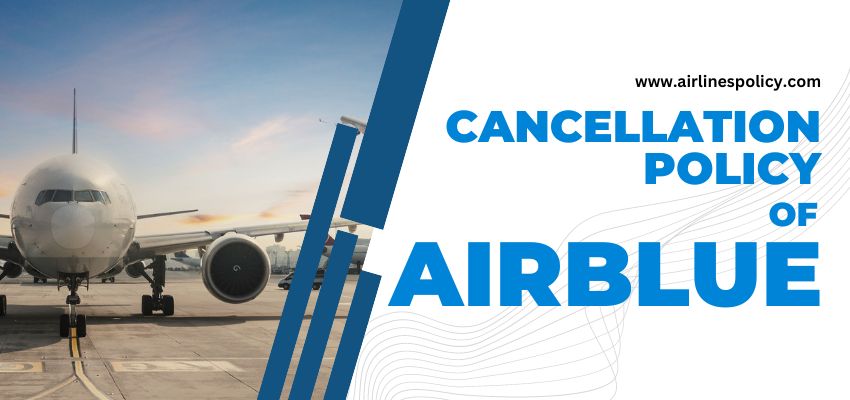 Below is the overview of the cancellation policy, how to request flight cancellation with AirBlue and more.
Rules Associated With AirBlue Cancellation Policy and Fee
The rules for canceling an AirBlue flight ticket will vary depending on the type of ticket and fare class you purchased. Generally, you may be able to cancel your flight and receive a refund or credit towards a future flight, but you may be subject to cancellation fees. It is best to contact customer service for specific information about canceling your particular ticket or visit official website.
What are the AirBlue Ticket Cancellation Fee and Variations?
Airblue ticket cancellation charges vary depending on the fare type, route and time of cancellation. Generally, for most fare types.
AirBlue Ticket Cancellation Charges
The cancellation fee can range from a certain percentage of the fare to a flat fee, depending on the fare type and the time of cancellation. Some fare types may also be non-refundable or only allow for a partial refund.
It is advised checking website or contacting their customer service for the most up-to-date information on their charges for ticket cancellation. They will be able to provide you with the specific information that apply to your booking and help you understand their policies and applicable cancellation charges.
AirBlue flight ticket cancellation is applicable for the following fare rules –
Value Fare
Cancellation allowed with a higher fee
No -show cancellation not permitted.
Flexi Fare
Cancellation allowed with standard fee
Passengers are not allowed to cancel flights after the scheduled departure.
Xtra Fare
Cancellation allowed with Lower fee.
No show cancellation permitted.
Note – Tickets expire 30 days following the departure date. Tickets that have expired have no value and cannot be altered, canceled, or reimbursed.
Learn more >> AirBlue Baggage Policy
How to Request Cancellation on an AirBlue Flight Ticket?
To request a cancellation, you will need to contact the airline directly. This can typically be done by phone or email. Representative will ask to provide your booking reference and other identifying information. The airline have a specific cancellation policy that you will need to review, understand and agree before cancelling your Air ticket. Some airlines charge a fee for canceling a ticket, so be sure to ask about any potential charges before you proceed with the cancellation process.
Steps to Cancel AirBlue Flight Online
To request a cancellation on an AirBlue flight ticket online, you will need to follow these steps:

Visit the AirBlue website and log in to your account.
Locate the "Manage booking" and select ticket that you would like to cancel.
Click on the "Cancel Booking" button.
Follow the prompts to confirm the cancellation.
Review the cancellation policy and the fee if any.
Submit the request for cancellation.
Note – AirBlue's cancellation policy and fees vary depending on the type of ticket you have purchased, so be sure to review those before submitting your cancellation request.
Can you Cancel AirBlue Flight Through Social Media?
AirBlue does not have a direct option to cancel flight tickets through social media. To cancel your flight with AirBlue, you should contact their customer service team either by phone or email. They will assist you with canceling your flight and may offer refunds or rebooking options.
Get your flight Cancel AirBlue Flight Via Email
To cancel an AirBlue flight ticket via email, you will need to send a request to the airline's customer service department. This should include the following information:
Your full name, as it appears on the ticket.
Your booking reference or PNR number.
The flight details (date, flight number, departure and arrival airports).
The reason for the cancellation.
Your contact information (phone number and email address).
You should receive a confirmation of the cancellation, along with any applicable refunds or rebooking options, via email. It's always a good idea to keep a copy of the cancellation email for your records.
How to Easily Cancel Your AirBlue Flight Over the Phone
To cancel an AirBlue flight over the phone, call AirBlue customer service.
Provide your confirmation number, and the passenger's name.
You may also need to provide a reason for the cancellation.
Depending on the type of ticket and the airline's policy guidelines, you have to pay a cancellation fee.
Passengers Rights when AirBlue Cancels Flight
When an airline such as AirBlue cancels a flight, passengers are entitled to certain rights under the laws of the country where the airline is based. Generally,
Whenever the flight is canceled –
It will give passengers a choice of alternative transport to his final destination.
The airline offer full refund of the unused portion of the trip
What airlines do if flight delays for Long Hours?
In case of flight delays for 2 to 4 hours, the airline –
Serve refreshments/meals to passengers.
Hotel accommodation for the night whenever necessary.
If the delay is more than 5 hours, the airline offers a full refund on the unused portion of the itinerary.
What are the options available if passenger denied boarding?
If a traveler checks in at the airline's counter ahead of time, meets all standards, yet is still denied boarding, the airline shall give choice of.
Alternate flight to the final destination.
Hotel accommodation if the alternate flight requires an overnight stay.
If passengers do not agree with the alternate flight, a full refund on the unused portion of the itinerary would be provided.
A passenger is entitled to reimbursement from the airline equal to 50% of the ticket's face value, excluding taxes.
If the passenger is not delayed for more than four hours using alternate transportation, the compensation may be reduced by half.
It is recommended that passengers contact the airline directly to inquire about their rights and options in the event of a flight cancellation.
Learn more >> Overhauled Cancellation Policy of other Major Airlines
Frequently Asked Questions – FAQs
Can I cancel my flight and get a refund for the AirBlue ticket?
To find out if your ticket is eligible for a refund and to learn about the process for obtaining one, you should contact AirBlue directly. They can provide you with the most accurate information and assist you with canceling your flight and requesting a refund.
How can I cancel my AirBlue flight ticket?
Passengers can cancel the AirBlue flight via official website, over the phone call and Email.
When can I cancel my AirBlue flight ticket?
In general, AirBlue airlines usually allow customers to cancel their tickets within a certain time frame before the scheduled departure of the flight, but may charge a cancellation fee or only provide a partial refund.
Can I get a full refund if I cancel my flight within 24 hours with AirBlue?
It depends on the specific terms and conditions of the AirBlue ticket you purchased. Many airlines, including AirBlue, have changed their policies on refunds and cancellations due to the COVID-19 pandemic. Some tickets may be eligible for a full refund, while others may only be eligible for a credit or voucher towards future travel. To find out if your ticket is eligible for a refund you should contact AirBlue directly.
How do I know if my airblue flight ticket is refundable or not?
You should check the fare rules for the specific flight and fare you booked. These rules can typically be found on the Airblue website. The fare rules will specify whether or not the fare is refundable, and if so, under what conditions.