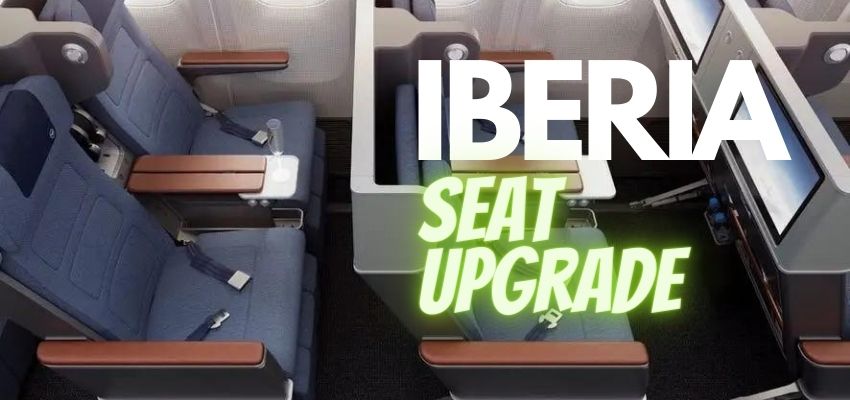 Iberia upgrade may be a convenient method to redeem Avios and enhance your in-flight experience.
When compared to other airlines, upgrades with Iberia airlines are simpler to complete. There are a number of ways to get an upgrade when flying with Iberia Airlines. It consists of
Bid for upgrade
Upgrade an existing flight using Avios rewards
Using Avios to upgrade a new flight
Despite the fact that Iberia Airlines cannot always ensure upgrades on all flights. However, our knowledge might provide you an advantage over your competitors. If you are more familiar with the process, you will have a better chance of receiving a Iberia Airlines flight upgrade.
---
Types of Upgrade
There are several Iberia flight upgrade options:
Iberia upgrade bid – You decide the amount. Submit an offer for each leg of your itinerary. The higher the bid, the more likely it will accept. Four days prior to departure, you'll find out whether your bid has been approved or not, and you have up to five days to make changes.
Check-in time – Depending on the route, "check-in time" refers to the 24-hour period prior to the flight's departure when you can purchase a ticket for a higher class at a certain fee.
Iberia Avios upgrade – Your Economy reservation (fares Y, B, and H) can be upgraded to Business class using your Avios.
---
Iberia Bid Upgrade
Iberia flight upgrade is currently one of the cheapest methods to fly in Business Class if done right. Additionally, it brings in money because airlines can charge extra for unused business class seats.
How to submit a bid for upgrade? – Follow these steps to upgrade Iberia flight –
Visit the airline's website and navigate to the 'Manage Booking' tab.
Once you select a seat, you will see an offer to submit a bid for upgrade.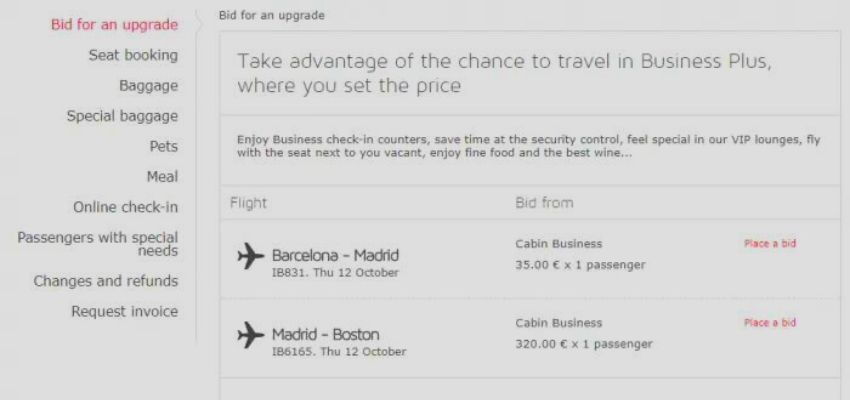 Click on the click, and place a bid by selecting the number of hammers on the screen.
You are reminded that each hammer symbolizes a different bid value and that the higher your bid, the more likely you'll get Iberia upgrade.
After you submit the bid, you will get the following message on the screen.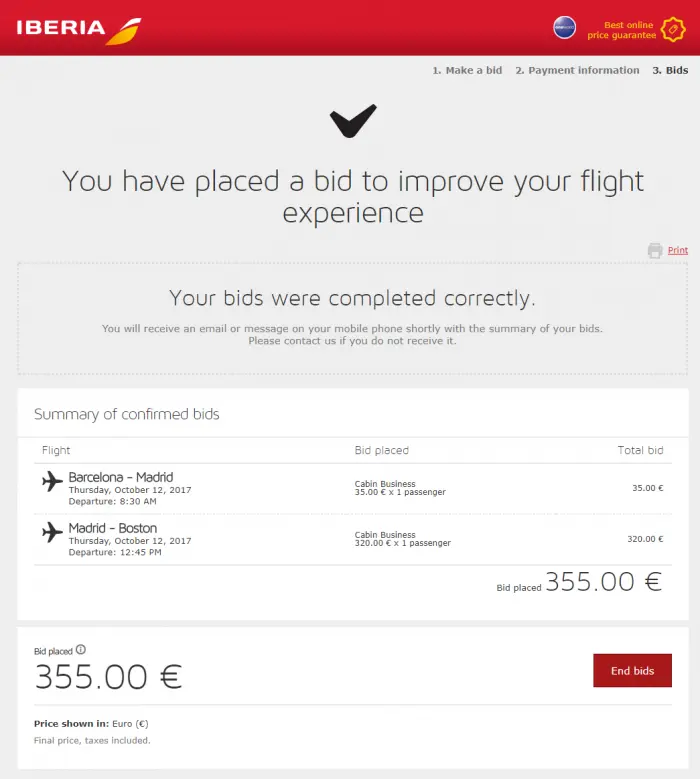 Passengers get the confirmation at least 72 hours before the scheduled departure.
---
Iberia upgrade to Business at the time of check-in
Passengers can get the upgrade from Economy Class to Business Class and Business to First Class at the time of check-in.
Applicability – The upgrade would be applicable to all the passengers – Adult, Child and Infant. Im addition –
The offer is valid to all valid ticket holders i.e revenue and non-revenue tickets.
Iberia flight upgrade is permitted from one subsequent class to another.
Airlines do not permit to upgrade seats for infant/child discount.
If you're a revenue passenger then you can use the airport lounges as part of the paid upgrade programme.
Upgrade is not refundable, transferable, or exchangeable under any circumstances.
Only Iberia operated flights can be upgrade.
Upgraded passengers will check in at a separate Business Class desk.
The upgraded traveler is entitled to priority processing through immigration and security whenever necessary.
A passenger must physically be present at the airport to be eligible for an upgrade.
The airport's upgrade facility will be open up to one hour before flight departure.
The Iberia airport upgrade programme is also available to passengers who have check-in online, over the phone or at the airport
Pay the upgrade fee at the Iberia City Airport Office, or in advance by calling a call center.
Passengers in the higher upgraded class of travel can now take advantage of increased baggage allowance.
---
How to upgrade Iberia at the time of check-in?
When you start the online check-in process, you will see the Instant Upgrade Option if your ticket qualifies for this upgrade. This offer is valid only through online check-in between 48 hours and up to 6 hours of the scheduled departure time of the flight. Follow these steps to request Iberia upgrade to Premium Economy or Business Class –
Check in online 48 hours before your trip, enter your PNR and last name exactly as they appear on your travel itinerary..
There will be a button that says "Upgrade Now."
Airlines only accept the upgrade request within 90 seconds until you click and continue to make the payment.
Following the confirmation of your upgrade, click "Continue to check-in" to create your e-boarding pass.
---
Iberia Upgrade Avios
Another straightforward way to upgrade Iberia flight to redeem Avios points. The number of Avios will depend on the amount you pay for the upgrade.
| | |
| --- | --- |
| Ibera Plus Status Level | Number of Avios Earned Per USDSpent |
| Iberia Plus Clásica (Classic) | 5 |
| Iberia Plus Plata (Silver) | 6 |
| Iberia Plus Oro (Gold) | 7 |
| Iberia Plus Platino (Platinum) | 8 |
| Iberia Plus Infinita (Infinite) | 12 |
| Iberia Plus Infinita Prime (Infinite Prime) | 14 |
---
When can you spend your Avios to upgrade on Iberia Airlines?
Passengers can upgrade their existing reservation using Avios at the time of booking, subject to availability. Additionally –
The lowest or most restricted economy fares (Q, O, and G) are never eligible for an upgrade using Avios.
You should be able to use Avios to upgrade if a reward flight is offered in that cabin.
You cannot use Avios to upgrade at the airport or on board.
There are several ways to check availability:
Log in, select "Iberia Manage Booking," then "Upgrade this flight with Avios" to see if you may upgrade an existing reservation.
Use the "book and upgrade" function to search for specific flights and dates I
In case you want to know if you qualify for an upgrade, use a reward tool.
---
How can I change my seat on a Iberia flight? (Existing reservation)
Consider a scenario in which you purchased a less priced ticket from Iberia Airlines. Assume, too, that you want to switch to Premium Economy right away.
You'll be glad to know that an upgrade is available for just the premium economy fare.
Here's how to approach it:
Click this link to get to the Manage My Booking page.
Fill in the boxes with your booking reference number and the passenger's last name.
Simply select 'Use Avios to Upgrade This Flight'.
Once you've paid the taxes and fees in addition to the Avios, your upgrade is officially confirmed.
---
Frequently Asked Questions Related to Upgrade Iberia Seat
What must I do to determine whether my upgraded ticket comes with a free checked bag?
Both paid ordinary tickets and premium or award tickets are subject to the same baggage restrictions. This suggests that you can check the Iberia Airlines website to see the permitted checked baggage.
How can I receive an upgrade on an overseas flight if I don't have Iberia Airlines Elite status?
The process is the same regardless of the status you hold with Iberia Airlines. Keep in mind that seat upgrades are not guaranteed.
Can I use my Avios to upgrade an award that I purchased?
No, miles cannot be redeemed for reward ticket upgrades. While using miles, only paid upgrades are accessible.
A cash ticket can be upgraded using Avios for just the difference in points redeemed, which is the same price as using miles to pay for the award ticket in its entirety.
When may I use Avios to pay for an upgrade request?
As soon as you confirm the upgrading, the Avios will be immediately adjusted from your Iberia Airlines Executive Club frequent flyer account.
All additional taxes and fees will be charged to your credit card when you confirm your reservation.
Which fare class should I book in order to guarantee an upgrade?
All fare classes are eligible for a Iberia Airlines class upgrade, with the exception of Q, G, and O.
Furthermore, you are only permitted to increase one service class. This suggests that on lengthy flights, you can upgrade from economy to premium economy, business to business, or first class to first class.
Additionally, you can use companion upgrade tickets to upgrade your flights if you are a Iberia Airlines elite member.
How do you upgrade on Iberia Airlines?
By using the Manage Booking feature, passengers can upgrade to the Iberia Airlines. Additionally, you can finish the flight upgrade request by calling the airline's customer care department.
How much does Iberia Airlines charge to upgrade to premium economy?
The airline levies a change cost of $300 per person. Fare variation might be present.
Can Iberia Airlines give me a better seat?
Yes. Upgrading is possible for passengers up to 72 hours before the departure time.
With Iberia Airlines, is it possible to upgrade from Economy to Business Class?
Yes, provided that Iberia operates and markets the flight.
Can I upgrade on Iberia Airlines to premium economy?
Iberia Airlines customers can pay cash or Avios to upgrade to premium economy either in advance or at the airport. You cannot, however, buy an upgrade after boarding. The route and availability are typically what decide the price of a cash upgrade.
When checking in, do Iberia Airlines provide upgrades?
Yes. But the request must be submitted up to three hours prior to departure.
How can I upgrade for free on Iberia Airlines?
Frequent travelers have a number of advantages. If you meet the requirements for elite status, Iberia grants an upgrade for you and a travel companion to the subsequent highest fare class.