You can easily cancel your flight and receive your money back thanks to the flexible Lynx Air Cancellation policy any time before the scheduled departure. However, there are some rules and procedures that must be adhered to in order to receive a hassle-free cancellation.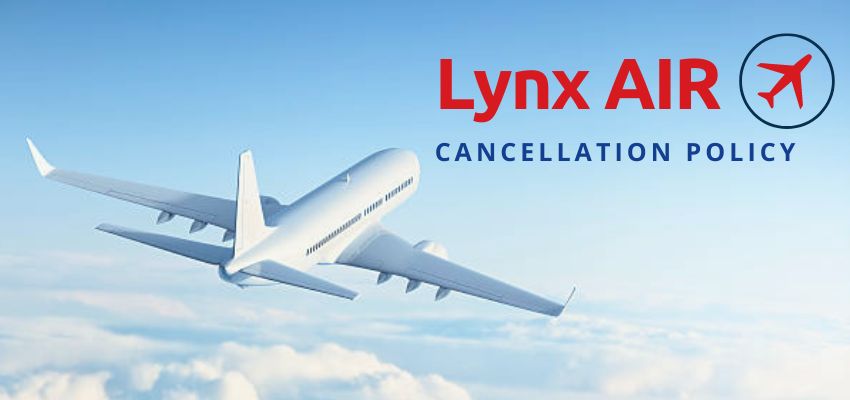 In this article, we'll go over all the rules and regulations you need to be aware of before canceling your flight reservation without any hassles. In addition, we will examine in depth the airline's cancellation fee, 24-hour cancellation policy, refund policies, and your available options in the event that the airline cancels your trip.
Lynx Air Flight Cancellation Rules
You can cancel your flight and receive a full refund under Lynx cancellation policy. Either on the airline's website or by calling their customer service, you can easily request a cancellation. Here are the cancellation guidelines for all fare types offered by the airlines –
LynxEco Fare
No cancellation permitted within 72 hours of scheduled departure.
The fuel and security costs would not be refundable.
This fare is completely non-refundable. Only the unused airport fees are refundable.
No refund would be offered if the passenger marked the no-show.
LynxFlexi Eco Fare
The cancellation fee of 34.50 USD per passenger per flight segment would be charged alongside tax cancellation fee.
The flight cancellation must be made up to 36 hours prior to the scheduled departure. No cancellation would be allowed after that.
LynxOpti Fare
This is deemed as a refundable fare, and can be canceled up to 24 hours prior to the scheduled departure.
Refunds are applicable on the unused portion of the ticket.
The cancellation fee of 69 USD per passenger per flight segment would be charged alongside tax cancellation fee.
LynxBizz Fare
Passengers can cancel the Bizz fare up to 3 hours prior to the scheduled departure
A cancellation fee of 50% of the ticketed fare would be applied if requesting Lynx flight cancellation after the departure.
Lynx Air 24 Hour Cancellation Policy
All tickets purchased directly from Lynx Air (website, mobile app, ticket counter, or contact center) for travel to or from the United States and Canada are subject to the airline's 24-hour cancellation policy. No fee would be levied, provided –
You purchase a plane ticket to or from the United States/Canada.
You reserve at least a week before the scheduled departure of your flight.
You return your ticket within 24 hours of purchase.
How to cancel the flight with Lynx Air?
There are several ways to change or cancel Lynx Air reservation:
For tickets purchased with direct sales channel of Lynx Air, passengers can cancel –
Online through Lynx Manage Booking Section – Visit the airline's website, navigate to the My Trip area, and check the box next to your current reservation to cancel it. Check to see if your reservation is eligible for cancellation, and then submit the request. To cancel your flight, do the following:

Go to flylynx.com and select the "My Trip" tab.
Retrieve your booking using the six-digit booking reference and the passenger's last name.
Choose the flight segment that you want to cancel. You can find the refund amount and cancellation fee for your reservation on the following page.
When the cancellation request is processed, you will receive confirmation at your registered email address.
Lynx air customer service phone number – You can also call Lynx Air flight cancellation phone number. Call the given number to speak with a Lynx Air rep to request flight cancellation. A cancellation fee may apply.
Lynx Air Bizz Fare Cancellation Policy
If you have a fully flexible business class fare, you may:
Change your flight and/or travel dates without penalty.
Request a refund and cancel your ticket without incurring any fees.
Lynx Air Cancellation fee
You will be charged a change or cancellation fee if you cancel outside 24 hours of purchase.
| | |
| --- | --- |
| Scheduled Departure Time | Cancellation fee (per person per flight segment) |
| More than 72 hours before departure | 34.5 USD + taxes |
| Within 72 Hours before departure | Not applicable |
Please note – Lynx flight cancellation is not permitted within 72 hours of departure.
Lynx Air Refund Policy
How does the refund work with Lynx Air? Tickets to or from the United States and Canada will always be subject to the 24-hour refund policy. If you book your flight directly from Lynx Air, you can cancel it within 24 hours and receive a full refund—regardless of the type of ticket you booked.
Additionally, you can cancel your ticket and get a full refund if you meet the requirements listed below:

Your flight is canceled by Lynx Air.
Your flight is delayed more than 5 hours.
Airline does not make a stop at your destination.
Despite the fact that you checked in on time for your journey, Lynx Air refuses to let you board on a confirmed booking.
Your booking class is downgraded by Lynx Air.
You miss a connecting flight on the same itinerary because of a delay with your Lynx Air flight.
You can request a refund or a travel voucher online using Lynx manage booking section.
You must complete the refund request form
You can request a refund for your travel voucher using Manage Bookings online.
Contact Lynx Air customer support to obtain a refund on a reward ticket.
If you bought your ticket via a travel agency, you'll need to get in touch with them directly to ask for a refund.
Due to high demand, the Lynx Air refund processing period can take 15-20 business days, and is processed in the same method of payment.
Please keep in mind that if a single booking contains multiple passengers, the cancellation will affect all of the passengers in that booking.
How to Determine if Your Lynx Air flight booking is refundable?
If you need to cancel and obtain a refund, see your ticket's fare terms or the confirmation email you got after making your reservation. Alternatively, contact Lynx Air on your travel agency and inquire.
Lynx Air Canceled Flight Policy
If Lynx air cancels your flight, you are entitled to a refund under the Lynx Air ticket cancellation policy. If another flight is provided, you may choose to take it without paying an additional fee or get a refund.
Lynx Air Canceled Flight Compensation
Lynx Air makes every effort to ensure a seamless travel experience, however at times the things don't always go as planned. In order to assist you in the event of a travel disruption, we have created a recovery strategy.
What to anticipate when there is a flight delay or cancellation?
Lynx Air will let you know right away if your flight is delayed. The airline will let you know the cause of the delay, assess the length of delay and present re-accommodation possibilities (if needed). It is highly recommended that you provide the email address so that the airline will keep you informed of the progress of your flight.
Unpredictable delays
Some delays are beyond an airline's control, such as adverse weather, natural disasters, social or political turmoil, or illegal acts that jeopardize aircraft safety. They also include –
Labour disturbances.
Health complications
Airborne encounters with wildlife (such bird strikes).
If there is an unforeseen delay –
You will be rescheduled on the subsequent Lynx Air trip.
You will have the choice to accept the amended itinerary or cancel your reservation without incurring any fees and obtain a refund to the original mode of payment if the new arrival time is 48 hours or more later than what was originally planned.
Predictable delays
Lynx Air will issue lunch vouchers if passengers are informed of delay within 12 hours prior to departure. In addition –
If your flight is delayed overnight, Lynx Air will offer a free hotel room or other type of lodging in addition to an alternate flight.
If your new travel plans do not work out, you can cancel your flight and the unused portion of the ticket and receive a refund in the original mode of payment.
Compensation for the predictable delays
If there is a predictable delay, you can be eligible for compensation. The amount of your compensation will depend on the length of the delay. Below is the Lynx Air canceled flight compensation –
| | |
| --- | --- |
| Length of delay | Compensation for delays (in USD) |
| 3-6 hours | 125 |
| 6-9 hours | 250 |
| 9 hours or more | 500 |
Compensation for cancellation
You may be entitled to $125 in compensation if your flight is canceled within 14 days of departure for an unforeseen reason.
Please fill the Customer Support Inquiry contact form to get in touch with the airlines.
Denied boarding
Lynx Air never purposefully overbook flights, but on rare instances, they might not have enough seats for all passengers who have confirmed ticketing. If this exceptional occurrence occurs, the airline might have to refuse boarding to some passengers.
Before denying a customer boarding, Lynx Air looks for volunteers who are prepared to give up their seats. Once the airline volunteers, they put the perks negotiated before their flight's departure in writing. Also the airline reserves the right to refuse boarding to more passengers in the unlikely event when there are not enough volunteers.
Compensation for denied boarding
As per the Lynx Air cancellation policy, you may be eligible for compensation if Lynx Air refuses to let you board because of a circumstance that is within its control but unrelated to safety.
The amount of your compensation will depend on when you get there in relation to the time stated on your original ticket.
| | |
| --- | --- |
| New arrival time in relation to the original arrival time | Compensation for delays (in USD) |
| Less than 6 hours | 900 |
| 6-9 hours | 1800 |
| 9 hours or more | 2400 |
Briefly stated, Lynx Air cancellation policy is rather basic and uncomplicated. Here, you won't have to bother with the multiple hoops that some carriers demand you jump through. In fact, Lynx Air has a reputation for being more forgiving with cancellations than most airlines. You should be fine as long as you avoid traveling during the designated blackout times or fail to modify your tickets after the cancellation fees take effect.
Frequently Asked Questions (FAQs) – Lynx Cancellation Policy
Can I obtain a refund for my Lynx Air reservation?
Airlines provide future travel credits rather than refunds in the original form of payment. The credit voucher is still valid 365 days after the cancellation date.
How can I change or cancel my travel with Lynx air?
You can cancel a flight using the airline's website, or you can phone them directly for all the help you need with your reservation.
What is the cost of canceling the flight?
Cancellation is not possible for LynxEco fare. The LynxFlexi Eco fare, meanwhile, levies 34.50 USD per passenger per flight segment.Lynx Opti fare levies 69 USD as cancellation fee per person per flight segment. There is no cancellation fee for Lynx Bizz fare.
Do airlines permit cancellations within 24 hours?
Within 24 hours of your purchase, you can request the cancellation of your tickets and receive a full refund provided that the scheduled departure date is 7 or more days from the original date of purchase.
My flight was canceled by Lynx Air? What are my options?
If your trip was canceled and the original departure date and the ticket was completely paid for with cash or a credit/debit card, you may rebook your journey, request a refund, or ask for flight credits and bonus flight credits.