Originating in South Korea, Asiana Airlines Pet Policy allows dogs, kittens, and small birds to fly in the cabin and cargo on a significant portion of its journeys. The aircraft's compartment. In order to establish whether dogs can travel inside the cabins or must be transported as hold luggage, there is a restriction on the sizes of containers as well as the weights of the animals and their kennels.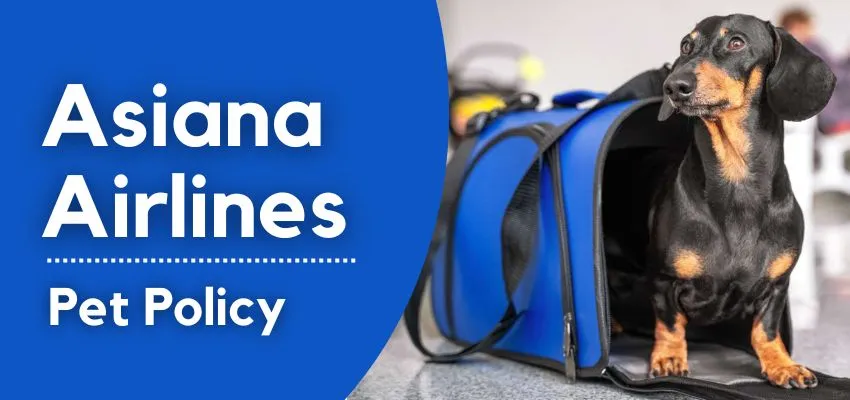 Customers who intend to fly with a pet are required to read through the pet information and verify how to register their pet in advance.
Pet eligibility for transport-
Pets that can be transported include dogs, cats, and pet birds.
Each adult passenger is allowed to carry 1 pet inside the cabin
2 pets are allowed as checked baggage
Children are not permitted to travel with dogs in the cabin. (One bird only per cage.)
Asiana Airlines Pet in Cabin
To travel with your pet in the cabin these criteria must be met:
If the animal weighs 7 kg or less (inclusive of the cage).
A single pet in a cage is allowed per person in the cabin
2 puppies or 2 kittens are allowed only if they are under the age of 6 months.
A mother bird and her young can also be brought together (in pairs).
For their protection, pets must be kept in their cage, and it is strictly forbidden to remove them.
For Business class pet carriers must be placed away from the seats during taxi, takeoff, and landing.
If you are flying with a pet, you must be seated at the dedicated pet seats.
Domestic airports sell pet carry-on cages for flights within the country (excluding Incheon Airport).
Asiana Airlines Checked Baggage Pet Policy
​​Under the Asiana Airlines pet travel policy pets may be checked as luggage by travelers if the following requirements are met:
If the pet is larger than the allowed size for cabin baggage
If the cage's height is 84 cm or less, the cage's three sides add up to no more than 285 cm, and the pet's total weight is 45 kg or less.
Depending on the kind of aircraft and the route, the number of in-cabin or checked pets may be limited or denied access.
Cage Dimensions for Pets
Following these dimensions is a must to carry your pet:
Container's height cannot exceed 21cm.
The transport container's combined length, width, and height cannot be greater than 115 cm.
Soft carriers may have a maximum height of 26 cm but must be placed under the front seat.
| | |
| --- | --- |
| Height | 21 cm or less |
| Soft carriers' height | 26 cm or less |
| Combined L+B+H | 115 cm or less |
Required Cage Conditions for the Pets
These cage conditions must be met for smoother and safe travel of pets:
A lock must be included, and the floor must be sealed.
Must be enough room for the pet to stand or move about without feeling cramped.
To prevent the birds from being exposed during flying, the cage for birds must be covered with a sheet.
Strong materials, such as metal, wood, or plastic, must be used to construct the cage.
The cage may be constructed of leather or cloth if taken inside the cabin, but it must be able to keep its shape thanks to the structure.
The cage must not include more than 1 pet.
NOTE- A pair of birds or two pups or kittens under the age of 6 months are excluded under Asiana Airlines pet travel policy.
Asiana Airlines Pet Transport Restrictions
Pets that are not allowed for transportation:
| | |
| --- | --- |
| Pregnant animals | Pets with bad smell |
| Aggressive dogs | Birds of prey |
Pets are not allowed unless specifically allowed by the relevant local, national, or international laws.
If the number of pets exceeds the aircraft's maximum capacity, further pets wouldn't be allowed to travel.
If required cage conditions aren't met, your pet might be denied to board in.
If the cage's total dimensions are 285 cm or greater, pets are not permitted.
Pets under 16 weeks of age should not be tranquilized during travel.
Have bad odors, are vicious dogs (attack dogs and other aggressive animals), or are birds of prey.
​​For the health and safety of the animal, it may be prohibited to travel pets as checked luggage during cold weather.
Please be aware that as Asiana Airlines does not directly operate Air Busan flights, pet-checking services are not available.
What are the Types of Prohibited Dogs?
There are certain breeds of dogs and cats that are not permitted to travel, as per Asiana airlines pet policy.
All these dogs are prohibited as traveling with them seems like a risk to the airlines.
| Prohibited Dogs | Breeds |
| --- | --- |
| Tosa dogs | Their crossbreeds |
| American Pitbull Terriers | Their crossbreeds |
| American Staffordshire Terriers | Their crossbreeds |
| Staffordshire Bull Terriers | Their crossbreeds |
| Rottweilers | Their crossbreeds |
| Mastiff | Its mixed breed |
| Laika | Its mixed breed |
| Ovtcharka | Its mixed breed |
| Kangal | Its mixed breed |
| Wolf dog | Its mixed breed |
| American bully, Cane Corso | Its mixed breed |
Due to health and safety concerns, checked-in carriage of short-nosed animals has been discontinued
Asiana Airlines Service Dog Policy
Asiana airlines service dog policy rules must be abided by the pet owners before carrying their service dogs with them:
Service dogs who assist the passengers are permitted on board.
Dogs must be at least 16 weeks old and be wearing a harness or leash.
Service animals must be controlled by the passenger and trained to behave appropriately in public.
Service animals must always be kept under the passenger's seat.
Pets are not permitted in other passengers' seats.
The aisle is off-limits to service animals.
Two assistance dogs are permitted per passenger per booking.
Service dogs will not be entertained if:
Barks excessively, or may urinate.
The pet travel bookings must be completed up to 48 hours before the scheduled departure (based on working days).
How to Add My Pet to fly on Asiana?
Booking for your pet can be made both online and offline. Follow this process to fly travel with your pet:
Check if your reservation is confirmed.
As soon as the stated confinement arrangements are known, begin compiling the confinement documentation.
Examine the circumstances of the animal enclosure and make the necessary preparations in line with the regulations. It is recommended that you arrive early at the airport terminal since a pet procedure is required.
Present your rabies vaccination certificate and medical documentation to the Plants and Animals Containment Organization at the airport to receive a confinement credential.
Pass through the security checkpoint and pay the pet care fee.
Arrange pet travel over the phone – Call Asiana Airlines up to 24 hours before scheduled departure to book a pet reservation. Adhere to the aforementioned Asiana Airlines pet policy before bringing your pet on board.
Air Asiana Method to Follow for Pet Transportation
Make sure to fulfill all the Asiana Airlines pet requirements and check the quarantine rules by following the below-mentioned process:
1. Obtain Airline Authorization For Travel
It won't be allowed to transport your pet as checked or carry-on luggage if you arrive at the airport without approval for your pet.
Be sure to check with the reservation center to make sure your products may be carried out before leaving.
| | |
| --- | --- |
| For domestic flights: | Approval min. 24 hrs prior |
| For international flights: | Approval min. 48 hrs prior |
2. Confirmation of quarantine in the nation or region (preparation of quarantine documents)
The embassy of the pertinent nation/region is where you can find out if you can bring your pet into the cabin and what you need to do to be ready for quarantine.
Prepare the necessary paperwork for the quarantine in accordance with the established precautions.
Please visit the Animal and Plant Quarantine Agency website before importing pets into the Republic of Korea from outside.
3. Arrive at the airport
Verify the pet cage's conditions.
Pet process will be necessary, get to the airport earlier than usual.
4. Receive quarantine certificate
To get the quarantine certificate, present the rabies vaccination certificate and medical report to the Animal and Plant Quarantine Agency at the airport of the departure city.
When preparing for the quarantine certificate, passengers with an early morning or late night departure should make appropriate plans.
5. Pet Procedure
The animal is weighed.
Its authorization to travel in the cabin is verified.
After which the transportation costs are paid.
There is no free baggage allowance for animals.
Regardless of whether you are checking or carrying on baggage, a separate cost must be paid.
How much does Asiana Airlines charge for pets?
Depending on whether dogs are transported through the cabin policy or as checked luggage, as well as on different itineraries, the Asiana Airlines pet fee ranges from 140 USD to 590 USD:
| Flight Segment | Up to 32 kg(inclusive of the cage) | Between 32kg ~ 45kg(inclusive of the cage) |
| --- | --- | --- |
| Domestic Flights | USD 25 | USD 49 |
| Korea Round-Trip Japan/China/Taiwan/Hong Kong/Mongolia | USD 140 | USD 290 |
| Other routes within Asia(Including Guam/Saipan) | USD 210 | USD 440 |
Tips to Remember While Traveling With Pets
You will have access to significant time savings as a result if you follow this:
Make sure you have all the necessary tickets and paperwork.
The animal must be at least 12 weeks old.
Should have up-to-date immunization records, appear healthy, and get enough food and water for long journeys.
Prior to traveling, make sure the dog is completely at ease within the pet carrier.
You can try scheduling a regular time for the dog to be placed in his cage.
Arrive at least an hour earlier than recommended and ask the airline staff that you will be traveling with such an animal when checking in for the trip.
Ask staff to explain to you where the cargo room is for packing if your dog isn't living in the compartment with you.
Checkout pet policy of other airlines by visiting here.
---
Frequently Asked Questions
Are there any pet fees by Air Asiana?
Yes, The Asiana Airlines pet travel fee ranges from 140 USD to 590 USD.
Are pets allowed to travel in the cabin?
Only if the animal weighs 7 kg or less are they allowed to travel.
Is it compulsory for all the pets to travel in a cage?
No, a pair of birds or two pups or kittens under the age of 6 months are excluded.
What pets are allowed to travel in Asiana Airways?
Animals such as dogs, kittens, and small birds are the only ones that are allowed to travel.
Are service dogs allowed onboard?
Yes, but they must be at least 16 weeks old and be wearing a harness or leash.