Changing travel plans can be a part of any traveler's journey, and when it comes to ITA Airways change flight requests, flexibility is always at the forefront. Explore what conditions you need to meet and how you can request the flight change, and all the ins and outs of the schedule change.
What are the conditions for ITA Airways change booking?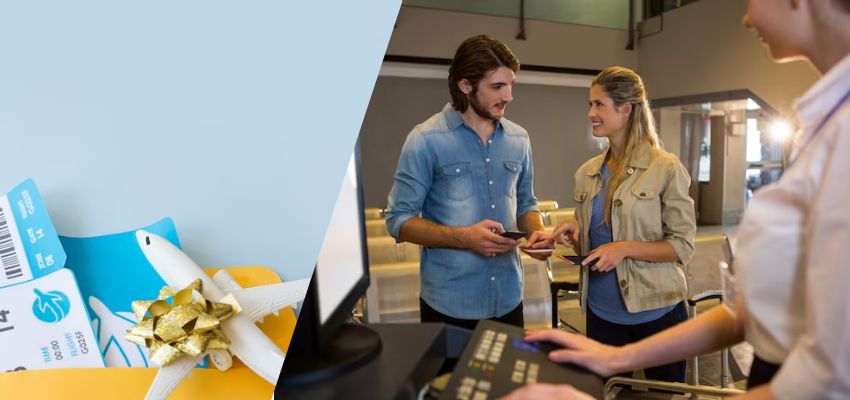 Here are the terms to request the change ITA Airways flight –
Timeline – Passengers need to request the flight change up to 3 hours before departure.
Ticket validity – You can also request the flight change after scheduled departure up to 1 year from the date of issuance. Provided that you must request ITA Airlines cancellation before scheduled departure. No-show requests are not entertained by ITA Airways.
Change destination – Passengers can request a change of destination upon paying an applicable fare difference and ITA change fees.
Change destination within a geographical type – If you're making changes to the destination, it must be within the same geographical type. For instance, if you booked a domestic flight, it must be altered to a different domestic destination. If the destination is within Europe, North Africa, and the Middle East, it must be changed to the destination airport of the same region.
Request upgrade – To request the flight upgrade, the change would be applicable either from Economy to Superior Class, Economy to Premium Economy or Premium Economy to Superior Class.
Pet booking – As per ITA Airlines pet policy, passengers traveling with pets on a confirmed reservation are not permitted to make changes to the flight date, time, and destination.
How does the ITA Airways Time to Think service work?
ITA Airways offers a "Time to Think" option that allows passengers to lock in the price of a flight for 72 hours. Here's how it works –
Choose a flight to your desired destination.
Look for the "Time to Think" option, which will appear below the quoted flight price.
This option is available only if your selected flight departs at least 8 days after your search date.
Select the "Time to Think" option and confirm the service's price.
Proceed with the payment, and you'll receive a confirmation email.
Your chosen flight price is now secured for the next 72 hours.
Process after you confirm your travel booking with ITA Airways
Here's what you need to do –
Head to the "My Flights" section on the ITA Airways website.
Provide your unique PNR that you have received via email.
Complete it by entering your last name.
Complete your booking by making the payment for your ticket.
What are the eligible reasons for ITA Airways flight change?
Here are the all available reasons that allow ITA Airways change booking request.
Change of booking – You can change ITA Airways flight or your itinerary to reach your original destination within 7 days before or after the date of canceled or delayed flight. The request for a new reservation can be made within 1 month of the flight schedule, and only 1 change is permitted.
Change of destination – You have the option to change your destination within 1 month from the flight schedule. No credit will be given if the new fare is lower. The change of destination is subject to change in price if the same class as the original flight is not available. Only one change is allowed.
Full refund – If you are unable to travel or not interested in changing the schedule for your flight can request a full refund.
Does ITA Airways allow flight change within 24 hours of purchase?
The airline allows passengers to request the ITA Airways change flight at no charge within 24 hours of purchase, provided that the booking must be purchased at least 7 days prior to departure. Also –
The said policy is only applicable if passengers have purchased the flight via ITA Airways official website, or through the USA call center at 877-793-1717.
Any flight tickets booked under the Volare program are not eligible under ITA Airways change flight within 24 hours.
The flight must be operated by ITS Airways and is not applicable on codeshare agreement flights.
Any flight upgrades that are booked under Instant Upgrade or Bid Upgrade are not eligible for free changes within 24 hours.
How to proceed with the ITA Airways change flight request?
Passengers have the option to request the ITA Airways change flight date online or through ITA Airways Contact Center –
Process for ITA Airways change flight online
Follow these steps –
Start by accessing the ITA Airways website.
Look for the 'Book and Manage' tab and then choose the 'My flight' section.
Enter the Reservation Code and the passenger's last name in the given field. Click on Search to continue.
Select the flight itinerary that needs to be altered. Locate the option to "Change Flight"
It will guide you through the flight change process, allowing you to select new dates, times, or destinations as needed.
Pay the required ITA Airways change fee and the applicable fare difference at the checkout page.
Carefully review the changes you've made to ensure they are accurate.
Confirm the payment and you'll receive the new flight confirmation on your registered email.
Steps for ITA Airways change flight through the contact centre
Dial the ITA Airways customer service phone number as mentioned below. When connected to the ITA Airways flight representative –
Provide the booking reference for verification.
The customer service representative will guide you through the process and provide information on any associated ITA change fees or fare differences.
Confirm the changes you wish to make. Pay the required fee.
To change ITA Airways flight reservation or request a refund, please reach out to ITA Airways Contact Center here –
| Location | Toll-Free Number | Availability |
| --- | --- | --- |
| From Italy | 800 936090 | Daily from 06:00 to 24:00 CET |
| From Abroad | 39 06 85 96 002 | Daily from 06:00 to 24:00 CET |
| US Customer Center | 877-793-1717 | (24 hours daily, 7 days a week) |
Please Note: If you have already completed the ITA Airways check-in and wish to modify your flight, you need to cancel the check-in to proceed with the changes to your booking.
What happens if ITA Airways changes the flight schedule?
It's essential to know your passenger rights in case you face flight disruptions, delays, or cancellations.
Flight delay
If your flight is delayed by more than 3 hours and the reason is within the airline's control, passengers are entitled to –
Free ITA Airways change flight requests to the next available flight.
Change to the travel route within 2 weeks from the day of departure with no ITA Airways change fee.
You may also be entitled to compensation under Regulation (EC) 261/2004 unless the delay was caused due to any extenuating circumstances and is not attributed to the airlines.
Flight cancellation
In case your flight is canceled, you have several options –
You can choose the next available flight at no additional cost.
Request to be rebooked to your destination within 2 weeks.
Change your destination and travel within 1 month.
Request ITA Airways flight cancellation, and request a refund on the unused portion of the ticket.
If your flight is canceled within 14 days before departure and the reason is within the airline's control, you are entitled to the canceled flight compensation, as per ITA Airways schedule change policy.
Right to delay
if your flight is delayed for 3 hours or more, you're entitled to benefits under Right to Care –
Meals and refreshments
Hotel accommodation if the delay requires an overnight stay.
Airport transfer
The cost of 2 phone calls.
ITA Airways is committed to providing its passengers with a convenient and hassle-free experience, whether you opt for online or seek any personal assistance over the phone. By exploring all the information about the ITA Airways flight change policy as mentioned above, you can adapt them to suit your evolving needs, thus making the most of the flexibility that airlines offer.
Frequently Asked Questions – FAQs
How to change flights on ITA Airways?
Visit the ITA Airways website, log into Book and Manage tab to request or call ITA customer service at 877-793-1717.
Can I change my ITA reservation?
Yes, you can change your ITA Airways reservation, including flight dates and destination if the fare rule associated with your booking allows. 
Can you change flight dates to ITA Airways?
Yes. You can request ITA Airways change flight date by following the process as mentioned in the first FAQ. 
Can I change my ITA Airways flight after booking?
Yes, you can modify your flight details, such as dates, times, or destinations. You can change ITA Airways flight either online or by contacting ITA Airlines customer service.
How can I change my ITA Airways flight date for free?
Yes, you can change ITA Airways flight date for free if you have made the change within 24 hours and at least 7 days before departure. If the new fare is higher, you are required to pay the fare difference.