Avelo Airlines offers a comfortable and safe experience for all passengers, including those who travel with their four-legged family members. The Avelo Airlines pet policy is outlined to ensure a pleasant experience for all. It includes specific guidelines regarding the transport of cats and dogs in the cabin and as checked baggage.
Refer to the policy mentioned below before making the pet travel, as passengers need to abide by certain rules and conditions.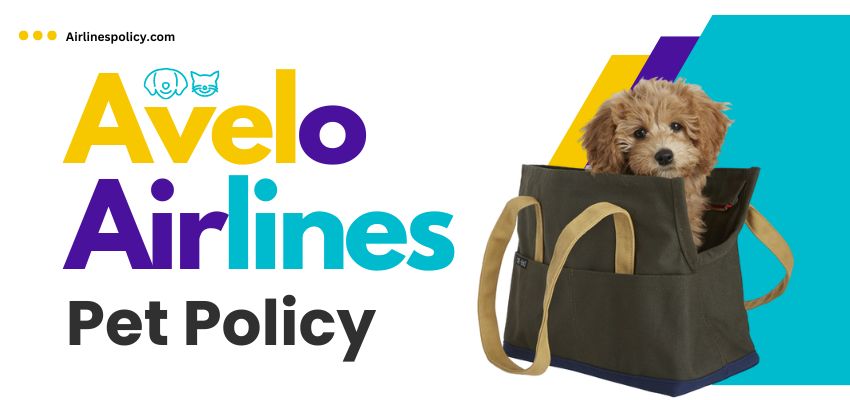 Parameters to Consider for Pet Travel In Cabin
Small cats, dogs, bunnies, and birds are welcome on board. A hard-sided or soft-sided container that can be stored under the seat in front of you must be large enough to accommodate your pet.
In Cabin Pet Carrier Size/Dimensions
Avelo will accept either soft containers with dimensions of 14″ x 9″ x 9.5″ or hard-sided enclosures with those same measurements.
What are the In Cabin Pet Travel Restrictions?
Passengers are only allowed one (1) pet carrier per person. In addition –
In each pet carrier can have, a maximum of two (2) small cats or dogs.
A mother dog or mother cat with puppies or kittens between the ages of 6 and 12 weeks, or up to three puppies or kittens from the same litter between the ages of 12 and 6 months.
Always make sure the cage is big enough to fit all of the animals.
Fee for Pet Travel In Cabin
The Avelo Airlines pet fee for each pet carrier is 125 USD per passenger each way.
Flying with Pets as Checked Baggage Are Allow on Avelo Airlines?
Avelo airlines does not allow pets to travel under the baggage hold.
Rules, Documents Requirement & Restrictions for Service Animals
Service animals with proper training are welcome to fly with Avelo. An individually trained service animal will carry out a task or work for a person who has a physical or mental disability. As trained assistance animals, only dogs are permitted.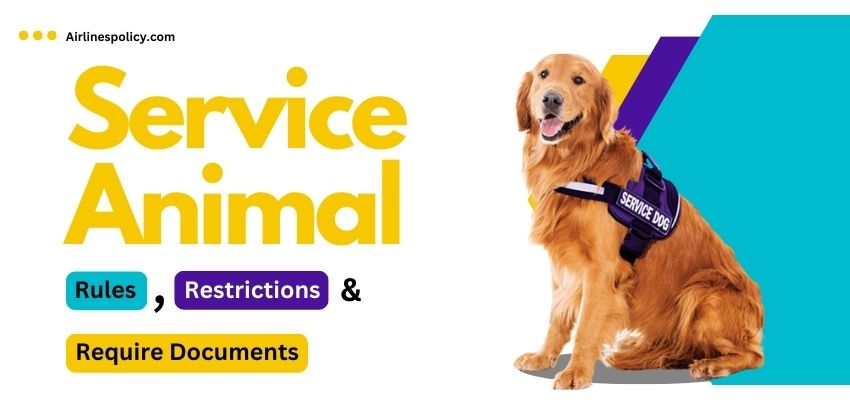 Needful Documents to Travel with Service Animals
To fly with your service animal, you must provide the Department of Transportation Service Animal Air Transportation form at the Avelo Airlines check-in counter on the day of departure.
The form must be dated on or after the date your ticket was purchased.
The animal could not be allowed to travel if the paperwork is absent or incomplete.
The following conditions will apply –
Avelo Airlines allows service animals to travel with their owners on flights at no additional cost.
A service animal is defined as a dog that is individually trained to do work or perform tasks for a person with a disability.
Service animals are allowed in the cabin, but must be kept on a leash or harness and remain under the control of the owner at all times.
Require service animal documentation, such as proof of vaccinations and a letter from a doctor or licensed mental health professional, confirming that the animal is a service animal and needed for the passenger's disability.
Emotional support animals are not considered service animals.
List Travel Restrictions to be Consider for Service Animals Travel
As per Avelo Airlines pet policy, the following travel restrictions will apply –
If you are traveling with a trained assistance animal, you cannot sit in an emergency exit seat.
In the unlikely case of an emergency, the animal must be placed so as not to hinder your quick exit.
The carrier must be securely stored for taxi, takeoff, and landing under the seat in front of you if you choose to travel your trained service animal in one.
You can hold an animal in your lap or place it on the plane's floor.
No animals may:

Stretch out toward the airplane's aisle.
Utilize a tray table.
Cross over to a seat next to you.
How to Book Ticket for Service Animals Online?
If you want to travel with a certified service animal, kindly let the airline know in advance.
You can let the airline know you'll be traveling with a trained service animal by checking the box next to "Special Assistance" on the Add-ons page when making a new reservation.
Click the "Change/Cancel" link on the home page if a reservation has already been made.
Enter the necessary data next, and then click "Submit" Service Animal Form.
Tap on the "Add-ons" link on that page.
Click "Save" after choosing a choice in the "Special Assistance" area, and the data will add to the reservation.
Do Avelo Airlines Allow Travelling with Pet as Cargo?
The airline does not offer cargo services for pets.
How to Book Pet Travel with Avelo Airlines?
To book ticket for pet travel with Avelo Airlines, you will need to contact the airline directly to inquire about their policies and procedures for traveling with pets.
You may need to provide information about your pet's breed, size, and health, and you have to provide documentation such as a health certificate from a veterinarian.
Additionally, you will need to pay any additional fees associated with pet travel, such as a pet fee or a fee for transporting a pet in the cabin.
Once you have gathered all the necessary information and documentation, you can contact the airline to make a reservation for your pet.
---
Frequently Asked Questions – FAQs
What type of pets are allowed to travel with Avelo Airlines?
Only cats, dogs, bunnies, and birds are permitted on board with Avelo; pets are not permitted in the cargo hold.
How many pets Avelo Airlines allows to travel?
According to Avelo airlines pet policy, the airline will allow up to eight (8) pet carriers on each booked flight. However, occasionally, conditions can make fewer than eight (8) pet carriers per scheduled trip possible.
Do my pets require vaccinations or documentation?
No, pets are not allowed to travel with Avelo without a health certificate or any other paperwork from the customer's veterinarian.
Can I pre-board with my pet?
Yes. Due to limited availability, you must make a reservation in advance for your pet.