Breeze Airways pet policy welcomes guests traveling with pets. The airline allows small domesticated cats and dogs. And, is subjected to a fee each way. 
However, be aware that there are guidelines you must adhere to when you book your travel and bring your pet to the airport. Here is all the information you require when traveling on Breeze Airways with a pet.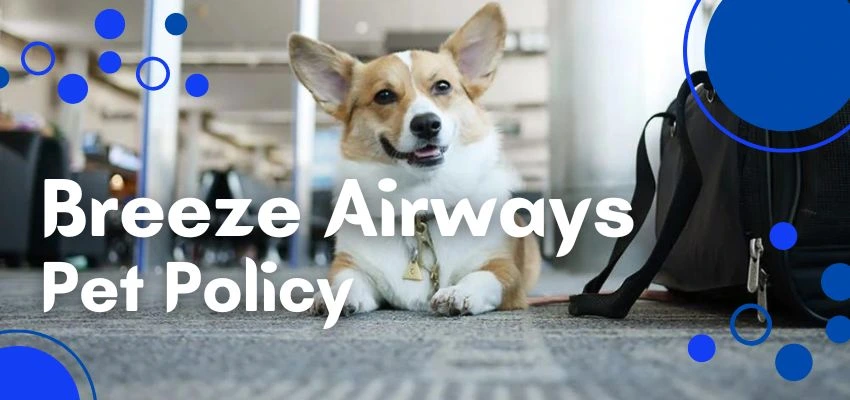 Pet Travel Guidelines on Breeze Airways
Domesticated dogs and cats are permitted to fly on Breeze Airways flights throughout the United States, Puerto Rico, and the US Virgin Islands, according to the Breeze pet policy. In addition –
Small domestic rabbits and "household birds" (other than chickens and ducks) are permitted to fly in-cabin on Breeze.
Although only domestic flights are permitted for these animals (not to or from Puerto Rico or the U.S. Virgin Islands).
Animals are also not permitted to be transported as cargo by Breeze.  
Due to Breeze Airways dog policy, larger canines are unable to travel on the airline.
All pets must be at least eight weeks old and completely weaned from their mother. 
Pets must also have health certificates while flying to the U.S. Virgin Islands, and visitors to Puerto Rico must have proof of rabies immunization.
On Breeze, you may select any seat, with the exception of the first row and the row closest to the emergency escape. 
Your pet must remain in its carrier the whole journey, be "harmless, inoffensive, and odorless," and not demand any attention.
In case enough space is not available under your First Class seat, you may book an additional one.
Pets must be checked in at the airport ticket counter. 
Guests with a pet on their reservation can obtain their boarding permit at the ticket desk.
How to Book a Trip for Pets with Breeze Airways?
Passengers have the option to book pet travel with Breeze Airways on the airline's website as well as over the phone.
Book Breeze Airways Tickets Online
By adhering to the steps, you can add a pet when making a reservation online. Here's what you need to do –
Visit the airline's website and navigate to the My Trips section
Select the 'Edit Guest' extras where you can add or delete a pet from an existing reservation.
Pay the required fee at the checkout page, and the pet travel receipt would be emailed to your registered email address.
Book Breeze Airways Flights on Call
Passengers can call the airlines at the Breeze customer service number to book their pet reservation. The pet fee may apply.
Pet Travel Restrictions on Breeze Airways
As per Breeze Airways pet policy, in order to get eligible to travel pets must be at least 8 weeks old at the time of travel. Any animal that exhibits disruptive behavior may not be allowed to board. Examples of such conduct include the following, but are not limited to:
Unnecessarily loud noises like barking or whining.
Rude actions including snarling, lunging, or biting.
Using non-designated restrooms to urinate or poop.
Other actions or situations that a Breeze Team Member deems disturbing.
Breeze Airways Pet Carrier Requirements
As per Breeze Airways pet policy, only one pet is allowed per carrier. In addition –
The carrier needs to be big enough for the animal (or animals) to stand up and turn around. 
Only soft-sided carriers are permitted, with dimensions not exceeding 18 x 13 x 9 inches.
The kennel/carrier must be kept right below the seat that is in front of you for the duration of the journey. 
The pet and carrier can only weigh a total of 40 pounds.
Your pet carrier will count as one of the goods you are permitted to bring on board due to the Breeze Airways baggage policy.
Pet carriers are allowed as carry-on luggage but must fit under the seat in front of you. 
Besides the pet container, passengers are allowed to bring one other personal item with them when they board the plane. 
The pet carrier will be under the seat in front of you, so you can store your personal item in the overhead compartment.
Pets must always be restrained inside the pet carrier when: 

in the area of boarding, 
at the time boarding/deplaning, 
and inside the aircraft for safety reasons.
Pet Travel Fees at Breeze Airways
As per the Breeze Airlines pet policy, the airline allows small domesticated cats and dogs inside the cabin for a fee of 70 USD per one-way journey. Before paying the pet fee, passengers need to keep the following points in mind –
Pets are permitted on a first-come, first-served basis.
Breeze allows up to five (5) pets per flight, but each passenger using the same flight is only allowed to bring one (1) pet carrier.
A pet may not exceed 25 lbs in weight, including the carrier. 
Even if the combined weight is under 25 lbs, just one (1) pet is allowed per carrier.
Please Note: The airlines do not allow pets as checked baggage.
Conclusion
You may bring your dog (as long as it's small enough), cat, rabbit, or bird with you on most flights thanks to accommodating Breeze Airways pet policy. And even if Breeze charges a lot for everything "extra" during your trip, the cost to fly with your pet is comparable to those of the other major U.S. airlines (although on the higher end of the scale).
Frequently Asked Questions (FAQs) – Breeze pet policy
Does Breeze allow pets on board?
The airline allows passengers to travel with pets onboard. The airline allows small domesticated cats and dogs to travel on board.
Can I buy a seat for my dog on a Breeze airplane?
No, passengers traveling with pets are not allowed to purchase a passenger seat. All animals must be transported in a suitable carrier that is tucked underneath the seat in front of you. The Bulkhead or an Exit Row are not permitted for guests who are traveling with dogs.
What sort of pets are allowed on aircraft?
Only the following kinds of pets are permitted on Breezes aircraft:

1. domestic dogs and cats
2. Small domestic birds and rabbits, excluding those traveling to or from Puerto Rico and the U.S. Virgin Islands.
Does Breeze allow pets to travel in cargo compartments?
Pets are never transported in cargo by Breeze Airways.