VivaAerobus pet policy welcomes cats and dogs to travel to any of their destinations, complying with some requirements. They allow pets to travel in both cabin and cargo but with a variation in the requirements. VivaAerobus Airline is very spacious and has the most space to transport pets which is easy and comfortable. In order to grasp the requirements and make plans for your pet's safe and enjoyable journey, it is essential to be aware of the specific pet restrictions of the airlines(s).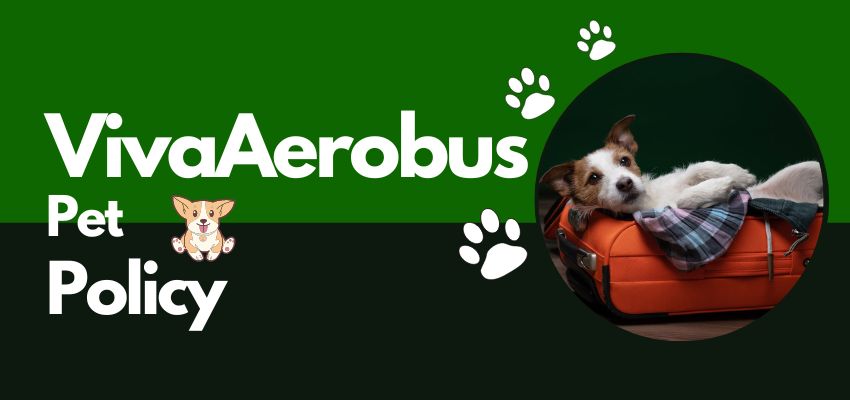 VivaAerobus Pets In Cabin & In Cargo Allowance
The airline allows pets to travel in the cabin. Below mentioned are all the pet and cabin rules:
Weight limit: 27 lbs (including carrier)
Dimensions: 18 x 14 x 8 inches is the maximum size of the carrier.
Carrier material: rigid or semi-rigid carrier material
Pets allowed: cats and dogs
Minimum age: 8 weeks or older
VivaAerobus pet policy also allows pets to travel in cargo if they fulfill the below-mentioned conditions:
Maximum weight allowed: 99 pounds (including carrier)
Maximum dimensions: 126 linear inches (length + breadth + height).
Carrier material: rigid
Allowed pets: Dogs
Minimum age: More than 16 weeks old
Required documents for Pet Allowance 
All pets, service animals, and emotional support animals flying with VivaAerobus must:
Sign airlines' letter of commitment.
Show vaccination record.
Show documentation of the most recent internal and exterior deworming.
Have a health certificate on letterhead, issued no later than seven days before your departure by the veterinarian.
Document must say that the animal is healthy, has no open wounds that need to cure, and is suitable for air travel.
Service and Emotional Support Animals in VivaAerobus
It is compulsory to provide supplementary paperwork for VivaAerobus pets if you are traveling with an emotional support animal or service animal.
Service and emotional support animals such as cats and dogs ride for free at Viva.
Emotional Support Animals 
Requirements: 
Bring a medical prescription with the following information on letterhead that was written by a facility or a physician with expertise in mental health (a psychologist or psychiatrist):
Name, medical license, and signature of the person who issued the document.
Full name of the passenger.
ID badge.
Harness.
Leash
The emotional support animal must travel in a carrier that fits beneath the seat in front of you if it does not have specific training or a letter of good behavior.
A muzzle (not a harness-type muzzle) must be worn the whole trip if they cannot fit in a carrier.
You must provide a letter of good behavior or an advanced training certificate issued by a legally constituted and recognized institution in order to not wear a muzzle.
The passenger is responsible for any additional fees if the emotional support animal does not comply with these guidelines and must be carried as a cargo pet.
Service Animals
Requirements:
Present credentials, certifications, and documentation of training from an organization that has approved the status of the service animal.
Wear a collar, leash, and identification badge provided by a legal entity.
The passenger is responsible for any additional fees incurred if the service animal does not adhere to these specifications and is transported as a cargo pet suggested by the VivaAerobus pet policy.
Travel in Vivaaerobus International flights 
These 2 conditions mentioned below are a must.
You must have a certificate issued by Sagarpa within 7 days of the scheduled flight date in addition to providing everything listed above.
Only 1 animal per passenger is allowed onboard
Recommendations for taking your pet on a trip:
Since it depends on availability, add this service as soon as you can.
Before taking a flight, if your pet has never been in a carrier, let them practice at home and give them a treat as a reward.
Brachycephalic breeds cannot fly in the cargo compartment because of common respiratory issues that might be aggravated by stress or exposure to high temperatures.
On the day of your trip:
To stop spills, put absorbent padding inside the carrier.
It's not advised to sedate your animal companion. Consult your veterinarian frequently.
Give your pet its regular meals and a few little nibbles before the journey.
Prior to the flight, try to get them moving and provide them with water.
Carry all of your pet's paperwork.
Go to the airport For local flights, allow two hours, and for international flights, three hours.
Present all required documentation to airport security and the check-in desk.
At the VivaAerobus check-in counters, read and consent to our liability waiver. 
Make sure the carrier has a tag on it with your information and that of your pet when you check-in.
If necessary, strengthen the carrier's doors with security tape.
Restrictions for Flying with Pets with VivaAerobus
There are a few restrictions that come up while traveling with pets which include:
A total of 11 pets are permitted each trip with the airlines therefore providing VivaAerobus pet tickets further isn't possible.
A 5 pet cabin limit and 6 pet cargo hold limit are there.
According to the VivaAerobus Pet Policy, Pets are not permitted in the cargo hold on connected flights due to safety concerns. 
Passengers with pets are not permitted to choose seats in the emergency escape row when flying in the cabin.
Verify that the carrier satisfies the requirements listed above and has enough room and ventilation to allow your pet to travel comfortably and roam about freely.
To travel, your pet must be in good health.
Your pet must travel in a rigid container if they are displaying stress, anxiety, or aggressive behavior.
Your pet must always be in its carrier when flying in the passenger cabin.
Here passengers can have the responsibilities form for domestic animals (pets), emotional support animals and service animals.
---
VivaAerobus Pet Policy – FAQs
What kinds of pets are allowed to travel in the cabin of VivaAerobus?
Only cats and dogs are allowed to travel in the cabin. 
How many pets are permitted on each trip?
A total of 11 pets are permitted on each trip with VivaAerobus.
Can service animals travel without an identification badge?
No, it is compulsory for them to wear a collar, leash, and identification badge provided by a legal entity.
What is the minimum age for pets to travel in cargo?
The minimum age for pets to travel in cargo is 16 weeks old. 
What is the cargo weight limit including the carrier?
The maximum weight allowed is 99 pounds including the carrier.