Every customer is unique in our eyes. At Emirates, they make sure you travel worry-free and are available to help you at every turn. Through Emirates special assistance programme you can access end-to-end travel, provided you request at the time of booking or at least 48 hours before scheduled departure.
Customers with mobility and impairment challenges can use our customized help without any problems. The following is a detailed summary of some of the requirements that Emirates meet.
Special Assistance Offered by the Emirates Airlines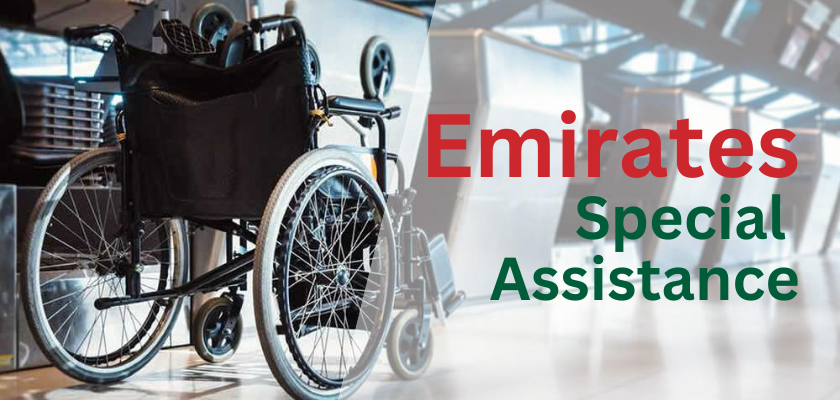 Emirates provides special assistance services for passengers with limited mobility, visually impaired, or passengers who deaf. In addition, the Emirates Special Assistance team also provides assistance related to escort and other services. Let's understand what Emirates have to offer –
Emirates wheelchair Assistance for Passengers with limited mobility –
Passengers who want wheelchair assistance can get it from Emirates at no cost. If you're traveling with a battery-powered wheelchair or mobility equipment, you must provide the size, weight, and battery specifications to the Emirates airport desk up to 2 days before your actual flight is scheduled. You are free to transport it.
Here are some of the important points to consider under Emirates mobility assistance program –
You must inform Emirates if you need a wheelchair at least 48 hours before your aircraft takes off.
All airports offer Emirates wheelchair assistance – from the entrance (or car drop-off location) to the boarding gate, for flight connections as well as from the aircraft to the destination's terminal entry or vehicle pickup location.
All planes have accessible wheelchairs on board.
Passengers in wheelchairs on Emirates are given aisle seats with moveable armrests to make it easier for them to change seats.
Make sure to choose a seat like that while checking in online or by contacting your travel agent or booking agent.
Important Things to consider for Getting Assistance
Own wheelchairs and assistive gadgets, including motorized and non-powered wheelchairs, can be transported for free. It is subjected to the size and weight requirements.
Wheelchair option in official Emirates Airline available on a first-come-first-served basis.
In addition to your carry-on luggage, Emirates permits you to bring up to 2 certified medical and assistance gadgets into the cabin free of charge.
Emirates will store your wheelchair or other assistance device if it is too big or heavy to fit in the cabin.
If you want to roll your wheelchair up to the gate, arrive at the airport earlier than you normally check in.
If you wish to take your wheelchair up to the gate, arrive at the airport before your regular check-in time.
Non-collapsible wheelchairs, motorized scooters, and electric wheelchairs must be checked in at the main check-in desk.
Passengers carrying battery-powered mobility aid(s) must specify the weight, dimension, and battery type.
The manufacturer's instructions should be brought with you in case large wheelchairs or other assistance devices need to be disassembled and rebuilt.
Before takeoff and landing, you must tuck your cane or crutches under your seat. Check that they are flat and do not hinder passage.
Passengers who are deaf
Inform the airlines when you make your reservation. If you have already reserved an Emirates flight, get in touch with the airline's local office and let them know about Emirates special assistance requests.
If you have already reserved an Emirates flight, get in touch with the airline's local office and let them know about it .
You can watch flight-related information at the airport, including announcements, gate changes, etc.
You can request personalized safety briefings on board. You can also consult a flight attendant for updates on your flight.
Besides, you can use hearing aid-compatible headphones, view movies and safety instructions with captions, and use Emirates' service finder to view particular amenities and services.
Passengers who are visually handicapped or blind –
The following conditions must be met in order for you to travel with a guide dog that is free of charge and seated in the cabin at your feet:
Inform airlines at least 48 hours before scheduled departure. Make a request under Emirates assistance for elderly program.
Your guide dog sits at your feet the entire time, keeping the emergency exit and main aisle clear.
You offer convincing proof that your pet is a service animal, together with the relevant paperwork such as the health and travel-related entry/exit permits.
At the time of booking, let Emirates know. If you've already made reservations for an Emirates flight, get in touch with the airline's local office and let them know about the special requirements.
An Emirates special assistance service at the airport will assist you with getting to and from the boarding. In addition, you can also have access to a wheelchair, aircraft connection, airline transfer support, etc.
Once onboard, you can request personal safety briefings. And receive flight updates from a flight attendant, use hearing aid headphones, and even watch movies. The safety briefing card would be offered in Braille. Not just that, the meal menu read out to you by a flight attendant.
Passengers in need of escorts
Emirates assistance for passengers includes an escort service which include –
Those going in an incubator or on a stretcher, or those who require medical attention.
Individuals with mental impairments who are unable to comprehend or follow safety guidelines.
Those passengers who can't leave the aircraft on their own.
Those who have significant hearing and vision impairments and are unable to converse with flight personnel.
You can ask the airline cabin crew for assistance with moving around the cabin or retrieving items from the overhead lockers. They cannot assist you with personal care, lift you, or give you medication.
If you want more support, you must reserve a seat for an attendant or a medical assistant.
You will also require a flight attendant for your comfort and security if
Safety guidelines are difficult for you to comprehend or follow.
You are unable to help in your own evacuation from the airplane.
Because of your significant hearing and vision problems, you are unable to communicate with the cabin staff.
If you require medical assistance during the flight, you must ride on a stretcher, have an incubator, or both.
Medicine onboard and transportation
Emirates medical assistance service can be available by filling out the medical form. There is no charge for the medical assistance service. In addition –
When boarding any flight, you should always have your prescription with you if you need special medication.
Always travel with an extra supply of prescription medication because different nations have varied regulations regarding the possession of these medications.
Additionally, some nations have limited stock in the event that you need a refill on your prescription.
You should speak with your doctor and the local embassy of the country you are visiting for more information about any specific medications.
Preboarding help needed by passengers
Passengers who require Emirates airport assistance at the time of boarding will be provided special assistance upon request. Passengers who request special service would be seated before general boarding starts.
Onboard assistance and accessibility
Emirates assistance for passengers is offered whatever they need from the stowage and overhead lockers. In addition –
The airline also assists you in moving around the aircraft leveraging the onboard wheelchair.
The airline offers an accessible seat in the aisle.
The seat features movable armrests to make it easier to transfer between the seat and the wheelchair.
Traveling with an Emirates airport assistance member – Although they cannot lift you, the airline staff can assist you in moving around the aircraft. You must travel with a helper if you require additional assistance getting in and out of your wheelchair, using the restroom, taking care of yourself, eating, or taking medication.
Assistance for travelers with intellectual or developmental disabilities
In such cases, get in touch with the airlines.
The airline can set up a meet-and-assist service at the airport to take you to and from the aircraft. Additionally,
The Emirates lead you to amenities like quiet places and lounges and explain how to reach immigration, security, and the boarding gate.
To give yourself more time to settle in for the journey, you can also request to be among the first passengers to board the plane.
Passengers flying with airway equipment, ventilator, and respiratory devices
Unless you require additional help, you are permitted to travel with PAP or CPAP devices without attesting medical certificate. Your permitted amount of luggage will not be affected. The conditions include –
The equipment must fit within the permitted weight and dimension limits in order to be utilized without impeding traffic and to be safely stored inside the cabin.
Make sure you have enough batteries to get you where you're going. However, you can connect PAP or CPAP equipment to the in-seat power.
You cannot occupy an exit row seat for safety reasons.
Carrying CPAP and PAP batteries – Two fully charged spare batteries must be properly wrapped and transported in the cabin. In addition –
Batteries must be packaged in a way that does not come into contact with metal objects, including the terminals of other batteries.
The batteries must be taken out and packaged separately.
Passengers traveling with service animal in the cabin
The guide dog or psychiatric assistance dog can travel without any fee. They can fly with you in the cabin or as cargo in a designated area of the aircraft hold, depending on the route. You must pay an excess baggage fee if you are traveling with a service animal.
Manage Booking – Let the Emirates senior citizen assistance team know about the service dog travel up to 48 hours before the scheduled departure. Contact the Emirates team and the airline will talk you through the request.
Please note – Before you go, you must ensure that your guide dog or service dog has all of the necessary health exams and permits. It may take some time.
How to Book Special Assistance in Emirates?
When making a reservation on the website, you can indicate whether you need wheelchair assistance or any other special request. If you've already made a reservation, you can –
Calling our 24 hour customer service center using the Emirates website's
"Emirates Manage Booking" section
By sending an email between 7 am and 11 pm to [email protected]
Note – The airline offers complimentary transport for customers' personal wheelchairs as a unique courtesy. The Emirates airport assistance team accept manual as well as collapsible wheelchairs, and battery-powered wheelchairs with spill-proof batteries.
FAQs Related to Book Special Assistance with Emirates
How to add wheelchair assistance in Emirates?
You need to call the airline once you have booked the flight. Or, you can add a wheelchair with Emirates 2 days before the scheduled flight. Through the 'Manage Booking' section, you can also avail Emirates wheelchair assistance online.
Does Emirates Airlines provide wheelchair assistance at all airports?
Yes, Emirates wheelchair assistance is offered at all airports where Emirates fly.
How to get wheelchair assistance at the airport with Emirates Airlines?
Visit the airline counter at the airport up to 3 hours before departure to avail emirates book wheelchair assistance service. In such cases, the wheelchair would be available on a first-come-first-serve basis.
What rules apply to Emirates assistance with infants service?
Only infants who are at least seven days old are permitted to fly with Emirates. Infants can only travel for medical reasons or in an emergency during the first seven days after birth. A MEDIF form will be required.
Are wheelchairs at the airport provided by Emirates
Yes, travelers who have trouble moving throughout the airport can request wheelchairs. Such travelers will receive assistance from Emirates with transportation from the terminal entrance to the boarding gate.
Is wheelchair assistance offered on board Emirates?
Yes, Emirates accommodates wheelchairs on all of its aircraft, regardless of the fare type and the class of service booked.
Do you have a wheelchair or other special equipment that you may bring on Emirates?
Yes, both motorized and non-powered wheelchairs are accepted for transportation by Emirates.
Is there any charge to request Emirates wheelchair assistance?
If you or a family member requires mobility assistance, Emirates Airlines does not charge for wheelchair assistance.
How do I arrange for wheelchair assistance from Emirates in Dubai?
To request wheelchair assistance if your aircraft is departing from Dubai, phone the Emirates Dubai office at least 48 hours beforehand. This will guarantee that you have access to the wheelchair service for the entire voyage.