Icelandair allows small pets to travel in the cabin with passengers on most flights. However, there are some restrictions and requirements that must be met. Pets must be small enough to fit in a carrier that can be stored under the seat in front of the passenger. The carrier must also meet certain size and ventilation requirements. Additionally, a maximum of two pets are allowed in the cabin per flight and a fee is charged for each pet. It's recommended to check with the airline before booking your flight to confirm the Icelandair pet pet policy and to make any necessary arrangements.
Icelandair Pet Travel Policy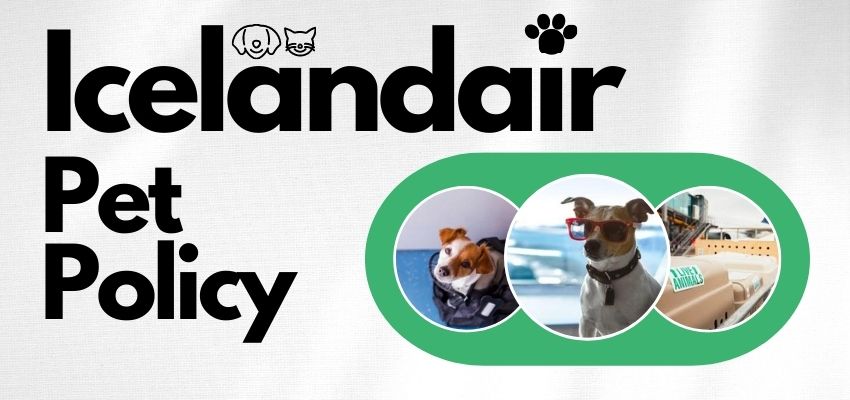 Icelandair Pet In Cabin Travel
Airlines does not accept pets for in-cabin travel.
Icelandair Pet Travel as Checked Baggage
The airline allows cats and dogs to be transported in the special climate-controlled checked baggage hold. Given below are the requirements as per Icelandair pet policy.
Traveling with Animals Outside Iceland
The passengers must meet the following requirement to be transported as checked baggage –
Pit Bull Terrier, Staffordshire Bull Terrier, Tosa Inu, and Dogo Argentino are among the dog breeds that are not permitted on Icelandair flights.
Each aircraft's hold may contain a maximum of four animal crates. However, if both creatures are little and belong to the same species, they can share a crate.
The traveler is responsible for providing their own pet carrier. Only animals in cages with IATA approval are accepted here.
The maximum crate size is 36 inches (92 cm) long, 25 inches (64 cm) wide, and 27 inches (71 cm) high (height).
An animal's total weight—including the weight of its crate—may not exceed 88 lb/40 kg.
If another airline is running a portion of the route, Icelandair cannot accept animals in the hold.
Animals are not permitted on connecting flights.
The owner undertakes all risk of injury, disease, or death to any such animal approved for transportation.
Any harm the animal does must be paid for by the owner.
The passenger must have all documents required by the authorities of the transit and/or destination country.
How to book an animal for transport?
Please get in touch with the Icelandair Service Center to schedule an animal for travel in the plane's hold. When scheduling an animal for transport, the passenger must specify the exact size and weight of the crate for confirmation.
Icelandair Pet Fees
The charge for animal transportation as checked baggage includes –
ZONE 1
(Between Keflavik airport and Europe)
ZONE 2
(Between Keflavik airport and North America)
ZONE 3
(Between Europe and North America)
Price per crate
126 USD
148 USD
174 USD
For domestic travel, the Icelandair pet fee is 55 USD per animal.
Traveling with Animals in Iceland
Following are the important points to know when traveling with animals in Iceland –
Before leaving, give the animal a sedative. Before you do anything, please talk to a veterinarian.
Animals in distress who make a lot of noise won't be permitted to board.
A suitable animal crate with a waterproof bottom should be made of strong plastic. The crate needs to follow IATA's regulations.
Please be aware that folding fabric or metal containers are not appropriate for transporting animals.
The animal must be able to stand, turn, and lie down naturally within the confines of the container. If the animal's welfare is not guaranteed, one of our staff members may decline to transfer it.
There is a cost for transporting each animal or crate.
Arriving on time for check-in is crucial for passengers flying with animals.
Traveling with a Service Animal
Icelandair allows passengers to travel with service animals on their flights. The service animal must be trained to assist a person with a disability and must be seated in the floor space immediately in front of the passenger's seat. Passengers should notify Icelandair of their intention to travel with a service animal at least 48 hours before their flight, and should also provide documentation from a doctor or mental health professional verifying the need for the service animal. It's also important to check the rules of the country you are traveling to as some countries have specific regulations for service animals.
Certified animal on board – Service animals that travel with passengers who have a handicap, such as a physical, visual, cognitive, mental, or other physical impairment. These creatures include, but are not limited to:
Guide dogs
Hearing dogs
Diabetic alert dogs
Mobility assistance dogs
Autism service dogs
How to add a service animal to your Icelandair flight booking?
After you book the flight, all you need to do is fill out the form and submit all the required documents. On the request form, choose "Medical and Disability Assistance."
To reserve travel for a service animal, please send all required documentation and applications at least 48 hours in advance.
What are the guidelines for Icelandair pet travel for service animals?
Here are the condition that any passenger must met before traveling with a service animal –
Passengers with service animals are permitted a 3-hour transit layover at Keflavik Airport.
An Icelandair stopover is not permitted since all live animals that enter Iceland must spend two weeks in quarantine.
A certified service animal will fly for free in the cabin with Icelandair.
On international flights, Icelandair permits up to 4 service animals, but domestic flights only permit 1 service animal.
If another carrier is operating a portion of the route, Icelandair cannot accept the transportation of service animals.
The owner undertakes all risk of injury, disease, or death to any such animal approved for transportation.
The owner is liable for any damage caused by the animal.
The traveler must have all the documentation needed to enter and/or exit the country of transit and/or destination.
If admission into or travel through any nation is refused, Icelandair won't be held accountable.
Documents Required Under Icelandair Pet Policy to Travel with Pet
Here are the following documents that passengers must submit at the time of check-in
Flights between the US and Europe via Iceland
MAST approval form for transit at the Keflavik Airport.
DOT Form.
Flights between Canada and Europe via Iceland
MAST approval form for transit at the Keflavik Airport.
Flights between Europe and Iceland
Please contact the Iceland Ministry of Agriculture for transport requirements.
No documents required.
The airline must contact Customer Service to book travel for service animals.
---
FAQs
Can you bring dogs on Icelandair?
Yes, dogs can be brought on Icelandair flights as long as they meet certain requirements and are properly certified. These requirements can include a current health certificate, vaccination records, and a pet passport. It is recommended to check with Icelandair directly for specific information on the requirements and procedures for traveling with a dog.
How much does it cost to bring a dog to Iceland?
The cost to bring a dog to Iceland can vary depending on factors such as the size of the dog, the route of travel, and the airline. It's recommended to check directly with Icelandair or other airlines for their specific fees for traveling with a dog.
How can I bring my pet to Iceland?
To bring a pet to Iceland, you will need to meet certain requirements set by the Icelandic Food and Veterinary Authority. These include proof of vaccinations and a health certificate from a veterinarian. Additionally, dogs must be microchipped and treated for tapeworms within a certain time frame before arrival in Iceland.
What documents do I need to fly with my pet?
You will typically need a health certificate from a veterinarian, proof of vaccinations, and possibly a certificate of acclimation if your pet is traveling to a country with specific temperature requirements.
What is the maximum weight an Icelandair pet can travel with?
The maximum weight for a pet traveling on Icelandair including the weight of the crate is 88 pounds (40 kg) including the weight of the carrier.
What are the penalties for overweight or oversized pets traveling with their owners?
It depends on the mode of transportation you are using.Icelandair may charge additional fees for pets that are overweight or oversized, while others may not allow them to travel at all. It's best to check Icelandiar pet travel rules while traveling with overweight or oversized pets.
Can I bring my pet with me during stopovers in other countries on Icelandair flights?
No. As per Icelandair pet policy, the airline does not allow pets on a connecting flight.