Certain pets are allow to transport as checked baggage or cargo on domestic and international flights under Japan Airlines pet policy. In the passenger compartment, pets are not permitted. Service/assistance Animals like dogs and other certified service animals, are welcome to travel in the passenger cabin for free with their owners.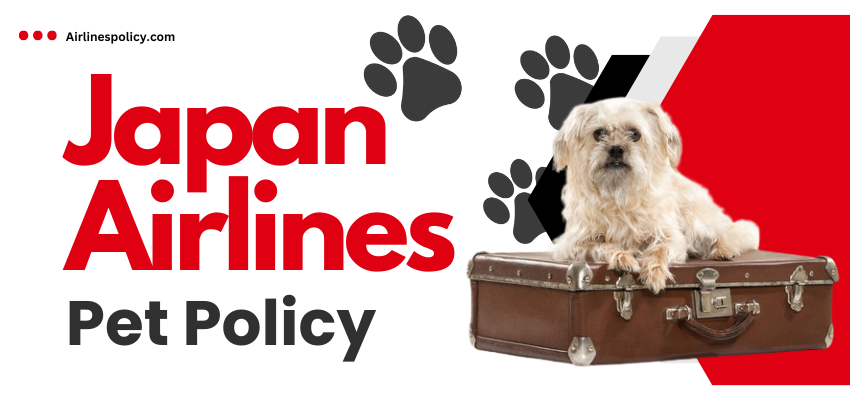 ---
Can Pets Travel In Cabin with Japan Airlines?
Pets are not permitted in the passenger cabin on Japan Airlines. However, travelers who completely rely on their certified service animals (dogs) for movement or help are permitted to travel in the passenger cabin at no additional cost.
Passenger have to inform in advance, if they are traveling with a service animal. Traveler must full fill the following requirement:
Training certificate that attests to the dog's specialized training.
Make sure the dog doesn't leave the owner's feet at any point during the flight.
Make sure the dog is wearing a cape or vest that says it is an aid dog.
Carry a muzzle, and use it as necessary.
Make certain that the dog only receives water as food.
---
JAL International Pet Policy (Pet Travel as Checked Luggage)
You are permitted to bring certain pets on foreign flights with Japan Airlines as checked baggage. This means that while you and your pet will be flying together, they won't be allow to sit in the passenger cabin with you. Your pet will be given to you in the baggage claim area after arrival.
List of Pets Accepted for International Travel
Those animals that eat seeds, fruit, and insects are allow to travel like:-
Cat.
Dog (apart from French Bulldog and Bulldog).
Tiny bird.
Ferret.
Hamster.
Rabbit.
Squirrel.
Chinchilla.
Marmot.
What is the Minimum Pet Age to Travel with JAL?
Traveling cats and dogs must be at least 8 weeks old.
How to do Reservation for Pets ( International journey) ?
Book in advance to guarantee a space—JAL may require 48-72 hours confirm a space. All you need to do is –
Call the JAL office in your city or nation to contact Japan Airlines.
When booking a reservation, prepare with the following information:

The pet crate's dimensions, including its length, width, and height.
Combined pet and crate weight.
Type of pet carrier.
Age of your pet on the day of travel.
Depending on how many days pass, JAL will let you know if your pet can travel with you.
Documents Required for Global Pet Travel
In accordance with the exporting and importing countries' quarantine requirements, you must obtain the following documentation.
Sign the JAL documents at the time of check-in at the airport counter.
Valid health certificate issued by a professional veterinarian within 10 days of departure.
The Essential Requirements for JAL Pet Carrier
The following requirements will be their on your pet container in order to fly on Japan Airlines with a pet:
Your pet needs adequate room in the pet crate to stand up, spin around, and lie down.
The pet box must be constructed from sturdy fiberglass, wood, plastic, or another substance of comparable tensile strength.
The animal box needs to be adequately aired.
The bottom of pet carriers constructed entirely of wire or welded mesh.
The pet crate needs to be locked, leakproof, and escape-proof.
Rodents and other creatures with powerful teeth, like hamsters, rabbits, etc., must be transported in pet carriers that are specifically constructed and completely contained with wire mesh to prevent escape.
There can be only one pet per carrier.
Crates dimension for rodents (mammal includes rats, mice, squirrels, hamsters, and their relatives).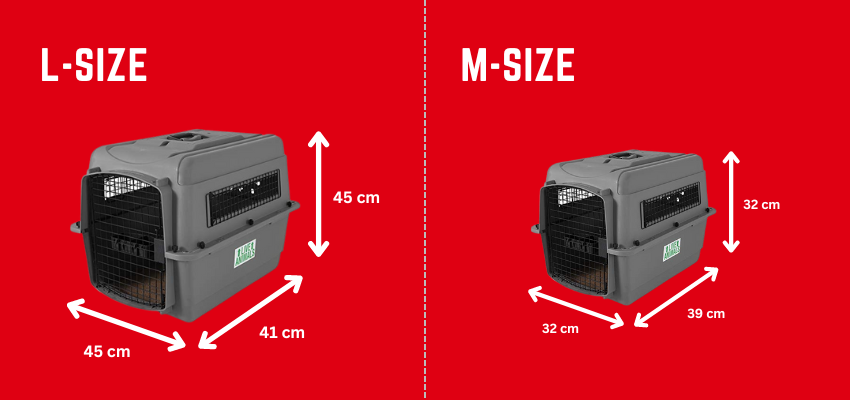 What are the Precaution that Passengers Have to Take Care About?
Here are the certain precautions that passengers need to take when transporting pet as checked baggage –
Due to the heat and humidity, you should avoid taking your pet on a trip during the summer, especially if they are young, old, or of the brachycephalic (snub-nosed) breed.
Especially if your pet is susceptible to cold, use caution when moving it during a harsh winter.
Taking Your Pet Abroad? Here are Restrictions You Need to Know
The following restrictions would be applicable for pet traveling as checked luggage, as per Japan Airlines international pet policy.
Pets who are sick or pregnant are not allow to travel.
Pets with unpleasant odors.
On international flights, the following brachycephalic (snub-nosed) dog breeds are not permitted:
| | |
| --- | --- |
| Tibetan Prayer Dog | Italian Corso dog |
| Staffordshire Bull Terrier | Chow Chow |
| Shih Tzu | Chin |
| Shar Pei | Cavalier King Charles Spaniel |
| Pug | Bull Terrier |
| Pit Bull Terrier | Brussels Griffon |
| Perro de Presa Canario | Boxer |
| Mastiff Pekinese | Boston Terrier |
| Lhasa Apso | Bordeaux Mastiff |
| King Charles Spaniel | Affenpinscher |
List of Restricted Breeds
International Pet Travel Fee as Checked Baggage
The cost to check a pet internationally varies depending on the route and is normally as follows:
| | |
| --- | --- |
| Flight from Japan to – | Pet travel fee (in USD) |
| India, Europe, Asia, Africa, the Middle East, North America, Hawaii, Central/South America, Oceania, and Hawaii. | 325 |
| Oceania, Guam, and Asia. | 200 |
---
Japan Airlines Pet Policy for Domestic Flights
The Japan Airlines pet policy for domestic flights includes –
List of Pets Accepted for Domestic Travel
The following tiny animals can fly as checked baggage:-
Hamster.
Rabbit
Small bird.
Cat.
Dog (excluding bulldog and french bulldog).
Goldfish.
Turtle.
Insects are all permitted.
All You Need to Know About Pet & Carrier Size/Dimensions
The following conditions will apply in terms of weight and dimension –
The maximum weight of the pet (with the crate) is 70 pounds (32 kg), although the limit for flights operated by JAC/HAC and RAC is 99 pounds (45 kg).
The pet will be checked in as cargo baggage rather than checked baggage if the combined weight of the pet and crate is greater than 70 lb/32kg.
Tips for Transporting Pets as Checked Baggage
Passengers need to keep following things in mind –
Arrive early at the airport.
Obtain a letter of authorization before bringing your pet.
Although you can do it there, it is best to do so beforehand to avoid delays.
Check-in your pet at the airport counter at least 40 minutes in advance.
Submit the letter of consent.
Pay the pet fee.
Note – Your pet will be kept at the counter and moved to the bulk cargo compartment, the air-conditioned area of the aircraft, right before takeoff.
Domestic Pet Travel Fee as Checked Baggage
Depending on your route, the domestic pet fee for animals traveling as checked baggage within Japan will range from 25 to 50 USD per crate per aircraft sector.
---
Bringing Pets on International Flights as Cargo on JAL
Pet Allowed to travel as Cargo – Small birds that eat seeds, fruit, and insects, as well as cats, dogs (apart from breeds of Brachycephalic dogs), ferrets, hamsters, rabbits, squirrels, chinchillas, and marmots.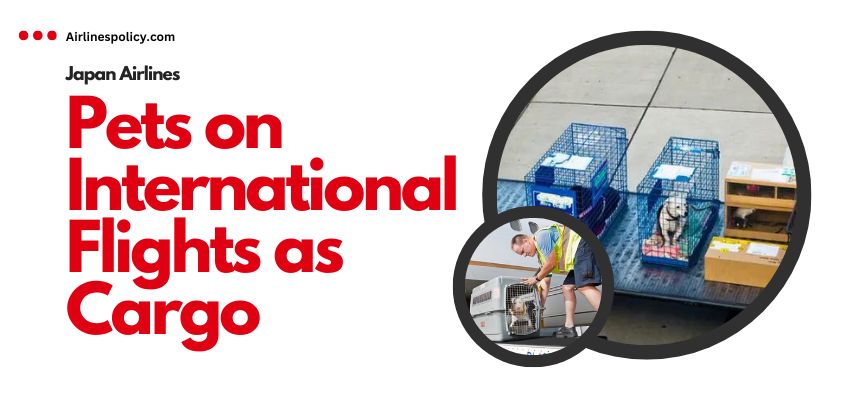 Pet Age – Dogs need to be at least 8 weeks old.
Documents Required – The Air Waybill must include the following documents:
Declaration of the Shipper for Live Animals.
Export Certificate of Quarantine.
Certificate for Rabies (issued by a certified vet).
Pet Crate Requirements for in-Cargo Travel
Your shipper will make arrangements for a pet box that satisfies the following criteria:
Your pet must be able to turn around while standing, as well as sit and stand with its legs fully extended, in the pet box.
Shoulder width must be twice as wide as the crate.
When your pet is standing up, the crate height must be adjusted so that its head does not touch the ceiling.
The pet cage needs to be constructed from durable, travel-friendly materials.
The pet box needs to have enough airflow.
The door (lid) of the crate needs to be lockable from the outside.
Latches on crates must be fastened firmly.
Containers of the following kinds won't be accepted:

Paper-based containers.
Gentle cases.
Clothing bags made of plastic.
Flimsy plastic bottles.
Containers made of plastic with cardboard lids.
Containers with the top and bottom secured so that your pet cannot be fed water if it appears sick.
Precautions you should take Under Consideration for JAL Cargo Pet Travel
Passengers must take following precautions when transporting pet as cargo –
Make sure the water container doesn't leak before placing it inside the pet kennel.
Before checking in, make sure your pet has received enough food and drink. Alternately, make sure it doesn't leak while providing enough food and water.
Passengers can bring items that make your pet feel safe, like a favorite blanket, towel, toy, etc.
Pets must be brought to the departure area at least 120 minutes prior to departure.
Breed Restrictions – Certain breeds are not allow to travel under cargo, as per Japan Airlines pet policy.
| | | | |
| --- | --- | --- | --- |
| Tibetan Prayer Dog | Pit Bull Terrier | Italian Corso dog | Boxer |
| Staffordshire Bull Terrier | Perro de Presa Canario | Chow Chow | Boston Terrier |
| Shih Tzu | Mastiff Pekinese | Chin | Bordeaux Mastiff |
| Shar Pei | Lhasa Apso | Cavalier King Charles Spaniel | Affenpinscher |
| Pug | King Charles Spaniel | Bull Terrier | Rhesus monkeys, African green monkeys, and Cynomolgus monkeys |
| Brussels Griffon | Wild birds | Monkeys and dogs for experimental purposes | |
---
Read Up>> and get info on Pet policy of other airlines here
---
FAQs
Are dogs allowed on Japan Airlines?
Japan Airlines (JAL) allows small dogs and cats to travel in the cabin as long as they are properly contained in a carrier that can fit under the seat in front of you.
What are the health parameters of my pet I need to check before traveling?
Make sure your pet is up-to-date on all required vaccinations, good respiratory condition and has documentation of health parameters.
What are Documents required for pet transportation with JAL?
1. A valid health certificate issued by a licensed veterinarian.
2. A vaccination record showing that the pet has been vaccinated against rabies.
3. A certificate of inspection issued by a quarantine station, if required by the destination country.
4. An import/export permit, if required by the destination country.
5. The pet's microchip or tattoo identification number.
Can I Check-in with my pet 60 Minutes before departure?  
No, you have to Check-in as early as 120 minutes before departure.
What type of pets are allowed to travel with Japan Airlines?
Japan Airlines (JAL) allows passengers to travel with small pets, such as cats and dogs, on both domestic and international flights. It is recommended to check the airlines website or call their customer service center for more information.