A variety of pet travel options are permitted under Korean Air pet policy. When carrying animals onto an aircraft, passengers have a few alternatives, including in-cabin transportation, checked luggage, and cargo shipment.
This is a more permissive policy than that of many foreign airlines, which frequently impose stringent limitations on the kinds of pets that may fly with them.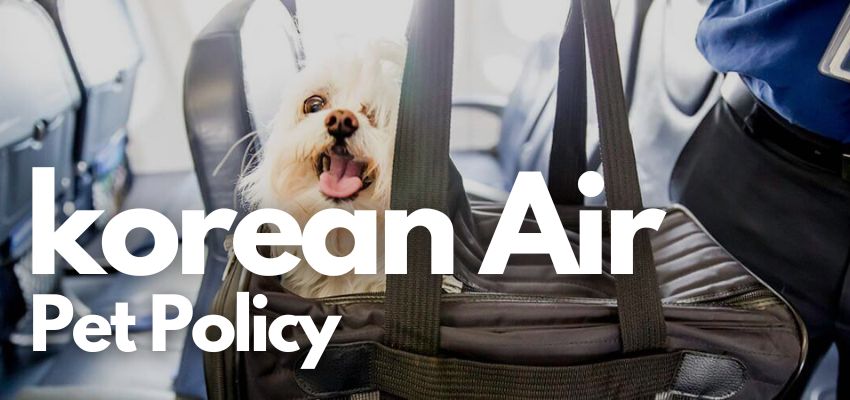 Travel Requirement For Pets
For flights within Korea, pet travel must be booked up to 24 hours prior to departure. For international flights, pet travel must be arranged up to 48 hours before scheduled departure.
| | |
| --- | --- |
| Category | Reservation time deadline(Business days) |
| Korea Domestic | 24 hours before flight departure |
| International | 48 hours before flight departure |
Add to that, the following are the important points to consider when you travel with pets-
Without prior approval, dogs are not permitted to travel with you.
Two birds, two dogs, or two cats that are both younger than six months old may be kept together in the same carrier.
Conditions for international travel for pets
Internationally Korean air flying with pet policy has certain rules which need to be followed, that include:
A microchip must be implanted when traveling on an international flight.
Microchip identification number must be noted on the certificate for animals who are less than 90 days old or are from rabies-free nations.
Passengers are required to carry government-issued quarantine certificates when traveling with pets.
The quarantine certificate must clearly state that a "rabies-neutralizing antibody" test was conducted within 24 months of the intended accompanied travel.
Pets from non-rabies-free countries and dogs and cats 90 days or older must abide by the aforementioned requirements.
Arrive at the airport and check in
As per Korean air pet policy, passengers are not allowed to check in online when traveling with pets. Passengers need to complete check-in at the airport.
Make sure to go to the airport at least three hours prior to the flight's departure.
Pet travel incurs additional fees, regardless of luggage.
Passengers With Animal Allergies
Korean Air is open to accommodate customers with animal allergies.
Pets will be assigned seats aside from those of other passengers flying with non-compatible animals.
Once a seat is occupied by the pet owner and pet, there is no seat change guarantee.
Animal-allergic travelers are highly encouraged to notify the staff of their health condition when making a reservation.
Pet travelers must also complete the agreement at check-in.
In the event of an emergency, both you and your pet must be capable of performing any medical treatments that were advised to you by your physician.
What All Kinds of Pets are Permitted on Board?
Only these pets are permitted to fly under the ​​Korean air pet policy with the given requirements:
Please note – Pets must be at least 8 weeks old for travel inside the cabin. To travel pet under the baggage hold, the minimum age must be 16 weeks.
Travel Restrictions For Pets
There are certain restrictions that apply for passengers traveling with pets, such as
All other kinds of animals, including pigs, turtles, chicks, hens, and rabbits, are restricted from traveling with the airlines or being checked as luggage.
Avoid using any sedatives or sleep aids since they may influence your pet's blood pressure and body temperature.
Animals that are unstable or violent, smell bad or are unwell, or are pregnant are not permitted on the airplane.
If it is believed that your pet would bother other passengers by continually producing loud noises, such as barking, transportation may be disallowed.
In order to minimize the inconvenience to other passengers, you must abide by the cabin crew's demands (usage of a muzzle, etc.) if your pet creates noise during the trip.
Animals that are violent or vicious, as determined by the Korean government, will not be permitted on the airplane.
Brachycephalic breeds are prohibited from being transported as checked luggage because of their anatomical vulnerability to respiratory problems or death during flights. However, if specific requirements are satisfied, carry-on baggage is permitted as mentioned in the Korean Air pet policy.
Allowances for Service Animals (Dogs Only)
Service animals which only include dogs can fly with Korean Air.
For a passenger with particular requirements, service animals can fly unrestricted.
Nevertheless, a service dog cannot be given a seat.
There is no need to complete the pet transportation declaration form for passengers traveling with service dogs.
In many nations, entrance may need a quarantine certificate.
Korean Air in-Cabin Pet Policy
Korean Air pet policy allows pets to travel in the cabin if the air regulations are being followed.
| | |
| --- | --- |
| Can be carried on board | Total weight of pet + carrier is 7kg or less |
| Permitted to travel as checked pets | Total weight of pet + carrier is 45 kg or less |
In some countries, transport may be limited if the weight is more than 32kg.
There is enough room for the animal to stand, lie down, and move about.
A lock-secured container that is screwed down hard enough that it cannot be broken, even by internal impact .
Must be made of durable materials, including wood, metal, and plastic (for carry-on, soft materials, such as fabric and leather, are allowed).
Also be equipped with water resistance and suitable ventilation.
Korean Air in Cabin Pet Carrier Dimensions
These dimensions must be followed so that it is easy for pets to travel in the airways:

For Carry-on
Carrier's each linear less than: A-32cm/12.5in, B – 45cm/17.5in, C – 19cm/7.5in Maximum height of soft type carrier: 25cm/10in or lessThe carriers for carry-on must fit to store under the seat.​

For Checked Baggage
The total sum of the carrier's width, length, and height should be less than 291cm/114in.
The maximum height is 84cm/33in.
Pet Care During Travel
For a comfortable travel experience, do follow these guidelines:
Give food and drink to your pet no later than two hours prior to departure.
Make sure to put absorbent bedding inside the carrier.
The carrier should have your name and phone number typed in English.
It is absolutely forbidden to remove your pet from its container.
It is also forbidden to place the carrier on a seat or in your lap. ​
According to the laws of the destination country, if you carry animals for commercial objectives such as sale, adoption, participation in an event, breeding, and research, the entrance of the animals may be banned.
Korean Air Pet Travel Charges
Korean Air pet fee varies with the travel route. You may quickly pay the pet cost in advance through the website after confirming the pet travel service.
Below is the overview of the pet travel fee-
| Region | 32kg or less (Pet + Cage) | Over 32kg ~ 45 kg or less (Pet + Cage) |
| --- | --- | --- |
| Domestic Travel | USD 25 | 49 USD |
| Japan/China/Taiwan/Hong Kong/Macao/Mongolia | USD 150 | USD 300 |
| Southeast Asia/Southwest Asia(including Guam and Palau) | USD 225 | USD 450 |
| The Americas/Europe/Middle East/Africa/Oceania | USD 300 | USD 600 |
Note – If the weight changes after advance payment, the cost could be adjusted using the weight that was measured at the airport on the day of the trip.
---
Frequently Asked Questions (FAQs) – Korean Air Pet Travel Policy
What is the pet reservation time deadline?
The reservation must be done 48 hours before flight departure.
Are there any pet travel charges?
Yes, the charges range from USD 25 to USD 600 depending on the travel destination.
What kinds of pets are allowed as service animals?
Only dogs are allowed to travel as service animals.
What is the reservation time deadline for international flights?
It is 48 hours before departure for flights that go to international destinations.
Is a microchip identification number necessary for pets?
Yes, it is vital. The number must be noted on the certificate for animals that are less than 90 days old.