One of the biggest airlines in the world, Philippine Airlines, allows passengers to bring their pets on board. The Philippine Airlines pet policy makes it easier for passengers, and allows hassle-free travel for their pets. This airline works to provide a safe pet voyage because bringing pets on flights is one of the most often requested services by customers.
This policy makes traveling with dogs for its visitors quite easy and efficient thanks to its detailed rules and regulations.
Therefore, it is crucial to comprehend this guideline before traveling with your pets if you intend to use this service. Only then will you be able to fly your animals without any restrictions and hassles.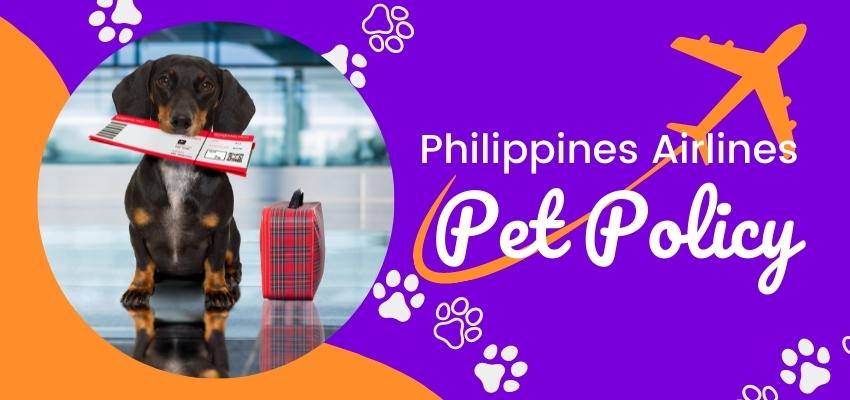 Philippine Airlines Guidelines for Pet Travel
You will be required to abide by its specific rules when booking the pet travel . These rules can be as simple as general principles or as precise as safety-related restrictions. To ensure a smooth flight, it's crucial to understand and consider some fundamental rules before making your reservation. This will secure the safety of your pet while also facilitating a smooth trip and saving you time.
As per the Philippine Airlines pet policy –
The majority of flights permit the check-in of animals like cats, dogs, and birds.
In the cabin, pets are not permitted.
The only animals who can ride in the cabin for free are trained assistance animals.
Pets are permitted to fly as cargo.
No flights will take brachycephalic dog breeds (or their mixed-breeds).
To guarantee a seat for your pet on board, reservations must be made at least 48 hours before departure. This is where you call or visit the local office in your country.
Dimension of the Pet Carrier Requirements on Philippine Airlines
The Philippine airline pet carrier must be of the following dimension if the piece concept is involved.
If the pet container is up to 203 cm (80 in) in size and the pet's combined weigh up to 50 lb/23 kg, you need to pay 200% of the excess baggage fee.
If the pet container exceeds 203 cm (80 in), and weight up to 99lb/45kg., you need to pay 300% of the excess baggage fee.
If the weight concept is involved, then –
If the pet's weight (including container) is between 2.2 and 9 lbs, the pet price on weight concept flights is 100% of the excess baggage rate.
For flights within the Philippines, the pet fee is 20 USD per 5kg up to 20kg and 40 USD per 10kg up to 50kg.
PAL Airlines Pet Travel Rules as Checked Baggage
Pets like cats, dogs, and birds are welcome as checked luggage on most flights operated by Philippine Airlines. The hold of the aircraft has the same temperature and pressure as the passenger cabin. The Philippine Airlines pet policy for the checked baggage includes –
Birds, dogs, and cats are allowed as checked bags.
To book pet travel, passengers need to request up to 48 hours before the scheduled departure.
Passengers traveling with pets as checked baggage must be at least 12 years old.
Passengers need to get valid vaccination certificates.
Depending on your destination, this could include vaccinations for distemper, leptospirosis, infectious hepatitis, adenovirus type 2, and parvovirus in dogs.
Depending on where you're going, this can involve immunizations for cats against feline leukemia, panleukopenia, calicivirus, and herpes.
When visiting the Philippines, the immunization must be given between 30 days and 12 months in advance of the trip.
Entry/exit permits are necessary for travel to/from the Philippines from the Philippine Bureau of Animal Industry, and Animal Health Division (AHD).
Any papers necessary by the transit/destination country.
The pet carrier must be impenetrable and secure.
Note – The airline does not allow pets on board.
Philippine Airlines Pet Fee as Checked Baggage
On domestic flights, pets (including carriers and food) will not count toward the passenger's free baggage allowance. Philippine Airlines pet fees shall be charged at the following set rate:
| | |
| --- | --- |
| Weight limit | Fee (in USD) |
| Up to 5kg | 20 |
| 5.1 – 10kg | 40 |
| 10.1kgs – 15kg | 50 |
| 15.1kg – 20kg | 70 |
| 20.1kg –30kg | 100 |
| 30.1kg – 40 kg | 140 |
| 40.1kg – 50kg | 170 |
Note: Pets are not permitted in the cabin on Philippine Airlines; only service animals with proper training and certification are accepted on all flights.
Cargo Travel for pets with Philippine Airlines
As per the Philippine Airlines pet policy, if your pet is too big and exceeds the dimension under the Philippine airlines in cabin pet policy, or as a checked baggage, then it must be transported by cargo. In addition –
Breed allowed – A variety of species, including cats, dogs, rabbits, hamsters, birds, monkeys, ferrets, tropical fish, snakes, and others. Larger animals, such as cattle, horses, etc., must be handled by a certified cargo agent.
Forms required – Pet health certificate is required, and is issued within 10 days of travel. In addition –
All other forms necessary by the destination country must be attached to the crate.
Entry/exit permits are required from the Philippine Bureau of Animal Husbandry if traveling to and from the Philippines.
Pet container – It must be an airline approved pet carrier. In addition, the carrier must be leak-proof, escape proof, and adequately ventilated.
Travel restriction – As per Philippine Airlines cargo policy, the airline reserves the right to review your pet's travel plans if any city on the itinerary experiences temperatures that exceeds 85°F or falls below 45°F. Any flight will not take snub-nosed (brachycephalic) dog breeds because to safety concerns. See Pet Breed Restrictions for a list of dog breeds.
Cargo reservation – To make a reservation for pets, all you need to do in email at [email protected].
Traveling with Emotional Support Dog on Philippine Airlines
According to Philippine Airlines, service animals are canines that have been taught to assist individuals with impairments by carrying out duties or doing some labor on their behalf.
Emotional Support Dogs have been reclassified as pets by the US ACAA, and are no longer considered service animals.
According to Philippine Airlines dog policy, emotional support animals are no longer permitted to travel free of charge in the passenger cabin, but may travel as regular pets, either as checked baggage or as air cargo.
Trained service animals may fly free of charge in the cabin with the passenger. The other conditions include –
A reservation must be made at least 48 hours before departure by the passenger.
On flights to the United States, a passenger with a disability is permitted to take up to: 2 service dogs for no additional cost.
On other (local and international) flights, one service animal is permitted.
Documentation
The passenger must have valid certification from a recognised institution proving that the assistance dog is a trained service animal. The following paperwork must be completed and submitted at least 48 hours before departure if you're traveling to the US:
US DOT Service Animal Health Behavior Training Form
US DOT Service Animal Relief Attestation Form must be filled out and submitted at least 48 hours before departure whether you're flying domestically or internationally on a trip that doesn't originate in the United States.
Form for Service Dog Air Transportation and Relief Attestation.
The immunization certificate(s) must be valid.
Check-in
If a passenger traveling with a service dog checks in online but is unable to submit the paperwork before the trip date, she/he must submit the forms on the day of travel at the check-in desk or departure gate.
Hygiene Requirements
A service dog must be properly socialized, trained, muzzled, leashed, and vaccinated. As per Philippine Airlines dog policy,
A assistance dog that is uncontrollable by its owner or endangers the health or safety of other travelers will not be permitted.
Always carry a moisture absorbent mat and place it under the service dog.
On-board Restrictions
Service animals traveling inside the Philippine airlines aircraft are not allowed to occupy a seat, or block access to a passage or aisle space.
Pet Behavior
The service dog must always be under the owner's control, in a harness or leash, and wearing a muzzle. In addition –
The assistance dog must not exhibit hostile behavior, such as growling, biting, charging at humans, or urinating or defecating on the airplane, gate area, or airport terminal.
Bottomline
Philippine Airlines may not be the only airline in the world that allows pets as carry-on items, but it is one of the few that do. For pet owners, this policy is a Godsend as it provides an easy solution to travel with companions and loved ones. So if you are really thinking about flying, why not bring your dog or cat along for the ride?
Frequently Asked Questions (FAQs) – PAL Pet Policy
Are pets allowed in Philippine Airlines?
Pets including dogs, cats, and house birds may only be brought on board Philippine Airlines as checked baggage. Except for service animals, animals are not allowed to be transported in the passenger cabin.
What breeds are restricted to travel with Philippine Airlines?
For the safety of the animals, no flight will allow brachycephalic or snub-nosed dog breeds. The following breeds and crossbreeds of brachycephalic dogs are prohibited as per Philippine Airlines pet policy – 

Yorkshire Terrier, Valley Bulldog, Tosa, Tibetan Spaniel, Staffordshire Bull Terrier, Shih Tzu, Shar Pei, Lhasa Apso, King Charles Spaniel, Griffon Bruxellois, French Bulldog, English Toy, Dogue de Bordeaux, Rottweiler, Chow Chow, Chihuahua (apple headed), Pug (all breeds), Pekingese, Cavalier King Charles, Cane Corso, Mastiff (all breeds), Bullmastiff, Bulldog, Boston Terrier, Japanese Chin, Boerboel, Brussels Griffon, and Affenpinscher.
Does Philippine Airlines allow pets in the cabin?
No, the airline do nor permit pet travel inside the cabin. The exception would be applied to the service animal or emotionally supporting animals.
Are emotional support animals allowed to travel with PAL?
Yes, emotional support and service animals are allowed to travel inside the cabin for free of charge. If traveling to and from the US, only two service animals are allowed.
How to book pet travel with Philippine Airlines?
Passengers need to call the airline up to 48 hours before the scheduled departure to book the travel for their pets.