SAS (Scandinavian Airlines) allows small pets, such as cats and dogs, to travel with passengers in the cabin on most flights. Passengers must adhere to the SAS Airlines Pet Policy mentioned in detail before booking the pet travel with the airline.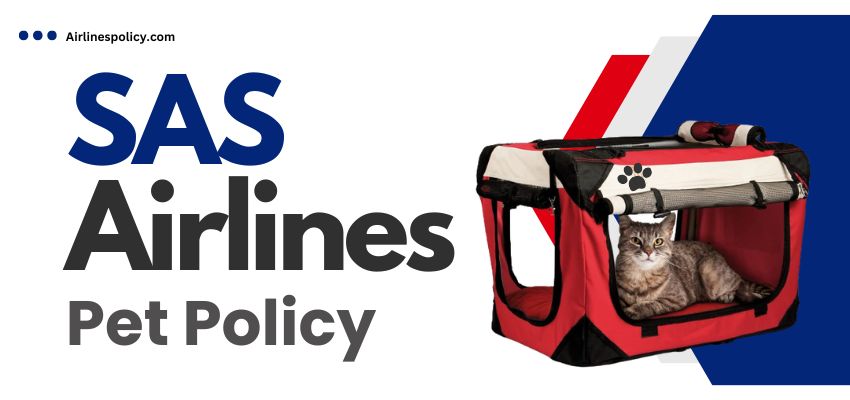 Note: You must add pet to the reservation and pay a set amount per bag, container, or carrier, because carrying pet animal is not include in the price of passenger's ticket.
What is SAS Airlines In Cabin Pet Policy?
The following conditions and restrictions will apply for pet travel on board SAS Airlines:
Pet Travel restrictions and requirements – There are some restrictions and requirements that must be met as per SAS pets in cabin policy.
The pet must be carried in a soft-sided carrier that can fit under the seat in front of you.
Only one pet per passenger is allowed.
Pets are not allowed in the SAS Business or SAS Plus cabin.
An additional fee is charged for bringing a pet in the cabin.
Some destinations have specific regulations for pets entering the country, such as health certificates, so it's recommended to check the regulations with local authorities before travel.
Animals are not permitted in SAS Business and on charter flights with SAS.
Pets travelling in the cabin must be able to comfortably turn around, stand up, and lay down in their carrier or bag.
Passengers availed SAS unaccompanied minor service are not allowed to bring pets in the cabin.
General information
Passengers must consider the following points before making a pet reservation
Unaccompanied dogs and cats must be shipped as cargo.
Send your request as early as you can, but no later than 24 hours before your departure. Your chances of getting a spot for your pet increase with the timing of your request.
When travelling domestically in Denmark, Norway, or Sweden, you do not need to fill out the "Certificate for transportation of Animals" form.
If your request is approved, you must bring the form to the airport check-in counter.
You won't be charged a change fee if your request is rejected within 24 hours and you decide to rebook (fare difference needs to be paid).
When traveling with animals, don't forget to allow extra time for check-in and security screenings.
It is advised to arrive at the airport at least two hours before your flight.
Pet Allowed
As per SAS Airlines Pet Policy,  the airline is unable to transport mother dogs or cats who are still nursing, as well as pups or kittens under 8 weeks old or who are still nursing. In addition
A veterinarian certificate declaring that the animal is healthy enough to be transported is also required for puppies and kittens that are younger than 14 weeks old.
SAS Airlines In Cabin Pet Carrier Requirements
The following conditions must be met with pet carrier:-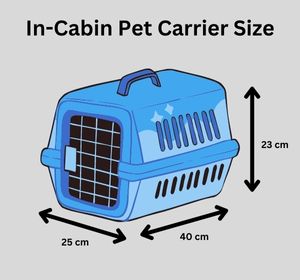 Each traveler can bring one pet container/carrier, holding up to two healthy pets as long as they are of the same breed.
The pet must be in its own small pet container/carrier that fits under the seat in front of you.
The pet must remain inside the closed container/carrier on the floor during the entire flight.
The pet and the container are considered as your carry-on baggage and you cannot bring any additional carry-on baggage, and is subject to pet travel fee.
Only containers/carriers made particularly for transporting dogs are accepted by the airline as checked baggage.
It is advised using a Sherpa Bag small model or a comparable soft type bag that is suitable for use with dogs and cats and is composed of flexible materials.
Must be constructed from a sturdy, leak-proof, well-ventilated material.
Has to be completely closeable.
The size of the pet carrier must be within 40 x 25 x 23 cm (length x width x height).
The maximum weight for a pet and the pet carrier must not exceed 8 kg.
How to book in-Cabin Pet Ticket?
Passengers can request SAS Airlines Pet Travel service online as well as through Customer service.
Add In Cabin travel online for pet via My Booking
Follow these steps to request SAS Airlines Pet Travel service online:-

Go to the SAS Airlines website and book your flight as normal.
During the booking process, indicate that you will be traveling with a pet in the cabin.

Note – If the Pet quota is full then passengers cannot book space for their pet and booking option for pet will disable for that flight for.

Provide information about the pet, including its breed, weight, and any necessary documentation.
Pay any additional fees associated with traveling with a pet in the cabin.
Review and confirm your booking.
Add In Cabin travel for pet via Customer Service
To request pet travel with the SAS Airlines executive, follow these steps:-
Contact SAS customer service at ( 011 4351 3202 ) to inquire about the airline's pet policy and type of pets allowed in the cabin on the specific flight you are booking.
Reserve a spot for your pet in the cabin when you book your own flight. There may be a limited number of spots available for pets in the cabin, so it's important to do this as early as possible.
Provide proof of vaccinations and health certificates for your pet. These documents are require by SAS or by the country you are traveling to.
Purchase a pet carrier that meets the size and weight requirements set by SAS.

The carrier will need to fit under the seat in front of you and will need to be leak-proof and ventilated.

Check in for your flight and make sure your pet carrier and any necessary documents are with you.
During the flight, keep the pet carrier under the seat in front of you and make sure your pet has food and water.
Pet Travel Fee in-Cabin
| | |
| --- | --- |
| Travel Routes | Pet Travel Fee (in USD) |
| Domestic | 60 |
| Scandinavia, Europe and the Middle East | 80 |
| Asia, Canada and the US | 105 |
| China | 160 |
Does SAS Airlines Allow Pet Travel as Checked Baggage?
The airline do not allow to pets to transport in the baggage hold. Passengers should contact SAS Airlines directly for more information on their pet policy and to make arrangements for their pet to travel as checked baggage.
Pet Travel Under Cargo Services with SAS Airlines
Your pet must fly in the cargo hold if it doesn't match the requirements for travelling in the cabin. To verify availability or make a reservation, contact SAS Customer Service.
Does SAS Airlines allow Pets travel as Cargo?
Cats and dogs are accepted for transportation in the cargo hold. In addition
If they are under six months old and are from the same litter, up to three kittens or puppies may be transported together.
Please be aware that access to the hold is not permitted while flying.
Pet Carrier Requirement for Cargo
For the shipping of animals, you must provide your own suitable, animal-friendly containers. Add to that,
The container needs to be unable to escape.
The kennel door must be fastened with zip ties or cable ties.
The combined weight of the animal and container may not exceed 150 kg.
A maximum of two adult animals of equivalent size up to 14 kg each are allow to travel in the same container/carrier.
Any animals that weigh more than 14 kg must travel in their own cages or containers.
How to add pets in the cargo hold?
To add a pet in the cargo hold with SAS Airlines, you will need to follow these steps:
Contact SAS Airlines to inquire about their pet transportation policies and to reserve a spot for your pet on your flight.
Check Availability.
Obtain an export/import permit for your pet if necessary.
Make sure your pet is up to date on all vaccinations and has a health certificate from a veterinarian.
Purchase a pet container that meets SAS Airlines' requirements for size and ventilation.
Check in at the airport with your pet and the necessary documents.
Pay any additional pet transportation fees associated with transporting a pet.
Pet Travel Fee
For pet to travel in the cargo hold, the following fee will apply
| | |
| --- | --- |
| Travel Routes | Pet Travel Fee (in USD) |
| Domestic | 100 |
| Scandinavia, Europe and the Middle East | 195 |
| Asia, Canada and the US | 370 |
| China | 775 |
---
In conclusion, SAS Airlines allows pets on board in the cabin and hold, with specific conditions and restrictions. It is important for travelers to familiarize themselves with SAS Airlines pet policy and make the necessary arrangements to ensure a comfortable and safe journey for both themselves and their pets.
FAQs
What methods of transport does SAS Airlines provide for my pet?
SAS Airlines allows pets to travel as cargo or in the cabin, depending on the type and size of the pet, as well as the destination.
Does my pet qualify for travel in the passenger cabin?
The regulations for traveling with pets in the passenger cabin vary by airline and country, so it is best to check with SAS  Airlines to see if your pet qualifies.
Does my pet qualify for travel as checked baggage?
It's best to check the SAS Airlines website or contact their customer service for up-to-date information and a quote for your specific pet transport needs.
What are the fees associated with pet transport?
Some common fees that may be associated with pet transport include:

Airline fees
Ground transportation fees
Health and veterinary fees
Lodging and boarding fees
Import/Export fees
What are the kennel requirements?
The kennel must be sturdy and secure, made of hard-shell plastic material with metal door hinges, metal door locks, and metal door latches. The kennel must be well ventilated with holes on all four sides, the roof and the door.
What pet health documentation is required on SAS airlines?
The health certificate should confirm that the pet is in good health and fit for air travel. The specific requirements for the health certificate may vary based on the destination country.
Are there any other pet restrictions on SAS Airlines?
Only cats and dogs are allowed as pets on SAS flights. Certain breeds of dogs may not be allowed on SAS flights due to safety concerns.