Singapore Airlines pet policy is hassle-free and allows most dog breeds and cats to fly on Singapore Airlines as checked baggage or cargo. Only service and emotional support dogs with medical certification are permitted to travel for free with their owners. This article explains how to get your pets on board as well as all the prerequisites for pet entrance so that you can get a space to travel with your pet. Plus includes different criteria for different aircraft that needs to be taken care of. 
Singapore Airlines Pet Travel Policy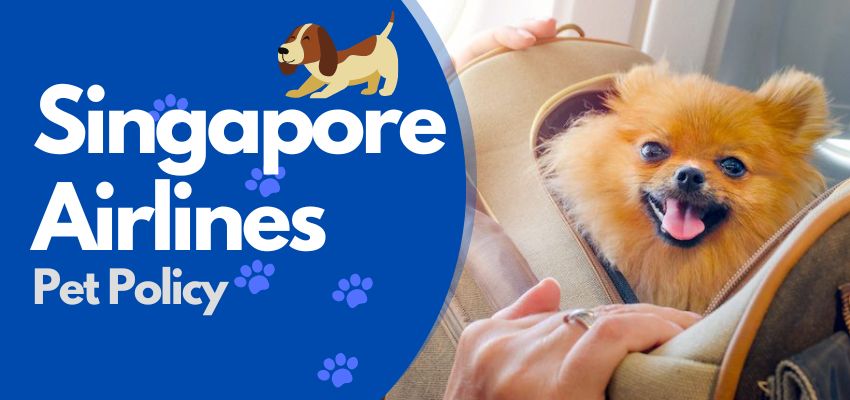 Singapore Airline Pet in-Cabin
SIA pet in cabin policy does not permit pets in the cabin of Singapore Airlines aircraft.
Subject to a 2-week notice, only medically approved service and emotional support dogs that are not on the banned breeds list are permitted to fly in the passenger cabin with their owners.
What are the Pet Container Requirements?
IATA criteria must be followed in the design and construction of your pet's container external-icon-image. Depending on the aircraft your pet will be traveling on, the container's maximum height is dependent:
| | |
| --- | --- |
| A350 aircraft | 70 cm |
| A380 aircraft | 60 cm |
| B777 aircraft | 101 cm |
| B787 aircraft | 111 cm |
For your pet to travel safely and comfortably, Singapore airlines pet policy says that the container has to:
The container should have enough room for your pet to stand and turn around normally, as well as to sit, stand, and lie down naturally.
Have good ventilation. At least three of the container's sides must be well-ventilated, with the upper portion of the container receiving the majority of the air.
Bring containers for water and snacks, either fixed inside the container or refueling possible from the outside.
Prevent your pet from escaping.
Based on the size of your pet, the container must meet the following minimal measurements:
Length = A + ½ B
Width = C x2
Height = D
A = Your pet's length, measured from the tip of its snout to the base or root of its tail.
B = the distance between the ground and its elbow joint.
C = equals the larger of its breadth across its shoulders or at its broadest point.
D = is the height of your pet while it is standing naturally, measured from the top of its head or the top of its ear, whichever is higher, to the ground.
If you are taking more than one pet, they must be kept in separate containers.
If they are three months old or older and collectively weigh less than 14 kg.
Puppies or kittens from the same litter may be housed in the same container.
In each container, just two pups or kittens are permitted.
Check-in Baggage Pet Policy of Singapore Airline
Pets are allowed as checked luggage on the same aircraft however, there are certain restrictions and checklist.
The majority of domesticated dog and cat breeds are allowed to fly as checked luggage in the aircraft's cargo hold, which has similar temperature and pressure conditions as the passenger cabin.
Dogs and cats are allowed to travel.
The age of your pet should at least be three months.
The combined weight of your pet and pet carrier cannot be more than 70 lbs./32 kg. If so, it has to be transported by air cargo.
What is the Travel Cost for Pets as Checked Baggage?
You must go through the below pointers to incur any additional fees:
Pets, including containers, are considered extra baggage and are subject to the airport's current excess baggage fee (prepaid rates are not available).
Depending on the itinerary, the price for pets on itineraries that include the United States normally ranges from USD 120 to 280.
The weight of your pet will determine the pet fare for non-US itineraries (incl. pet carrier).
You will be assessed a transshipment fee payable to the Animal & Veterinary Service if your aircraft passes via Singapore (AVS).
You must pay an import/export permit fee if you are traveling to or from Singapore (payable to AVS) in regards to the Singapore airline's pet travel cost.
Pets as Cargo Baggage in Singapore Airlines
If your pet weighs more than 70 pounds/32 kilograms or if it's not a dog or a cat, you must make arrangements for it to travel as cargo in Singapore Airlines pressurized and AC area as mentioned in Singapore airlines pet policy.
Pet Allowance in Cargo – If pets fall under these criteria they are allowed to travel in cargos.
Larger animals are permitted to fly as cargo on Singapore Airlines when they are not accompanied.
On A380-800 aircraft, live big dogs, tropical fish, insects, and reptiles are just a few of the creatures that are permitted.
Greyhounds utilized for racing as well as pets such pet birds, apes, and pigs will not be admitted.
Age of the pets must be 3 years and above.
Documents required for Pet Travel
Below mentioned documents are a must to travel with your pet according to Singapore airline's pet travel policy:
Licenses/permits for import/export/trans-shipment issued by the government of the destination/departure/transit country.
A legitimate health certificate issued by an authorized veterinarian within ten days before departure.
Rabies vaccination certificates.
Check-in for Your Pets
At the ticket desk, you must check in your pet:
2 hours or more before departure.
If leaving the United States, do so at least three hours beforehand.
Travel Route Restrictions for Pets
The following countries and airports do not accept pets as checked baggage. Call the Singapore Airlines branch in your area for further information or help.
To/From Australia
To/From Brunei
To/From Denpasar, Bali
To/From New Zealand
To/From South Africa
To Dubai
To Hong Kong
To Sri Lanka
To UK
Temperature Restrictions for Pets
Singapore airlines pet policy has temperature restriction for pets that include:
If the outside temperature in any of the cities on the route is more than 85°F (29.4°C) or less than 45°F (7.2°C), Singapore Airlines will not allow dogs. However, dogs may be allowed with an acclimation certificate if the temperature is below 45°F.
What are the Restricted Dog Breeds on Singapore Airlines?
The following dog breeds are not allow in an aircraft's cargo:
| | |
| --- | --- |
| Dogo Argentino | Pit Bull Terriers |
| Chow Chow | Brussels Griffon (Petit Brabancon) |
| Boxer | Boerboel |
| Akita | Pit Bull |
| Perro De Presa Canario | Mastiffs |
| Dogue de Bordeaux | Neapolitan |
| Lhasa Apso | Japanese Spaniels (Japanese Chin) |
| Fila Brasileiro | Bulldogs (French, American, and English) |
| Tosa | Shih Tzu |
| Shar-Pei | Pugs |
| Mopshond | Mops Hund |
| Pekingese | Carlino |
| English Toy | King Charles |
| Tibetan Spaniels | Boston Terriers |
Reservation Process for a Pet on Singapore Airlines
To travel with your pet make sure to call at least 14 days before your flight or visit your neighborhood Singapore Airlines office. Passengers can add the pet travel to Singapore Airlines by calling the airline's representative. The airline's representative may ask the for the following documents alongside the Singapore Airlines pet travel fee –
Flight itinerary.
Vet Health certificate for pets.
Vaccine certificate.
A copy of passport or government issued photo ID.
Also give the office the following details in regards to the pet:
Species and breed details.
Name.
Gender.
Age.
Color.
Weight.
Container weight.
Container dimensions (L x W x H).
Transshipment permit/import/export numbers (if any).
Checkout pet policy of other airlines here.
---
Frequently Asked Questions
---
Is there a reservation time for pets?
Yes, call at least 14 days before your flight or visit your neighborhood Singapore Airlines office. 
Can large pets travel too via Singapore Airlines?
Larger animals are permitted to fly as cargo on Singapore Airlines.
What is the suitable time to check in with your pet?
It's better to check in at least three hours before your flight with your pet.
Can pets travel in a cabin with Singapore Airlines?
Singapore Airlines' pet-in-cabin policy does not permit pets in the cabin of Singapore Airlines aircraft.