Are you traveling with a wheelchair, service animal or any other special condition? JetBlue Special Assistance Program embodies its commitment to make air travel hassle free, thus empowering the passengers with disabilities and special needs.
In this article, we delve into the intricacies of this extraordinary program, exploring its features, guidelines, and how you make the most of it.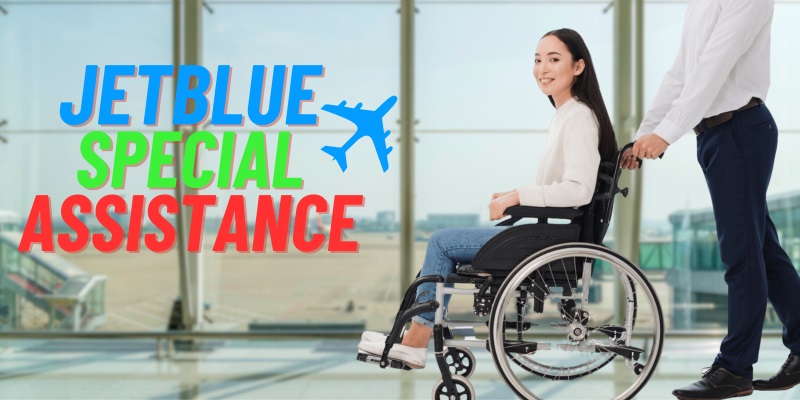 What type of passengers can avail JetBlue Airlines Special Assistance?
Special assistance is provided to various categories of passengers to ensure a comfortable and safe travel experience. The eligible passengers under JetBlue accessibility assistance program include:
Passengers traveling with a service animal.
Passengers in need of mobility assistance.
Passengers who require wheelchair assistance at the airport.
Passengers bringing their own wheelchair or scooter.
Passengers traveling with their own assistive devices.
Passengers in need of disability seating.
Passengers with intellectual, developmental, or cognitive disabilities.
Passengers requiring visual assistance.
Passengers requiring hearing assistance.
Passengers using respiratory devices.
Passengers with nut or animal allergies.
Pregnant passengers.
Passengers with other health concerns.
How does the JetBlue Wheelchair Assistance Works?
Whether it's boarding, deplaning, or assistance at your departure and destination airports, JetBlue wheelchair assistance programs have got you covered. These services include –
Booking assistance –
You have the flexibility to choose whether you'd like your personal wheelchair available upon arrival at the gate or the bag claim area.
For added convenience, if you require a wheelchair at the curb, just inform a JetBlue crew member for assistance upon arrival.
Wheelchairs must be booked up to 24 hours prior to departure through JetBlue special assistance phone number.
Transporting Wheelchairs and Scooters
JetBlue offers convenient transportation for various types of personal wheelchairs, including folding, collapsible, or non-folding manual wheelchairs, as well as battery-powered wheelchairs and scooters.
Battery-powered wheelchairs and mobility aids are accepted as checked items only, as per JetBlue baggage policy.
Battery Information
Lithium-ion batteries are not permitted to be brought into the cabin.
Lithium-ion batteries that have been removed from assistive devices, can be carried in the cabin as long as they have proper terminal protection.
There are specific restrictions for these batteries, which state that they must not exceed 300 watt hours or 25 grams of lithium.
Passengers are allowed to carry up to two spare lithium-ion wheelchair batteries.
Non-rechargeable lithium batteries (lithium metal) are not accepted for travel.
Transporting Manual Folding Wheelchairs
JetBlue accommodates one manual, collapsible wheelchair inside the cabin.
Alternatively, manual wheelchairs can be checked at the JetBlue check in counter at the gate.
No advance notice is required for transporting a manual wheelchair.
Passengers would be offered priority boarding when they need to stow the device in the cabin.
Detachable items such as seat covers, cushions, and footrests should be carried into the cabin and do not count toward the carry-on allowance.
Traveling with your wheelchair?
When traveling with your wheelchair, it's essential to be aware of the cargo bin door dimensions for the aircraft type used on your flight. Please find the dimensions below for different aircraft:
A321: 73" x 80"
A320: 73" x 80″
E190: 28″
A321 LR: 73" x 80"
A220: 33" x 46.75"
You can find the aircraft information at the time of booking or through JetBlue Manage Booking section.
Do I need to carry any documents under JetBlue Wheelchair Assistance program?
The following documents are recommended-
Medical documentation or a doctor's note that explains your need for wheelchair assistance.
You may be asked to complete a Wheelchair Information form.
Consider adding a Special Service Request to inform the airline of your wheelchair assistance needs
Valid identification, such as a passport or government-issued ID.
Obtain a JetBlue boarding pass.
In the case of battery-operated wheelchairs, batteries must be labeled as "non-spillable" or "spillable battery" as per airline regulations.
How to book
Passengers who need JetBlue wheelchair assistance at the airport must inform the airline's representative at least 48 hours before departure.
JetBlue Special Assistance Phone Number
1-800-JETBLUE (538-2583)
What specialized assistance does JetBlue offer for elderly passengers?
JetBlue is committed to providing specialized assistance to elderly passengers to ensure their comfort and safety. Some of these services include –
Jetblue wheelchair assistance – The airline offers wheelchair service for passengers with mobility issues. The airline's staff can provide wheelchair service during boarding, deplaning, and while navigating the airport terminals.
Priority boarding – Jetblue assistance for elderly passengers feature a priority service allowing them to board and disembark the plane on priority.
Onboard Assistance – Flight attendants are available to assist elderly passengers during the flight, whether it's providing extra help with stowing carry-on luggage, offering assistance during meal service, or providing aid while moving around the cabin.
Escort Services – JetBlue's airport staff is available to assist elderly passengers with any special needs, such as escorting them to the gate or helping with luggage.
Medication and Special Diet Assistance – If elderly passengers require specific medications or have special dietary requirements, JetBlue crew staff can offer assistance.
Jetblue Assistive Devices stroller – JetBlue welcomes passengers to bring personal assistance devices, such as walkers or canes, onboard and will assist them in stowing safely.
JetBlue seat selection – The airlines can assist in providing seats with easy access for elderly passengers, ensuring they have more legroom and proximity to lavatories.
How does JetBlue assist families traveling with strollers and young children?
For families traveling with young children, JetBlue Flight Assistance Program offers tailored support to make the travel hassle-free.
JetBlue allows families to bring strollers on board, and the cabin crew assists with stroller storage during the flight.
Families with young children receive priority boarding privileges.
JetBlue offers a variety of kid-friendly inflight entertainment options.
Please note – Strollers and car seats would not be considered carry-on bags or checked baggage allowance. Passengers can check them at the airport.
What tailored assistance does JetBlue provide for Intellectual, Developmental & Cognitive Disabilities?
Jetblue disability assistance requests would be made at the time of booking. These services include –
Autism – Passengers with Autism or traveling companions can request disability seating, pre- or post-boarding, and other assistance as needed.
Dementia / Alzheimer's / Down Syndrome – JetBlue offers escort assistance from the ticket counter to the gate during departure and from the arrival gate to bag claim, pickup, or ground transportation upon request. Escort services do not include JetBlue wheelchair assistance.
Boarding and Seating Accommodations –
Offers priority boarding.
Seat selection preference would be offered at the time of booking.
Onboard Services
JetBlue provides assistance with opening food and drink items. However, actual eating or drinking assistance is not available.
Crewmembers are ready to escort passengers to and from the entrance of the lavatory, including utilizing the onboard aisle chair upon request. Please note that in-lavatory assistance would not be offered.
For customers requiring supervision, assistance inside the lavatory, medications, or feeding during the flight, it is essential to travel with an assistant.
Gate Passes for Companions
Passengers can bring companions for all disability-related assistance at domestic US airports.
For companions, the gate pass must be required and need to be obtained from the ticket counter.
A valid government-issued photo ID is required for the companion.
Issuance of gate passes is subject to security conditions at the time of travel, and availability may vary depending on the location or time of travel.
What are the other medical disabilities that JetBlue accommodates?
Here's A-Z of what you can expect and make your travel convenient under JetBlue special assistance program
Passengers with Allergy
Nut Allergies –
JetBlue discreetly creates a buffer zone for nut consumption, one row in front of and one row behind customers with nut allergies. Passengers in these rows are kindly asked not to consume nuts during the flight.
The airline does not offer nuts in the free snack choices and does not provide peanuts in the onboard snacks available for purchase.
Pet Allergies –
Passengers with animal allergies can be moved and re-seated away from animals traveling on the flight.
As per JetBlue pet policy, the airline accommodates no more than 6 pets per flight alongside service and emotional service animals.
Passengers with hearing impairment
Deaf or hard of hearing customers can request assistance by adding a Special Services Request to their reservation during the booking process.
Passengers traveling with medication
Medication should always be carried with passengers and not placed in checked bags.
The airline does not offer medical service on board.
JetBlue flight assistance for pregnant women
Expectant mothers if they plan to deliver within 7 days, they require documentation from their doctor stating their fitness for air travel.
What respiratory devices are accepted on JetBlue flights?
Under JetBlue Assistive Devices policy, the airline accepts the following devices in the cabin:
Portable Oxygen Concentrators (POC)
Continuous Positive Airway Pressure Machine (CPAP)
Bilevel Positive Airway Pressure Machine (BiPAP or BPAP)
Ventilator
Respirator
Restrictions on Compressed Oxygen and Oxygen Generators
JetBlue does not permit transportation or use of Compressed oxygen and oxygen generators on board.
Criteria for Traveling with Portable Oxygen Concentrators (POC)
The POC must have a manufacturer's label indicating its approval for aircraft use.
Passengers are responsible for understanding the device's operation and should carry manufacturer's operating instructions or information from their healthcare professional.
Battery and Seating Requirements
Passengers traveling with a POC must have sufficient battery power to last 150% of the expected travel time.
Spare batteries must be carried onboard and adequately packaged to prevent short circuiting.
The POC must be used in its battery-operated mode, as JetBlue does not have onboard power suitable for personal medical devices.
Passengers using POCs must occupy a seat that does not obstruct the other passenger.
The POC must be stowed completely under the seat during takeoff, and landing.
Bulkhead seats and emergency exit row seats may not be used for POCs.
In the Mint cabin, POCs may be used, but they must be stowed in the overhead compartment.
What is JetBlue's Meet and Assist service?
Meet and Assist service JetBlue is designed to cater to passengers with unique requirements. This service entails –
Personalized Guidance – A dedicated JetBlue representative assists you throughout the journey, offering personalized guidance and support.
Airport Navigation – From check-in to security clearance and boarding, the representative ensures that every step of your airport journey is smooth and stress-free.
In-Flight Comfort – The Meet and Assist service ensures that you receive any necessary in-flight assistance, making the journey enjoyable and relaxing.
Post-Flight Assistance – Upon landing, the representative continues to provide support, helping you navigate the airport and any subsequent arrangements.
Does the airline allow traveling with Service animals under JetBlue Disability program?
The airline allows service animals specifically trained service dogs that provide assistance to qualified passengers with disabilities.
Below is the overview of the guidelines –
| | |
| --- | --- |
| Policy | Description |
| Accepted Animals | Only trained service dogs are accepted on JetBlue flights. |
| Handler's Control | Service animals must remain under the handler's control at all times |
| Request Process | Requesting service-animal travel must be completed at least 48 hours prior to the flight. |
| London Flights | For flights to London Heathrow or London Gatwick with a service dog, prior approval from the Animal Reception Centre is required. |
| Restrictions | Service animals in training are not permitted on board |
Required Documentation
Passengers need to complete the DOT Service Animal Air Transportation Form online.
The following information is required for the form:
Veterinarian's name and contact number
Rabies vaccination date and expiration
Trainer's name/organization and contact number.
Puerto Rico and the U.S. Virgin Islands require vaccination
Service Animal ID is required.
How to book service animal requests – Passengers need to request the service animal on board up to 48 hours before by calling the jetblue disability assistance phone number.
Countries with High Risk of Rabies – JetBlue does not accept service animals on flights to or from specific countries, including Colombia, Ecuador, Peru, and others listed.
So, whether you're a seasoned traveler or embarking on your first adventure, rest assured that JetBlue's Special Assistance Program is here to elevate your journey and make your travel hassle-free.
Frequently Asked Questions – FAQs
How do I get wheelchair assistance at the airport with JetBlue?
To request wheelchair assistance at the airport with JetBlue, you can either indicate your needs during the flight booking process or dial the JetBlue Special Assistance phone number.
How do I add wheelchair assistance in my JetBlue reservation?
To add wheelchair assistance to your JetBlue reservation, simply call JetBlue's Special Assistance phone number and inform them of your requirement. 
What is considered an "assistive device" on JetBlue?
JetBlue assistive devices include wheelchairs, walkers, mobility scooters, hearing aids, and communication devices, among others.
Is wheelchair assistance available on all JetBlue flights?
Yes, JetBlue provides wheelchair assistance on all its flights. Passengers can request this service during booking or by contacting the Special Assistance team.
Can I bring my own assistive device on board?
Absolutely! JetBlue welcomes passengers to bring their own assistive devices, such as wheelchairs and mobility aids, on board.
How do I contact JetBlue's Special Assistance team for support?
You can reach JetBlue's Special Assistance team through their dedicated phone number, which is 1-800-JETBLUE (538-2583).
What travel insurance options are available through Allianz Global Assistance and JetBlue's partnership?
Allianz Global Assistance JetBlue offers a range of travel insurance options to cover various unexpected events, such as trip cancellations, medical emergencies, and more.
What types of assistance does JetBlue provide for elderly travelers?
JetBlue offers personalized attention, comfortable seating arrangements, and assistance with mobility for elderly passengers.
Can I bring my stroller on board when flying with JetBlue?
Yes, JetBlue allows families to bring strollers on board, and the crew assists with stroller storage during the flight.