Qatar Airways Special Assistance team tries to accommodate its passengers with specific needs at every step of the journey.
To better assist you, it is advisable you contact the airline and inform them of the special needs at the time of booking and at least 48 hours before your departure.
If you need assistance with a wheelchair, stowing an assistive device, or choosing a seat, go to "Manage booking."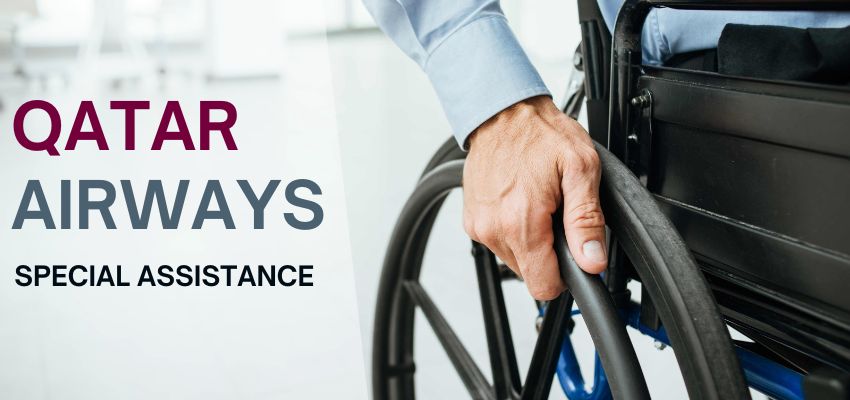 Let's understand what special service you can book with Qatar Airways, how you could make the most of each special request, and more.
Services covered under Qatar Special Assistance Program
Passengers with special needs are accommodated as much as possible by the airlines, both at the airport and on board under the special assistance program. The special services include –
Disability assistance
Qatar Airways service escort
Qatar Airways wheelchair assistance service
Expectant mothers
Qatar Assistance for Minors
Assistance to the passengers with sensory impairments
Disability assistance of Qatar Airways
The goal of Qatar Airways service team is to accommodate special needs passengers. When making your reservation or using the 'Manage Booking' tool on qatarairways.com, please let the airlines know if you have any specific requirements in order to have hassle-free travel experience.
Alternatively, you can make a special service reservation with Qatar Airways by getting in touch with your nearby office at least 48 hours before departure.
Qatar Airways follow the ATPDR regulations when traveling to or from Canada.
If you have a specific question, please contact the travel agent or local office or call center.
On-board facilities for passengers with reduced mobility – The Airlines is equipped with following onboard facilities –
Seats with movable/lifting armrests to accommodate passengers with limited movement.
Most of the aircrafts have toilets/lavatories with amenities like handrails.
The wide-body aircraft are outfitted with an on-board wheelchair.
Qatar Airways service for escort
When a passenger can't take care of oneself during a flight, Qatar Airways special assistance team assigns an escort or carer. Such services can be available by the airlines if –
Travelers are unable to eat or drink on their own.
Passengers need medication during the flight.
The traveling companion requires personal care services, such as using lavatories. boarding the plane or eating.
The helper or caregiver must be independent and capable of helping with the following tasks if necessary:
Transporting or bringing equipment or carry-on luggage
Prescription drugs and medical procedures
Consuming food and drinks
Procedures for immigration and customs
Embarking and disembarking.
To give advice and hands-on help as necessary with transfers and the assembling and disassembling of specialized mobility aids.
Please note: Passengers traveling with an assistant or carer purchase their tickets at the same time as the passenger. The main objective of this is to reserve a seat for the companion or caretaker so they can board the plane with the passenger.
Qatar Airways wheelchair assistance service
Wheelchairs are available for use at all airport sites. The Qatar wheelchair assistance team assists you in moving from one spot to another within the airport during your journey. You can request a wheelchair at the time of booking, online via the 'Manage Booking' tool, or by visiting your local Qatar Airways office at least 48 hours before departure.
If you plan to travel with your own wheelchair or another mobility device, inform airlines at the time of booking or upto 2 days before scheduled departure. Thea will transport your wheelchair or other mobility device for free. Here is a list of how to get in touch with airlines office.
The following is relevant to mobility aids:
You will be able to utilize your personal wheelchair or mobility aid whenever possible.
Wheelchairs and mobility aids powered by batteries will be accepted as checked luggage and stored in the aircraft hold.
A battery associated with a wheelchair that is broken or leaking will not be accepted for travel.
Mobility aids include wheelchairs, electric wheelchairs, and scooters.
Segways are also acceptable forms of mobility aid, provided that the user has a mobility handicap and needs one to help with the impairment.
Please submit appropriate information regarding your wheelchair/mobility assistance and batteries to Qatar Airways airport assistance team prior to travel. This will allow team to better help you while also taking appropriate safety precautions.
Weight and dimension of the mobility aids
Two pieces of Mobility Equipment per person will be carried free of charge as checked luggage. This is on top of actual checked baggage allowance, provided that:
Each piece weighs no more than 32 kg, excluding mobility devices that can move while standing in freewheel mode
Items weighing more than 32 kg must be transported as cargo at conventional freight rates.
The equipment must be for your personal use and must not exceed 890mm X width: 415mm X 270mm.
If you choose to check in more than two pieces of Mobility Equipment, the additional items will count toward your checked baggage allowance. You will be charged extra if the applicable allowance is exceeded.
Wheelchair weighs more than 75 kg
The following conditions imposed under the Qatar wheelchair assistance program include –
When passengers with limited mobility want to check their own wheelchairs, there is no restriction on the maximum wheelchair weight that can be checked in.
One piece of checked luggage cannot weigh more than 75kg for safety reasons.
If the wheelchair can be disassembled, each individual piece must weigh less than 75kg.
Flights to and from US
The travel conditions for the passengers flying to and from the US under the Qatar Airways wheelchair program include –
One foldable, collapsible, or "manual" wheelchair, as well as other mobility aids like canes, crutches, and walkers, can be stored in the passenger cabin.
Your wheelchair or other mobility device will be carried as checked luggage in the airplane hold if there is no room in the passenger cabin.
Only U.S. airlines will permit the use of wheelchairs with spillable batteries.
Rules for Expectant Mothers Flying with Qatar Airways
Qatar Airways advise all pregnant moms to speak with a doctor before purchasing their tickets. This is to determine their suitability to fly the distance of the intended journey in order to minimize needless hazards to you and your baby.
The Qatar Airways service team may ask you to produce various medical paperwork before traveling depending on the stage and circumstances of your pregnancy. Pregnant women who are 36 weeks or more along will not be accepted by Qatar Airways for their own safety as well as the welfare of their unborn child.
Please refer to the table below –
| Pregnancy stage | Details of the pregnancy | Doctor's note/certificate | MEDIF form required |
| --- | --- | --- | --- |
| Till the 28th week | Zero complications | Optional | No |
| From 29th week up to 32nd week | Single pregnancy without complications | Yes | Yes |
| From 33rd week to 35th week | Single pregnancy without complications | N/A | Yes |
| Beginning of 36th week and beyond | Complicated pregnancy | Not allowed to travel | Not applicable |
Medical certificates
The following details should be on medical certifications that must be written in English:
Name and date of birth of the patient
Estimated delivery date
Date of departure and arrival
Confirmation of a simple single pregnancy or a difficult multiple pregnancy
Confirmation that the patient is "fit to travel" for the full voyage, including the return
Date, stamp, and phone number of a licenced doctor
Please note – The passenger's medical certificate must be current and effective for the whole trip, and it must be dated no more than 10 days prior to the intended departure date. Download the medical certificate here.
MEDIF form
MEDIF forms must be completed and submitted to Qatar Airways in English at least 48 hours before each flight's departure and no later than 7 days in advance. If a fresh MEDIF is not needed for the return trip, it will be noted as "Approved (complete journey)" in Part 2 of this form. Download the MEDIF form here.
Qatar Assistance for Minors
Qatar Airways special assistance team is here to make sure your child has a great time on their trip and is well taken care of the entire way if you're preparing for them to travel alone.
When you purchase the minor service, your child will be met at the originating airport and cared for during the flight. Upon arriving at the destination, he or she will be turned over to the person the parents or guardians specified.
Cost – When booking an unaccompanied minor service, an adult ticket fare needs to be purchased.
Please note – It should be noted that some fare types are not qualified for the unaccompanied minor service, and the youngster will be charged an adult fare. Before making any purchases, please confirm with the Qatar Airways service desk.
Requesting escort for the unaccompanied minors
Qatar Airways also provides an escort service for minors traveling alone. A specialized airline agent will follow your child throughout the flight. To request this service for your child traveling alone, please contact the airlines at least 72 hours before the flight departure. To get eligible for the escort service, the following points needs to be considered –
The child's age must be between 5 and 15 years.
The child must be traveling on the flight operated and marketed by Qatar Airways.
You must pay for the return airfare of the Qatar service assistant who will accompany your child in order to use the unaccompanied minor service.
Assistance to the passengers with sensory impairments
Please inform The Qatar Special Assistance desk in advance so that they can make the required arrangements for passengers with vision and/or hearing impairments. Additionally, at least 48 hours before departure, you can make an online special service request through the "My Trips" section.
Hearing impaired passengers – The crew on board will provide any help needed during the journey as well as safety briefings. English and Arabic subtitles are shown on the in-flight safety video. The Qatar airways wheelchair assistance team will help passengers with the required mobility aid(s).
Visually impaired passengers – The Qatar Airways crew members will provide briefings on safety and any support needed during the flight on board. Passengers with specific requirements can use Braille Safety Cards that are accessible on board. The card is offered in Arabic and English.
Frequently Asked Questions (FAQs) – Qatar Airways Special Assistance
Does Qatar Airways offer airport
assistance with mobility?
In order to help you navigate the airport, Qatar Airways offers a mobility assistance service.

You can request Emirates special assistance services through the 'Manage Booking' section on qatarairways.com. You can also contact the Qatar Airways office in your area at least 48 hours before your trip.
Can an expectant mother fly with Qatar Airways?
Qatar Airways suggests visiting your doctor to determine your suitability for the length of the intended flight before purchasing your ticket.

Qatar Airways will not board expectant moms who are 36 weeks or further along in their pregnancy for your own safety and the welfare of your child.
Does Qatar Airways offer special meals to the passengers?
To meet a variety of dietary needs, Qatar Airways provides a large assortment of special meals. If you require a special meal during your flight, please inform Qatar Airways service office at least 24 hours before takeoff.
How to add wheelchair assistance in Qatar airways?
You can add Qatar Airways Wheelchair assistance service online using the My Trip section, or simply call the airlines at least 48 hours before the scheduled departure.
How do I request assistance on Qatar Airways?
In that case, you need to contact airlines at least 48 hours before the scheduled departure. Simply call the airlines, let them know about your special needs.
How do I book a flight with special assistance?
To make use of this service, please get in touch with the airline either before or during the booking process. You can complete a specific form or call to do it.
Does Qatar Airways charge for wheelchairs?
No. Carrying or requesting a wheelchair is free of charge, and is available on a first-come-first-serve basis.