Spirit Airlines special assistance team understands the significance of carrying all passengers, including those with disabilities.
To ensure that the airline provides the requested special assistance, please be aware that you must check in 60 minutes prior to the departure of your domestic flight and 120 minutes prior for international flight.
The following services are considered under Spirit Airlines special assistance –
Spirit Airlines Wheelchair Assistance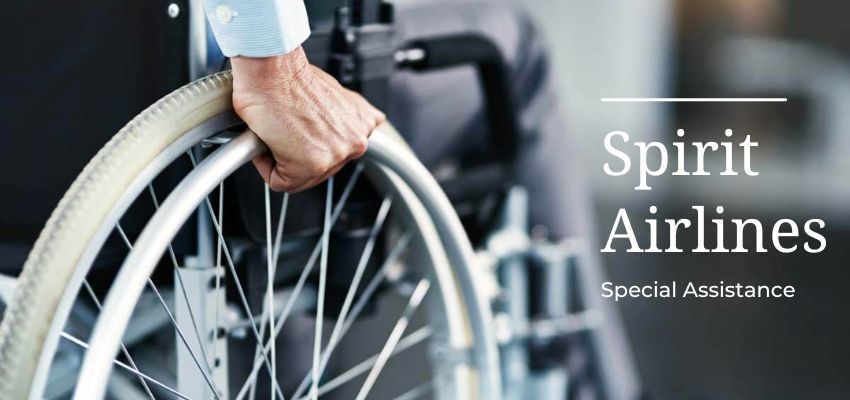 An in-flight wheelchair is available on board with Spirit Airlines. If you need help getting from the in-flight wheelchair to or from your seat, our cabin crew is qualified to help. In addition-
Please schedule your trip as early as possible if you require a wheelchair or other assistive devices from the airlines so that they can make the appropriate preparations for you.
Wheelchairs are also available for use at Spirit wheelchair assistance desks at all airports in the US that fall under the airline's network.
Your free baggage allowance does not apply if you are using a manual or electric wheelchair that you own, as well as any other helpful aids such a cane, crutches, walkers, or mobility scooters.
Your wheelchair or other assistive device must go as a checked baggage.
Please contact Spirit airlines special assistance team airlines at least 48 hours prior to your flight's departure if your wheelchair is battery-operated.
Passengers are required to check-in at least 2 to 3 hours before the scheduled departure.
You can refer below for information on the IATA requirements for the transportation of your battery-operated wheelchair as you get ready for your trip.
Wheelchair with spillable and non-spillable wet battery
The battery should stay in the gadget and be firmly coupled to the wheelchair.
It is necessary to insulate the battery terminals in order to prevent short circuits.
The wheelchair or other mobility device needs to be turned off and shielded against unintentional activation.
You must take the battery out. The wheelchair or other mobility device can then be checked in without any limitations.
The terminals of the removed battery must be isolated in order to prevent short circuits.
The battery needs to be contained in a safety pouch, which needs to be carried under the checked luggage.
Lithium battery
The battery's power rating must not exceed 300Wh, or 160Wh each for devices with two batteries.
You may bring one spare battery that is no more than 300Wh or two spare batteries that are no more than 160Wh each. They can be carried as carry-on luggage.
How to book Spirit Airlines Wheelchair Assistance?
If a passenger requires a wheelchair, Spirit Airlines provides both airport and aboard assistance to make their trip as smooth as possible. Here are a few ways you can ask for wheelchair access on your flight.
Get Wheelchair Assistance Online
You can visit the Spirit Airlines website and request wheelchair assistance in advance to prevent trouble at the airport. follow the steps below –
Visit official Spirit Airlines.
Select the flight that you like to book.
State the travel dates, origin and destination points.
Enter the passenger information
Request wheelchair assistance.
If you have an existing reservation, follow these steps to add the wheelchair –
Visit the Spirit Air portal
Go to the 'My Trips' section
Fill in your booking reference and the passenger's last name to retrieve your booking.
At the extras, add wheelchair assistance.
Wheelchair assistance at the airport
There is no curbside check-in option with Spirit Airlines. Therefore:
You can ask for help from the airline agent at the terminal.
This way, you can get a wheelchair outside the Spirit terminal and use it to get to the check-in desk, security, and then your gate.
The wheelchair porter can help you dine or use the restroom if necessary.
Inform the gate agent if you need to pre-board the flight in a wheelchair. Before boarding starts, you must be present at the gate.
Outside the Spirit's terminal, the airline agents will also assist you in picking up your bag and getting to your next aircraft.
Spirit Airlines wheelchair assistance on board
While you arrive at the airport, notify the airline representative that you will require an aisle wheelchair when boarding. After the final visitor has deplaned, you will get aisle wheelchair assistance to ensure a smooth transition.
On the phone
The customer service team at Spirits Airline is available 24/7 to help you. To get access to wheelchair assistance, call the Spirit Airlines special assistance phone number.
Note – If requesting wheelchair, the Spirit wheelchair assistance team unable to offer the following service –
Assistance with feeding of meals
Assistance inside the restroom
Provision of medical service.
Disability Assistance
Spirit Airlines provide help and attention and help to the disabled passengers, whether at the airport, during the journey, or when connecting flights.
We provide the following services to travelers with disabilities:
Before takeoff, the cabin crew will deliver a special safety briefing for the visually impaired and assist passengers in becoming oriented to their surroundings.
The airline crew will also assist with meal preparation and food identification.
The in-flight safety movie is accessible in sign language for those who are deaf or hard of hearing.
Contact airlines at least 48 hours prior to departure to make necessary arrangements.
The Spirit wheelchair assistance team unable to offer the following services –
Assistance with feeding of meals
Provision of medical service
Assistance inside the restroom.
Traveling with children
All passengers in the same booking are entitled to a free advance selection of standard seats when traveling with young children. In this manner, the family may all sit down together. Priority boarding is also available to parents of newborns, giving them additional time to settle their children before takeoff. The other services include –
Dining
Your infant will be given meals that are suitable for their age and are simple to chew and digest upon request with Spirit Airlines. Taking a trip with older kids? Allow them to select from Western, Asian, and vegetarian dishes. Is the tiny one a picky eater? You're more than free to bring your own food on board, no issue.
Nursing
You are allowed to bring as much breast milk as you require in order to feed your baby while in flight. The standard liquid restrictions will be in effect, so if your child isn't traveling with you, store your milk in 100ml bags. There are a limited number of baby wipes on board. However, it is recommended bringing your own because what the airline has may differ from what you are used to.
Baggage
You'll be able to check in 10 kg of baggage, as well as a fully folding stroller and car seat, to keep your infant comfortable throughout your trip. As an alternative, you can bring a small, lightweight stroller inside the cabin. If you're flying out of the United States, you'll also get an extra 6 kg of cabin luggage for things like baby supplies, breast milk, and meals.
Booking
You must purchase both your adult ticket and your infant or child's ticket on the same itinerary with Spirit Airlines. Each infant must be accompanied by an adult who is at least 18 years old. If only one adult is available to travel with two newborns, one of the infants must use an approved kid car seat in a separate passenger seat, while the other must use an infant seat belt on the adult's lap.
Seating
Infant travelers flying with Spirit airlines are given priority access to bassinet seats on a first-come, first-served basis. Each bassinet has dimensions of 768mm (L) x 298mm (W) x 158mm (H) and can hold up to 14 kg in weight. You could be permitted to bring a child car seat if you have purchased a separate passenger seat for a youngster under the age of three.
Unaccompanied minors travel
On domestic direct flights (including those to Puerto Rico and the U.S. Virgin Islands), kids of a specific age are permitted to fly alone. They won't be allowed on domestic flights with scheduled aircraft changes, international flights, or connecting flights. Unaccompanied minors would be offered snacks and drinks on board. The following guidelines include –
Please check-in at least 60 minutes before scheduled departure.
The unaccompanied minor form would be completed at the airport by the drop-off parent/guardian.
The person dropping off the child must remain at the gate for 15 minutes after the flight departs.
Unaccompanied minors are not allowed to travel on international flights.
Refer to this table that mention the age groups and what all services are includes –
| | |
| --- | --- |
| Age of Minor | Unaccompanied Minors |
| 4 Years and Younger | Children under the age of 4 may not travel by themselves. They must be accompanied by another guest who is at least 15 years old. |
| 5-14 Years | When not traveling with an adult at least 15 years old, children aged 5 to 14 must travel as an unaccompanied minor. |
| 15 Years and Older | Although guests above the age of 15 are not required to use the Unaccompanied Minor service, they could be asked to show a picture ID or birth certificate as proof of their age. If the service is requested, guests 15 and older will be charged the Unaccompanied Minor service fee. |
Spirit special assistance for expectant women
It's critical to discuss your vacation intentions with your gynecologist before booking a flight with spirit airlines in order to receive the necessary medical advice.
If you want to fly when you're pregnant, there are several prerequisites.
| | |
| --- | --- |
| Period based on the expected date of delivery | Travel restriction |
| 28th week and earlier | There is no need for a medical certificate. If your return trip is booked after your 28th week of pregnancy, you must produce a medical certificate. |
| Uncomplicated single pregnancy – 29 to 36 weeks | Provide fitness certificate that certifies the fitness, estimated date of delivery and number of weeks of pregnancy |
| Uncomplicated single pregnancy – Beyond 36 weeks | Travel is not allowed |
Traveling with emotional support animal
Emotional support dogs, on the other hand, are companion animals that help people with psychological problems. Assistance dogs are trained to carry out certain activities to assist people with disabilities.
In order for you to fly with an assistance or emotional support dog –
The dog must be at least 4 months old
Trained to obey directions
Behave properly
Not directly endanger the health and safety of other passengers
Larger dogs must sit on the cabin floor in front of the passenger seat, while smaller canines may sit on your lap.
Additionally, all dogs –
Must be on a leash or in a pet carrier at all times.
May not occupy a seat.
It must not restrict other customers' access to the aisle or an emergency exit.
Frequently Asked Questions (FAQs) – Spirit Airlines Special Assistance
How does wheelchair assistance work?
Passengers can book the Spirit wheelchair services online or at the airport. No fee is charged for the use of a wheelchair at the airport or onboard.
How to get handicap assistance at the airport?
Call Spirit Airlines at least 48 hours before your flight to request wheelchair assistance. Call early if at all possible. Your departure, arrival, and transfer airports will be informed to provide a wheelchair and a "needs special help" comment will be added to your reservation record by the customer care agent.
Is wheelchair assistance at the airport free?
Yes. There will be no fees for using wheelchairs at any airport for travelers of any class.
How to book a flight with assistance?
Once you have made your Spirit Airlines reservation, please request mobility assistance if you require it to help you navigate the airport. You can call Spirit and ask for mobility assistance if you already have a reservation.
Do airlines have handicap seats?
Passengers with disabilities can easily sit on the aisle and near the restroom. To enable the Cabin Crew to offer every help on board, the passengers are fully briefed, and provided all sorts of assistance.
How to request wheelchair assistance with Spirit airlines?
You can visit the official Spirit Airlines and request wheelchair assistance in advance to prevent the trouble at the airport. Passengers can also call the airlines or contact Spirit airlines wheelchair assistance team for any help.