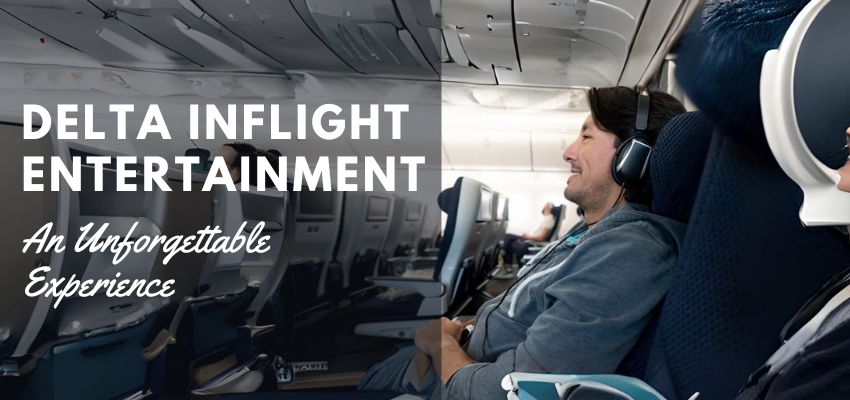 Delta Airlines is the global leader when it comes to making your journey the most comfortable and enjoyable one. One area where they ace the game is the Delta inflight entertainment options.
From the latest blockbuster movies and TV shows to captivating music, games, and beyond, in this article, we will delve into the array of onboard options available that keep you entertained and engaged throughout your journey.
Delta Airlines Inflight Entertainment System
Delta Studio is the in-flight entertainment offered by the airlines. It features a diverse selection of movies, TV shows, music, and video games.
Passengers can enjoy the content on seat-back screens or on Windows 10-compatible devices, such as laptops, phones, and tablets.
Notably, this entertainment is complimentary for all passengers, regardless of their class of travel.
The primary components of the Delta Airlines inflight entertainment system include:
What is Delta Studio?
Delta Studio serves as the core of the airline's entertainment system, offering 1000+ hours of entertainment in the form of TV shows, music, and games.
If your flight has seatback screens, navigating through the entertainment library is simple. You can explore different genres, discover new releases, and select your preferred content effortlessly.
On flights without seatback screens, you can connect your tablet, smartphone or laptop with the Delta Inflight entertainment app.
All you need to do is download the Delta app before your flight and connect to the onboard Wi-Fi.
Exploring Delta Studio –
With a vast selection of movies, TV shows, music, and games, Delta Studio caters to the preferences of every traveler.
Movies – Whether you're a fan of classic films or eager to explore the latest blockbusters from around the world, there's something for every movie lover on board. Click here for more details.
TV Shows – Delta Studio offers a wide selection of TV shows, carefully curated from your favorite networks, ensuring you have ample choices to make your journey enjoyable and entertaining.
Audio – You can access the Spotify curated audio playlist or simply sync your music streaming app to enjoy the array of music and engaging podcasts that keep you entertained throughout your journey.
Kids – You are covered by Delta Studio with a delightful selection of kid-friendly movies and TV shows. Animated movies, TV shows, and interactive games are included to keep them entertained throughout the flight. Check the multiple options of Delta Inflight Entertainment for Kids.
What kind of entertainment is available on Delta Studio?
Passengers can enjoy content from popular networks like HBO and Showtime, along with SpyKids TV. For those who prefer live television, there are 18 channels available via satellite.
Seatback Screens vs. Bring Your Own Device (BYOD)
Delta's fleet is diverse, comprising various aircraft types, each equipped with different entertainment systems.
While some planes feature seatback screens for all passengers, others have adopted the BYOD approach.
Seatback screens offer a convenient and fixed entertainment interface. They are larger and located directly in front of each seat, providing a great viewing experience.
On the other hand, BYOD entertainment provides more flexibility for passengers who prefer to use their own devices. This approach allows you to switch between watching a movie, reading an ebook, or playing games, all on your preferred device.
The Delta GoGo inflight entertainment app acts as a gateway to a vast selection of entertainment, and passengers can use their smartphones, tablets, or laptops to stream content wirelessly.
Exploring the Delta Inflight Entertainment App
The Delta Airlines Inflight Entertainment app works like just another OTT streaming platform. The app's user-friendly interface and smooth performance ensure that the journey atop the clouds is an entertaining one.
Some of the best features include –
Continuously updated with the latest content.
Browse through different categories
Explore recommendations based on your preferences
Create your customized watchlist.
One of the app's standout features is its offline viewing option. Before your flight, you can download movies and TV episodes to your device, allowing you to enjoy the content even without an internet connection. This feature is especially useful on long-haul flights, where Delta Inflight Wi-Fi connectivity may not always be available.
The app is more than that. It acts as your all-in-one travel companion that provides real-time flight information, allowing you to keep track of your journey's progress and arrival time.
How do you access Delta GoGo Inflight Entertainment app?
Passengers can stream Studio content on their personal devices by downloading the GoGo Entertainment App, which they can find on Apple's App Store, the Google Play Store, and the Delta Wi-Fi Portal. The Wi-Fi Portal is accessible only during the flight.
How to connect to Delta Airlines Inflight Entertainment?
Before the flight takes off, it's essential to know how to connect to Delta's inflight entertainment system. Depending on the aircraft and the type of entertainment system it has, the connection process may vary slightly.
For a smoother experience, downloading the app before boarding is highly recommended.
Wi-Fi Connectivity
For flights equipped with Wi-Fi, connecting to the inflight entertainment system is a breeze:
Enable the Wi-Fi option on your device and search for available Wi-Fi networks.
Choose the "Delta_Wi-Fi" network from the list of available options.
Once connected, your preferred web browser should be opened, and you will be redirected to the Delta Inflight Entertainment portal.
From there, you can access the Delta Studio or download the Delta app if you haven't already.
Bluetooth Pairing
On certain flights with BYOD entertainment options, you can also connect your personal device to the inflight entertainment system using Bluetooth:
Make sure your device's Bluetooth is turned on and set to discoverable mode.
Locate the "Delta Inflight Entertainment" option in the Bluetooth settings on your device.
Once your device is paired with the inflight entertainment system, you can stream content directly to your device through the Delta app.
How to make the most of Delta Inflight Entertainment?
To enhance your inflight entertainment experience, here are some valuable tips and tricks to keep in mind:
Ensure that you have the Delta app downloaded on your personal device before your flight.
While Delta provides complimentary headphones on certain flights, bringing your own noise-canceling headphones can significantly enhance your movie-watching or music-listening experience.
Noise-canceling headphones help to block out ambient noise, providing a more immersive audio experience.
Before your flight, make sure your personal devices are fully charged. But you do not need to worry here! Most Delta flights offer USB charging ports or power outlets at your seat.
With an extensive entertainment library to choose from, it's a good idea to create a watchlist of movies, TV shows, and music you want to enjoy during the flight. This will help you make the most of your inflight entertainment time.
If you're flying on a route without Wi-Fi or simply want to save on data usage, you can simply download movies, TV episodes, and music before your flight allows you to enjoy the content without needing an internet connection.
Delta Inflight Entertainment for Airbus A320
For travelers on Delta's Airbus A320 flights, the inflight entertainment experience is a special one. This aircraft type is equipped with a dedicated entertainment system designed to provide passengers with a memorable journey.
The Airbus A320 inflight entertainment systems are similar to those found on other aircraft types.
The intuitive interface on the seatback screens or your personal device allows for easy navigation through the available content.
You can use the Delta app to access the entertainment library, where you'll find content for passengers of all ages and interests.
Delta Inflight Entertainment for MD 88 Aircraft
No matter the configuration of any aircraft, you won't miss out on inflight entertainment. This type of aircraft may not have the latest technology, but they are equipped with either seatback screens or BYOD options. Provided, passengers are never out of the options to get engaged on board.
Delta Free Inflight Entertainment – Yes, It's Actually True!
There's good news for entertainment lovers flying with Delta. Inflight entertainment on Delta flights is offered free of charge to all passengers, regardless of the cabin class.
Whether you're seated in First Class, Delta Comfort+, or the Main Cabin, you have full access to the entertainment library without any additional fees.
Conclusion
As Delta Airlines continues to prioritize passenger comfort and satisfaction, it's safe to say that the future of inflight entertainment with Delta will be a journey worth looking forward to.
Frequently Asked Questions – FAQs
Does Delta have inflight entertainment?
Yes, Delta offers inflight entertainment to its passengers through its entertainment system called "Delta Studio."
Do all Delta flights have inflight entertainment?
Not all flights may have the same entertainment options, especially on smaller or regional aircraft. But most of the aircraft offer a delta app for inflight entertainment.
Does my Delta flight have inflight entertainment?
You can check the Delta website or app when booking your flight. Additionally, you can inquire with Delta customer service or the flight attendants during your journey.
How to connect to delta inflight entertainment?
Download the GoGo Entertainment App. Connect to the onboard Wi-Fi network. Launch the GoGo Entertainment App.