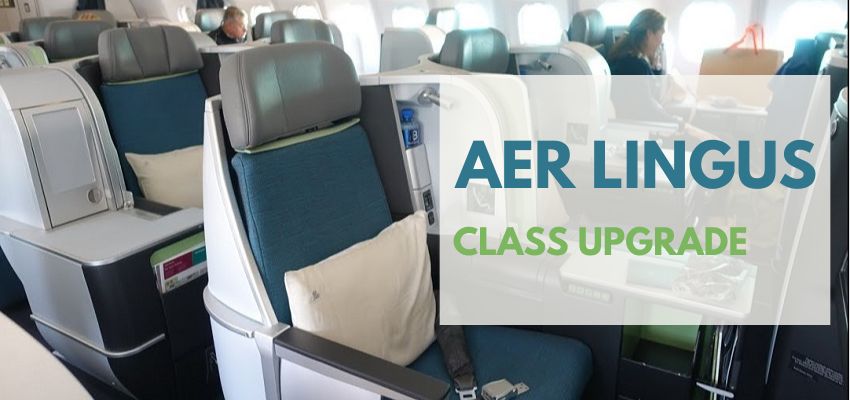 Do you wish to travel in Business class? Make a deal with the airlines, as the Aer Lingus upgrade is easy on pockets.
With Aer Lingus, passengers need to request to upgrade their transatlantic economy reservation to our Business Cabin. If your bid is accepted, you can enjoy the benefits of flying in Aer Lingus Business Class.
In this post, we will understand the guidelines required to upgrade to Business Class, how to get an Aer Lingus upgrade, and more.
Let's understand first what it is like to fly into Aer Lingus Business Class.
What is it like to experience Aer Lingus Business Class flight?
When it comes to providing a stress-free journey, Aer Lingus means business. The airline offers a Business Class seat that converts into a completely lie-flat 6.5ft long bed as standard, luxury meals, fantastic lounge facilities, and the connection you need to stay connected.
What the Business Class offers:
A completely flat seat with lots of space to spread out and unwind.
Custom-made storage to keep your items close at hand without feeling crowded.
Featuring seasonal cuisines and fine wines to bring out the flavors.
Free Wi-Fi is available on all Aer Lingus A330 planes.
Panasonic multi-touch 16-inch HD screen with noise-canceling headphones.
120 hours of entertainment.
Excellent lounge facilities, including complimentary Wi-Fi, meals and beverages.
Passengers arriving at the airline's Revival lounges in Dublin and New York (JFK) are invited to relax and unwind.
Terms and Conditions to Aer Lingus Upgrade Offer
The following terms and conditions apply to upgrade from the Economy Class to Business Class seat –
Passengers must be 18 years old in order to request for an upgrade.
Upgrades are not available to all travelers. It is entirely up to Aer Lingus to decide if a person is eligible.
Visit the Aer Lingus Bid for Upgrade page and fill out the forms with your booking reference number and last name to see if you qualify.
Alternatively, eligible passengers will also get an email inviting them to submit the offer to upgrade their reservation. 
Upgrade request from the airlines is only offered on certain flights between Ireland and routes between the United States and Canada.
Upgrade is not available for reward seats or flight bookings made with AerClub Points.
Each booking is limited to one Offer. 
If your booking includes two or more passengers, you may only submit an upgrade request for all of them.
The upgrade cost will be multiplied by the number of passengers in your booking.
You will be notified whether your upgrade has been accepted by the airlines no later than 24 hours prior to the scheduled departure.
To apply for a refund, go to aerlingus.com and fill out the Customer Relations Form.
If the refund is accepted, the value of the upgrade will be reimbursed to the payment card used to purchase the Upgrade.
After the successful upgrade, the airlines will guarantee the said services generally provided to passengers booked in the upgraded cabin class. These services include  priority check-in, additional baggage allowance, priority boarding, access to the lounge, and onboard meals.
Options to Upgrade Seat on Aer Lingus Flight
Passengers receive the upgrade in three ways –
Aer lingus offer to upgrade
Aer Lingus bid to upgrade
Aer Lingus avios upgrade
Offer to upgrade
In case, the passenger gets an email from the airline shortly after booking or 14 days before scheduled departure, follow these simple steps –
Select the flight segment you want to upgrade and move the slider to reflect your offer.
Fill out the contact and payment information blanks.
Review and submit your information.
A confirmation email for your upgrade offer will be sent to you after everything is finished.
You can change or cancel your offer using this email.
You won't be charged unless your offer is accepted, please note.
Aer Lingus Bidding for Upgrade
Aer Lingus seat upgrade requests can also be requested online by simply clicking this link. All you need to do is –
Enter the booking reference and the last name of the passenger to see if you qualify for the upgrade.
If you're, offer a bid that is greater than the price of your original ticket.
Your credit card will not be charged unless and until your bid is accepted
Once your bid is perfect, submit it.
Aer Lingus upgrade with Avios
In case of an Economy Class flight which is booked on a transatlantic route, you can use your Avios to upgrade to Business Class. The number of Avios needed to upgrade an existing reservation varies depending on the route and departure date.
Here are the Avios required for an upgrade –
| | | |
| --- | --- | --- |
| To and from Ireland and North America | Off-Peak Season | Peak Season |
| Boston / Chicago / Cleveland / Hartford / NewarkNew York / Philadelphia / Toronto / WashingtonMinneapolis / Montreal | 37000 | 44750 |
| Los Angeles / Miami / Orlando /San Francisco / Seattle | 46250 | 55000 |
| | | |
| To and from Manchester and North America | Off-Peak Season | Peak Season |
| New York | 37000 | 44750 |
| Barbados, Orlando | 46250 | 55000 |
How to spend Aer Lingus Avios for upgrades?
Please email [email protected] if you presently have enough Avios in your AerClub account and wish to upgrade your existing economy reservation. The airline will confirm your upgrade by re-issuing a new ticket after checking the availability for your travel dates. Here's what you need to do –
Book your flight to economy class.
At the time of booking, make sure you add the AerClub membership number.
Contact airlines at

[email protected]

.
The airlines will check the eligibility and availability for your travel.
Once approved, Aer Lingus Business Class upgrade tickets would be emailed to you.
Frequently Asked Questions (FAQs) – Upgrade Aer Lingus Seat
How much to bid for Aer Lingus upgrade?
You should aim for between 20% and 40% of the remaining cost after deducting the cost of the economy travel. Since the majority of people will place the minimum bid, place a slightly higher bid to beat the masses.
How to get an upgrade on Aer Lingus?
Passengers can upgrade through multiple ways – 

You can bid for an upgrade
Also, the airline offer Aer Lingus upgrade via email
Passengers can also upgrade through Avios rewards.
How to get a free upgrade on Aer Lingus?
Having elite status with Aer Lingus you're traveling is the most surefire way to get upgraded for free. Aer Lingus provides free upgrades on domestic flights to their most loyal passengers.
Am I eligible to make an Aer Lingus offer to upgrade?
If you are qualified for an upgrade, The airlines will send you an email encouraging you to make an offer.
Is there a fee for submitting an upgrade offer?
No. Making an offer does not incur any booking or credit card costs.
Am I eligible for the advantages of my upgraded cabin class?
If you upgrade through 'Upgrade Yourself,' you will receive the following:

An Aer Lingus seat upgrade in the business class
Complimentary refreshments and food
Free in-flight entertainment
Access to Wi-Fi is free
Priority luggage, priority boarding, and priority check-in
Aer Lingus lounge or partner lounge access
How to upgrade to Business Class on an Aer Lingus flight?
If you have an existing reservation, you can upgrade the flight at the time of check-in online. Passengers can request Business Class upgrades at the airport up to 3 hours before the scheduled departure.
What flights can I upgrade with Aer Lingus?
Aer Lingus free upgrade is not always available on flights. Only travelers flying on flights between Ireland, the US, and Canada are given priority for an upgrade. Soon after booking, if you qualify, you'll get an email requesting you to submit an offer.
Is there a fee up advance to submit an offer to upgrade?
No. You will be charged only if your offer is accepted.
Is there any reason why I would not be able to make an Aer Lingus bid upgrade offer?
Yes. Your eligibility to make an offer of upgrade may be limited by a number of criteria, such as:

Your flight's seats are not available.
You are still without a flight ticket.
Your booking hasn't been confirmed yet.
Aer Lingus does not operate your flight.
Your flight is not currently taking proposals.
Can I offer an upgrade if I purchased my ticket from a source other than aerlingus.com or a travel agent?
Occasionally, but not always. Enter your booking and name data in the fields at this link to see if your booking is eligible.