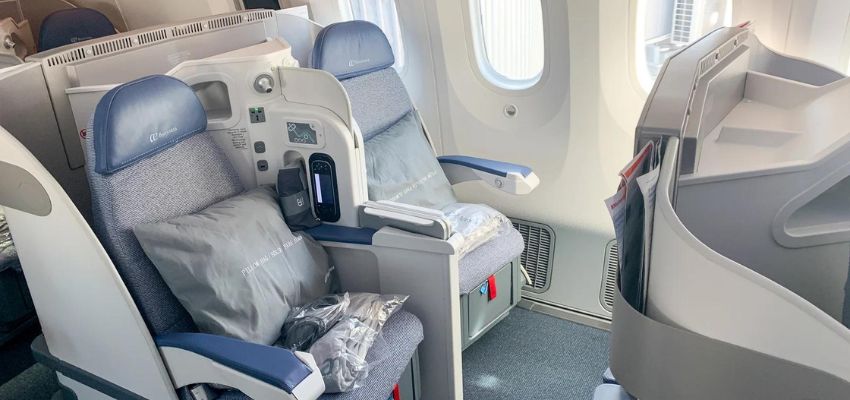 The expanding number of elite members and new opportunities for regular travelers to bump to a higher standard of service are making it more difficult to obtain upgrades on flights and at hotels. As a result, you can upgrade Air Europa using points to reserve the exact seat or cabin class in the aircraft without being dissatisfied if an upgrade isn't available.
In spite of this, upgrades are feasible, and there are several ways for Air Europa passengers to get a better seat. We'll go over all you need to know about Air Europa upgrade travel options and more today.
Types of Upgrade with Air Europa
A large variety of a la carte upgrade options are available, and you can relax on board in a fully flat bed with extra room and solitude. There are a number different ways to upgrade Air Europa flight whether you prefer Premium Cabin or Business Cabin. These include –
Upgrade with SUMA Miles – When you have a certain number of miles, you can use them to reserve a Premium Class or Business Class.
Request an upgrade from the airlines – Call the Global Contact Customer Service or speak to an airline's official to request upgrade
Upgrade at the airport – When you check in at the airport, you still have time to ask for upgrade. You are allowed to use the airport lounge and bring more luggage after upgrading. Your fare rules will determine if you are qualified for an upgrade based on availability. You have three payment options: cash, credit card, and Air Europa SUMA Miles.
Air Europa Upgrade Travel Option
Air Europa passengers may have plenty of options at their disposal to upgrade their flight. They can redeem miles, provided that the passenger must have subscribed to the SUMA membership. Also SUMA members, who don't have enough miles can request a cash upgrade. The upgrade option include –
Miles upgrade
You can use your SUMA Miles to request Air Europa upgrade to business class if you bought an economy ticket and want to fly that way. According to your destination, please refer to the following table to determine how many SUMA Miles you require:
| | | | | | | | |
| --- | --- | --- | --- | --- | --- | --- | --- |
| | BALEARIC ISLANDS | Spain AND Portugal | UK | Canary Island | Europe | North America | South America |
| Balearic Islands | 3000 | 4500 | 8000 | 14000 | 14000 | 25000 | 32000 |
| Spain AND Portugal | 4500 | 4500 | 8000 | 14000 | 14000 | 25000 | 32000 |
| UK | 8000 | 8000 | 12000 | 18000 | 18000 | 29000 | 36000 |
| Canary Island | 14000 | 14000 | 18000 | NA | 21000 | 32000 | 39000 |
| Europe | 14000 | 14000 | 18000 | 21000 | 21000 | 32000 | 39000 |
| North America | 25000 | 25000 | 29000 | 32000 | 32000 | NA | NA |
| South America | 32000 | 32000 | 36000 | 39000 | 39000 | NA | NA |
To upgrade Air Europa flight with SUMA miles, here are the following conditions that passenger must take a note of –
The Business cabin must have space available.
You must have booked the ticket in one of the following booking classes: Y, B, M, L, or E in order to request Air Europa Business Class upgrade using miles.
Flight must be operated by the Air Europa
Partial payments will not be accepted; the entire fare must be paid in SUMA Miles.
The flight upgrade request, redemption of Miles, and issuing of tickets must all occur simultaneously.
Upgrades are permissible up to 2 hours before departure.
How to request the Air Europa upgrade business flight?
Enter the route and choose "Pay in SUMA Miles" on the Air Europa 'manage booking' tab. You will then be shown the available flights and the number of Miles required for your chosen trips.
Cash upgrade
Air Europa upgrade with cash is subject to availability. The cost of the last-minute upgrade depends on the flight segment for which it is chosen.
Passengers of Air Europa SUMA who are traveling in Economy Class have the chance to experience Business Class at a very exceptional price.
Waitlist Upgrade
You may find yourself on the waitlist for an upgrade if your upgrade doesn't clear at the time of booking. The confirmation of this may not come until a few days prior to the flight or it may even occur at the gate right before takeoff. United will clear waitlist requests in the following order of priority:
Passengers who have purchased tickets in the Air Europa Premium Cabin fare classes (O, A, and R) receive the greatest priority for upgrades, even ahead of Air Europa SUMA members who have purchased full-price Y economy tickets.
Elites who rely on a complimentary premier upgrade are given preference over those who use SUMA miles to purchase the Air Europa Business upgrade.
The traveler's top elite status comes next in a tie-breaking process after Business Cabin passengers. SUMA Platinum, SUMA Gold, and SUMA Silver elites are in order of importance behind Air Europa Global Services members.
SUMA Platinum members get exclusive upgrades to Business Class
| | | |
| --- | --- | --- |
| Upgrade to Business | Short and Medium Haul Flights | Long Haul Flights |
| Subject to availability | Yes | Yes |
| Annual upgrades available | Unlimited | Two per card per validity |
| Must be requested | No | Yes, up to 24 h. before the flight |
| Confirmation | At the departure gate | At the departure gate |
| Service priority | By order of check-in | By order of check-in |
For ordinary economy tickets, the following fare classes are prioritized: Y, B, M, E, U, H, Q, V, W, S, T, L, K, and G.
The lowest priced fare class will be given priority before upgrades on award tickets.
Fee to Upgrade Air Europa Seat
The upgrade fee would be charged per person per flight segment, and varies with the travel route.
| | | |
| --- | --- | --- |
| | Intercontinental Flights (in USD) | Tel Aviv Flights (in USD) |
| Upgrade fee | 530 | 265 |
The purchase upgrade if cash is not available for –
Codeshare agreement flights
If one of the passengers does not wish to pay an upgrade, reservations involve many people.
Multiple passenger reservations that cannot all be confirmed in the Business Class or Premium Economy cabin.
Basic reservation fare.
When you fly with United, you have a variety of alternatives for upgrading to a more comfortable seat. As you may anticipate, the majority of these choices are provided as bonuses for Premier elite members. You should be able to upgrade your trip with money or points even if you don't fly United regularly enough to qualify for elite status. The carrier is typically tight about opening up inventory, especially in advance, so make sure to check upgrading inventory first.
Frequently Asked Questions Related to Upgrade Air Europa Seat
How do I upgrade my seat on Air Europa?
Passengers can upgrade Air Europa flight via the Manage Booking section. Alternatively, passengers can also contact the Customer Service team.
How can I avail free upgrades with Air Europa?
The highest level of assurance for a free upgrade is through the Club Premier programme. Air Europa  provides complimentary upgrades to its most loyal passengers.
Will Air Europa upgrade be worthwhile?
If you want additional comfort and amenities on long-haul flights, Air Europa Business and Comfort Cabin may be a great option, especially if you can get an upgrade for free or utilize miles.
What should I bid to upgrade Air Europa?
The airlines do not offer a 'bid to upgrade' method. Passengers with SUMA frequent flier membership can upgrade Air Europa flight using miles.