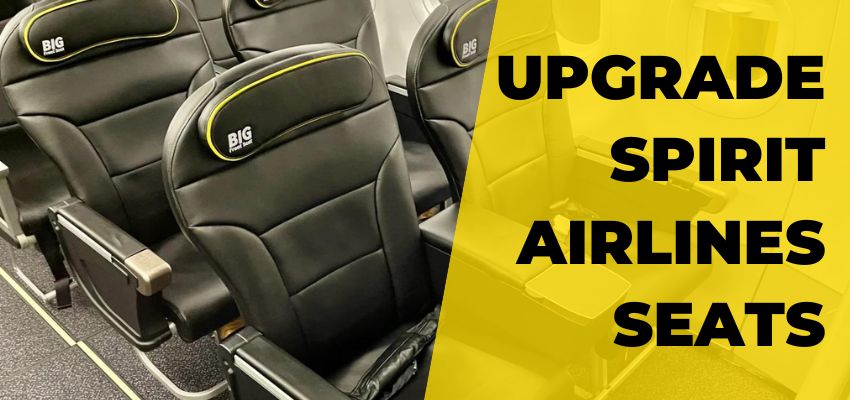 Unlike most other low-cost carriers, Spirit Airlines offers far more comfy seats at the front of its planes. And Spirit Airlines seats, especially in the front row, maybe the most straightforward in the travel business.
The "Big Front Seat" is exactly what it sounds like: a large seat with extra legroom. And it's rather comfortable.
The Big Front Seat does not come with complimentary drinks or free checked luggage. Furthermore, they also don't qualify under the 'Spirit Airlines upgrade' program. There is no such privilege or service for any sort of elite members. However, you can upgrade to a better seat for cash.
A Big Front Seat upgrade isn't as cheap as it once was, but you might still find it acceptable.
Even if you're flying on a tight budget and want to purchase a Spirit upgrade, you might be able to find an exit-row seat that fits your budget.
Here's what you need to know to maximize your chances of getting a cheap upgrade to additional legroom on Spirit Airlines.
Purchase a Spirit Upgrade to the Big Front Seat.
There are many ways to upgrade to the Big Front Seat on a Spirit flight.
You can buy a Big Front Seat assignment outright during or after the booking procedure.
You can also use a bidding mechanism to bid on a Big Front Seat.
Sign up for the Spirit-free seat upgrade.
Spirit Airlines charges a fee for seat assignments. During the booking process, a seat map with prices associated with each open seat will be displayed.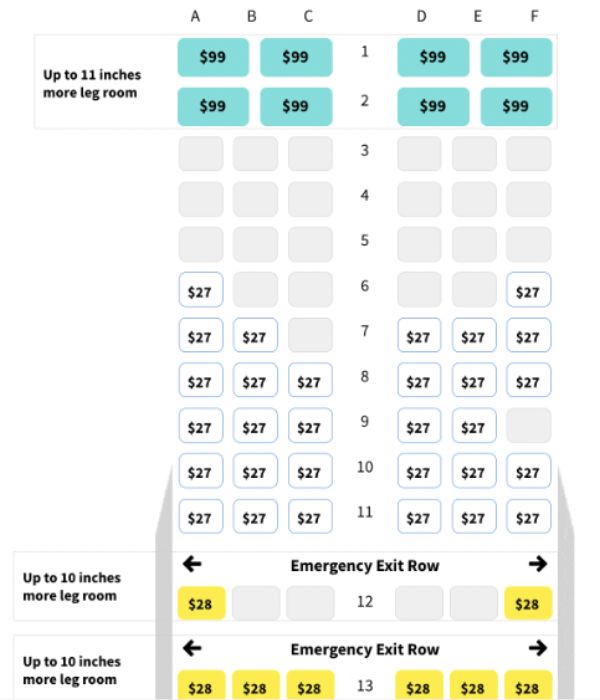 You're all set after choosing a seat and paying for it.
Spirit lists a pricing range between 12 and 250 USD for a Big Front Seat. In actuality, we often see a range of 50 to 150 USD per flight segment for the Big Front Seat. It also includes many busy routes costing 200 USD or more per flight segment.
Seat assignment costs are typically nonrefundable with Spirit. So, before you commit to an upgrade, make sure you really need it.
Note – The Free Spirit Travel More World Elite Mastercard does not provide any discounts or perks for Spirit airline seatings. However, there are numerous different travel credits available on credit cards that you can use to pay for seat selection fees.
Get a Spirit Upgrade and Sit on the Exit Row
There are various options for paying for an exit row upgrade. Purchasing Spirit exit row seats during seat selection are the first option, which is equivalent to the Big Front Seat. In addition –
The airline charges between $1 and $50 for paid Spirit Airlines seat selection (excluding the Big Front Seat).
A seat in the exit row typically costs between 25 and 35 USD.
Another option is to purchase one of the bundles offered by Spirit during the booking process. The booking procedure will often present you with two bundle options. You can select any seat on the plane with both the less expensive "Just For You" package and the more expensive "Bundle It" package.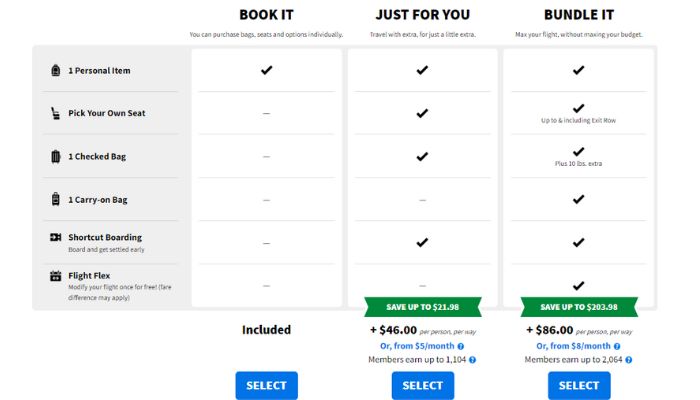 As you see in the above image, the 'Just For You package and the 'Bundle it' package come with the complimentary Spirit Exit Row seat per passenger.
Bid on a Big Front Seat or an Exit-Row Seat
Until recently, the only way to get a Big Front Seat or an exit-row seat on Spirit was to buy one.
However, the airline has implemented a bidding system that may allow you to obtain a Spirit upgrade for a slightly lower price. We tried and tested placing a bid on a Big Front Seat and ended up saving 40% off the asking price.
You can bid for an upgrade to the exit row or a Big Front Seat on Spirit's website after you've booked your ticket. You will get to know whether your Spirit seat bid was successful 48 hours before departure.
Intriguingly, the Spirit bidding system's terms and conditions also make reference to "Instant Level Up."
Instant Level Up is a feature that allows you to acquire an upgraded seat immediately during the bidding process. In other words, this is the auto-upgrade feature. According to Spirit's website, the Instant Level Up option is only available on selected routes.
What is a BIG FRONT Seat?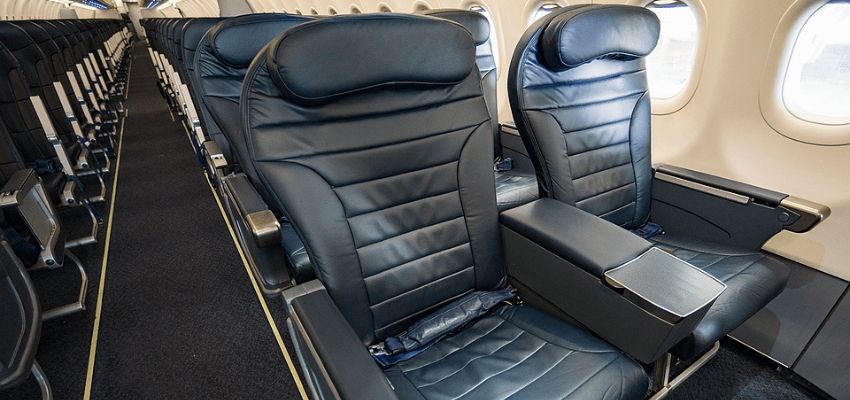 For those who desire extra room up front, Spirit Airlines Big Front Seat. You will be traveling in comfort if you select this, which has a 36″ pitch and 18.5″ width – a whole 6″ more legroom than any basic deluxe leather seats.
Passengers can purchase BIG Front Seats for a fee during or after a booking at spirit.com and is subject to availability.
Get a Spirit FREE Seat Upgrade
If you travel Spirit frequently and achieve elite rank, you will be rewarded for your achievements. Do not confuse these benefits with other airlines, as you will not receive a free Spirit upgrade to the Big Front Seat. You might be able to get a free upgrade to the exit row, though, if you travel Spirit frequently enough. In addition –
You can gain Gold and Silver in the Free Spirit program, which is two upgraded levels.
Free Spirit Silver members have the opportunity to receive a free upgrade to an exit row, but it will require some luck.
If an exit-row seat becomes available three hours before departure, Free Spirit Silver members can access Spirit free seat upgrade.
In the End
If you prefer a more comfy seat, Spirit has several options, but many of them will cost you extra money. The Big Front Seat is the closest thing you'll get to a Spirit upgrade. For that, you either need a Spirit credit card or are a Free Spirit elite member.
The comfort of an exit row seat may be worth the extra money now that Spirit operates more long-haul flights.
The Spirit seat bidding system for exit row and Big Front Seat upgrades has piqued our interest.
Perhaps when air travel slows down a little, bidding on a Spirit airlines upgrade will be a nice way for tourists to save a few dollars on the comfort they seek.
Frequently Asked Questions (FAQs) – Spirit Airlines Seat Upgrade
Do you have to pay for seats on Spirit airlines?
Spirit will assign you a seat at random at check-in for free. But, in this case, there is no guarantee that you will sit alongside your friends or family. You can purchase a seat assignment and select the seat of your choice. Seat assignments start at 5 USD  and vary with the travel route. A Big Front Seat with extra legroom costs a little more.
Seat costs for your flight can be found when you purchase online, in My Trips, or during Online Check-in.
What is a seat bid on Spirit?
After you book your trip itinerary and your flight is eligible for the Spirit SeatBid, you will receive an email inviting you to make an offer to Level Up. Visit the Spirit Airlines SeatBid Page as well, then take these easy actions:
1. Put in your last name and confirmation code.
2. Make your bid.
3. If your offer is approved, only then will your credit card be charged.
4. Examine your information, agree to the Terms & Conditions, and submit your request.
When does Spirit assign seats?
If you pay for the seats at the time of booking, your seats would be assigned in advance. However, if you do not pay for the seats, the Spirit Airlines seat selection would be on a random basis. Passengers get to know up to 24 hours before the scheduled departure. 
What is the Big Front Seat on Spirit Airlines?
These front-row seats on the aircraft are more spacious and comfy than those in the economy. They have an 18.5-inch width and a 36-inch pitch, giving you 6 additional inches of legroom than a regular economy seat.
Is there a first class on Spirit Airlines?
Simply put, no. The Big Front Seat is as close to Spirit Airlines first class as you'll get, yet it really lacks many of the amenities you often find in first-class cabins such as – 
Physical isolation from the economy class cabin
1. Free food or drinks
2. Early boarding 
3. Free checked luggage.
It is merely a bigger seat in the front row of the aircraft.
What distinguishes exit row seats from the Spirit Big Front Seat?
The "Big Front Seat," offers an inch more legroom than the less expensive exit row seats, although only marginally. 
The only factor to take into account while selecting a seat is legroom. Big Front Seats are comparatively wider. The rows near the exits are also three seats wide, but they will still feel claustrophobic.
How much is Spirit's Big Front Seat?
Depending on where you're flying, the cost of a Spirit Big Front Seat varies. According to Spirit's website, upgrades can range from 12 to 250 USD. They can be reserved either during or after booking.
For instance, the flight from Dallas to Atlanta costs an  additional 78 USD each direction to upgrade to Big Front Seats 
Is it possible to utilize Free Spirit points to purchase a Big Front Seat?
No. Miles can only be redeemed for the fare component of your flight, thus you'll have to pay for the extra space in cash.
On the plus side, if you upgrade as a Free Spirit member, you can get 12 points for every dollar spent or 20 points if you're an elite Gold member. This includes seat upgrades, which allow you to earn more miles than if you purchased a basic seat fare.
How to upgrade seats on Spirit Airlines?
Passengers can very easily upgrade their seats by paying an upgrade fee online for each and every passenger.
They can also upgrade seats via making a call to the Spirit Airlines' official customer service or they can do the same via the manage booking section if the passenger is eligible for a seat upgrade.