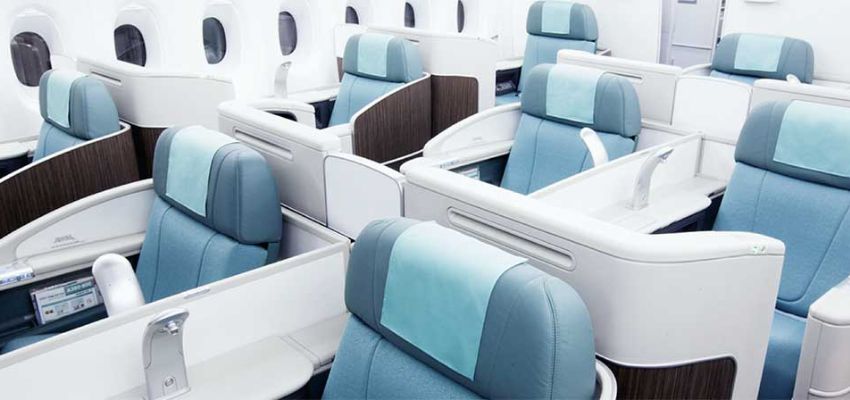 Passengers can request a Korean Air upgrade with miles or the combination of cash as well as miles.
You must also book your Korean Air flight using the standard KE flight number. If you book a codeshare flight, you will not be eligible for an upgrade, even though Korean Air is the carrier operating your journey.
Whether this is your first flight with Korean Air or you routinely fly with them, here is all you need to know to upgrade your Economy Class ticket to Business Class.
Korean Air Upgrade Flight With Miles
Since Korean Air SkyPass has better mileage criteria than its partners, it will still be your best choice for upgrading to Business Class.
When making a Korean Air SkyPass reservation, there are a few crucial points to bear in mind, but let's first explore the procedure.
Before redeeming miles to request the flight upgrade, all you need to know is –
Upgrade Awards are available for booking and issuing through the official website, Customer Contact Centre, and branch offices.
Korean Air Flight Upgrade Awards given out by Customer Service Office, customer service number, or airport offices could incur a Ticket Handling Fee.
Korean Air upgrade mileage would not be applicable on discounted fare.
Korean Air seat upgrade from Economy to First Class is not allowed.
There can only be one cabin upgrade, either from Economy Class to Prestige Class or from Prestige Class to First Class.
Eligibility for Korean Air Business Class upgrade miles – To upgrade to Business Class with miles, the existing fare must be booked in the following classes –
| Korea Domestic Routes | International Routes |
| --- | --- |
| Y, M | J, C, Y, B, M |
How to upgrade on Korean Air with Miles?
To book an award, follow these easy steps:
Visit the Korean Air website.
Choose "Redeem Miles."
Enter your User ID or SkyPass number to log in.
Choose your origin and destination.
Choose your departure dates.
Select "Prestige Class."
Choose your flight segment.
Click "Continue" to enter your details and finish the booking.
How many miles you need to upgrade to Business Class?
Below is the overview of the miles needed for different travel routes in order to get the seat upgrade.
For Domestic routes –
Zone
Season
Economy → Prestige
Prestige → First Class
Korean Domestic
Off-peak season
5,000
5,000
Peak-season
7,500
7,500
For international routes –
Zone
Season
Economy → Prestige
Prestige → First Class
South Korea – Japan/Maldives
Off-peak season
10,000
10,000
Peak-season
15,000
15,000
South Korea – Japan/Shanghai/Beijing/Wuhan/Osaka
Off-peak season
12,500
12,500
Peak-season
20,000
20,000
South Korea – Guangzhou/Guiyang/Nanning/Xiamen/Shenzhen/Xian/Ulaanbaatar/Irkutsk/Zhangjiajie/Changsha/Hong Kong
Off-peak season
15,000
15,000
Peak-season
22,500
22,500
South Korea – Manila/Cebu/Kunming/Clark/Hanoi
Off-peak season
22,500
22,500
Peak-season
35,000
35,000
South Korea – Delhi/Bangkok/Singapore/Yangon/Urumqi/Chiang Mai/Kathmandu/Kuala Lumpur/Phuket/Phnom Penh/Ho Chi Minh City
Off-peak season
30,000
30,000
Peak-season
45,000
45,000
Off-peak season
37,500
37,500
Peak-season
57,500
57,500
South Korea – Dubai/Moscow/Male (Maldives)/Brisbane/Saint Petersburg/Honolulu
Off-peak season
45,000
45,000
Peak-season
67,500
67,500
South Korea – Las Vegas/London/Rome/Los Angeles/Madrid/Milan/Barcelona/Vancouver/Budapest/Vienna/San Francisco/Sydney/Seattle/Amsterdam/ Auckland/Istanbul/Zagreb/Zurich/Tel Aviv/Paris/Prague/Frankfurt
Off-peak season
55,000
55,000
Peak-season
82,500
82,500
South Korea – New York/Dallas/Boston/Chicago/Atlanta/Washington D.C./Toronto
Off-peak season
62,500
62,500
Peak-season
95,000
95,000
South Korea – All other international routes
Off-peak season
85,000
85,000
Peak-season
127,500
127,500
Korean Air Flight Upgrade Using Cash and Miles
Passengers can request the Korean Air seat upgrade with a combination of cash and miles. You can use your mileage to pay for flight upgrades on the Korean Air website or mobile app.
How to request a Korean Air upgradable ticket using Cash and Miles – Follow these steps to request the cash and miles to request flight upgrade –
After you log in, select your preferred flight.
At the time of payment, turn on the "Cash and Miles" tab.
Check your redeemable miles, the maximum number of miles that can be used, and enter the amount of miles you wish to utilize.
Additionally, you can use your own miles to reserve flights for registered family members.
Payment must be made after verifying the total in both cash and miles.
Terms and conditions to request Korean Air upgrade seats using cash + miles – The following conditions will apply –
You can use mileage beginning at 500 miles and up to 20% of the base fare.
You can use Cash and Miles for upgrades while buying Korean Air one-way or round-trip tickets in Korean won..
The program excludes multi-segment itineraries, codeshare flights, flights run by other airlines.
It is advised you to look into the availability of Award Tickets as well as the Cash and Miles payment option.
It is not permitted to use promotional coupons or free e-coupons.
How to Request Korean Air Upgrade to Business Class?
Passengers can upgrade Korean Air flights when booking the flight, as well as after the flight is ticketed.
Upgrade with Purchase
You can upgrade your seat by redeeming mileage at the same time you buy your ticket.
Select Purchase & Upgrade to view fares that are eligible for upgrade.
Upgrades are available on all Korean Air domestic and international flights to and from Incheon.
When choosing your flight, check the seat upgrade details such as mileage redemption and available seats.
Mileage usage has been more convenient because you may select an upgradeable portion of your journey.
View passenger information (self and registered family members) quickly for seat upgrading.
To make a reservation for a minor passenger traveling alone, kindly get in touch with the Korean Air service center.
Tickets can be bought with a credit/debit card.
You can specify the miles to be used and the sequence in which they should be used for mileage deduction via mileage pooling.
You will receive an "e-ticket itinerary" at the email address you provided when purchasing the tickets.
Upgrade after purchase
Following the purchase of your ticket, you can request an upgrade online.
The upgrade is available to passengers with Economy and Prestige Flex Fare tickets.
Visit the airline's website and navigate to the Korean Air Manage Booking section.
Please choose a section of your journey and a target passenger for the seat upgrade.
You can specify the miles to be used and the sequence in which they should be used for mileage deduction via mileage pooling.
The email address you entered when purchasing the tickets will receive an "e-ticket itinerary."
Frequently Asked Questions (FAQs) – Korean Air Seat Upgrade
Can I use Delta miles to upgrade on Korean Air?
Delta Air Lines' joint venture with Korean Air gives customers more than 290 destinations in the Americas and 80 destinations in Asia. It also includes additional nonstop alternatives between the United States and South Korea. When they fly with Korean Air, SkyMiles members accrue and use miles.
Can you pay the fare difference to upgrade on Korean Air?
If passengers are requesting the Korean Air last-minute upgrade, they are required to pay the upgrade fee alongside any applicable fare difference.
Can you upgrade codeshare flight tickets with Korean Air?
No. The airline does not allow codeshare or interline agreement airlines to request any flight upgrade.
Does Korean Air give free upgrades to Prestige Class?
You can use mileage after the purchase to upgrade your seat for no additional cost. You can spend your miles to upgrade your seat if you have economy or premium flex price tickets.
Does Korean Air upgrade to Business Class?
Additionally, you can only upgrade your economy class seats to business class when you book your tickets at regular price. Reservations, which include overseas flights, are eligible for SkyTeam upgrades. Furthermore, you cannot upgrade your seat to Business Class on a domestic trip.
How do you upgrade seats on Korean Air?
You can pay for an upgrade while making your reservation or at the airport's self-service check-in. These are frequently discounted at the time of purchase. To request an upgrade, you can also contact your travel agency or the airline directly.