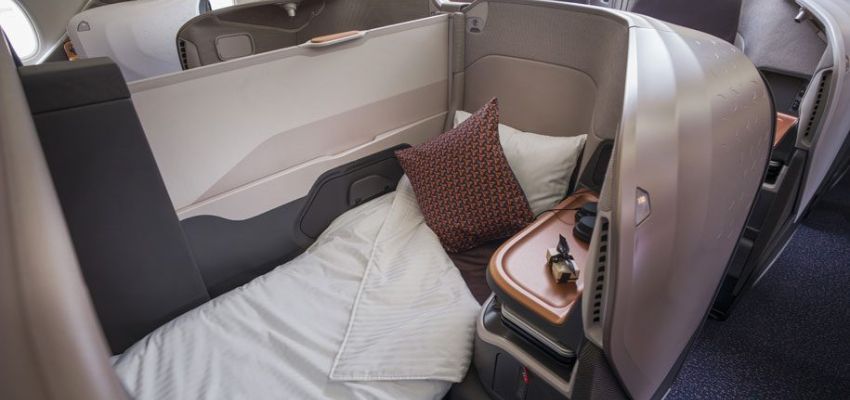 Wish to receive an upgrade on your upcoming Singapore Airlines flight? Your odds might appear great if you're a high elite member of Singapore Airlines KrisFlyer frequent flier programme.
However, you should not give up hope. Even when there is high demand and few available seats, there is usually a way for you to fly in the front of the plane if you:
Learn how the upgrade procedure works.
Learn how to take advantage of upgrade options by using your frequent flier miles.
When available, take advantage of low-cost premium flights.
Let's examine how Singapore Airlines flight upgrade process for its top elites works and how non-elite passengers might be able to book a premium seat.
Types of upgrade with Singapore Airlines
You can use your KrisFlyer miles, bid under mySQupgrade program, or simply upgrade through cash by paying the fare difference.
Here are the ways to upgrade with Singapore Airlines –
Purchase mySQ Upgrade – Here you can upgrade your seat at a special price through bidding within 72 hours of departure.
Redeem miles for an upgrade award – Redeem the Business Class upgrade for a Standard or Flexi Booking using your KrisFlyer miles.
Pay the fare difference – You can instantly upgrade your reservation by paying the additional fare.
Miles Upgrade with Singapore Airlines
KrisFlyer miles are, of course, the currency of Singapore Airlines' Krisflyer loyalty programme. A fantastic feature is that you can confirm upgrades simply by visiting the 'My Bookings' tab as soon as you book your flight. If you are qualified, you can upgrade with miles by clicking on your reservation online.
Upgrades can be purchased at "Saver" or "Standard" pricing and are dependent on availability, exactly like SQ award flights. Compared to "Standard," "Saver" pricing is less expensive per mile but has far less availability. If there are no openings at the "Saver" level, you can apply to be placed on the waitlist. To be waitlisted, you must have enough miles at the time.
To book an Economy Saver (i.e., least expensive) round-trip flight to the following locations, you would require the following number of miles:
| | |
| --- | --- |
| Return flights | KrisFlyer miles needed |
| Singapore to Bangkok | 25000 |
| Singapore to Hong Kong | 30000 |
| Singapore to Dubai | 50000 |
| Singapore to Melbourne | 56000 |
| Singapore to London / Paris / Los Angeles | 76000 |
| Singapore to New York | 80000 |
To know more about how many miles it takes to upgrade from Economy Class to Premium Economy or Business Class, See One Way Upgrade Chart of Singapore Airlines. You will also get an idea about each travel route where the Singapore Airlines operates.
It comprises of 7 pages, corresponding to distinct upgrade pathways –
Economy Standard (M, H, and W) to Premium Economy.
Economy Flexi (Y, B, E) to Premium Economy.
Premium Economy Standard (P, L) to Business Class
Premium Economy Flexi (S, T) to Business Class
Business Standard/Flexi (Z, C, J, U) to First Class and
Business Standard/Flexi (Z, C, J, U) to Suite Class
Upgrades are only available for the aforementioned "Standard" and "Flexi" fare classes. Make sure you book the correct fare because reduced "Lite" or "Value" tickets are not eligible for Singapore airlines upgrade.
How to request Singapore Airlines upgrade with miles?
The processes to upgrade online are listed below –
Log into your KrisFlyer account and go to "Bookings."
To upgrade a flight, select "Manage Booking."
After selecting "Upgrade flights," choose "Redeem using miles."
Tick the flight(s) you want to upgrade.
Verify how many KrisFlyer miles are required to complete the upgrade.
Singapore Airlines Bid for Upgrade
Under Singapore Airlines' bid upgrade program, passengers need to make a bid stating the amount they are willing to pay for an upgrade.
Once the passenger's booking info (reservation code and surname) is filled, you may input the amount to be paid on each leg of your journey and so engage in a Business Class Upgrade bid, which will be compared to the bids received by other passengers for the same cabin class.
How to apply for mySQ Upgrade?
Follow these easy steps to make an offer with the amount you are willing to pay:
In the Manage Booking section, enter your reservation number and last name to retrieve the booking.
On each eligible leg of your trip, enter the price you're willing to spend to upgrade to Business Class, then check it against other deals.
Enter your credit card information. When you receive the update, a charge will be applied. Only Visa and Mastercard payments in US dollars are accepted.
The airline will send you an email to let you know that they have received your offer. The URL sent in the mail allows you to modify or reject your offer.
Note – You will be told 48-12 hours before your flight's departure whether your upgrade request was granted or denied. There won't be a fee if your upgrade request is rejected. Upgrades are given based on availability and appraisal of the offers received for each part of your journey would be carefully examined.
Last minute Upgrade with Singapore Airlines
If everything else fails and your elite status and frequent flyer points aren't enough to get you the upgrade, there is another option!
You can upgrade to business class or premium economy with the help of Singapore Airlines' service known as the Last Minute Upgrade Purchase. It should be noted that these upgrades are not available for basic fares.
If you are successful, you will have access to the best perks of traveling in business class, including priority boarding and security, access to lounges, and all of the in-flight business class amenities.
Additionally, if you have made a reservation for more than one passenger, you need to request the upgrade for all the passengers. In other words, you must upgrade all of the passengers or none at all.
Your Last Minute Upgrade Purchase may be available as early as 24 hours before departure via online check-in, or as late as 12 hours before departure via self-service check-in kiosk.
Additionally, it is possible to purchase a last-minute upgrade for at least:
For flights within Singapore, 45 minutes before departure.
For flights between the United States and Canada, 1 hour before scheduled departure.
For all other international routes to or from Canada, 1 hour before scheduled departure.
Compare the upgrade options with Singapore Airlines
Regardless of your upgrade option, your flight must be operated by the Singapore airlines
| | | | |
| --- | --- | --- | --- |
| | Purchase mySQupgrade | Redeem miles for an upgrade award | Last minute upgrade through cash |
| Upgrade Option | Bidding | KrisFlyer Miles | Cash |
| Upgrade to (Cabin class) | Premium Economy Class, Business Class, First Class or Suites | A higher cabin class, with the exception of upgrades from Business Class to Economy Class on flights with Premium Economy Class. | All cabin classes |
| Conditions | Not traveling with an infant, Not traveling with group of 9 or more passengers, pay with miles, or Flight Pass booking | Lite or Value fares are not eligible | Multi-city itinerary are not eligible, Lite or Value fares are also not eligible |
| Mileage accrual | Based on original cabin class | Based on original cabin class | Based on upgraded cabin class |
| Confirmation | Immediate | Immediate | Immediate |
Frequently Asked Questions (FAQs) – Singapore Airlines Upgrade
Can I use velocity points to upgrade on Singapore Airlines?
Except for flights to and from China and Hong Kong, Velocity members can use Velocity Points to upgrade to Premium Economy, and Business Class Award Seats on Singapore Airlines' network.
How much is an upgrade on Singapore Airlines?
Offer to upgrade from the cheapest feasible Economy to Premium Economy on the 16-hour journey from Houston to Singapore for $565 USD each, or from Economy to Business for $2010.
Can I upgrade from Economy to Business class on Singapore Airlines?
Yes, you can upgrade your booking to a higher class of service through redeeming KrisFlyer miles, purchase mySQ upgrade, or pay the difference in fare. Value and Lite fares in Economy class are not eligible for Singapore airlines flight upgrade.
Do Singapore Airlines give free upgrades?
Yes, Singapore Airlines provides free business class upgrades. Not every traveler is qualified for this, though. This feature can be found on the chosen flight and depending on the elite status under the KrisFlyer frequent flier program.  through Elite status, you can take advantage of this free upgrade from business class to economy class, which will expedite the process.