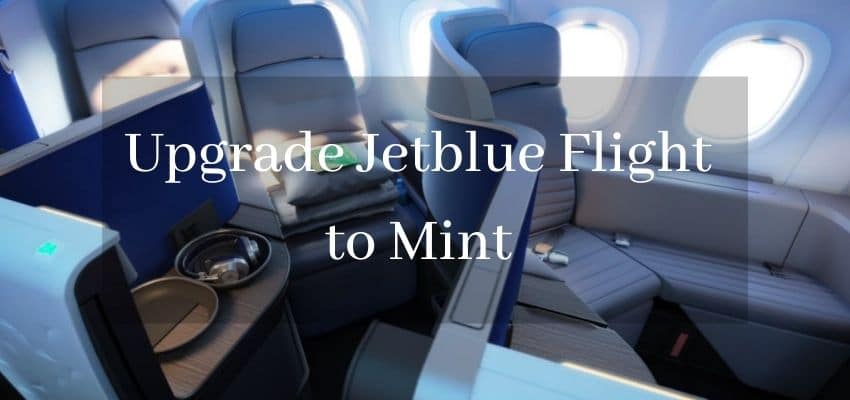 JetBlue will finally start flying to London later this year!! You can now fly direct between New York and London Heathrow as well as to London Gatwick. These travel routes have coincided with the launch of Mint cabin class in the JetBlue flight.
Primarily, you will be able to request JetBlue Mint Upgrade and enjoy flights across the Atlantic using miles as well as cash — assuming that our travel has now resumed as the coronavirus outbreak has passed.
In this blog, we will cover what it is like to travel in Mint Class, how you can upgrade your existing reservation with miles, the cabin class features, and everything you need to know about JetBlue mint upgrade.
---
About JetBlue Mint Cabin Class
To upgrade to JetBlue Mint offers you amenity kits from Hayward & Hopper, which include hand-picked beauty, grooming, and lifestyle essentials for men and women. The kits were inspired by a sense of adventure mixed with a dash of old-school Hollywood.
You'll also get access to new-age tech amenities. The best part is your journey is filled with abundant space that lets you stretch, walk and work at your own pace on JetBlue's brand-new Mint Suite on select flights.
In addition, the premium dining program, atop the skies, is hosted by Saxon + Parole, a renowned New York City restaurant that has created minimalistic dishwares specifically for passengers flying JetBlue Mint. Some of the features include –
JetBlue Throne Suites
The JetBlue Mint upgrade will lead you to a cabin that has 16 seats, divided into three rows of 2-2 seats and two rows of 1-1 throne suites.
The throne suites, which are located in rows 2 and 4, have a sliding door and are ideal for solo travelers seeking privacy.
The footwell in the throne suites is narrower than in the rows with two seats, but both seats convert to lie-flat beds measuring 6 feet and 8 inches long.
If you are not traveling as a couple, there is a privacy divider between the two seats that gives the comfort and privacy you have expected. The seating of this suit includes –

Auto-massage function
15-inch touch screen TV with DirectTV and on-demand TV shows
Two power outlets as well as two USB charging ports.
End-to-end Wi-Fi connectivity.
In-built Grado Labs' SR60e headphones
Please note: The mint suite is only available for flights between the U.S and the Caribbean
JetBlue Mint Suites
This suite features direct aisle access, a privacy sliding door, a fully lie-flat seat with adaptive foam cushions from Tuft & Needle, a memory foam pillow, and a custom blanket. The suite comes with a 22-inch LED screen. The two Mint studios in the first row have extra legroom seats. Every seat has a window and aisle access and includes a belted-side seat.
The jetBlue mint upgrade starts from 129 USD for London-bound and 199 USD for Los Angeles-bound flights. The prices are subject to change.
Please note: JetBlue offers Mint Suites on flights from Los Angeles (LAX) to London and selects flights from New York (JFK) to London Gatwick (LGW).
---
How to Upgrade to Mint on JetBlue?
You can request a JetBlue Mint upgrade online via the airline's website. The airline's friendly website interface will help you complete the request without any hassles. Add to that, you can also call JetBlue customer service phone number to place the request.
JetBlue Upgrade to Mint Online
In case you want to use TrueBlue points to pay for your flight but don't have enough, you book the mint cabin with a combination of cash and TrueBlue points. Follow these steps to upgrade to the said cabin class with TrueBlue points –
Visit the Jetblue Airlines webpage and log in to the TrueBlue accounts page.
Retrieve your flight booking. Check to see whether the 'Mint Upgrade' option is available on your flight itinerary.
Pay the required miles or cash required to complete your flight upgrade. Follow the on-screen prompts to complete your request.
You will receive a confirmation from the airline on your email address with the updated cabin class.
Complete the check-in to select the seats.
Generate the boarding pass to complete the request.
JetBlue Mint Upgrade over the Phone
When you're not internet savvy and looking to save your time. You can reach the JetBlue flight representatives to request the upgrade. Pay the required cost with a debit/credit card over. A confirmation will be sent to your registered email.
Upgrade Jetblue Flight to Mint at the Gate
This option is exclusively available at the time of check-in and is subject to seat availability. It may cost you minimal or at times no fee. Chances are, if you're a True Blue member, you are on priority to get access to the mint cabin class.
---
Travel Routes Available for JetBlue Mint Upgrade
To upgrade to the JetBlue mint class with reward points is relatively easy to come by when you're willing to be flexible. Add to that, there are 7-8 travel routes that are available for redemption on a daily basis. On top of that, you won't be charged any additional fuel surcharges on most business-class flights.
The travel routes for JetBlue's non-stop domestic flights with Mint business class:
Las Vegas
Boston
New York (JFK)
Los Angeles
Fort Lauderdale
Miami
New York (JFK)
San Diego
Boston
New York (JFK)
San Francisco
Boston
Fort Lauderdale
Miami
New York (JFK)
Seattle
New York (JFK)
The travel routes for JetBlue's nonstop international flights with Mint business class:
Boston
Bridgetown
Granada
Liberia
Saint Thomas
Saint Lucia
Sint Maarten
Los Angeles
Liberia
New York (JFK)
Aruba
Bridgetown
Granada
Liberia
London-Heathrow (LHR)
London-Gatwick (LGW)
Saint Thomas
Saint Lucia
Sint Maarten
Newark
Aruba
Bridgetown
Liberia
Saint Thomas
Saint Lucia
Sint Maarten
---
JetBlue Upgrade to Mint with Points
You can use the best frequent flyer programs to book JetBlue Mint using reward miles or reward points, such as
Emirates Skywards Miles
JetBlue TrueBlue
Pay with other credit card points
Emirates Skywards Miles
One of the most convenient options to consider when upgrading to JetBlue Mint class is Emirates' frequent flyer program, Skywards.
Regardless of the flight ticket cost, you can get a lot of value out of your points by upgrading with Emirates as an interline agreement partner.
At present, the Emirates prices its JetBlue flights using a miles-based reward system:
| One-way Distance (in miles) | JetBlue Economy Cost With Emirates Miles | JetBlue Mint Cost With Emirates Miles |
| --- | --- | --- |
| 0 – 250 | 8000 | 16000 |
| 251 – 500 | 10000 | 20000 |
| 501 – 1,000 | 14000 | 28000 |
| 1,001 – 2,000 | 20000 | 40000 |
| 2,001 – 3,000 | 26000 | 52000 |
| 3,001 – 4,000 | 32000 | 64000 |
| 4,001 – 5,000 | 38000 | 76000 |
| 5,001 – 6,000 | 44000 | 88000 |
| 6,001 – 7,000 | 50000 | 100000 |
| 7,001 – 15,000 | 60000 | 120000 |
The best part is that JetBlue is generous with partner-level award availability, so the booking process shouldn't be too difficult. Here's how you can upgrade to JetBlue Mint on the Emirates website –
Go to emirates.com.
Select Advanced search: multi-city, promo codes, and partner airlines from the drop-down menu.
Select 'Book Classic Rewards Flight' at the top of the screen. Then select Search partner flights only from the drop-down menu.
Choose between a round trip and a one-way trip.
Fill in your flight information, including city pairs, travel dates, and the passenger count. And then, click the 'Search' button.
Find the suitable flight option, redeem your Emirates miles, and pay the required taxes and fees with a credit card.
JetBlue TrueBlue
Although TrueBlue points have no monetary value, the number of points required to request a JetBlue mint upgrade is equally proportional to the current fare available at that time.
In other words, The TrueBlue points program is revenue-based. When redeemed for Mint cabin class, TrueBlue points are worth about 1.01 cents per point. To help you with appropriate calculations, if any flight upgrade cost (change fee and the fare difference) costs 450 USD, that means you need 45000 TrueBlue points.
450 USD = 44,000 points
500 USD = 49,000 points
550 USD = 53,900 points
600 USD = 58,900 points
Pay with Other Credit Card Points
TrueBlue redemptions can be, at times, as low as 1 cent per point (or lower), but upgrading to mint with a credit card point system offers you a better value in some cases.
When you purchase your travel or ship with credit cards, you automatically accumulate reward points that offer higher redemption value than the Skywards or TrueBlue miles program.
You can redeem these miles or reward points directly through American Express, Chase, and Citi's travel portals. The list below gives you an overview of the redemption value from different credit/debit cards –
| Portal | Card | Points Redemption Value |
| --- | --- | --- |
| American Express | All cards | 3 cents per point |
| Citi | Citi Premier & Citi Prestige Card | 4.25 cents per point |
| Chase | Ink Business Credit Card & Chase Sapphire Preferred card | 8.75 cents per point |
| Chase | Chase Sapphire Reserve card | 9 cents per point |
---
JetBlue Mint Upgrade Fee
The airline charges a change fee, regardless of the class of service selected, in order to upgrade to JetBlue.
| Class | TrueBlue Members | Non-TrueBlue Members |
| --- | --- | --- |
| Economy Class to JetBlue Mint | 1 cent per km + 250 USD change fee | 250 USD upgrade fee + fare difference |
| JetBlue Mosaic Upgrade to Mint | 1 cent per km + 200 USD change fee | 200 USD upgrade fee + fare difference |
Conclusion
JetBlue Mint Upgrade is great but does cost in terms of money and miles. This is ideal for those who might be able to score a really cheap flight, as well as frequent travelers who want to upgrade at the last minute with points or cash. All in all, JetBlue's new cabin class is a great option for those looking to travel on a budget, while still enjoying some amenities that you wouldn't expect from an airline.
In essence, the new JetBlue Mint service is here to stay. Mint Class upgrades will be available to any customer willing to pay the additional fees in order to experience a more luxurious flight experience. Our advice is to not miss out on this upgrade and let yourself enjoy the luxury and hospitality atop the skies.
---
Frequently Asked Questions – (FAQs)
Can I upgrade to Mint on JetBlue?
The best way to upgrade from economy to Mint is to pay the difference in fare and the JetBlue flight change fee to redeem the TrueBlue points between the two classes.
In case you paid with points, you can only upgrade with points as well as cash. Similarly, if you paid with cash, you can only upgrade with cash as well as TrueBlue points. Assuming that you're a frequent flyer member with the Emirates Skywards program, you can redeem your Emirates miles too.
How much to upgrade to mint on JetBlue?
The airline charges a change fee that ranges between 200 and 250, as it depends upon the class of service and the travel route selected. Fare differences may apply. 
How to get upgraded to JetBlue mint?
You can request JetBlue Mint upgrade online via the airline's website. The airline's friendly website interface will help you complete the request without any hassles. Add to that, you can also call JetBlue customer service phone number at to place the request. 
Do Mint passengers get access to the business lounges?
No. Unfortunately, JetBlue does not offer business lounges. But if you're a TrueBlue member you can access Emirates business lounges at the selected airports.