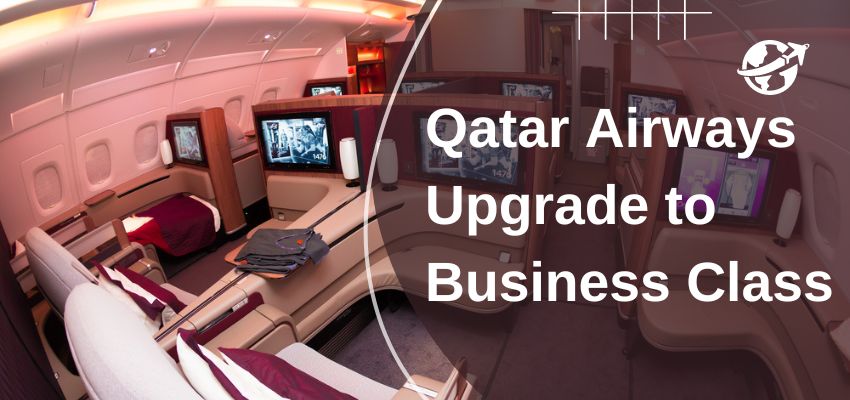 For better comfort and facilities, choosing the Qatar Airways upgrade program is a wise decision. Flying in Business and such classes can be exceptionally comfortable during long air journeys.
Travelers can utilize frequent flyer miles to upgrade from economy to business and further. Besides, the airline also offers free upgrades to its Gold and Platinum frequent flyers who spend a certain amount of 'Qcredits' each year.
You might be able to upgrade at a discount fare, even if you haven't enrolled with Qatar Airways Privilege Club frequent flyer status. All you need to do is by keeping a close eye on your inbox around a week before your departure.
Whatever your situation, read on to learn everything you need to know about getting upgraded on Qatar Airways for travel around the globe.
Is it worthwhile to upgrade to Qatar Airways' Business Class Seats?
The answer is determined by your goals: comfort or affordability. Additionally, while First Class and Business Class have certain similarities, the distinctions between Economy and Premium Economy classes are more pronounced.
The following table highlights a few distinctions between classes. You'll notice that the higher class might offer a lot of extra advantages. People primarily wonder: How can I request Qatar Airways upgrade from business to economy class?
| | | |
| --- | --- | --- |
| | Economy | Business |
| Priority Check-in and Boarding | Not Available | Available |
| Access to Qatar Airways Lounge | No allowed | Allowed |
| Seats | Wide economy seats with blankets and pillows | Lie-flat seats |
| Food | Available when served | A la carte on-demand menu |
| Amenity kit | Only with chosen long-haul flights | Yes |
| Wi-Fi | Free up to 30 minutes (unlimited if the booking was made directly through the airline) | Free up to one hour (unlimited if the booking was made directly from the company) |
| Noise-canceling headphones | No | Yes |
The Basics of Qatar Airways Business Class Upgrade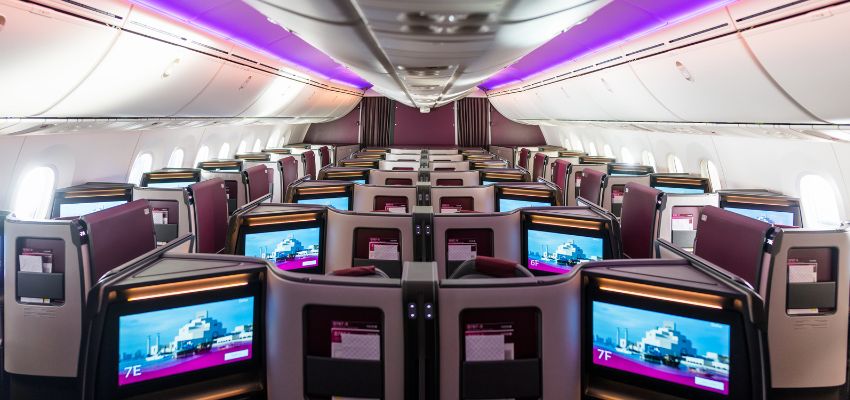 Since Qatar Airways doesn't provide premium economy on any of its flights. The Qatar Airways flight upgrades are always one-class, so you can go directly from economy to business class or even from business to first class.
To be eligible for an upgrade, you must be –
Booked on a Qatar Airways (QR) flight number.
The itinerary should not include a codeshare agreement flight.
The Qatar Airways 'ticket number begins with 157.
If your upgrade is successful, you will earn frequent flyer points and status credits (Qmiles and Qcredits). The miles/credits you'll earn would be based on an existing class of service.
However, upgraded passengers take advantage of all additional business-class perks, such as access to pre-flight lounges, greater baggage limits, fancy meals, and, when possible, use of priority security and boarding.
Upgrade Qatar Flight with Miles
Although you can't use Qantas Frequent Flyer points to upgrade your Qatar Airways travel. You may use miles from Qatar's very own Privilege Club loyalty program to do so.
For instance, from New York, Chicago, Washington DC, or Miami to Doha, a one-way upgrade on the most flexible Y, H, and B economy price classes costs precisely 42,500 Qmiles. The identical upgrade on the less expensive V, S, Q, N, M, L, K, and G tickets costs even more, 50,000 Qmiles.
It is also possible to upgrade from New York to London via Doha for 64,000 Qmiles under a flexible class of service in the economy. Also for the same mid-range ticket fare, you need 75,000 miles for the same route. This way you can save up to 5000 miles each way rather than request an upgrade for each flight segment.
However, Qatar Business Class upgrade is not available from the cheapest O, T, or W fares, on tickets that were already reserved using frequent flyer miles. It includes those significantly reduced promotional fares that Qatar Airways occasionally offers.
If an upgrade is in fact available on your flight, you can reserve it at the time of booking on the airline's website. Upgrades are also subject to availability, which can vary from flight to flight.
How many miles do you need to upgrade to business class on Qatar Airways?
Your closest ally in determining the number of miles you need to upgrade your Qatar Airways flight is through the "My Calculator."
Click to access the My Calculator link (a booking reference and the last name is required).
Select the 'Upgrade and Excess Baggage' tab.
Enter the information for the preferred flight.
Toggle the 'Avios' button to show 'Qmiles' instead.
Check how many Qmiles are required for a free upgrade.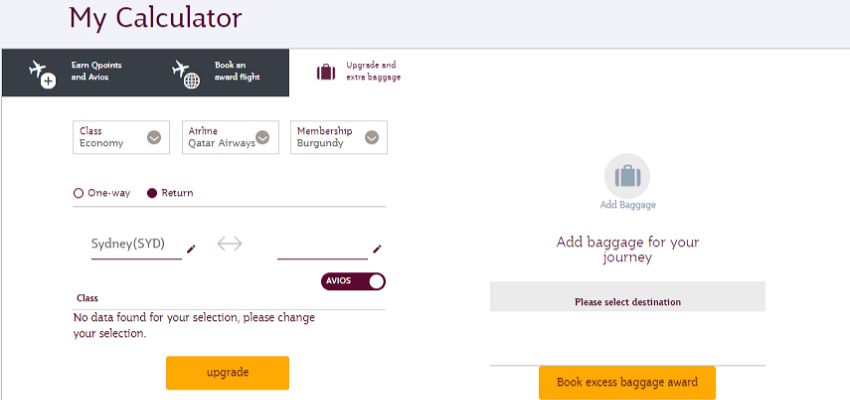 Upgrade Qatar Flight for Free with QCredits
Gold and Platinum members of the Privilege Club program are eligible to get Qcredits as a unique perk. They can be used –
To access Qatar Airways upgrade to Business Class
Purchase extra luggage
Gain access to a lounge
Pay for award flight expenses, and more.
They are valid for 24 months after issue.
Each membership cycle, Platinum members receive 60 Qcredits, compared to Gold members' 40 Qcredits. Each time you upgrade or keep your tier, you'll receive a new batch.
Note: These Qcredits expirations have no criteria to get extended, therefore utilize them as soon as possible.
How many QCredits do you need for Qatar Airways upgrade?
Using the My Calculator (same as you with QMiles), you can access your booking, and see how many QMiles you possess. Not just that, it will tell you how many QMiles you need to upgrade your Qatar Airways reservation.
That initial fare class is what you need to reserve, so pay heed to those letters. Therefore, you must book Economy Y, M, Q, V, S, O, N, K, H, B, T, or L if you want to upgrade, let say. In the above image, we have selected the flight from Perth to London in Business Class. Fortunately, that includes a variety of prices, including some special offers!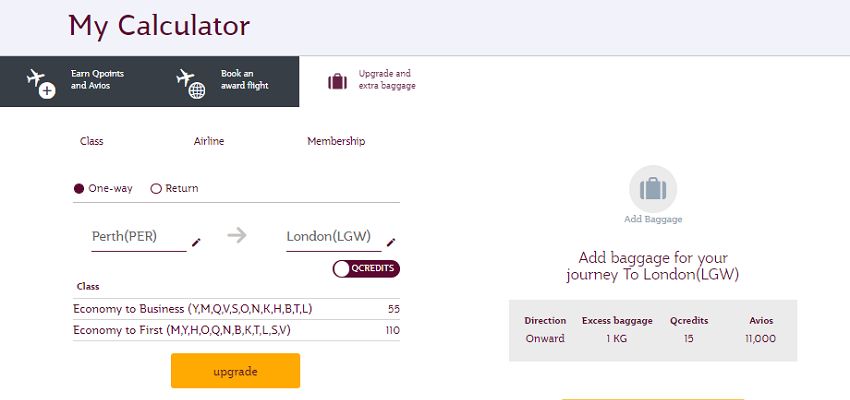 For merely 55 Qcredits, a Platinum member can upgrade from Australia to anywhere in Europe. Gold members with 40 Qcredits or more for the same flight route.
How do you search Qatar Business Class upgrades online with QCredit?
After you've finished your research, make a reservation. First, see whether your preferred flights have upgrade space available. In addition –
Go to the "Redeem Avios" tab after signing into your Privilege Club account.
Enter the exact same flight information as the one if you prefer the lower class.
If you tick the following two boxes on the results page, you should be able to upgrade your flight: See the gold ribbon next to your flight that reads, "Lowest price in Avios this week," but AVOID seeing the green ribbon that reads, "Flexi awards."
Essentially, for your Qcredits upgrade to be processed, there must be regular "Saver" award seat availability. Naturally, if you are unsure before making a reservation, call Qatar Airways.
How do I upgrade my Qatar flight with QCredit?
The next step is to request a Qatar Business Class upgrade using Qcredits online. Log in to your account, select "Redeem Avios," and then select "Upgrade on Qatar Airways." Click here to access the Redeem Avios page.
Once you're on this link, follow these steps –
To view the booking, enter your booking reference and last name.
Select which passengers to upgrade.
Choose which flights you want to upgrade as well.
If you have enough Qcredits, it is preferable to upgrade an entire leg rather than just a few parts.
Confirm that the quantity of Qcredits needed corresponds to your research.
Verify your one-time PIN by SMS. You have now been successfully upgraded!
How to Upgrade in Qatar Airways?
Take a look at the various methods you may arrange a Qatar Airways upgrade with us. The availability of upgrades can be checked a few days prior to your trip. Check the following ways that help you upgrade your reservation –
Online – Qatar Airways Business Class upgrade can be requested through the 'Manage Booking' section. You can also request it at the time of check-in.
Through Mobile App – Install the Qatar Airways mobile app and go to 'My Trips' to add your next trip to your personalized dashboard. This makes sure that you get any upgrade deals that Qatar Airways has for your trip.
With Avios – Redeem your well-earned Avios or Qcredits for a first-class or business class upgrade. Find out how many Avios you'll need by using the Qcalculator below to redeem an upgrade on your upcoming trip. Redeem your upgrade at the airport, online, or through our mobile app.
At Airport Check in – Approach any airline staff member at the airport check-in desk to purchase a Qatar Airways flight upgrade to Doha. Speak to any of the staff members at Hamad International Airport (HIA), Doha, if you want to buy an upgrade for your trip beyond Doha to another location on any Qatar Airways aircraft network.
At Hamad International Airport, Doha – Visit the designated "Qatar Business Class Upgrade" counter to purchase an upgrade while en route from Doha to your final destination. It is located in the Market Hall at Hamad International Airport (HIA). After check-in and immigration, if your trip is starting in Doha, you can go to the booth to request one.
On the Call – To assist you with your upgrade request, please contact one of the airline helpful contact center agents. Call Qatar Airways any time, day or night, seven days a week.
Qatar Airways Upgrade Cost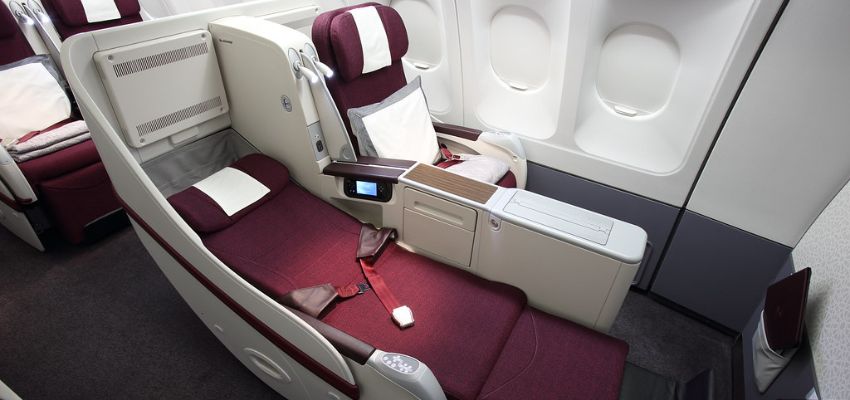 Make sure your current email address is listed on your Qatar Airways reservation. This is because the airline frequently sends offers for discounted upgrades on Qatar Airways upto 7 days prior to departure.
The said proposal sent by email is more of a "take it or leave it" offer. The airline does not have Qatar Bidding Upgrade service where the passengers have the leverage to pay the lowest possible cost they desire.
You'll also need to reply to these emails right away. Additionally, upgrades are given out on a first-come, first-served basis, so if there are just a few upgrades left on your flight, you will be the first to receive one. You can lose out if you wait to respond.
If you haven't received a paid 'Qatar upgrade to Business Class 'offer, your only choice is to pay the difference between your economy ticket and the retail business class rate, plus any change fees that may apply.
Summing Up
The benefits of premium classes are quite appealing, even though Qatar Airways provides excellent service to all of its guests, regardless of the seats selected. That is why a lot of travelers prefer getting upgraded on Qatar Airways.
Whatever approach you choose, you can be certain that it will bring you closer to a truly remarkable flying experience. Even if you first choose to book an economy seat, upgrade your amenities to a better tier to enhance your travel experience.
Frequently Asked Questions – FAQs
How much does Qatar airways business class cost?
The price of the Business Class ticket with Qatar Airways varies with dozens of factors. In general, you can expect the normal Business Class booking ticket to range between 3000 USD to 5000 USD for international travel.
What if only one passenger out of a group of travelers upgrades a class?
The upgrade must be purchased by each person listed on the booking reference in order to qualify for this deal. For a specific passenger listed in the booking reference, this offer may not be used.
Why is my request to upgrade existing Qatar Airways reservations rejected?
There are a number of explanations as to why you might not have received an email offer, including:

1. Seats in the upper cabin are unavailable.
2. Your reservation is not confirmed.
3. The original fare at which the ticket was purchased is not eligible for an upgrade.
4. You booked your flight within seven days of departure.
Does Qatar have a premium economy?
The airline has always opposed premium economy. The airlines claim that Qatar Airways' economy class is actually the premium economy. The standards of inflight service within any economy class seat  are significantly superior to premium.
How to get a cheap business class ticket with Qatar Airways?
Await the business class sale. Especially the ones that take place in January. If you want to cut costs, consider traveling to locations close to Doha that have a low volume of traffic. One drawback is that you still need to spend between 3000 USD and 5000 USD. 

Alternatively, fly with them frequently and sign up for their rewards program. If you're fortunate, you might receive offers for free upgrades as well as cheaper ones.