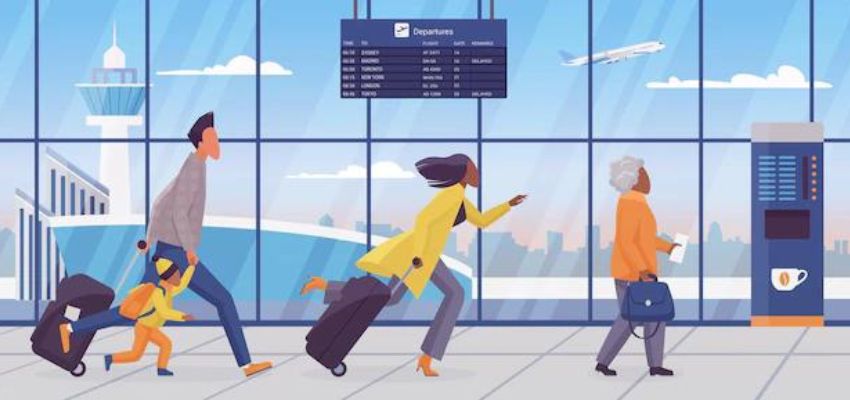 Every one of us experiences it sooner or later. Whether it was your fault or not, here's what to do if your plane has taken off without you.
Travel is fantastic and full of adventure, but the real fun begins when you arrive at your destination.
Despite the best efforts, life occasionally interferes and we fail to arrive at the airport in time for our flights. So what happens if you miss your flight? Or, what actions should you take to minimise the consequences of missing a flight? Depends a lot on who is at blame.
Either you or the airline are at fault. Who is at responsibility has a significant impact on your travel, your right to recompense, and your next course of action. Let's examine your options in more detail and what you can do to save a trip if you're running behind schedule.
---
After Missing Your Flight, What Comes Next?
One of the most crucial things you can do when it appears like you'll miss your flight is to get in touch with the airline as soon as you can. If you don't show up for your booked flight, you'll be considered a "no show," which gives the airline the right to cancel the remaining portions of your itinerary and provide you little or no alternatives for refunds or rebooking.
If there is a lengthy hold time when calling or visiting a service desk, try online at the airline's website. Passengers can simply rebook themselves through the applications of several airlines. Whatever your plan, always be as proactive as you possibly can. Always be kind and grateful when chatting to a representative, which can go a long way in attaining a positive result.
If you're thinking, do you get charged if you miss the flight? Let's indulge in finding some answers.
When You're at Fault for Missing the Flight?
Perhaps you dozed your alarm, missed the bus, or left your house too late. However, just because you made a mistake doesn't imply everything is ruined. If you miss a flight at your own discretion , here is what happens if you miss your flight –
Book a New Flight with Budget Airlines
Despite the fact that you missed your first flight, you shouldn't ruin your plan furthermore. Consider purchasing a cheap ticket on a low-cost airline to travel to your destination if the airline with existing booking is unable or unwilling to accommodate you. Even while it might not be the ideal in-flight experience, you won't lose much of your vacation time. In this case, you won't have to wait around the airport for your standby reservation to be verified.
Fortunately, last-minute one-way flights are frequently inexpensive to book. For instance, the price of this Spirit flight from Chicago-O'Hare (ORD) to Los Angeles (LAX) on the day of departure is just under $69.
Taking the Next Flight While Stand By
Flying standby can be a suitable choice if you are unable to secure a confirmed seat on the scheduled flight. Even though many flights are overbooked, not everyone shows up. You're not the only one who missed their flight today, after all.
If there is room on the plane, a standby ticket entitles you to travel on the next flight. When you miss your flight, many airlines will allow you to standby for a later date at no cost to you. If the airline cannot confirm your seat on the next flight, it is always worth explaining your situation and asking them to put you on the waitlist.
Redeem Your Miles to Book a Last Minute Flight
Although many of us wonder about spending miles to book an exotic vacation, rewards can also be utilised in an emergency too. There is no additional cost for making a last-minute flight reservation because the majority of airlines have done away with booking fees.
Because the seat would normally fly empty, award airfares occasionally are cheaper for last-minute deals. Loyalty programmes utilise dynamic pricing to offer the cheaper fares last-minute, like MileagePlus and SkyMiles reward program.
Schedule a Flight for a Later Date
What to do if you miss your flight? If all the above classes don't work for you, you can schedule a flight for a later date. If you know you won't make it, think about cancelling your flight before it takes off. This is how you avoid losing all your money or your mileage points because many airlines now provide free cancellation on tickets.
As an alternative, you might try to reschedule your flight for the following day or month in case you change your mind.
Flat Tire Policy
If a traveler just misses their flight or is running late, most airlines have an implicit "flat tyre" policy that permits them to rebook their journey without incurring any fees. The best course of action is to call the airline before your aircraft takes off and inform them that you would not be able to board the flight. This enables them to rapidly rebook you on the next available flight.
---
When the Airline is at Fault for the Flight Disruption or Cancellation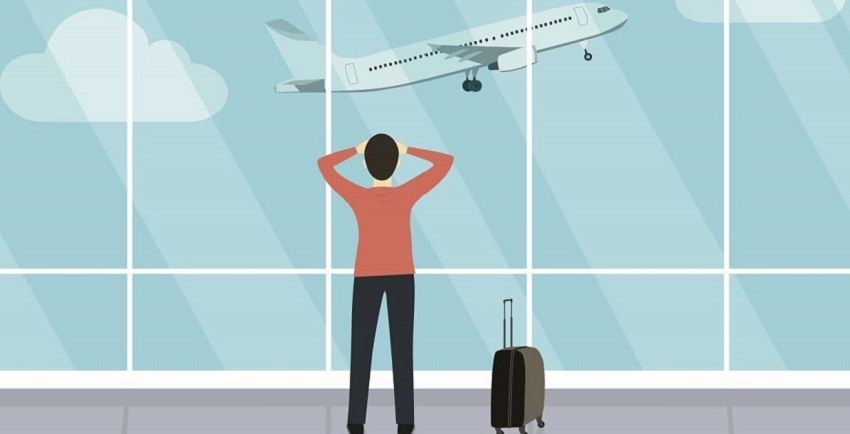 You can possibly miss a flight at the sole discretion of the airlines. It could be the reason where the flight is cancelled or delayed due to technical issues, severe weather, bankruptcy and more. In turn, these postponements and cancellations may result in missing a connecting flight.
If you ever find yourself in this scenario, follow these instructions to change or cancel your flight.
What to Do If You Miss Your Connecting Flight?
You might be able to rearrange your ticket online or using the airline's mobile app if a cancelled or delayed flight results in missing a connection. This option will help you right away because it can help you avoid long queues at the airport.
You can also Look into the Benefits Offered by the Credit Card
Many travel credit cards include trip delay, interruption, and cancellation insurance to protect you from cancelled or delayed flights. When you are certain that your flight will be impacted, get in touch with the credit card company you used at the time of booking to find out your options.
Usually, perks are only available if your flight is delayed for a particular number of hours. Being proactive, however, empowers you with knowledge when interacting with airline representatives. You can save hundreds of dollars if the airline can't get you on the next flight until the next day. But your credit card benefits will pay for a hotel stay close to the airport.
Contact the Airlines When You Miss Your Flight
Call the airline when you're supposed to face a long queue at the airport. This is how you boost your chances of getting a seat on the ensuing aircraft.
Make a call to the airline's customer service team to another international location to avoid a long hold over the phone. Their phone lines won't be as busy as those of local agents because international airline's representative normally don't handle as many calls.
If you have elite status with the airline you're travelling, be sure to phone the elite number as well. When you're in a jam, elite contact centres with lower wait times and better-trained staff can really make a difference.
Visit the Airline's Lounge at the Airport
There is more to airport lounges than just free food, beverages, and Wi-Fi. You can get assistance from the desk agents with your flight needs as well. Furthermore, you won't encounter the same lengthy lineups because only authorised travellers, holders of the appropriate credit cards, reward members and lounge subscribers typically have access to the lounge.
Visit the Airlines Counter at the Airport Immediately
What happens if you missed your flight and it was not your own fault? Contact an airline representative as soon as there is a problem with your flight.
Do not wait for the word from the airline that your flight will be delayed or cancelled, and such is not advisable. Call them or visit the airport counter, and take an update on the flight's schedule. This way the airline will assist you with rebooking or cancellation.
---
How to Avoid Missing Your Flight?
Passengers can prevent missing a flight by taking a number of measures beginning with the planning stages of a trip. It includes –
When possible, take direct flights.
Avoid inexpensive options that offer basic economy or multiple-carrier itineraries, both of which provide minimal safety for passengers.
Low-cost airlines also have a reputation for being quite harsh when it comes to flight cancellation and the reason is attributed directly to the airlines.
Get to the airport early, leaving plenty of additional time in case things go wrong, like a Taxi that doesn't show up or an incredibly long TSA wait.
In case of an international flight, unaccompanied minor travel or pet travel, it is advisable to arrive at the airport up to 3 hours before the scheduled departure.
Conclusion
By now, you know what happens if you miss your flight? Although missing a flight can be annoying, there are ways to still make the vacation worthwhile.
It also depends on whether you or the airlines were at fault for missing the flight. To protect your trip and reserve the next available seat on an upcoming flight, you must be proactive in any scenario. Always be nice to the flight attendant you are interacting with and be flexible in your approach. In a difficult scenario, a little compassion can go a long way toward helping you get your journey back on track.
---
FAQs – What Happens When You Miss Your Flight
Is there a fee if I miss my flight?
Depends upon the airline to airlines. Some airlines charge a no-show fee on top of the flight cancellation fee. To avoid no-show, and if you think that you couldn't make it to the flight, it is always advisable to call the airline at least 30 minutes before the scheduled departure. Notify the airline about your absence and you may not be charged any additional fee. 
Can I get a refund if I miss my flight?
If you have purchased a saver fare or a restricted fare, chances are you would not be able to get a refund on the airfare. In that case, the airline may refund you the 'taxes and fees' component. In case of a non-restricted fare, the airline may fully or partially offer you the refund after assessing the cancellation fee and the no-show fee.
What to do if you miss your flight?
Missing a flight can be very disappointing. Failure to arrive before the flight's scheduled departure time might have consequences. You've come to the right place if you're one of those people who recently missed a flight. Are you curious about what happens if you miss your flight? You can consider the following options – 

Contact a representative to discuss potential fixes.
Booking a change for the same day as a missed flight
In the event of a missed connection, the airline provides free rebooking. 
Make a new airline seat reservation.
What happens if you miss your flight after checking in?
Depending on whether you're responsible for missing your flight, in that chase, contact the airline immediately at the airport. If you have been denied boarding and the reason is attributed directly to the airline, you can claim a refund as well as compensation with the airlines.