Pets are welcome onboard Aer Lingus, but only for selected routes according to the Aer Lingus Pet Policy. As a result, the traveler must do their research before leaving. Understanding the criteria and making plans for your pet's safe and comfortable journey requires a comprehensive detail about the Aer Lingus pet travel program.
This page covers all the entry requirements for pets, how you can bring along your pets on board, and more.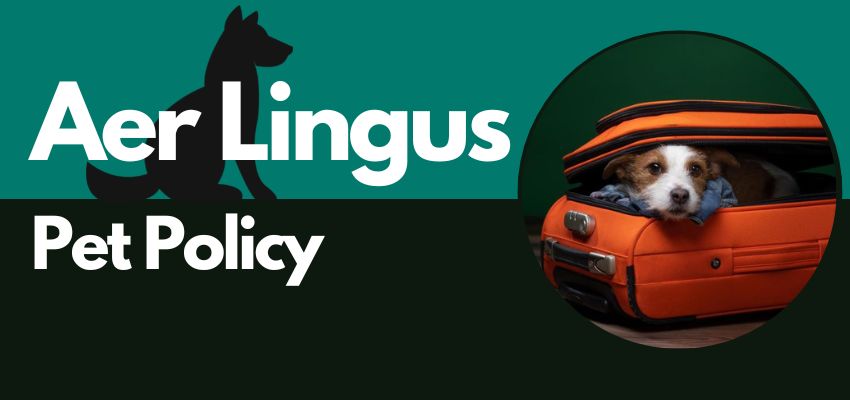 Aer Lingus Acceptance Criteria For Pets
There are various circumstances under which animals cannot be transported:
Some hazardous dog breeds, as well as cat and dog breeds with snub noses, might not be allowed to travel.
The minimum age of the animals is 15 weeks.
There are weight restrictions for both containers and animals. IAG Cargo should be consulted to check the relevant limitations.
A321neo LR aircraft cannot transport live animals because the cargo compartments are unventilated.
How to Make Bookings for Your Pet with Aer Lingus?
Make sure to contact the airlines prior to making and confirming your booking.
Aer Lingus flying with pet bookings must be scheduled through an IAG Cargo pet agent in order to be transported in the aircraft.
To make arrangements to transport your pet(s) into Ireland via IAG Cargo, customers traveling from North America with pets should call North American Pet Desk at 1 (888) 578-4806 (Monday through Friday, 9:00 am to 5:00 pm EST), or send an email to [email protected].
Animals offered for travel at passenger check-in will never be allowed.
Aer Lingus Pet Criteria to Travel
Aer Lingus Pet Policy only allows cats and dogs to travel with pets in the aircraft.
Pet Criteria for Carrying Pets In-cabin
Pets are not currently permitted to fly in the aircraft cabin with Aer Lingus.
Pet Criteria for Pets Traveling Checked Baggage
Pets are allowed to travel as checked baggage under the below-mentioned conditions:
On Aer Lingus flights, pets are welcome as Aer Lingus checked baggage.
The pet must ride the whole trip enclosed in a container.
The pet's and the carrier's combined weight cannot be more than 141 lbs.
Pet Criteria for Pets Traveling In-cargo
Travelling is cargo is allowed as well for pets if:
The total weight of the pet and the Aer Lingus pet carrier must not exceed 141 lbs.
Large pets that are necessary to travel alone are transported by the airline's cargo service.
Policy for Emotional Support/Service Animal
Trained service dogs are accepted by Aer Lingus on flights with people who have a handicap or limited mobility. Service dogs that have received training may only be transported under specific circumstances and in compliance with local pet travel laws.
Service dogs are welcome in the airplane cabin by Aer Lingus' disabled passengers at no extra charge.
The airline allows a maximum of eight support dogs onboard each transatlantic flight.
To obtain clearance for a service dog to travel, certain quarantine procedures and legal requirements must be followed.
Service dogs are transported for free as long as they fit in the designated area.
If your service dog(s) won't fit in the designated area, you could have to pay for an extra seat, if one is available, or rebook on a trip with more available seats, or you might just travel the dog as a pet.
Here you can access trained service dog form.
Basic Guidelines for Trained Service Dogs Flying on All Aer Lingus Aircrafts
All the pets traveling in the aircraft must abide by this Aer Lingus Pet Policy:
Service dogs must be clean and well-behaved, and they must always be fastened, leashed, or tethered.
Get in touch with the airlines' Special Assistance staff as soon as possible to reserve your seat and no later than 24 hours before departure.
Placement of Service Dogs-
Aer Lingus pet transport suggests that dogs shouldn't roam here and there but rather must be seated and placed well.
The size of the service dog must allow it to fit in your lap, beneath your seat, or at your feet.
If the service dog is in a kennel, the kennel and the dog must fit under the seat in front of you.
In order to place your service animal on the floor area at your feet, if you are traveling in business class with your service animal, you will give up the lie-flat function in your seat.
Service animals are not allowed to occupy an exit row, obstruct an aisle, or protrude into it.
The animal will not receive final certification for travel until you go to the airport and it is established that it can fit within the designated space securely.
A person above the age of sixteen who is competent in handling the dog must lead the following breeds of the dog while wearing a secure muzzle and using a leash or chain no more than two meters in length.
Restricted Dogs Breeds on Aer Lingus
According to Aer Lingus Pet Policy these are the breeds that aren't allowed to travel:
Aggressive breeds such as-
Tosa
Rottweiler
Pit Bull Terrier
Mastiff
Fila Brazillero
Argentino
American Staffordshire Terrier
American Pit Bull
Akita
Brachycephalic/snub-nosed dogs due to their inability to adapt to flying conditions. They include-
---
Frequently Asked Questions (FAQs)
Are birds allowed to travel as pets on Air Lingus?
No, only cats and dogs are allowed to travel with pets on Aer Lingus.
What should be the minimum age for pets to travel?
The minimum age of the animals is 15 weeks.
What should be the total weight of the pet including the carrier?
The total weight of the pet and the carrier must not exceed 141 lbs.
Are there different entry requirements for different countries?
Yes, there are different requirements set by the government of different countries. 
Is a minor allowed to travel with a pet?
Yes, but the person must be above the age of sixteen.