There are difficulties when traveling with a disability or require special needs and extra planning and research are needed to guarantee a safe trip. Unfortunately, not all airlines offer you all the special services for passengers with disabilities, so choosing where to go and when can greatly affect how enjoyable your trip is. Air Canada special assistance team is dedicated to provide a special travel experience to all the passengers.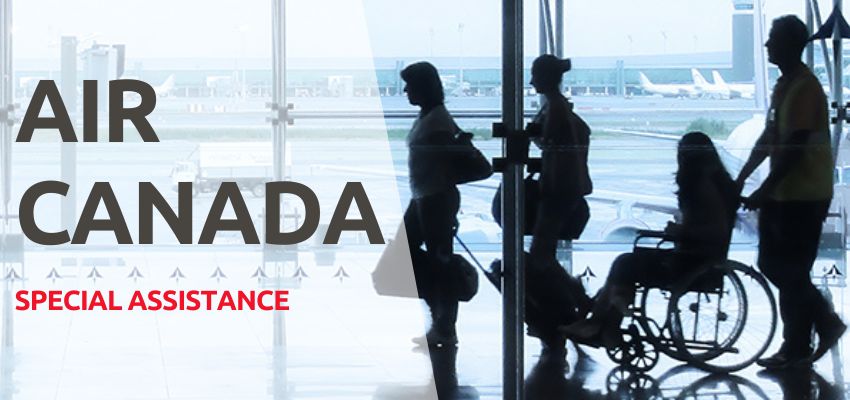 The following are considered as passengers requiring special assistance –
Assistance Services of Air Canada
In addition to the services the airlines offer on Air Canada-operated flights, passengers with special needs get help with –
Checking in at the airport
If you are unable to use an automated self-service kiosk or another automated check-in or ticketing method, moving to the front of the queue at a check-in or ticketing counter.
Going through the terminal's security checks
After check-in, the airline's staff escort passengers to the boarding area
Making routine inquiries about your requirements and addressing them
Disembarking and boarding
A detailed explanation of any on-board announcements
Keeping and getting hold of your carry-on luggage
Guiding with in flight entertainment system's interface
If you need a wheelchair on board, assistance from a support person, or the aid of a service dog to use the restroom, you can access the largest restroom on the aircraft, which is always found in the Economy class.
Assisting with border clearance
Getting hold of your checked luggage
After disembarking, make your way to the general public area so that terminal staff may help you find your next flight or get to the curbside zone.
Hearing assistance
If you require assistance hearing critical flight updates, inform a gate agent or flight attendant. Additionally, safety videos can be viewed with open captioning.
Even if you don't require assistance at the airport, it is required to inform the Air Canada assistance team if you have hearing or speech impairments so that they can ensure you get the in-flight safety briefing and any relevant flight updates.
On board
The following help will be given to you by the airline's cabin crew on board:
Inform you in a timely manner of all information given to other passengers, such as announcements, meal and beverage offerings, and take-off and landing procedures.
Before the start of the flight, give each passenger a safety briefing.
Medical approval
In order to make your journey easier, Air Canada has recognised a few medical issues that may be made worse by flying at high altitude and has put the following protocols in place.
In addition to the requirements outlined in each dedicated section for Air Canada's accessible services, you must provide medical approval in certain circumstances.
Flights to and from US
Before departing, you must present a valid medical certificate if:
You are suffering from an infectious or communicable disease, such as smallpox, TB, or the coronavirus, that could directly endanger the health or safety of passengers on your journey.
Medically speaking, there is a good chance you won't be able to complete the flight safely without needing Air Canada special assistance service onboard.
Alternatively, you can have your treating physician fill out Section 4 of the Fitness-for-Travel form.
Other flights
Passengers are required to complete the Fitness-for-Travel form completed by veterinarian/physician if any of the medical condition apply to you –
You are suffering from an infectious or communicable disease, such as smallpox, TB, or the coronavirus.
If there is medical doubt that passenger would not be able to complete the trip safely.
Your hemoglobin level is below 90 g/L
You recently broke a significant bone or had a cast put on a body part within 48 hours of your flight's scheduled time.
You suffer from a cognitive disability.
A seizure occurred less than four weeks before your scheduled flight.
You have chronic obstructive pulmonary disease, such as emphysema, or you have a chronic heart condition.
You have an infant under the age of seven days, an infant who is premature, an infant under the age of twelve months, or an infant who has recently undergone medical treatment and has a serious medical condition.
You have recently experienced a significant medical emergency, such as a stroke or respiratory failure.
You may need medical care because you were involved in an accident on a previous flight or at the airport.
You had surgery within two weeks of your intended flight.
You experienced thrombophlebitis in the two weeks before your scheduled flight, which is a blood clot in a vein.
How to request medical approval?
To request medical approval to avail the Air Canada travel assistance, follow these steps at least 48 hours before the scheduled departure –
Mobility Aid
Air Canada makes every effort to help passengers using wheelchairs or other mobility aids, and make sure that all mobility devices are managed with priority.
Traveling with your own mobility aid
if your traveling with a battery powered mobility aid, eg wheelchair or scooter, it is advisable –
Learn how to use your mobility device.
Contact Air Canada wheelchair assistance phone number 48 hours prior to scheduled departure.
Check in at the airport at least 30 minutes before the suggested check-in time after arriving there.
Pack any removable parts from your mobility aid in your carry-on.
Fill out the powered mobility aid information form completely.
Small assistive device
Medically necessary mobility and assistance equipment shall be approved and carried in the cabin free of charge if they can be safely stowed. These include braces, canes, crutches, walkers, prostheses, and communication tools like augmentative and alternative communication (AAC) devices. If the device can't be safely stored, it will be carried for free in addition to your free checked baggage.
Powered mobility aid information form
Below are the instructions for completing the powered mobility aid information form:
Download our powered mobility aid information form, fill it out, and print two copies.
One form must be attached to your mobility device.
Keep the second copy accessible as a backup.
You can ask for a form at the airport and complete it there if you don't feel comfortable printing and filling out the form at home.
If at all possible, bring a photo of your mobility device so it can be included on the form.
At the airport
The Air Canada wheelchair assistance team is available at the airport upon request :
Assist wheelchair users to and from the aircraft's entrance.
Also help you move between the airplane seat and your wheelchair or other mobility device.
Bring you to the airport washroom entrance in a wheelchair, but no assistance will be provided inside the washroom.
Give yourself permission to use your wheelchair or other mobility device until it becomes essential to store it and have it delivered to you at the entrance upon arrival.
Bring you to a designated boarding waiting area near the gate and check on you on a regular basis.
Airports provide passenger access ramps or elevators so that you can board a smaller aircraft securely.
Allow boarding ahead of other customers to help you find your seat and store your carry-on luggage. The airline suggests that you get there at least 30 minutes before the suggested boarding times for this.
On board the aircraft
The following assistance is available on board upon request from our cabin staff:
Help you store and retrieve your carry-on luggage.
The on-board wheelchair will aid you in traveling to and from the aircraft washroom entrance. Your support person might need to accompany you if you require assistance beyond the restroom's entrance.
How to request Air Canada wheelchair assistance service?
Wheelchairs are provided for use at all airport locations to help with transit from check-in to the boarding gate, making connections (if applicable), and from the aircraft to the destination's arrivals hall. The accessibility of wheelchairs on board will determine how this works out.
You must request the wheelchair a minimum of 48 hours' notice so that we can make the required arrangements. Passengers can call Air Canada after making their flight reservation on the airline's website or through the Customer Service number to request this service.
Respiratory devices and oxygen
The following advice applies while traveling with a portable battery-powered medical device, such as a Continuous Positive Airway Pressure (CPAP) machine or a Portable Oxygen Concentrator (POC).
Please see the section on mobility aids for information on battery-powered mobility aids like scooters and wheelchairs.
Traveling with your own medical device
If you need to utilize a portable battery-powered medical gadget while flying, you must do the following:
Get medical clearance before traveling through the Air Canada Special Assistance phone number at least 48 hours before departure.
Make sure the portable oxygen concentrator (POC) you plan to bring is an authorized model.
Make sure you are familiar with how to operate your gadget.
Your device should always be kept under the seat in front of you.
Carry-on baggage condition
The following guidelines apply to the acceptance of portable battery-operated medical devices and their batteries as carry-on luggage:
Please review the usage guidelines under Traveling with your own medical device if you plan to use your device while flying.
The item must not exceed 10 kg (22 lb) in weight and 23 cm x 40 cm x 55 cm (9″ x 16″ x 22″) in size.
Spillable batteries are only allowed as carry-on items.
Lithium batteries are only allowed in carry-on luggage. Each customer is limited to 2 extra lithium batteries.
External battery packs and spare batteries are only allowed as carry-on.
The battery packs must always be kept stowed under the seat and must be wrapped in a way that prevents physical damage.
A battery that is already within the gadget does not qualify as a spare battery.
Checked baggage condition
The following guidelines apply to the acceptance of portable battery-operated medical devices and their batteries as checked baggage:
Devices that exceed 23 cm x 40 cm x 55 cm (9″ x 16″ x 22″) or weigh more than 10 kg (22 lb) must be checked as luggage.
The equipment needs to be bundled to prevent accidental operation.
Batteries that cannot be securely fastened to the device must be removed and transported as carry-on luggage.
Service Dogs
The following considerations should be made if you want to travel with a service dog:
The Air Canada accessibility team allows one accompanied service dog per traveler free of charge.
On flights to and from the United States, the airline accepts two accompanying service animals for no additional fee.
The airline accepts service dogs that have been trained to do work or execute chores for certified passengers with a disability.
During travel, your dog must be under your control at all times. As a result, whenever your dog is not being used, it must be leashed.
This service is free for flights within Canada. Additional floor space is available for purchase on all other flights.
Seating
Air Canada makes every attempt to find the best seats for you depending on your particular needs, the fare you booked, and seat availability in the cabin in which you are traveling.
Special seating
Because of the nature of your impairment, you may occasionally require a customized seating arrangement. The airline offers seats with liftable or removable armrests, close to restrooms and or a seatbelt extender.
You can ask for special seats by just doing the following:
Get in touch with the Air Canada special assistance team 48 hours before scheduled departure.
However, we will make every reasonable attempt to meet requests received within 48 hours.
If you require more room owing to the nature of your handicap, you will need to seek medical approval before traveling.
Before booking your flight, check the list below for aircraft that have accessible special seating.
Extra seating
Extra seating is available in the following scenarios when you may need it due to the nature of your disability:
| | |
| --- | --- |
| Flights within Canada | All other flights |
| It's free; all you have to do is print off a copy of the Air Canada Fitness-for-Travel form and adhere to the guidelines for requesting a medical clearance. | It is possible to buy additional seating. |
Note the following when seeking an additional seat:
Contact the Air Canada Assistance Desk at least 48 hours before travel.
The Medical Assistance Desk will allocate adjacent seats in advance to accommodate your impairment.
There must be one reservation and one ticket issued in the name of the passenger.
Duplicate bookings under the same name, as well as identical bookings under various names or pseudonyms, are not permitted.
Extra seating is not available in the Air Canada Signature Class cabin due to the layout of the space.
Support person
While we provide a number of assistance services to passengers with special needs, in some cases, you may be required to travel with your own support person.
Travel requirements
You must meet the following requirements when traveling with your support person:
The Air Canada Special Assistance Desk must be contacted at least 48 hours before your flight.
You may only take one support person on the trip.
Your support person needs to be at least 16 years old.
Your support person shouldn't need any special help, like a service dog.
During the flight, neither you nor your support person may be responsible for a child under the age of eight.
You are not permitted to sit in an exit row for safety reasons.
You and your companion must travel together in the same cabin.
Depending on the cabin you're traveling in, you and your support person must be seated next to one another.
The Medical Assistance Desk assigns seats in advance of your travel to accommodate your special needs.
How to book
To arrange travel for both you and your support person, do the following:
First, make your own online reservation, and then
Call the Air Canada Customer Service so a representative can make a reservation for your support person on the same itinerary.
Make sure that the support person would be seated next to the passenger.
Print a copy of the Air Canada Fitness-for-Travel form, then get medical approval as directed.
Once approved, the base fare for your support person will be $0; however, all relevant taxes and fees will remain due.
Vision impairment
Air Canada goes out of our way to help clients who are blind or have impaired eyesight. They provide the following easily accessible ways regarding flight booking:
At the airport
Passengers with vision impairments would be offered priority boarding. You are urged to show up for this at least 30 minutes before the suggested boarding hours.
On board
The following help will be given to you by the Air Canada assistance team on board:
Describe the plane's layout, including where the restrooms and exits are located.
When asked, give a description of the available meals and drinks.
Assist with the unwrapping of food and beverages, as well as the cutting of huge food portions.
Assist with describing the food and beverages.
You will be accompanied between your seat and the restroom.
Give each passenger a personal safety briefing before the trip.
Frequently Asked Questions (FAQs) – Air Canada Assistance
How to add wheelchair assistance in Air Canada?
If you need special assistance, you can call Air Canada us or request it when booking or managing your reservation online. Before your trip, an airline supervisor will get in touch with you to make sure everything is prepared.
Is there special assistance for elderly with Air Canada?
Additionally, Air Canada assistance for seniors would be provided with the choice of a more comfortable seat and the ability to customize the onboard food to a passenger's diet. In addition, priority boarding and disembarkation would be offered only upon the special request.
Does Air Canada charge for wheelchair assistance?
No. The service is free of charge, and is subject to the availability.
Can Air Canada ask for proof of disability?
Yes. A doctor will first assess you as a passenger and need to produce a proof or a medical certificate.
Where does Air Canada pick up wheelchair assist passengers?
Upon request the airline's staff will escort passengers from the check-in desk. Besides, wheelchair assistance would be offered to and from the aircraft.