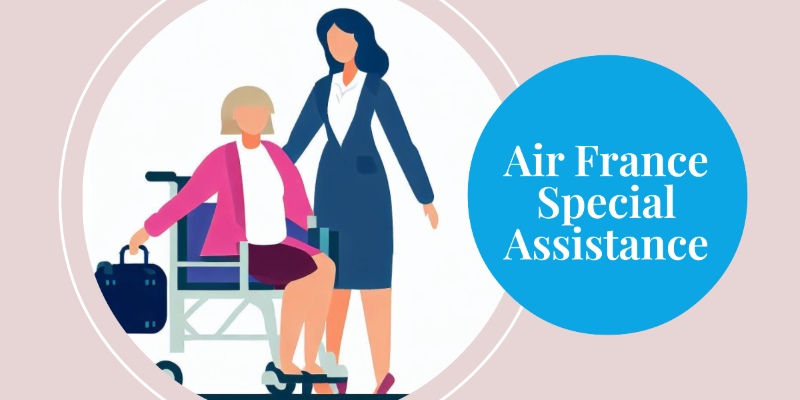 Air France Special Assistance Program offers inclusivity, comfort, and exceptional service that combine to create a safe and comfortable travel experience.
In this article, we will explore all the specialized services and support that Air France offers to passengers with diverse needs.
What support does Air France provide for passengers with disabilities?
Here's a comprehensive guide to the Air France disability assistance services –
Requesting Air France disability assistance – Travelers requiring assistance can easily request it during the booking process. Kindly submit your assistance request online as you complete your booking. It's essential to do so at least 48 hours before departure.
How to book – Here are the steps to request assistance –
Begin by choosing your flight when booking online.
Fill in the required fields in the 'Passengers' section.
Indicate that you need Air France special assistance service.
Choose the specific assistance options (such as Air France wheelchair assistance) that apply to your needs.
The airline will reach out to the passenger if additional information is required.
Seat selection – After purchasing your ticket, feel free to select your seats in the Air France Manage Booking section.
For flights to/from the United States, the airline assures you side-by-side seating for both the passenger with a disability and their companion.
Air France airport assistance – With Air France special assistance, you can have hassle-free travel –
Effortless airport mobility
Assistance with check-in, baggage, and mobility devices.
Priority boarding and
Complimentary selection and seating support on the aircraft
Disembarkation assistance and baggage retrieval
Travel to and from the airport – The airline recommends two companies that offer exclusive service –
Aged Or Services – Book at least 7 days in advance.
Ulysse – Must be booked at least 48 hours before scheduled departure.
Both companies extend a 10% discount to eligible passengers.
Baggage allowance mobility and assistive devices – Additional baggage allowances for personal mobility devices and medical equipment
Up to 2 devices and 1 extra baggage item as checked baggage
Max weight and size limits apply for hand luggage.
What is the procedure for wheelchair assistance on Air France?
The Air France wheelchair assistance team offers the transportation of up to 2 wheelchairs or personal mobility devices. There are no specific size or weight limits.
Booking limit – Book your transportation at least 48 hours prior to departure. Check in at least 2 hours before your flight
Baggage tagging – Follow these steps to transport your wheelchair
Download and print special baggage tags designed for wheelchairs and mobility devices
Fill in the required information and fold the tag as instructed.
Attach the tag to your device using an Air France baggage tag holder provided at the airport.
Wheelchair Batteries – The airline allows two types of batteries – lithium and wet-cell
Types of wheelchairs – Air France request wheelchair assistance team offers 2 types of wheelchairs –
Assistance wheelchairs – Airport staff use these wheelchairs to assist you from designated points to the aircraft and airport exits.
Onboard wheelchairs – All Air France aircraft feature onboard wheelchairs for in-flight mobility, with staff available to assist you.
What kind of sensory impairment (visual and hearing) assistance does Air France offer?
Whether you have visual or hearing impairments, the Air France passenger assistance team offers specialized services –
Visual impairment assistance – The following assistance would be provided by the airlines-
The airline offers assistance for check-in, aircraft access, exit, and baggage reclaim.
If you have a connecting flight, the airline will facilitate the transfer.
Must be booked at least 48 hours before the scheduled departure.
Hearing impairment – Following assistance would be provided by the airlines
Inform the Air France disability assistance team of your impairment at least 48 hours before departure
Cabin crew are trained to assist passengers with hearing impairments.
Some crew members are proficient in sign language.
Enjoy subtitled films on personal screens.
What assistance does Air France provide for the mental disabilities flyer?
Here are some key aspects to consider –
Air France handicap assistance helps mentally disabled passengers move seamlessly through various checkpoints on their way to the aircraft.
The airline assists passengers through customs checks.
Check-in and baggage procedures
Escort service in existing aircraft
To offer the best assistance possible, it is recommended to book flights for mentally disabled passengers at least 48 hours in advance.
What kind of assistance does Air France provide for passengers' respiratory conditions?
Here's how air france disability assistance can help you manage your respiratory needs on board –
Therapeutic oxygen assistance – If you require therapeutic oxygen during your flight
You can request therapeutic oxygen during the booking process. Please do so at least 48 hours before departure.
The Air France special assistance team offers the Wenoll WS120 kit. This is a tailor-made kit for air travel that provides 600 liters of oxygen.
If your oxygen needs are within 2.8 liters per minute, you won't require a medical certificate.
For oxygen needs exceeding 2.8 liters per minute, passengers need to submit the relevant medical documents.
Approved respiratory devices – Here's what you need to know
You can use an approved portable oxygen concentrator throughout the entire flight.
Inform Air France at least 48 hours before departure
Personal oxygen tanks – If you're traveling with portable oxygen tanks, it must meet the following criteria
Height doesn't exceed 65 cm (26 inches)
Weight is ≤ 5 kg (11 lb)
Equipped with a safety system
What are the other circumstances/disabilities where Air France offers assistance?
Here's how Air France disability assistance accommodates passengers with specific needs –
Passengers paralyzed or missing both arms –
Passengers who are paralyzed or missing both arms but have use of their legs can travel without a companion.
Air France crew members on board assist passengers with seat belt fastening, oxygen mask adjustment, and more.
Body brace or brace seat –
If you use a body brace or brace seat, please inform Air France during booking or at least 48 hours before departure.
Download the form and mention your equipment's dimensions.
Certain Boeing 777 and all Boeing 787 flights cannot accommodate body braces or brace seats in the Business cabin.
Hidden disabilities travel –
Air France acknowledges the "Hidden Disabilities Sunflower" symbol to identify customers with hidden disabilities
The Sunflower symbol discreetly indicates potential assistance requirements.
Holding the symbol does not grant priority access.
What is Air France policy regarding larger-bodied passengers?
Below is an outline of the measures and services the Air France special assistance team has in place to accommodate the needs of larger-bodied passengers.
Seat measurements for different cabins – Here's an overview of seat widths –
| Cabin Class | Seat Width Range (cm) | Maximum Waist Circumference (cm) |
| --- | --- | --- |
| Economy / Premium Economy | 40 – 45 | 135 |
| Business / Premium Economy | 47 – 48 | 150 |
| La Première / Business | 50 – 53 | 200 |
Booking additional seats – For passengers traveling in the Economy cabin on long-haul flights, who find the seat width insufficient, they can book an additional seat. Here's what you need to know –
Passengers can contact our Saphir service for assistance.
A 25% discount applies to the extra seat
This option is not applicable in Premium Economy and Business cabins
Contact options – To reserve an extra seat, call the Air France special assistance contact number at +1-800-210-6508
Check-in – For check-in, kindly visit the airport, as online and kiosk check-in is currently unavailable for the booking of additional seats.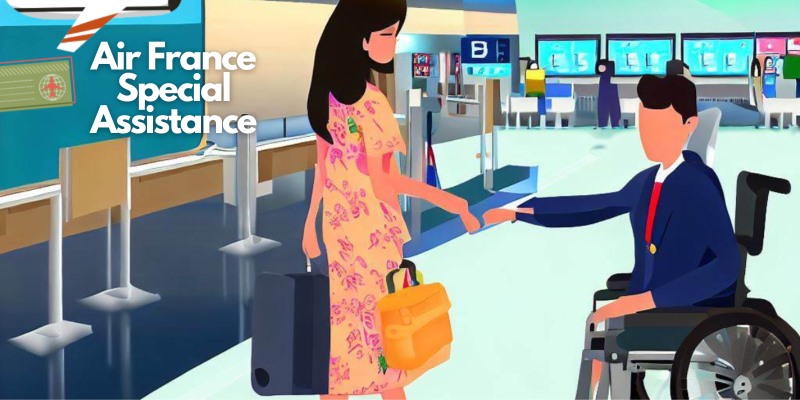 What special assistance does Air France provide for families and children?
Air France Kids Assistance Service is designed to provide tailor-made service. It includes services like special meals for infants and children, check-in, and more.
Stroller transport – Air France passengers assistance team offers complimentary transport for your foldable stroller and car seat as checked baggage.
Transport in the cabin – In some cases, certain strollers may be accommodated in the cabin.
Small foldable stroller – Dimensions must not exceed 15 cm x 30 cm x 100 cm
Other foldable strollers – This stroller option can replace your child's hand baggage allowance. Once folded, its dimensions should not exceed 55 cm x 35 cm x 25 cm.
Exceptions – Long-haul flights allow small foldable strollers onboard, except
Flights within metropolitan France
Cayenne
Fort-de-France
Havana
Mauritius
Pointe-à-Pitre
Punta Cana
Reunion
Saint-Martin
Santo Domingo
Reduced fare – You can book a child fare that offers a reduced price as compared to the adult ticket fare. Child fare is applicable for children who are 2 years of age or older.
20% discount on short-haul flights
33% discount on medium-haul and long-haul flights
Seat selection – Children aged 2 to 11 years will be seated next to their accompanying adults. Passengers can choose their seats during booking or at the Air France check-in counter at the airport. Passengers flying to or from the United States are assured of side-by-side seating without any extra fee.
Traveling with children under 2 Years – Your infant can travel on your lap at a 90% reduced fare compared to adults. You can also purchase a seat for the infant to occupy separately. Passengers can bring the car seat for free.
Children 2 years and older – Children get the same baggage allowance as adults.
Children under 2 years with reserved seats – If your child has a reserved seat, their baggage allowance would be the same as adults.
Children under 2 years traveling on a lap – For lap-traveling infants:
One hand baggage item up to 12 kg / 26.4 lb, dimensions not exceeding 55 cm x 35 cm x 25 cm
One baggage item up to 10 kg as checked luggage allowance.
Air France airport assistance – If you choose the Meet & Greet Option at Paris-Charles de Gaulle or Paris-Orly airports, personalized assistance will be offered. In addition, the following services would be offered –
Dedicated spaces for changing and nursing your baby
Play and relaxation areas in select terminals.
How to request travel with a service dog on Air France?
Here are the simple steps to ensure a pet travels with a trained service dog on board with Air France –
Guidelines – It's essential to adhere to certain guidelines to ensure the safety and comfort of all passengers. Here's what you need to know –
Your service dog must be well-trained and meet the health requirements of the destination country.
Must wear a harness at all times.
Your service dog must display impeccable behavior in all situations.
Your service dog cannot occupy a seat or block emergency exits.
Your service dog should be visibly marked as a service dog. This is either through an identification tag or a visible sign on their harness.
Required documents – As per Air France pet policy, certain medical documents are necessary –
For flights exceeding 8 hours, a veterinary certificate is needed to ensure your dog won't need relief during the journey.
If your service dog requires medication for comfort, bring the necessary medical prescription.
Carry your dog's service training certification.
A copy of their passport page containing breed, weight, and size details.
How to book – To facilitate your service dog's travel, connect with the relevant department based on your departure location –
Flights from metropolitan and overseas France – Email your documents to

[email protected]

.
For flights from other countries – contact Numero Assistance Air France at +1-800-210-6508.
Special cases – For specific destinations, such as the United Kingdom and the United States, additional requirements apply –
| Country | Submission Process | Accepted Service Dogs |
| --- | --- | --- |
| United Kingdom | Submit the request 96 hours before departure. | Service dogs trained by IGDF and ADI-affiliated organizations are accepted. |
| United States | Email required documents, including DOT forms and health records, to appropriate addresses. | – |
What Assistance does Air France offer to Pregnant women?
The Air France special assistance team does not seek medical clearance to fly to France during your pregnancy.
At the airport – To have a seamless travel experience, consider the following –
Partner with Hertz DriveU for convenient and reliable transfers.
Discover the convenience of hassle-free baggage services in Paris.
Enhance your airport experience by opting for an Air France agent's guidance. Available in select airports, this service assists you at departure, connection, or arrival points.
Please Note – This service is available at Paris-Orly for flights to or from Cayenne, Fort-de-France, Pointe-à-Pitre, or Saint Denis. Additionally, it's offered at Paris-Charles de Gaulle for all flights.
What are the available special meal options with Air France?
If you have dietary preferences or restrictions, you can request a special meal on select European flights and all intercontinental flights at least 24 hours before your flight. For kosher meals, kindly make your request 48 hours in advance.
These meal options include –
Allergen-Free Meal – Free from common allergens, this meal excludes products such as gluten, shellfish, eggs, nuts, and more.
Gastric irritant-free meal – Designed for those seeking gentler food options, this meal avoids spicy, fatty, salty, or alcoholic ingredients.
Low-sugar meal – Ideal for those watching their sugar intake, this meal excludes high-sugar and high-glycemic-index foods.
Gluten-free meal – Catering to gluten sensitivities, this meal excludes gluten-based ingredients and potential sources of gluten.
Low-salt meal – Specially crafted to be salt-free, this meal excludes salt-containing products while maintaining flavor.
Vegan meal – Perfect for vegan passengers, this meal is entirely plant-based and avoids animal products, including eggs, dairy, and honey.
Vegetarian meal – For vegetarian preferences, this meal includes vegetables, fruits, grains, dairy, and eggs, excluding meat, poultry, and fish.
Indian vegetarian meal – A flavorful choice, this Indian-style vegetarian meal includes vegetables, fruits, grains, and dairy, excluding meat, fish, and eggs.
Halal meal – Recommended for Muslim passengers, this meal adheres to Islamic dietary guidelines, omitting pork and alcohol.
Kosher meal – Ideal for Jewish passengers, this meal is prepared under rabbinical supervision, adhering to Jewish dietary laws.
Hindu Meal (No Pork or Beef) – Tailored for those preferring Indian-style cuisine without pork or beef, this meal excludes these ingredients.
Infant meal – Designed for infants aged 6 months to 2 years, this meal offers simple, chopped, and mashed foods without spices or candies.
Children's meal – Perfect for kids aged 2 to 8, this meal appeals to young palates without including spices or small food items.
Please note – On certain routes, only the vegetarian meal option is available in the Business cabin. This applies to flights to/from specific destinations.
We've explored the various aspects of the Air France Special Assistance program. From navigating respiratory challenges to providing support for those with unique needs, the airline's comprehensive service is to create a travel experience that is welcoming, comfortable, and respectful of individual differences.