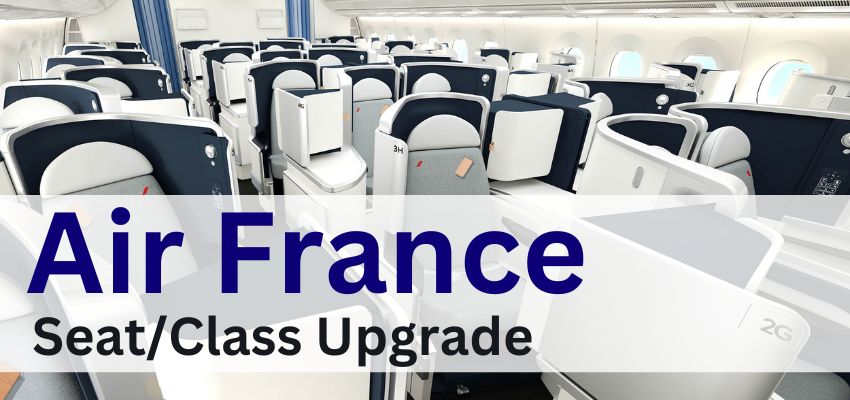 Air France is an excellent airline to begin with earning upgrades. Thanks to its monthly special rewards programme, which enables passengers to exchange points for business class flights for as little as 26,000 miles one-way. The Air France upgrade offers good incentives for moving from economy to business class. A cheap one-way ticket costs about 45,000 points, yet an upgrade on an economy ticket between the US and Europe only costs 15,000 points.
Let's understand the Air France ticket upgrade options, how to get the upgrade with the airlines, how much miles or cash you need to request a flight upgrade, and more.
General conditions to get the seat upgrade with Air France
Passengers can upgrade to Business Class Air France online or using the self-service kiosk in metropolitan France and the United States. The general terms and conditions include –
Passengers can request the flight upgrade starting from 30 hours before scheduled departure until the check-in deadline.
If available, the flight upgrade is only accessible to passengers flying in the Economy, Premium Economy, or Business Cabins.
It is subject to the change fee.
The flight upgrade service is only available to the medium-haul and long-haul flights operated by Air France.
The airlines will try its utmost to honor the flight upgrade that will occur as a purchase.
Air France flight upgrade proposed to the passenger is non-negotiable, non-modifiable and non-exchangeable.
The passenger who booked the flight upgrade may obtain a refund in the following circumstances:

If the flight was canceled by the airlines.
If the airline does not honor the Air France upgrade seat service.
How to upgrade Air France seat from Economy to Business?
There are a few methods to apply for an upgrade once you have a reservation ticket. While it will be simplest to check online, you shouldn't completely discount doing so when you get to the airport.
You can request through the following ways –
Air France Upgrade Online
Applying for an upgrade on the airlines website is simple. You can apply in the following manner:
Visit the official website airfrance.fr and select the Manage Bookings tab.
Submit your booking reference and last name after that.
Afterward, click the search option to see your booking.
Then pick a single flight from the list to apply for an upgrade offer.
Next, click the upgrade option and review the charges for upgrading to business class through credit card or miles.
Note – It's probable that you'll see a hefty Air France upgrade cost; this is because the revenue-based approach is only charging you the fair difference. Don't give up if this happens to you; try again by calling the airline or checking at the airport.
By calling upgrade desk
Calling the airline directly and requesting the flight upgrade is an additional choice.
The best approach to reach an airline representative suggests phoning a location in another nation. possibility is you may get an upgrade at a cheaper price, and you'll get your query resolved sooner.
Upgrade at check-in counter
When you are checking in at the airport, you might choose to upgrade and see if any last-minute seats are available.
This is how passengers may score an upgrade after initially booking in Economy or Premium Economy, and check-in a little earlier.
Chances are you may have to shell as low as 200 USD each way as Air France Business Class upgrade cost.
Getting an upgrade at the airport is one of the most pleasant emotions, even though it is last-minute and you weren't anticipating one. To increase your chances of getting the better seat, be sure to be cordial to the check-in representative.
Air France upgrade with miles
This is an excellent opportunity to use your Air France miles. Despite the fact that the ranges are quite wide, upgrading will cost you less money.
Here are the miles you may anticipate to pay for Business Class or another premium classes if you travel Economy:
| | | |
| --- | --- | --- |
| Routes | To Premium Economy (miles) | To Business Class (miles) |
| North America – Europe | 7,500 – 47,500 | 15,000 – 60,000 |
| North America – India | 10,000 – 78,000 | 25,000 – 96,000 |
| North America – Middle East | 10,000 – 76,000 | 25,000 – 95,000 |
| North America – Southeast Asia | 10,000 – 75,000 | 25,000 – 95,000 |
It is more affordable to upgrade to business class if you have a reservation in Premium Economy. Here is the Air France Premium Economy upgrade cost in terms of miles –
| | |
| --- | --- |
| Routes | Upgrade To Business Class (miles) |
| North America – Europe | 10,000 – 30,000 |
| North America – India | 15,000 – 50,000 |
| North America – Middle East | 15,000 – 60,000 |
| North America – Southeast Asia | 15,000 – 50,000 |
Here are the steps you'll need to follow to actually upgrade your flight using miles.
Visit the official website.
Select "Manage Booking" from the menu options in the navigation bar at the top of the page.
Enter details such as your booking or reservation number and last name and then click "Next."
Tap on the necessary information from the flight section choice when the booking details are shown to you.
To continue, select the upgraded seat by clicking "Edit Booking" and then continue.
Now, at the checkout page, the actual Air France seat upgrade cost will be displayed. Click on the 'Pay using Miles' tab, and the actual miles will be shown.
Confirm the changes. The miles would be debited from your mileage balance.
Your specified email address will get a confirmation of the flight upgrade request.
How to get an upgrade on Air France conveniently?
There aren't many individuals who would turn down an Air France free upgrade to business or first class, which is why they're so hard to come by. These days, most upgrades are handled by an airline's reservation tool, which will typically provide a list of people who should be granted an upgrade based on a mix of data on affiliate membership, credit cards, elite status, and more.
It is possible to boost your chances of receiving an upgrade, whether it be to economy plus, business class, or even the highly desired first class, by using a few strategies.
Join the Flying Blue Program – Earning your upgrade should be your first priority. Become a member of a loyalty programme if you anticipate flying frequently. Soon enough, you'll be able to take advantage of some fantastic discounts. Anything is helpful, even if it's just a tiny improvement from economy to economy plus. Another advantage is that if the flight is overbooked and the airline needs to bump up a passenger, loyal passengers who are always immune to situations.
Buy miles for upgrade – Once you have accumulated enough miles and points, you can spend them to upgrade to a first class flight. Think about using your points to buy a cheap economy ticket as an example, and then adding an upgrade. Some solutions may surprise you with how affordable they are.
Plan your flights carefully – It may be advantageous to select a flight for a day and time that are somewhat out of the ordinary for you but are still manageable. Avoid flying on Mondays in the morning, as well as on Thursdays and Fridays between 17:00 and 20:00. Entrepreneurs and executives who are members of the Air France frequent flier programme board flights at these busy hours and on these peak days in large numbers.
Set up text and email alerts – Air France flight upgrade teams occasionally run special promotions or bargains that they want to announce to everyone in the world. Signing up for the newsletters and alerts from them is worthwhile if you don't mind receiving a few additional emails each month.
Arrive at the airport a little early – According to check-in schedules, the airlines creates an upgrade waitlist, with first-comers receiving preference. The earlier you can check yourself in, the better.

In addition, if you can't check in online, you should get to the airport early. If the check-in crew knows the aircraft will be entirely filled, they may choose to bump up someone who is quick to check-in to ensure there is room in economy for the others.
Give up your seat voluntarily – Flexibility can be your ticket to a business class flight. If a flight is overbooked, Air France will always ask for volunteers before shifting someone to a later trip. Let the airlines know that you would be arriving at your destination a little later than anticipated. Your change to a later flight may include a class bump as a token of appreciation for your flexibility and cooperation. Hence, you'll get an assured Air France free upgrade.
Air France Last Minute Upgrade
Do you find it's too late to upgrade? Especially designed for the frequent flier members, you can now upgrade your flight with your reward miles for a last-minute upgrade at the check-in counter. You will also have access to business lounges all around the world. Here are the important considerations to take on –
The flight must be operated and marketed by Air France.
Priority to the last minute upgrade request would be given to the elite members followed by the passengers who request cash upgrade.
Mileage club will be awarded to the member based on the originally booked Economy Class ticket.
Air France Last Minute Upgrade is accessible at all airport counters except Qatar, China, Liverpool, Milan, and Urumqi.
The Last Minute Upgrade reward cannot be given to a third party or another individual.
Amenity packages and other priority services are not guaranteed or available if requested at the upgrade last minute.
A last-minute upgrade is only available in one direction and is not refundable.
Last Minute upgrade will be available to members traveling alone on a single passenger name record.
Baggage allowance and access to the passenger lounge will be available after the adjustment.
Air France retains the right to restrict the number of tickets available for Last Minute Upgrade.
Frequently Asked Questions (FAQs) – Upgrade Air France Seats
How to upgrade an Air France flight?
Passengers can upgrade on Air France using the airline's website at the time of check-in, as well as over the phone.
How to upgrade on Air France with miles?
Passengers can request the Air France upgrade with miles via Manage Booking app. You can also call the airline's Customer Service for customized assistance.
How many miles to upgrade on Air France?
You need at least 26000 miles each way to get a complimentary upgrade with Air France. Please note the change fee may apply. 
How to get a free upgrade on Air France?
If there are two or more of you on the same reservation file, there is a very slim chance that you will both receive an upgrade at the same time. Therefore always book a separate reservation or fly solo to get the odds in your favor.
Does Air France offer last minute upgrades?
Passengers can upgrade when they're checking in at the airport. At times, the upgrade at the airport may cost between 300 to 500 USD. 
How do I upgrade to premium economy on Air France?
Passengers can resort to the airline's website via Manage Booking section to see if the upgrade is available. Alternatively, you can call customer service to see if the upgrade is available.
How much is the upgrade in Air France?
The airline charges 300 USS as a change fee to upgrade the flight. Fare difference may apply.
Can I bid for an upgrade on Air France?
No. The airlines only offer cash or miles upgrades.
Can you upgrade to first class on Air France?
Yes, passengers can upgrade to the First Class with Air France provided that the request must be placed upto 3 hours before the scheduled departure.