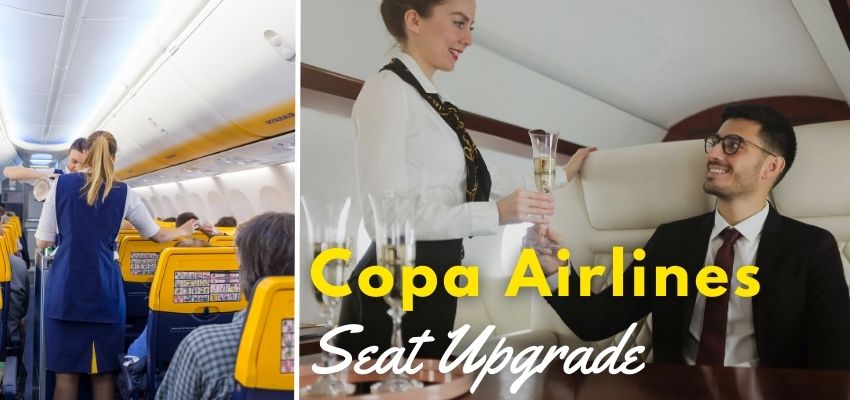 Whether you're looking to elevate your experience to Business Class, enjoy more comfort and amenities, or explore the possibilities of a higher cabin class, the Copa Airlines seat upgrade policy helps you make the most of the various upgrade options available.
What are Copa Airlines seat upgrade options?
Passengers can request Copa upgrade to business class through –
Instant upgrade – With Instant Upgrade, passengers have the opportunity to secure a Business Class by paying the fare difference and the Copa Airlines seat upgrade fee. When you opt for an Instant Upgrade, your offer is not pitted against other bids and can be requested up to 3 hours before departure.
Bid upgrade – You can participate in the Copa Air upgrade bid offer. Once you provide the trip details, such as the reservation code and the last name, you can place a bid. Your bid will be compared to other bids received. The highest bid will secure a Copa upgrade to Business Class.
Airport upgrade – If you're seeking a last minute Copa upgrade to business class, the airline offers an Airport Upgrade. All you need to do is arrive at the airport at least 2 hours before your flight's departure time and request the upgrade. The airline agent will check the availability and inform you of the required amount to be paid for the upgrade.
How to find out Copa upgrade space availability?
The best way to see if there are Business Class seats available for a Copa Air upgrade is to search for a ticket for the required date. And,
Call the Copa Airlines reservation center and ask them to upgrade for your reservation. You can either purchase the upgrade or simply redeem the miles.
The airline will provide you with personalized assistance and information about upgrade options
Also, you can visit the 'My Booking' section to look for instant upgrades or bid upgrades.
Keep in mind that availability for Copa Airlines upgrades may vary depending on factors such as your fare class, flight route, and the number of seats available in Business Class.
What is the priority list for Copa Air Upgrade?
Copa Airlines business class upgrade would be successful in the following order –
Elite Status – Passengers who hold the Platinum or Presidential status are eligible for the complimentary upgrade.
Miles upgrade – Passengers who redeem the Connect Miles to request the upgrade.
Bid upgrade members – Passengers who bid the highest amount for an upgrade may increase their chances of securing the upgrade.
Instant upgrade – Passengers who found the instant upgrade option available may find themselves eligible for the offer.
Cash upgrade at the airport – Subject to availability, passengers can ask the airline's staff at the check-in counter for a better chance of securing an upgrade.
What are Copa Air upgrade bid requirements?
Passengers can submit a bid for the price they are willing to pay for an upgrade. These requirements include –
To upgrade to Business Class, the seats must be available.
Tickets must be purchased in the Economy Class.
If you need to request a flight change, you need to cancel the previous bids and submit new ones. Ensure any changes to the new flight must be eligible for the upgrade.
Passengers who used miles to purchase their tickets can also bid for an upgrade.
Parents or guardians can bid for upgrades for unaccompanied minors.
Passengers traveling on discounted fares, group fares, and those who availed Copa Airlines pet travel service are not eligible for the upgrade.
Here are some general terms and conditions when considering Copa Airlines bid for an upgrade
If your reservation includes multiple passengers, you need to purchase an upgrade for all passengers.
For a partial upgrade within a flight booking, you need to call the Copa Airlines reservation center for assistance.
Copa Airlines evaluates upgrade bids between 50 and 20 hours before departure. You'll receive an email notification regarding your Copa Airlines upgrade status.
Passengers can request Copa Airlines flight cancellation to the upgrade bid up to 20 hours before departure.
Copa Airlines upgrade bid process
Copa upgrade bid service allows you to bid on an upgrade from Economy to Business Class. Passengers can submit an offer within a predefined price range, and the highest bidder secures the upgrade.
Follow these steps –
Visit the Copaair.com.
Navigate to the "Complement your trip" section and choose "Request an upgrade."
Enter your reservation code and last name in the required field.
Set your bid amount for each trip segment.
Provide your credit card information. The Copa Airlines upgrade offer would be charged in USD. The airline only accepts VISA or MasterCard.
Double-check the information and click on the Submit button.
Please Note: After you get upgraded to business class the Copa Airlines baggage policy will apply according to the business class travel.
How to request an instant Copa upgrade to business class?
Here's a step-by-step guide to help you request Copa Air upgrade to business under the "Instant Upgrade" program –
Start by booking an Economy Class ticket for your desired flight with Copa Airlines.
Keep an eye on the availability of instant upgrades for your flight. If instant upgrades are available, you'll see this option through the "Manage Booking" section on the Copa Airlines official website.
Enter the booking reference and the last name to retrieve your flight booking.
Select the flight segment that needs to be requested for the Copa Airlines seat upgrade.
You'll need to pay a fixed fare to confirm your Business Class upgrade.
Enter your payment information to complete the transaction.
After the payment is processed, you will receive a confirmation email with details of your upgraded reservation.
Please Note – Instant upgrade by Copa Airlines may take up to 24 hours to confirm from the time of request.
Can I get a Copa upgrade to business class at the airport?
Here's how you can request the Copa upgrade to business class at the airport –
Make sure you arrive at the airport 3 hours before departure.
Head to the Copa Airlines check-in counter and ask if the agent of the upgrade is available on your existing itinerary.
Provide the confirmation details and the passenger's last name. This will help them access your reservation.
The airline's agents will check the availability of Business Class seats on your flight and inform you of the cost of the upgrade if seats are available.
If you decide to proceed, you need to make the payment for the upgrade or you can also redeem Connect Miles (more details below).
Once your payment is processed, you will receive a confirmation of your upgraded reservation.
Collect your upgraded boarding pass and head to the security to board the flight.
Can I Upgrade using Copa connect miles?
Yes. Passengers can request Copa Airlines upgrade to business class using Copta ConnectMiles. Here's how you can make the most of this upgrade option.
Types of upgrade through Copa ConnectMiles
The airline offers 4 options for Copa Airlines seat upgrade –
Complimentary upgrade for PreferMembers – As a PreferMember, you may be eligible for complimentary upgrades,. If the seats are available in the Business Class, you can request a complimentary upgrade.
Copa Airlines upgrade with miles – All frequent flyers can request Copa Airlines seat upgrade through miles. Ensure you have enough miles in your account to cover the upgrade cost.
Copa upgrade voucher – Platinum and Presidential level members have access to upgrade vouchers/certificates. Redeem these vouchers/certificates to upgrade your seat.
MAX 9 upgrade – Eligible members can use MAX 9 upgrade on long-haul international routes.
Copa ConnectMiles upgrade options for Star Alliance passengers
Upgrade for Star Alliance – Connect Miles members can also use their miles to request cabin upgrades on select flights with Star Alliance network partners. Copa allows Star Alliance upgrade awards (SAUA) for all for the following participating airlines –
Operating Carrier
Economy to Business Class
Business to First Class
Aegean
For Aircraft Types with Premium Economy Cabin: S, T, For aircraft Types with no Premium Economy Cabin: Y, B
–
Air Canada
Y, B, O
–
Air China
G, Y, B
J, C, D
Air India
Y, B
C, D
Air New Zealand
U, E, O, Y, B
–
ANA
Y, B, E, G
C, Z, J, D
Asiana Airlines
Y, B
C, D
Austrian
Y, B, G, E
–
Avianca
Y, B
–
Brussels Airlines
Y, B
–
Croatia Airlines
Y, B
–
EgyptAir
Y, B
C, D
Ethiopian
Y, G, S, B
–
Eva Air
K, Y, B
–
LOT Polish Airlines
Y, B
–
Lufthansa
Y, B
G, E
Scandinavian Airline
Y, B, S
–
Shenzhen Airlines
Y, B, M, H
–
Singapore Airlines
For Aircraft Types with Premium Economy Cabin: S, T
No Premium Economy Cabin: Y, B
U, C, J, Z
South African Airways
Domestic: Y, B, MInternational: Y, B
–
Swiss
Y, B
J, C
TAP Portugal
Y, B
–
THAI
Y, B
C, D
Turkish Airlines
Y, B, M, A, H, S
–
United
B, M, H, Q, K, V, U, S, W, E, L, T, G, N, Y, O, R
–
Important points for Star Alliance passengers
Here are the other key points to consider –
Upgrades only apply to participating airlines within the Star Alliance network.
Codeshare flights are not eligible.
Discounted agency tickets, industry tickets, and award tickets do not qualify for upgrades on Copa and Star Alliance Airlines.
Copa Air upgrade with miles requested must be made 24 hours before flight departure.
Star Alliance upgrade awards can be requested for a maximum of 4 passengers per reservation.
Standby and waitlist fares are not eligible for upgrade.
Upgrade requests for canceled flight segments will be automatically canceled, and the miles will be refunded back to the frequent flyer's account.
Copa Airlines group reservations do not qualify for miles upgrade.
Whether you choose to secure a confirmed Business Class with an instant upgrade, compete for an upgrade through our Copa Airlines upgrade bid program, or simply explore last-minute opportunities with airport upgrades, the airlines offer you the diverse options that tailor your travel experience to your preferences.
Frequently Asked Questions – FAQs
Can you upgrade on Copa?
Yes. the airline offers you the option to Copa upgrade to business class cabin thus giving the elevated and luxury experience onboard. For more information, access the FlyUp section.
Do you get a complimentary upgrade on Copa Airlines?
Complimentary upgrades on Copa Airlines are typically offered to passengers with elite status through Copa ConnectMiles.
Does Copa Airlines let you bid for an upgrade?
Yes, Copa Airlines offers the opportunity to bid for upgrades through their bid upgrade program.
How to get a free upgrade on Copa Airlines?
You can use your accumulated Copa Connect Miles to request a free upgrade. The number of miles required for a Copa Airlines upgrade depends on the travel route and fare class.
Can I upgrade my flight after booking with Copa?
You can purchase an instant upgrade to Business Class during the booking process or later through the website.
How do I upgrade to business class on Copa Airlines?
You can request an upgrade using Copa ConnectMiles, upgrade at the airport counter, you can get an instant upgrade or you can request an upgrade online.