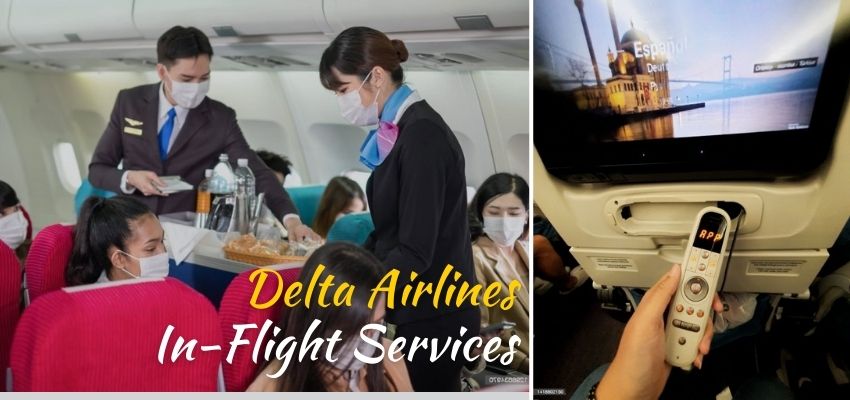 Have you ever felt that you're missing out on the digital world while flying? Fear not, because Delta Air Lines has you covered with the top-notch Delta Inflight service.
In an era where air travel has emerged as an epicenter of comfort, convenience, and luxury, Delta Airlines inflight services are ready to set new standards for in-flight passenger experiences.
From laser-speed wifi services to delectable dining options to cutting-edge entertainment systems, the has airlines mastered the craft of turning travel into unforgettable memorable experiences.
In this blog, we explore the myriad of services, amenities, and innovations that Delta offers, making your air travel as remarkable as the destination itself.
Delta Inflight Wi-Fi options and availability
Staying connected while flying has never been easier with Delta inflight WiFi service. Whether you're a frequent traveler or simply want to browse the web during your journey, Delta offers a range of Wi-Fi options to suit your needs.
Delta's Free Wi-Fi and Entertainment
Delta Inflight WiFi, and this has been extended to most domestic flights since Feb. 1, 2023.
Even on flights without free Wi-Fi, passengers can access messaging platforms like Facebook Messenger, iMessage, and WhatsApp for the entire flight on all Wi-Fi-enabled routes.
Movies, TV shows, and games are also available to passengers during their journey, earning Delta the second spot in a recent NerdWallet analysis of the best airlines for in-flight entertainment.
Complimentary Wi-Fi for Certain Passengers:
T-Mobile and Sprint customers with eligible and active accounts can use Delta inflight internet for free.
Magenta Max with T-Mobile or Sprint Max plan with Sprint provides unlimited full-flight Wi-Fi, streaming, and texting on Delta flights.
Magenta and Sprint One customers receive four sessions of full-flight internet per year and unlimited texting for free, with one hour of complimentary Wi-Fi included per flight after that.
Delta Inflight WiFi cost and day pass information
As of Feb. 1, 2023, most domestic flights with Delta offer free Wi-Fi.
On aircraft without free Inflight WiFi Delta, a one-hour pass from Intelsat costs $7, while Viasat charges $5 per flight per device for all destinations and durations.
For frequent Delta travelers, two monthly internet plans are available:
Plan Type
Monthly Cost (in USD)
Coverage
Providers
Subscription Terms
Monthly Domestic
$49.95
All domestic flights including Canada and Mexico
Intelsat and Viasat
Access to domestic flights only
Option to cancel anytime
Monthly Global
$69.95
International routes
Intelsat and Viasat
Access to international flights
Option to cancel anytime
Delta Inflight wifi day pass – The North America Day Pass costs $19 and offers unlimited internet use on flights within the contiguous 48 U.S. states and Alaska for 24 hours.
Benefits of having Wi-Fi during flights (productivity, entertainment, communication)
How to Connect to Gogo Inflight Wi-Fi on Delta flights?
Connect to Delta inflight GoGo WiFi can be done in 3 easy simple steps –
Go to your smartphone's device settings.
Activate the Flight Mode and then turn On your WiFi.
Opt for the deltaWiFi.com network. If the sign-in page doesn't open, visit deltaWiFi.com via browser.
Delta Inflight Entertainment Options for 2023
Delta's Inflight entertainment system allowed passengers to choose from a wide range of movies, TV shows, documentaries, music, and games. This feature was accessible through the seatback screens or via the Fly Delta app on personal devices.
Delta Inflight Movies – Selection and availability
Delta Inflight Service offers an extensive selection of blockbuster hits and classic favorites to suit every taste. From heart-pounding action flicks to heartwarming rom-coms, you'll find it all on the delta inflight menu of entertainment. Thanks to the Delta Studio which lets you access the Inflight movies Delta.
Delta Inflight TV Channels and Programs
Boredom has no place on a Delta flight, because of the variety of Delta Inflight Service. Sit back and relax as you explore many TV channels, bringing you the latest episodes of popular shows, news updates, and much more. It's like having your personal TV studio in the clouds!
You have access to 10+ channels of live satellite channels for greater seatback access to entertainment. Some of the channels are listed below:
| | |
| --- | --- |
| ABC | Bravo |
| CBS | CNBC |
| CNN | ESPN |
| ESPN2 | Food Network |
| Fox | Fox News |
| Golf | HGTV |
Please note – Satellite TV offered on certain aircraft: A220, A319, A320, A321, 737-800, 737-900, 757-200, 757-300.
Delta Inflight Entertainment for Kids
Delta Inflight entertainment services are there to provide a family-friendly experience and cater to the entertainment preferences of children on board by Delta Inflight service. There are over 30 hours of entertainment packed shows, movies and guides that let your little ones be engaged throughout the flight.
Check 2023's latest collection of Delta kid-friendly content for entertainment.
Delta Inflight Food Services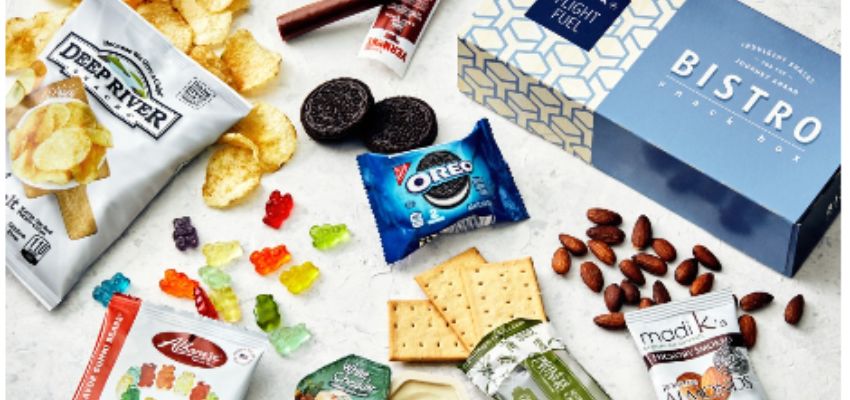 Ah, what's a journey without some delicious treats to tantalize your taste buds? Food and Beverage Services are sure to keep you satisfied throughout the flight.
Delta Inflight Food: Menu options and quality
From delectable snacks to mouthwatering meals, Delta's onboard culinary experience is designed to cater to your hunger needs. Enjoy a delightful assortment of dishes crafted with care and served with a smile.
Complimentary snacks – The Delta Inflights service includes complimentary snacks in all cabins –
Lotus Biscoff Cookies
Kate's Real Food Organic Energy Bar
Nuts.com Almonds
SunChips Harvest Cheddar Flavored Whole Grain Snacks
Snack Box – Besides, the airline offers a snack box for flights over 900 miles –
| Snack Box | Contents | Price (in USD) |
| --- | --- | --- |
| BISTRO SNACK BOX | Potato chips, crackers, cheese spread, beef snack stick, almonds, chocolate sandwich cookies, and gummi bears. | $10 |
| MARKET SNACK BOX | Pita chips, hummus, bruschetta spread, olives, apricots, almonds, and a ginger chew. | $10 |
Fresh Flight Fuel – Below is the overview of the in-flight meal that is available for purchase on long haul flight between 5:00 a.m. and 8:59 p.m
| Menu Item | Contents | Price (in USD) |
| --- | --- | --- |
| CHICKEN SALAD SANDWICH PLATE | A delightful sandwich featuring herb chicken salad, gourmet cherry jam, gran queso cheese, and arugula, all served on a buttery croissant. It comes with a side of apple slices and a dark chocolate mini square. | $12 |
| FRUIT & CHEESE PLATE | Indulge in a delectable selection of Gouda and cheddar cheese slices, served alongside olive oil & sea salt flatbread crackers, whole natural almonds, dried apricots, red grapes, and a tempting dark chocolate mini square. | $12 |
Delta Inflight Food Service: Timing and availability
Here are the food and Beverage Options for Different Flight Categories –
U.S. Domestic and International Flights to Mexico, Canada, the Caribbean, and Central America
First Class customers enjoy a wide range of beverages and complimentary snack offerings on all flights.
Passengers on flights 251+ miles can indulge in our delicious snack selection, including sweet and savory options.
Coffee, tea, and water are available in all cabins for your refreshment.
For Main Cabin customers, alcohol purchases can be made using tap-to-pay. Please note that this Delta Inflight service is not available on Express Beverage Service Flights ranging from 251 to 499 miles.
Delta Comfort+ and First Class customers receive complimentary beer, wine, and liquor service. For Express Beverage Service Flights ranging from 251 to 499 miles, beer and wine options are available, and other liquor choices are subject to crew availability and remaining flight time.
In addition to the above, all cabins on select flights offer a variety of beverages, including Coca-Cola beverages, juices, and mixers.
First Class provides hot food options on select markets. For more details, please visit our website.
Delta Inflight food service on other International Flights
All long-haul international flights includes the following –
| Cabin Class | Appetizer | Entrée | Dessert | Beverage Options |
| --- | --- | --- | --- | --- |
| Delta One | Yes | Selection of entrées | Yes | Bottled water, beer, spirits, limited selection of wine |
| Delta Premium Select | Yes | Appetizer, Entrée, Dessert | Yes | Same as above |
| Delta Comfort+ | Yes | Variety of appetizers, Entrées | Yes | Same as above |
| Main Cabin | Yes | Variety of appetizers, Entrées | Yes | Same as above |
Delta Airlines inflight meals: Special Meals
Delta Inflight service offers a variety of meals on your journey. The Delta inflight menu for special meals is only available on international flights, and on select domestic routes which are served in the First Class only.
Request Special Meals – Passengers need to request meals via My Trips section on the Delta Airlines official website. Passengers need to complete the request at least 24 hours before scheduled departure. You can also call the Delta Customer Service at 1-800-221-1212 to make arrangements for your special meal.
Onboarding Process – Upon arriving at the departure gate, please inform the gate agent that you've pre-ordered a special meal. Once onboard, confirm your meal choice with the flight attendant.
Restrictions –
As a part of Delta Inflight service, special meals are not available on flights originating from El Paso (ELP), Albuquerque (ABQ), or Tucson (TUS).
Kosher meals are unavailable on flights from Bogota (BOG), Cancun (CUN), Lima (LIM).
Delta Inflight meal options
Below is the overview of the Delta inflight menu for the special meals offered –
| Meal Type | Description |
| --- | --- |
| Child | Halal-certified meals with no pork, pork by-products, or alcohol, prepared in different cooking styles. |
| Asian Vegetarian | Non-strict vegetarian meal with an Indian-style preparation. It does not include dairy, and no meat, seafood, or egg. |
| Vegetarian (Vegan) | Prepared in Western style, this vegan meal excludes all meat, seafood, eggs, and dairy products. |
| Vegetarian (LACTO) | A non-strict vegetarian meal that may contain dairy products but excludes all meats and seafood. |
| Hindu | This vegetarian meal has an Indian-style preparation with limited use of dairy and is entirely meat-free. |
| Halal | Halal certified meals with no pork, pork by-products, or alcohol, are prepared in different cooking styles. |
| Kosher | Prepared under rabbinical supervision, kosher meals adhere to kosher laws and may include sealed items like individually packaged bagels. Special Kosher for Passover meals are offered during Passover. |
| Bland | These meals exclude items that could potentially cause gastric irritation, such as hot mustard, spices, pickles, garlic, and fried foods. |
| Diabetic | Suitable for managing blood sugar levels, these meals exclude high-sugar foods like syrups, jams, cakes, and chocolate. |
| Gluten Intolerant | Meals free from gluten-containing foods sourced from wheat, barley, and rye, catering to gluten intolerance. |
| Low Fat/Low Cholesterol/Low Calorie/Low Sodium | Prepared with reduced fat, sugar, sodium, and cholesterol content, promoting a healthier dining option. |
Delta Inflight Beverages – Drink selection and choices
Please note that complimentary beverage options are available only in Delta One, First Class and Delta Comfort Plus cabin.
Passengers who booked a Main cabin flight need to purchase a beverage.
The airline serves alcohol to passengers over the age of 21 years.
Delta Inflight beverages options
Category
Item
Price
Spirits
Bacardi Rum
$10
Du Nord Social Spirits Vodka
$10
Dewar's White Label Blended Scotch Whisky
$10
Jack Daniel's Whiskey
$10
Woodford Reserve
$10
Bombay Sapphire
$10
Buffalo Trace Distillery Bourbon Cream
$10
Cocktails
Filthy Bloody Mary
$10
Tip Top Espresso Martini
$12
Tip Top™ Old Fashioned Cocktail
$12
Beer & Seltzer
Topo Chico Hard Seltzer
$8
Bell's Oberon Wheat Ale
$9
Miller Lite
$9
SweetWater Brewing Company 420 Extra Pale Ale
$10
Wines
SweetWater Brewing Company Hazy IPA
$10
Une Femme Sparkling Wine
$10
Imagery Cabernet Sauvignon
$11
Imagery Chardonnay
$11
Delta offers a curated Non-Alcoholic Beverage Menu which is complimentary for all cabins
| | |
| --- | --- |
| Coca-Cola | Diet Coke |
| Coke Zero | Sprite |
| Seagram's Ginger Ale | Fever Tree Tonic Water |
| Fever Tree Club Soda | Orange Juice |
| Apple Juice | Cranberry Juice |
| Mr & Mrs "T" Bloody Mary Mix | Thrive Farmers Hot Tea |
| Starbucks Coffee | Explorer Cold Brew Coffee |
Conclusion
As we conclude our journey through the realm of 'Delta InFlight Service' it's evident that this airline's commitment to redefining the flying experience goes far beyond getting passengers from point A to point B. Beyond air travel lies the mindful integration of comfort, technology, luxury, and exceptional service that creates a symphony of each flight travel into an extraordinary event.
Frequently Asked Questions – FAQs
How much does Delta Inflight Wi-Fi cost?
Delta offers various Wi-Fi packages, including hourly, daily, and monthly options. Prices may vary depending on the flight and route.
Can I watch movies on Delta Inflight Entertainment without Wi-Fi?
Yes! Delta's Inflight Entertainment system is separate from Wi-Fi, allowing you to access a range of Inflight movies and TV shows even without an internet connection.
Are Delta Inflight Meals complimentary?
On some flights, complimentary meals are provided, while on others, you can purchase snacks and meals from the onboard menu.
Is Delta Inflight Texting available on all flights?
Delta Inflight Texting is available on most flights equipped with Wi-Fi. However, certain international flights may have restrictions due to international regulations.
Can I use my personal device for Delta Inflight Entertainment?
Absolutely! Delta's Inflight Entertainment is accessible through your personal device, such as smartphones, tablets, or laptops, via Delta Inflight Entertainment App or web portal.