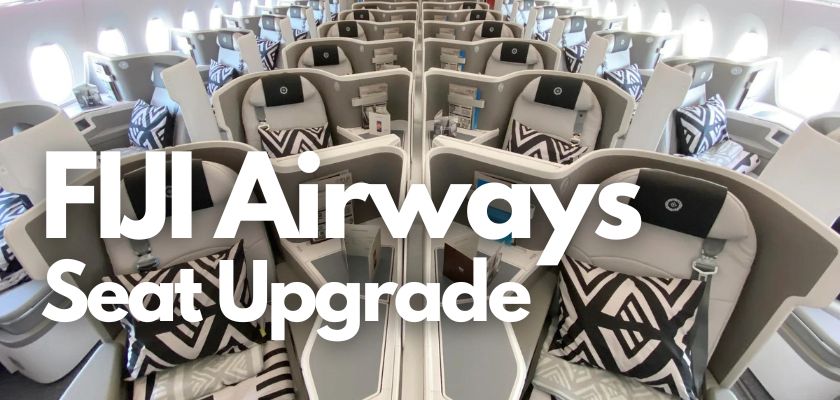 Do you wish to ask for an Fiji Airways upgrade on your upcoming flight? Your chances might not seem good if you wont bid your upgrade offer at the higher price.
You shouldn't give up though. There is generally a method for you to fly in the premium class even when there is a lot of demand and little availability if you:
Understand the upgrade process.
Find out how to receive free upgrades by using your frequent flyer elite status
When available, take advantage of low-cost premium flights.
Additionally, we'll learn about the terms and conditions, and how you can request an upgrade.
---
Fiji Airways Bid for Upgrade
With Fiji Airways Bula Bid Upgrade passengers can enjoy a more convenient and comfortable flight. All you have to do is make an offer to fly Business Class at your price.
Here's how it works
If your reservation qualifies for an upgrade, you will receive an email inviting you to submit an upgrade request 7 days ahead to the scheduled departure of your flight.
The more your offer, the greater your chances are of flying business class.
You have 24 hours before your scheduled flight departure to make any modifications, additions, or cancellations to your bid.
Between 24 and 18 hours before the departure of your flight, the airlines will send you an email to let you know whether or not your Bula Bid Upgrade offer is applicable or not.
---
Who is eligible for Fiji Airways Seat Upgrade?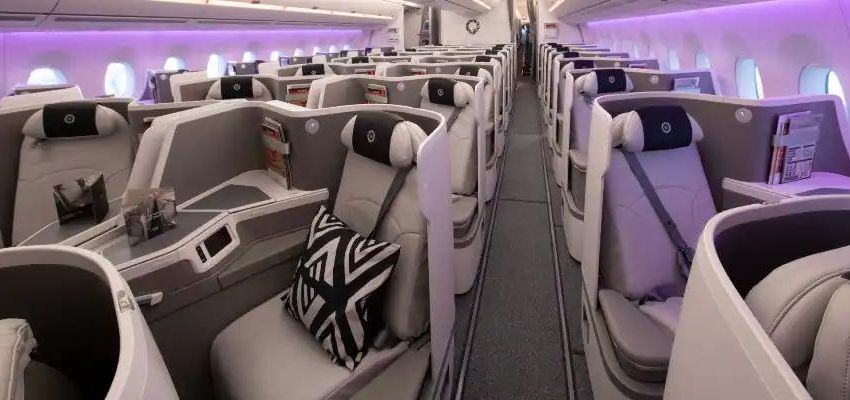 The Bula Bid Program, in which passengers can give Fiji Airways an opportunity to upgrade to our Business class cabin, is subject to the following terms and conditions.
Passengers must be at least 18 years old to participate in Fiji Airways Upgrade Bid.
Offers for bid upgrades are valid on flights that the airline operates and markets.
When you submit an Offer, the person mentioned on the Offer will be entitled to the Offer.
If a booking includes numerous guests, the upgrade offer is valid for each guest.
The amount of your offer does not include the cost of the original economy class ticket. Your proposal adds to the cost of the economy-class ticket you have purchased.
Note that the following bookings are not eligible for Fiji Airways Bula Bid Upgrade –
Reward and redemption tickets
Free tickets
ID and AD discount flight ticket
Group Booking
Reservation that include infant
Reservation for unaccompanied minors
---
Terms and conditions
Bid for upgrade cannot be made or fulfilled using vouchers or other payment or consideration methods. These include –
You have up to 9 hours before the scheduled flight departure time to amend or cancel an Offer.
If you are successful in acquiring an Upgrade, you will be able to use the business class lounge only on the upgraded segment.
Please be aware that any bid bids accepted within 24 hours of the flight's departure do not include special meal preferences due to catering constraints.
Once your Offer has been approved by Fiji Airways and your credit card has been charged, there will be no refunds, except the following circumstances –

If the airlines cancel, postpone, or disrupt the flight.

As per the commitment, Passengers can not get the upgraded cabin seat.
---
How to Upgrade on Fiji Airways?
Fiji Airways' upgrade services allow passengers to enjoy extra comfort and other benefits while traveling. Your journey can become more comforting and relaxing with the Fiji Upgrade service.
You must pay a small premium before you can take use of your luxurious journey and Fiji Airways' top-notch services.
The amount you bid is independent of the ticket purchase price. You may be wondering how to upgrade on Fiji Airways or how to contact to make your trip more pleasant and comfortable in order to take advantage of upgrading services.
Passengers can request Fiji Airways Bula Bid upgrade online as well as over the phone.
Online
If you want to upgrade on Fiji Airways, follow these steps.
Visit the airline's website and navigate to Fiji Airways Manage Booking tab
Click the Bula Bid Upgrade tab .
Verify if an upgrade is available on your flight ticket. Enter the Booking Reference and the passenger's last name. Check availability by visiting the Fiji bid upgrade page.
This way you can check if your booking is eligible for flight upgrade.
Enter the amount you wish to provide as your bid.
Fill out the form with your payment card information.
First the airline accepts your bid then you will get the confirmation email.
Your credit card will be charged for the amount you offered.
You have 7 days to 24 hours before your scheduled flight departure to submit, amend, or cancel offers.
Over the phone
After you receive an email invitation for the Fiji Airways Business Class upgrade, call the airlines' customer service phone number.
Provide the booking details that will allow airlines to access your flight details.
Pay the bid price against the upgrade amount mentioned.
Provide your debit/credit card details over the phone.
Once the offer is submitted you will receive the confirmation email which contains the bid details for each leg of your flight.
---
Fiji Airways Upgrade Cost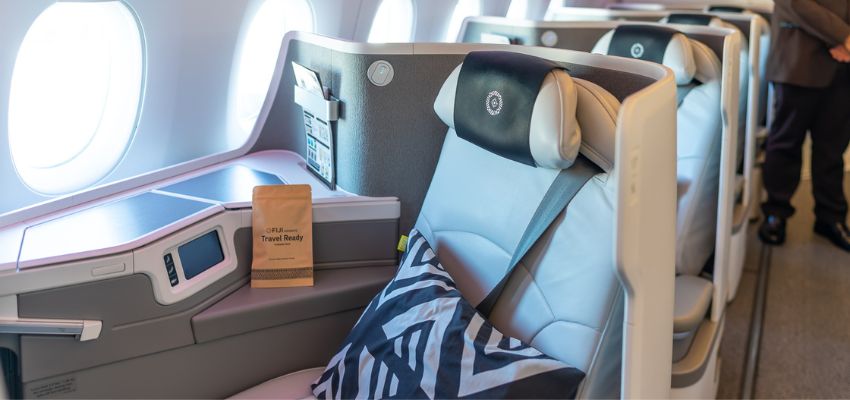 Passengers will have to pay Fiji airways upgrade fee for all the booking made through its Reservation Call Centre, or on the airline's website. Details of the upgrade fee can be found below –
| | | | |
| --- | --- | --- | --- |
| Upgrade From/ To | Economy Biz Saver | Economy Biz Plus | Upgrade Fee |
| Economy Bula Saver | Permitted | Permitted | 150 USD |
| Economy Bula Plus | Not permitted | Permitted | 200 USD |
---
Frequently Asked Questions Related to Upgrade Fiji Seat
How to get an upgrade on Fiji Airways?
You will receive an email inviting you to make an upgrade offer seven days ahead to your scheduled flight departure if your reservation qualifies. The more your offer, the greater your chances are of flying business class.
How much to bid for Fiji Airways upgrade?
After deducting the cost of the economy travel, you should attempt to cover between 20% and 40% of the remaining expense. To outbid the majority of bidders who will select the minimum, make a bid just a little bit higher.
How to get a free upgrade on Fiji Airways?
Having elite status on the Fiji Airways you're traveling is the most surefire way to get upgraded for free.
What is Fiji Airways Bula Bid upgrade?
Bula Bid offers Fiji Airways passengers to upgrade from our economy cabin to our business class cabin by making a financial offer.
Why would I want to upgrade? What are the benefits?
If your proposal is accepted, you will have access to benefits usually reserved for travelers who have purchased business class, including as early airport check-in and boarding, entry to our business class lounges, and our top-notch onboard amenities.
Additionally, as per Fiji Airways baggage policy, you are eligible for the business class cabin baggage allowances. 
How do I know when to place a Fiji Airways upgrade bid?
Once you book a flight in Fiji Airways' economy class, you'll receive an invitation to submit an offer.
If I alter my reservation, is my offer still valid?
The upgrade offer will be deemed invalid and not taken into consideration if your initial booking is changed or canceled after you have submitted an upgrade offer but before the upgrade offer has been accepted. 
How will I know if my offer has been accepted?
Prior to the start of your journey, you will get an email letting you know if your upgrade offer has been accepted or declined. Before checking in online, you must wait until you have heard from Fiji Airways whether or not your Upgrade Offer has been accepted. 
Will the value of the original economy class ticket I bought be included in the offer?
No, your offer adds nothing new to the price you have paid for your economy-class ticket.
How can I pay for an upgrade after my offer has been accepted?
The successful Fiji Airways upgrade can be paid for using the following credit cards: American Express, MasterCard, Visa, and Diners Club.
When will my account be charged for the offered bid?
If your Fiji Airways seat upgrade bid is approved by Fiji Airways, the offered sum won't actually be taken out of your account until that happens. When you make the upgrade offer, the amounts will be taken out in the currency that was shown on the payment page at that time.
What happens if my offer is declined?
If your Fiji Airways upgrade request is declined, your original economy class ticket will be used for transportation.
What if my reservation includes more than one person?
If your reference booking has more than one Guest, your offer applies to each Guest in your booking. The amount offered will be multiplied by the number of Guests in the original booking
---
Fiji Airways Business Class Review: A330-200