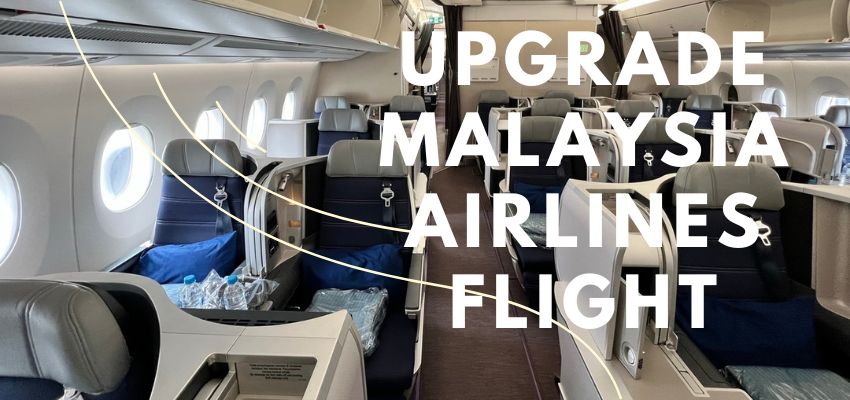 Malaysia Airlines allows passengers to utilize their Enrich miles to upgrade to Business Class. With MH, passengers can also submit an 'upgrade bid' or request the paid upgrade at the airport.
Here's everything you need to know to upgrade your economy ticket to business class, whether you frequently fly with Malaysia Airlines or this is your first trip.
---
Purchase Malaysia Airlines Business Upgrade
Not every economy class ticket may be upgraded using Enrich miles. Malaysia Airlines website does not indicate which tickets are eligible during the booking process. But there's a sneaky method to find out before you pay for your trip.
After selecting your flights on Malaysia Airlines' website, look for the option that says "View Fare Rules" to complete your reservation.
If you book one of these classes of service – Y, B, H, K, M, L, V, S, N, or Q , your ticket is eligible for an upgrade.
upgrade seat option is not available to the following class of service – O, G, P, U, I, E, X, and T.
---
Malaysia Airlines Last Minute Upgrade
If you show up at the check-in offices 3 hours prior to departure, you can purchase Malaysia Airlines business upgrades. Add to that –
Keep an eye out for signage around the check-in area informing you that these are available, or just ask the check-in staff.
Last minute upgrade cost between Australia and Kuala Lumpur ranges between 500 and 1000 USD.
Terms and conditions
The following conditions will apply –
Passengers can purchase upgrades at the airport up to 3 hours prior to scheduled departure.
The airline offers Economy Class meals to the passengers who purchased Last Minute upgrades.
The amount of checked baggage is determined by the initial cost of the Business or Economy Class tickets. There will be no additional baggage allowance if you upgrade to Business Class or Business Suite. ​To know more, refer to Malaysia Airlines baggage policy.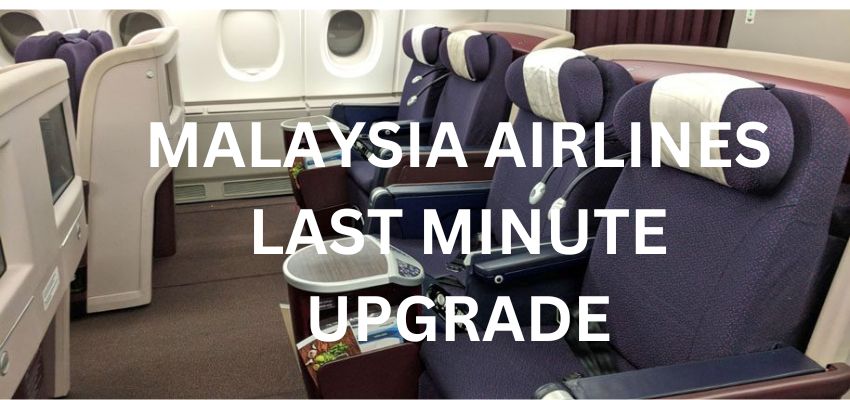 How to obtain Last-minute upgrade?
Follow these steps to get an upgrade to Business Class –
To seek a last-minute upgrade, proceed to the Malaysia Airlines ticketing counter or check-in desk.
A Last Minute Upgrade may be available on your flight, subject to availability
Pay the amount due.
You'll get an Electronic Miscellaneous Document (EMD) receipt for your Last Minute Upgrade after everything is done.
Please be sure to save the email for future use.
Note – You won't be charged until your Last Minute Upgrade order is approved and acknowledged.
---
Upgrade Malaysia Airlines Using Enrich Miles
Redeem Enrich Points to upgrade your domestic travel ticket from Economy to Business class online. With Malaysia Airlines Enrich upgrade, you'll get priority boarding and check-in, plus a tonne of other perks like access to the pre-departure lounge. With redemptions at set rates, you can now get additional value.
Only domestic flights offered by airline are eligible for the Enrich Upgrade Online. These flights must be inside Peninsular Malaysia or between Peninsular Malaysia and East Malaysia.
Miles redemption to request Malaysia Airlines Upgrade – Below is the overview of the miles to redeem in order to upgrade flight.
Within Peninsular Malaysia or within Sabah/Sarawak
| | | | |
| --- | --- | --- | --- |
| Economy | Lite Fare | Basic fare | Flex fare |
| Y | Not available | Free upgrade | Free upgrade |
| B,H | Not applicable | 10,000 | 7,000 |
| K,M,L,V | Not applicable | 20,000 | 16,000 |
| S,N | Not applicable | 23,000 | 19,000 |
| O,Q | Not applicable | 28,000 | 26,000 |
From Peninsular to Sabah/Sarawak and vice versa
| | | | |
| --- | --- | --- | --- |
| Economy | Lite Fare | Basic fare | Flex fare |
| Y | Not available | Free upgrade | Free upgrade |
| B,H | Not applicable | 11,000 | 7,000 |
| K,M,L,V | Not applicable | 25,000 | 21,000 |
| S,N | Not applicable | 30,000 | 25,000 |
| O,Q | Not applicable | 33,000 | 30,000 |
Note – if you're an Erich Club, you can check the point balance at the Enrich Log In page to get eligible for Malaysia Airlines Upgrade. 
Terms and conditions
Enrich Members with enough Enrich Points are now able to redeem miles to get upgrade to Business Class. You can request an upgrade through the Malaysia Airlines Manage Booking tab. The following conditions will apply –
You can use Enrich Points to upgrade from an eligible economy class revenue ticket to the next higher cabin class.
Only domestic flights are eligible for the "Malaysia Airlines Enrich Upgrade".
International flights, if upgraded through miles, cannot be requested online.
Waitlists or 'Open Tickets' are not eligible for miles upgrade.
Children between 02 and 12 years of age are also eligible for Enrich Upgrade.
Infants would be offered an upgrade for the same flight segment as the adult accompanying the infant.
When reserving for two or more people, a member needs to request the "Enrich Upgrade" for all passengers in the booking.
How to purchase 'Enrich Upgrade'?
Follow these steps to get an upgrade.
Visit the airline's website.
Click on the 'Upgrade icon' and then 'Enrich Upgrade' button.
Login as Enrich Member
After logging in, send the user to the Upgrade tab.
Enter your booking reference and surname and press the 'Submit' button.
To proceed, click 'Check the offer'.
Select the upgrade-eligible flight sector and check the necessary "Points"
To progress with the upgrade, click "Continue."
Review and submit the payment information for your credit card.
You will receive an Electronic Manual Document (EMD) as proof of your "Enrich Upgrade" redemption once everything is finished.
---
MHUpgrade – Malaysia Airlines Bid Upgrade
Most passengers can bid for an upgrade to business class via the "MHupgrade" system. Eligible passengers will receive an email invitation around 48 hours after booking the flight. All you need to do is –
You have complete discretion over how much you bid, subject to the changing minimum and maximum amounts shown during the bidding process.
Remember, higher amounts of bids have the higher possibility of getting an upgrade.
Bidding ends 72 hours prior to the scheduled departure time of a flight.
---
Frequently Asked Questions (FAQs)
How to upgrade baggage for Malaysia Airlines?
Passengers can add or upgrade baggage allowance via Manage Booking section. You can also add baggage at the airport 3 hours before scheduled departure. 
How much to upgrade to business class on Malaysia Airlines?
By requesting the last minute Malaysia Airlines Upgrade, passengers need to pay a fee of 200 USD plus any applicable fare difference between the existing and a new higher class.
How to get an upgrade on Malaysia airlines?
Simply place the bid through MHupgrade. The airlines will notify passengers 48 hours before scheduled departure.
How to get a free upgrade to Business Class on Malaysia Airlines?
If you have 'Enrich Upgrade' miles, you can upgrade to a Malaysia Airlines flight for free. No change fee applies. 
How to upgrade to Business Class on Malaysia airlines?
Passengers can redeem Enrich miles, place a bid through MHupgrade or simply purchase the last minute upgrade at the airport. 
How much does a last-minute upgrade cost?
Eligible passengers will be able to purchase a fixed-price upgrade to business class. The total payment will be in addition to the fare of the initial ticket.
Which flights will be eligible for Last Minute Upgrade?
Only Malaysia Airlines flights are eligible for Last Minute Upgrade.
Codeshare flights, charter flights, and flights that are not run by Malaysia Airlines are not eligible for the option.
Can I use my "Enrich Upgrade" voucher at any point before my flight?
Enrich Upgrade can be redeemed by members at least six hours prior to flight departure.
---
Upgrade Ticket of MH