Etihad Pet policy is highly accommodating, enabling dogs, cats, and even falcons to accompany passengers on their flights. However, in order to bring your pet along, you must complete a booking form and fulfill certain legal requirements.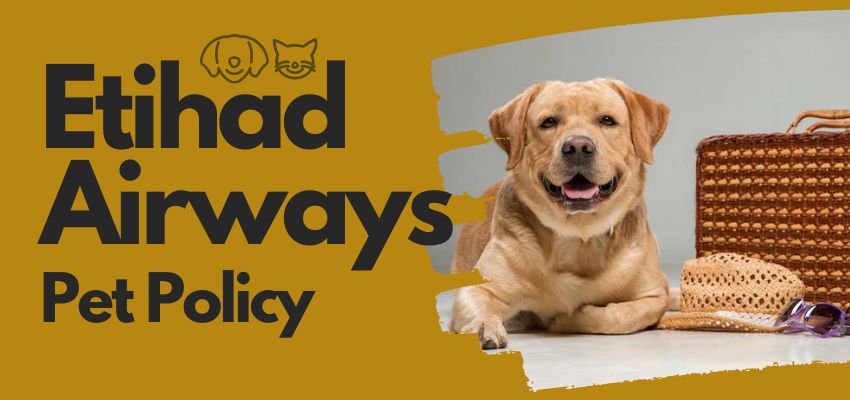 To obtain comprehensive information about reservations, necessary paperwork, and specific regulations imposed by different countries, please refer to the detailed article below.
How does Etihad Airways facilitate traveling with pets in the cabin?
Etihad Airways permits pets to accompany passengers in the cabin. The pet carrier used must meet specific requirements, including being secure, having a waterproof bottom, and providing sufficient space for the pet to move comfortably without any restrictions.
As per Etihad Airways pet policy, passengers must meet the following requirements –
Requirements
Details
Pet carrier dimension
16 x 16 x 9 inches (40 x 40 x 22cm) for Economy Class

Carriers must not exceed 50 x 43 x 50cm (L x W x H) if you have purchased an adjacent seat in Business Class
Etihad provide Absorbent sheets
Sufficient absorbent sheets must be provided for pets to relieve themselves during the journey.
Passengers are responsible for replacing used absorbent sheets and ensuring their proper disposal.
Changes/cancelation
Etihad Flight Change Request must be completed up to 3 hours before scheduled departure.
Refund
Etihad provides Absorbent sheets
Pregnant animals
Etihad Pet Travel service is not permitted
Reporting time
A full refund is provided in situations where Etihad cancels a flight or pet travel. 
Pet Limit
Passengers are allowed to bring one pet on board during their flight.
When multiple passengers share an itinerary
If traveling with another guest, passengers have the option to bring two pets on board.

The two pets must be from the same breed /household and comfortable with each other.
Etihad owes no liability
You must report at the Etihad check-in counter 3 hours before the scheduled departure
Weight of the carrier
The combined weight of the pet and the carrier must not exceed 17.6 lbs (8kg).
Age Limit
Pets must be at least 16 weeks old, in excellent health, and traveling in the cabin with an adult who is at least 18 years old.
Unaccompanied minors
As per Etihad Airways pet policy, the airlines cannot be held responsible if your pet is denied entry into other countries due to non-compliance.
The airlines will not be liable for any resulting costs such as the Etihad cancellation fees, compensation, hotel accommodation cost, and more. 
Flight Upgrade
As per Etihad Airways unaccompanied minor policy, minors traveling alone are not permitted to fly with pets on board. 
Pet Carrier Guidelines – Passengers must meet the Etihad Airways Pet Carrier requirements – 
Only dry pet food is allowed to be carried in the cabin baggage.
Pet food must be stored in sealed containers to prevent odor disturbance to fellow passengers.
Pets should have enough space in their travel bag or kennel to ensure pet mobility.
Pet travel bags or kennels must adhere to the under seat dimensions of all aircraft
Additional rules – The other guidelines include –
Pets must remain in their carrier at all times, either under your seat or on an adjacent seat.
In Business or First Class, pets must be seated in their carrier on an adjacent seat and are not permitted under your seat.
Passengers traveling with pets are not permitted to occupy exit row seats.
Restrictions – As per Etihad Airways pet travel policy, certain restrictions may apply
Sedatives to animals are not recommended, except under veterinary supervision.
Access to third-party lounges for animals is subject to local airline/airport regulations.
In situations where a guest with an allergy statement and a guest with a pet request are on the same flight, priority will be given to the guest who made the initial reservation.
Route restriction – Etihad Airways pet travel service is not permitted on these routes – 
| | | |
| --- | --- | --- |
| Restricted Routes | Flying to or from | Flying to |
| India | Ahmedabad and Kochi | NA |
| Maldives | Any airport | Any airport |
| South Africa | Any airport | Any airport |
| UK | London | Any airport |
| Australia | Any airport | Any airport |
| China | Guangzhou and Shanghai | Any airport |
| Qatar | Any airport | Any airport |
| UK | Any airport | Any airport |
| US | Any airport | Any airport |
Breeds restriction – These breeds are not permitted on board aircraft operated by Etihad – 
| | |
| --- | --- |
| Pit Bulls | American Pit Bull Terrier breed of dog |
| | Staffordshire Bull Terrier breed of dog |
| | American Staffordshire Terrier breed of dog |
| | American Bully |
| Mastiff Dogs | Brazilian Mastiff (Fila Brasileiro) |
| | Argentinian Mastiff (Dogo Argentino) |
| | Any Mastiff or Hybrid |
| Rottweilers | Rottweilers breed or hybrid |
| Doberman Pinschers | Doberman Pinschers |
| Canario Presa | Canario Presa |
| Japanese Tosa | Japanese Tosa or hybrid |
| Boxer | Boxer |
| Mixed Breeds | Any mixed breed of above breeds of dog or their Hybrid |
How to book – To ensure a smooth process, it is necessary to complete a booking form at least seven days prior to your departure. Follow these steps – 
Reach out to Etihad Airways directly through their customer service channels or visit their official website.
Determine the cabin class in which you wish to travel with your pet.
When booking your flight, inform the Etihad Airways representative or use the online booking system to indicate that you will be traveling with a pet in the cabin.
Provide all necessary details related to your pet.
Etihad Airways may require certain documentation.
On the day of your flight, arrive at the airport well in advance to allow ample time to complete Etihad Airways check-in.
By following these steps, you can confidently book your pet's travel in the cabin on Etihad Airways, ensuring a comfortable and stress-free journey for both you and your beloved pet.
Pet Fee – Below is the overview of the Etihad Airways Pet Travel Fee – 
| | | |
| --- | --- | --- |
| Travel Class | Pet Travel Cost (Each Way) | Additional Seat Required |
| Economy | $1,500 or 215,000 Etihad Guest Miles | Optional (Adjacent seat) |
| Business/First | Cost of Extra Seat + $1,500 | Required |
Please note – To pay for associated fees you can utilize Etihad Guest Miles.
Required Documents – It is important to email all the required documents no later than 72 hours before your scheduled departure.
For those traveling to Abu Dhabi with pets, it is crucial to obtain a release permit for your pet and complete a UAE Health Certificate.
You also need a booking form.
For travelers coming to Abu Dhabi from the following countries, a local health certificate suffices.
| | | |
| --- | --- | --- |
| Australia | Canada | Cyprus |
| Denmark | Morocco | New Zealand |
| Saudi Arabia | Serbia | South Africa |
| Spain | Turkey | United Kingdom |
| United States of America | | |
These certificates must be signed and stamped by a government-accredited health official in your country of departure within five days before your flight.
It is mandatory to present this certificate at the airport; otherwise, your pet will not be allowed to fly.
How does Etihad Airways make it possible to travel with pets as checked baggage?
As per Etihad Airways Pet Policy, the guidelines include –
Requirements
Information
Check-in
Passengers must arrive at the airport at least 3 hours prior
Pet allowed
Only falcons
Pet travel
The Etihad pet travel fee of $500 USD per carrier is applied.
Pet Limit
In Economy Class, 1 pet is allowed per passenger

In First Class, 2 falcons are allowed per passenger.
Reservation Deadline
Must be completed up to 48 hours before the scheduled departure.
Size and Weight Restrictions
Pet Container Requirements
Documentation
Make sure you have correct and updated documentation. This includes 
 Release permit UAE Health Certificate. Booking Form
Arriving at the airport – Ensure you arrive at the Etihad Airways check-in counter 3 hours prior to departure with your pet secured in an appropriate carrier.
Please remember to bring all necessary documents for check-in; failure to do so will result in your Etihad Airways passenger being denied boarding.
Your pet is allowed to travel in addition to your cabin baggage allowance.
If you have access to our lounges in Abu Dhabi, you are welcome to bring your pet along. However, please note that pet lounge access in other airports is subject to local regulations and access policies.
To provide ample time for our crew to assist in preparing your pet for travel, we recommend boarding before other passengers.
Abu Dhabi as your final destination –  When arriving in Abu Dhabi, it is mandatory to fulfill all the necessary arrival procedures in accordance with UAE regulations. This involves certain processes and documents – 
Step
Deadline
Required Documents
Apply for an import permit for your pet
72 hours before your flight
Within 5 days prior to the flight
Complete a UAE Health Certificate
Within 5 days prior to flight
Apply for an Abu Dhabi Customs Bill of Entry
At least 48 hours before your flight
Send the documents to MICCO Logistics
NA
Review and payment
NA
Receive the Bill of Entry via email
NA
Please note – Undergoing an inspection by a veterinary officer. The inspection desk is located at the Customs clearance area of the AUH airport.
What is Etihad Pet policy regarding traveling with service animals?
Only passengers with disabilities are allowed to travel with a trained service dog. Certains restriction apply under Etihad Airways pet policy – 
Passengers on a direct flight to the US are only permitted to travel with a psychiatric support dog.
Emotional support animals are not allowed on board.
You are permitted to travel with one trained service dog on board, except for flights originating from the US where you can bring two dogs.
Rules – Passengers must comply with the following guidelines –
Trained service dogs are allowed on all Etihad-operated flights or in the cargo hold, without any additional charges. This is in addition to Etihad checked baggage allowance.
Your service dog must remain within your allocated seat space and needs to be properly leashed.
How to book –  Reach out to Etihad Airways customer service hotline or email.
Required documents – To ensure a smooth process at the airport, please ensure that you have the following permits and required documentation under Etihad Airways service animal policy –
From economy to business or first class, Etihad provides options for pets to travel comfortably in the cabin, with additional seat purchases available for larger pets. It's important to note that adherence to guidelines under Etihad Airways pet policy, is essential.
Frequently Asked Questions – FAQs
Are you allowed to travel with your dogs and cats as checked baggage?
No, Etihad Airways does not offer checked baggage service for any animals other than falcons.
Is making 24 hours prior pet reservation possible?
No, it isn't possible. You need to send in a booking form request form at least seven days beforehand.
How many falcons are you allowed to carry in economy class?
One falcon per passenger or two falcons for each extra seat is allowed in Economy. 
Can minors travel with their pets?
To travel with a pet, you must be at least 18 years of age. 
What is the minimum age for your pet to travel in a cabin?
Pets must be at least 16 weeks old to travel in a cabin.