Etihad Airways unaccompanied minor policy states that children between the ages of 5 and 15 may travel alone on an Etihad flight, but must be booked as unaccompanied minors. An adult guardian must escort the child to the airport and complete the necessary paperwork, and the airline will appoint an escort to accompany the child throughout the flight.
An additional fee may be charged for this service. Children under the age of 5 are not allowed to travel alone on Etihad flights.
It's always good to check the most updated policy as mentioned below.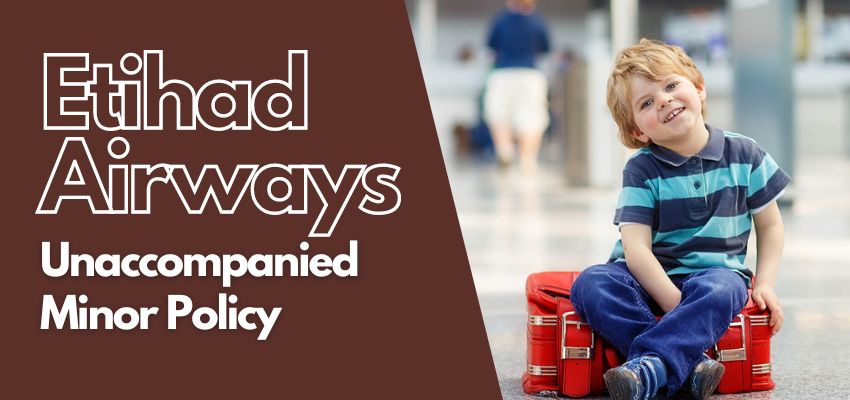 Know About Etihad Unaccompanied Minor Policy
After you book the Etihad unaccompanied minor service, where are all the travel and boarding requirements that parents must be aware of –
Preparing to fly – Verify that you have filled out the Unaccompanied Minor form and that your youngster has all the necessary travel documentation.
Etihad Airways check-in – At least two hours prior to takeoff, your youngster needs to be checked in at the airport. Please wait at the terminal until their flight takes off.
At the airport – Your youngster will be with one of the Etihad Airways' crew members until they board. If your child is flying Business or First Class, they may only access our lounges in Abu Dhabi.
On board – Your child will have a safe, enjoyable flight thanks to the efforts of the Etihad Airways cabin crew. There is plenty to keep kids occupied with on-screen entertainment and video games.
Connecting flights – Your child will be met and brought to the Etihad Airways lounge while they are changing to another Etihad flight. Etihad Unaccompanied Minor policy is not accessible on connecting flights operated by other airlines.
On arrival – Your child will be escorted by one of the airline's staff through customs, baggage claim, and immigration. Parents meet their child in Arrivals at the time of their flight's planned arrival. A member of the airline's staff will require you to present your ID.
Rules For Minor Traveling Alone on an Etihad Airways Flight
Etihad Airways has specific rules for minors traveling alone on their flights. These rules include:
Minors aged 5-11 years old can travel as unaccompanied minors.
Minors aged 12-17 years old can travel alone, but they are considered as young travelers, not unaccompanied minors.
Unaccompanied minors must be booked on direct flights or flights with one stopover only.
Unaccompanied minors must travel on a full-fare ticket.
Unaccompanied minors must have a completed and signed Unaccompanied Minor Form, which must be presented at check-in.
A parent or guardian must accompany the minor to the airport and remain there until the flight departs.
An adult must be designated to meet the minor at their destination and provide the airline with their contact information.
How old must the child be to request Etihad Minor Service?
Below is the overview of the age requirements in order to avail of Etihad Airways unaccompanied minor service –
| | |
| --- | --- |
| Age Group | Conditions to travel |
| 0 – 4 years | A child under the age of five cannot fly by themselves. They must always fly in the same cabin as a parent or adult guardian. |
| 5-11 years | Our program for unaccompanied minors is free for kids ages 5 to 11. They have to be scheduled on an ordinary adult fare. |
| 11-17 years | Although children between the ages of 12 and 17 are allowed to travel with an adult. They can opt for Etihad airways unaccompanied minor service. A guest between the ages of 12 and 17 is not allowed to accompany an unaccompanied minor. Legal parents under the age of 18 are allowed to bring their children or newborns along with them if they have the proper identification. |
How to book Minor Service On Etihad Flight?

To book unaccompanied minor service on an Etihad Airways flight, you can call the airline or utilize the following methods given below:-
Method 1 – Call the Etihad customer service
Passengers can call Etihad Airways to book the unaccompanied minor service. All you need to do is –
Contact Etihad Airways' reservations department to make a booking for the unaccompanied minor.
Complete the Unaccompanied Minor Form and have it signed by the parent or guardian of the minor. This form will need to be presented at check-in.
Provide the contact details of the person who will be meeting the minor at their destination. This person must be an adult and should provide their name, contact number, and address.
Pay for the unaccompanied minor service fee and the full-fare ticket for the minor.
Accompany the minor to the airport on the day of travel and ensure that the Unaccompanied Minor Form and any other necessary documents are presented at check-in.
Method 2 – Book Etihad Airways unaccompanied service online
Passengers can simply book the Etihad Airways flight online, and
Submit the Etihad unaccompanied minor form.
Within 24 hours, we'll confirm your request and ask you to pay for kids aged 12 to 17.
Print out the request form, sign it, and bring it with you to the airport.
Method 3 – Book Through Live Chat
To book a flight for an unaccompanied minor on Etihad Airways, you will need to contact the airline directly. This can be done through their customer service hotline or through their live chat feature on their website.
When you contact the airline, you will need to provide information about the child, including their name, date of birth, and contact information for the person escorting the child at the airport. The airline will also likely require you to fill out and sign an unaccompanied minor form before the flight.
Please note that there may be additional fees and restrictions associated with booking a flight for an unaccompanied minor, and policies may vary depending on the child's age and destination.
Method 4 – Book Through Social Media
To book an unaccompanied minor flight on Etihad Airways through social media, you will need to first visit the official social media accounts of the airline on platforms such as Facebook or Twitter.
Once you are on the official Etihad Airways social media page, you can message the airline directly to inquire about booking an unaccompanied minor flight. The airline's social media team should be able to assist you with the booking process and provide you with any necessary information or forms that need to be filled out.
It's also advisable to check the airline's website for more information on their policies and procedures for unaccompanied minors.
| | |
| --- | --- |
| Social Media Platform | Links |
| Facebook | https://www.facebook.com/etihadairways |
| Twitter | https://twitter.com/etihadairways |
| Instagram | https://www.instagram.com/etihadairways |
| Youtube | https://www.youtube.com/user/etihadairways |
Etihad Airways Unaccompanied Minor Fee
Etihad's unaccompanied minor fee varies depending on the destination and class of travel, but it is typically around 100 USD each way. The fee covers additional services provided to the child, such as escort services and additional security measures.
It is important to note that the fee may be waived in certain circumstances, such as if the child is traveling with an older sibling who is over the age of 18 and able to act as a guardian.
Below is the overview of the fee –
| | | |
| --- | --- | --- |
| Age Group | Permitted to travel | Unaccompanied minor fee (in USD) |
| 0 – 4 years | No | Not applicable |
| 5-11 years | Yes | Free |
| 12-17 years | Optional | 100 each way |
All in all, the Etihad unaccompanied minor policy is a convenient service that allows you to take your loved ones with you on your Etihad flight, even if they're too young to travel independently. Simply keep the policy in mind when booking your next flight, and you'll have no problem bringing along any children that need to travel. But again, the most up-to-date policy can always be found on Etihad Airlines official.
Check Here the unaccompanied minor policies of other airlines.
Frequently Asked Questions – FAQs
Can a 16-year-old fly alone to the UAE on an Etihad Airways flight?

A 16-year-old can fly alone on an Etihad Airways flight, but they must have a valid passport and comply with the Etihad Airways Unaccompanied Minor policy.  Additionally, the child must be booked on a direct flight, and the airline may require that the child travel in Business or First Class.
Can minors travel abroad without parents on an Etihad Airways flight?
Minors, or individuals under the age of 18, can travel alone on Etihad Airways flights, but there are specific requirements that must be met. These requirements vary depending on the destination country and the minor's age. Generally, minors traveling alone are required to have a notarized letter of consent from both parents or legal guardians, as well as a copy of the minor's birth certificate.
How do I send my child on a plane alone with Etihad Airways?
Unaccompanied minor service is available for children between the ages of 5 and 17 and includes additional supervision and assistance during the flight and at the airport. You will also need to fill out the appropriate forms and pay any additional fees associated with the service.
Do unaccompanied minors get priority boarding with Etihad Airways?
Unaccompanied minors traveling with Etihad Airways are given priority boarding. They will be escorted to their seats by a member of the cabin crew and will be under the supervision of the crew throughout the flight.
Does Etihad Airways charge extra for Unaccompanied Minors?
Yes, Etihad Airways charges an additional fee for unaccompanied minors. The fee varies depending on the route and class of service, and additional services such as escort or meet and assist may also be available for an additional fee.