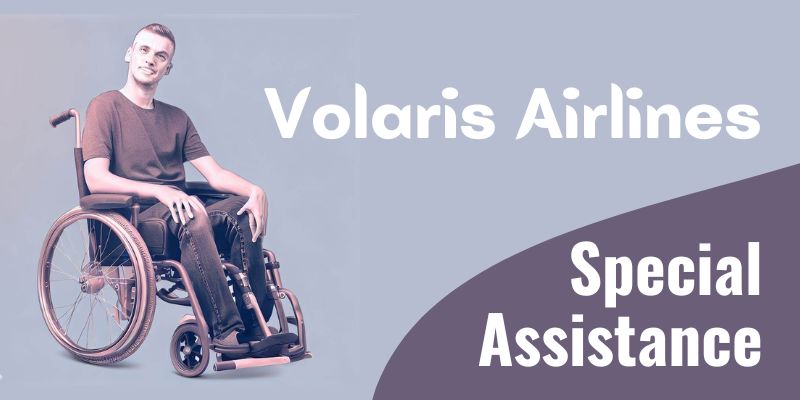 Volaris Special assistance service is all about offering efficient, caring, and inclusive air transportation.
If you or one of your travel companions need a special service, this is the article you need to go through. We have comprehensively described all the special assistance services that the airline has to offer, how to request them, terms and conditions, and more.
How does Volaris Wheelchair Assistance Work?
Passengers who need a wheelchair at the airport must take note of the following considerations –
Let the airline know at least 24 hours before the scheduled departure for a seamless transportation process.
You can also request the wheelchair upon arriving at the Volaris check-in counter at the airport, subject to availability.
Upon reaching your destination, the airline will provide you with a wheelchair until you received yours along with your checked baggage.
For those traveling with electric wheelchairs, please arrive at the airport counters at least 3 hours before domestic flights and 4 hours before international flights.
Airline's liability while transporting wheelchair -Your manual-folding wheelchair will be transported in the aircraft's cargo hold. The cargo hold is aesthetically designated for wheelchairs. Each wheelchair will receive a protective cover and will be securely fastened horizontally to prevent movement during the flight.
Priority Boarding – Passengers with disabilities will receive priority boarding. The wheelchair will be stored at the designated stowage space.
What are the options available for wheelchair usage?
You may continue using your wheelchair up to the aircraft door. Alternatively, you can also leave the wheelchair at –
Check-in counter
Gate agent counter
If you prefer to leave the wheelchair at the aforementioned location, you will receive a receipt indicating where your wheelchair will be returned to you.
Priority delivery upon arrival – Upon reaching your destination, your manual folding wheelchair will be the first item removed from the aircraft and delivered to you. The location of receiving your wheelchair would be mentioned in the receipt that was handed to you at the time of check-in.
In case of any delays, loss, or damage to your wheelchair, Volaris will arrange a temporary replacement of similar quality or reimburse you for a rental, as per your preference.
Permitted wheelchair – Only wheelchairs equipped with dry and non-spillable batteries are permitted.
How to request Volaris Wheelchair Assistance service?
Passengers can request a wheelchair at the time of booking, at the airport, or simply call the below-mentioned number.
+52 (55) 1102 8000 in Mexico +1 855 VOLARIS (8652747) in the US
What documents to carry under Volaris Wheelchair Assistance Program?
Here are the required paperwork –
Medical Certificate
Mobility assistance request form
Booking confirmation or itinerary
Valid government-issued identification such as a passport or national ID.
Other Relevant Medical Records (if the airline asked to present).
What are Volaris Special Assistance for disabled flyers?
Here is the overview of the Volaris special assistance for passengers with disabilities
Notification and Pre-Booking – Passengers must notify the airline in advance for hassle-free travel.
Wheelchair Assistance – As mentioned above, the airline offers dedicated support from the moment you arrive at the airport.
Boarding and Deplaning Assistance – For passengers with disabilities, the airline representative provides priority boarding options to allow extra time for boarding Upon arrival, Volaris' staff will assist you in safely deplaning and offer assistance at every step within the airport.
In-Flight Assistance – Volaris flight attendants are trained to assist passengers with disabilities during the flight. Whether you require help with moving around the cabin, accessing the lavatory, or any other specific needs, the crew is here to support you.
Electric Wheelchair Guideline – Disabled passengers traveling with an e-wheelchair need to arrive at the airport at least 2 hours before the scheduled departure. The wheelchair would be sorted in the designated cargo hold stowage space.
Priority delivery – Upon arrival, wheelchairs are the first items removed from the aircraft and promptly delivered to the passenger.
What special assistance does Volaris offer to elderly passengers?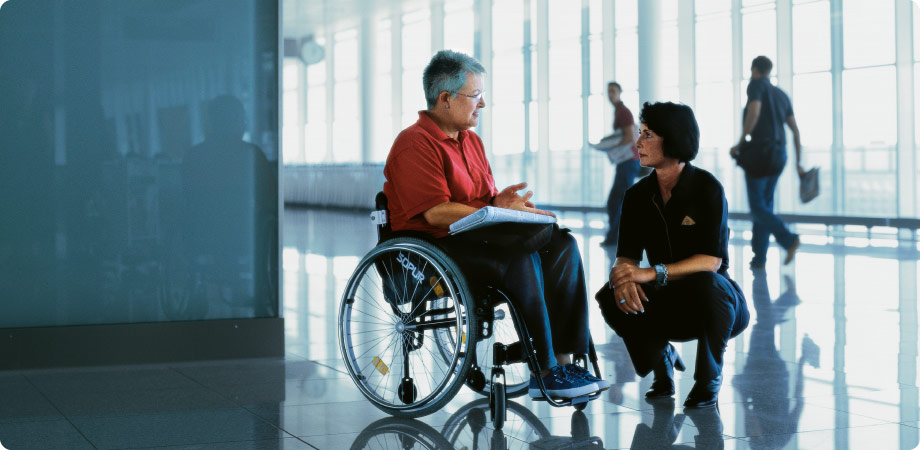 Volaris understands the unique needs of our senior travelers (age 60+), and this offers the "Volaris Is With You" service. This Volaris senior assistance service is designed to provide support to seniors during every step of their journey, from check-in at the departure airport to reaching their destination.
Let's take a closer look at what this service entails –
The "Volaris Is With You" service is entirely optional, allowing seniors to decide if they would like to avail of the additional support during their travel.
The conditions include that the airline staff is not responsible for controlling specific dietary needs or the provision of particular medications for seniors.
The service may not be applicable for seniors with impairments like senile dementia, Alzheimer's, or degenerative illnesses.
The Volaris senior assistance service cannot be applied to bookings that already include the CBX service.
Arriving at the airport – Upon arriving at the airport check-in counter, the senior traveler must provide –
Name, phone number, address, and official identification.
Contact information for the person who will receive the senior at the destination airport.
Declarations need to be provided regarding whether the senior is fit to travel unaccompanied or not.
How to request the service – For a nominal fee (mentioned below), the "Volaris Is With You" service can be acquired during the flight booking process at Volaris official website through our Call Center, Volaris Manage Booking section, via Volaris App, or at the airport counters.
How much is the fee –
| Service | Price (Up to $USD) |
| --- | --- |
| Booking Web | Up to $80 |
| Booking Call center | Up to $80 |
| Pre-flight Web | Up to $80 |
| Pre-flight Call center | Up to $80 |
| Airport Assistance | Up to $100 |
Please note – This service does not include transportation to/from the airport
What baby special assistance Volaris offers to flyers?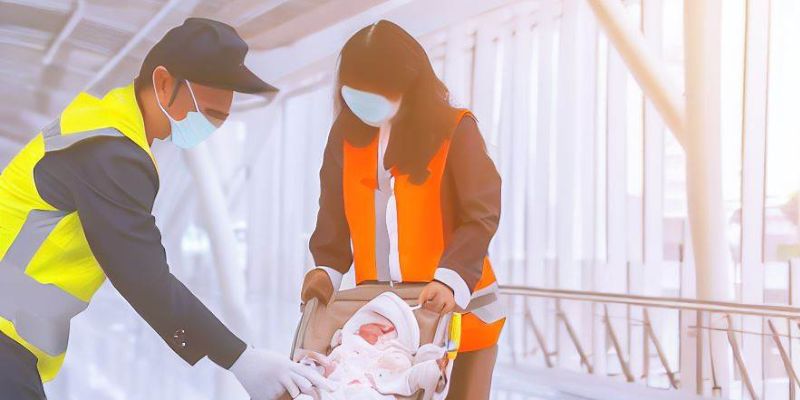 Here are the essential information and guidelines for traveling with children between 7 days and 2 years old.
Bring the baby-care essentials –
As per Volaris baggage policy, the airline allows you to carry the following items on top of your baggage allowance:
A diaper bag weighing up to 22 lb (10 kg) and measuring no more than 9.8 x 15.7 x 15.7 in (25 x 40 x 40 cm) can be carried as carry-on baggage.
You can check one item such as a car seat, baby carrier, or folding cot for free.
You can bring a stroller up to the aircraft.
Please Note – Passengers traveling with a baby and carrying a stroller or carrier would be offered priority boarding.
Seating –
When it comes to seat preference or selection, the following restriction may apply –
The adult traveling with the infant cannot sit in an emergency exit row for onboard safety.
Passengers traveling with 2 infants, need to book a car seat for at least 1 infant thus paying full fare.
Health considerations –
Infants cannot travel if they are suffering from any type of viral illness.
Volaris Special Assistance service would be offered to passengers traveling with infants who are between 7 days and 2 years old on the day of travel.
A birth certificate or passport must be presented for your baby. For international flights, a passport and visa are required.
Please Note – If your child turns two before your flight's departure date, you must purchase a full-fare ticket.
Liquids and powders –
Your carry-on baggage may include items such as baby formula, milk, and food that do not exceed 100 milliliters.
On flights to the United States, powdered substances over 12 oz (350 ml) are not allowed in carry-on baggage and must be placed in checked baggage.
Where to Add the Baby Combo –
You can easily add the Baby Combo service during your purchase process or later in the My Trips section.
Does Volaris allow passengers to bring medication on the plane?
Whether you need to bring a Portable Oxygen Concentrator (POC) or have other medical requirements, here is everything you need to know –
You are welcome to bring a POC on board and must be in compliance with FAA acceptance criteria,
Oxygen tanks are not permitted.
Considerations for POC Usage –
POC must have sufficient battery life for the entire flight, considering potential delays or detours.
If you require a POC for a chronic illness, a signed doctor's statement is necessary.
The doctor's statement must mention the oxygen's medical necessity, maximum flow rate, and total operating time of the POC.
CPAP usage –
If you bring a CPAP (Continuous Positive Airway Pressure) machine, it must adhere to carry-on baggage guidelines.
Please inform Volaris' staff about your CPAP's operating conditions during the flight and refrain from using it during takeoff or landing.
Passengers can bring one of the following POCs or CPAP devices on board –
| | | |
| --- | --- | --- |
| AirSep FreeStyle | Inogen One | SeQual Eclipse |
| AirSep LifeStyle | Inogen One G2 | SeQual SAROS |
| AirSep Focus | Inogen One G3 | 3B Medical VBox Trooper |
| AirSep Freestyle 5 | Inova Labs LifeChoice Activox | (Aer X) Oxygen Concentrator |
| (Caire) SeQual eQuinox / Oxywell (model 4000) | International Biophysics LifeChoice / Inova Labs LifeChoice | Respironics EverGo |
| Delphi RS-00400 / Oxus RS-00400 | Invacare XPO2 / XPO100 | Invacare Solo 2 |
| DeVilbiss Healthcare iGo | Oxylife Independence Oxygen Concentrator | Precision Medical EasyPulse |
Medications on board –
The airline staff on board would not assist passengers in taking medications.
If assistance is required, you must travel with a companion.
Considerations for Allergens –
If you have allergies to any service animals on board, a flight attendant can assist you in changing seats.
Other considerations –
Due to safety and air restrictions, incubators or stretchers cannot be transported on board.
Flight Restrictions –
Passengers with certain conditions, such as diphtheria, tuberculosis, hepatitis, smallpox, measles, meningitis, open or bleeding wounds, or recent surgery recovery are not allowed to travel.
Volaris Assistance for Pregnant Women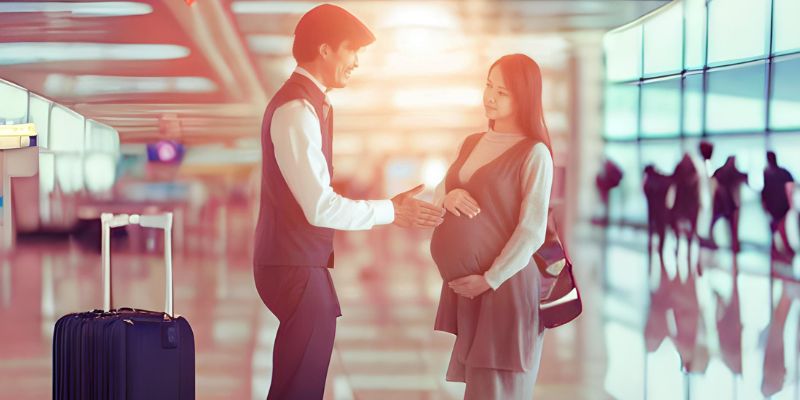 If you are considering air travel during your pregnancy, please keep the following essential guidelines in mind.
During the Flight –
Fasten your seatbelt around your hips, not your abdomen, for optimal safety and comfort on board.
Restriction –
The airline restricts air travel after the 8th month (36 weeks) of pregnancy or within the first 7 days after giving birth.
Travel after the 36th week (9 months) –
If you plan to travel after the 36th week of pregnancy, you must present
A Medical Certificate –
Authorization from your physician to travel by air, indicating the duration of the flight and the date until which you are authorized to travel.
Full name, professional license number, and contact number of your physician.
Passenger's full name.
Seating Restrictions –
Pregnant women are not permitted to sit in emergency exit seats for safety reasons.
What are the requirements and emotional support for Service dogs on Volaris?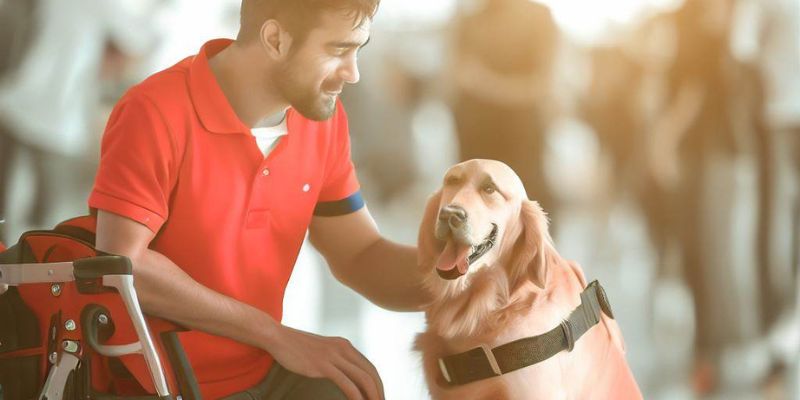 Under Volaris Special Assistance services, passengers can travel with emotional support animals and service dogs for free.
As per Volaris Airlines pet policy, the emotional support animals are available for the following route –
Within Mexico
From Mexico to Central America and vice versa
From Mexico to South America and vice versa
Within Central America
Within South America
From Central America to South America and vice versa
Below is the requirement for taking emotional support service dogs and cats –
Documentation must be issued on letterhead paper, including the specialist professional license number.
Your emotional support dog or cat may travel with a leash, harness, or in a carrier/kennel.
The animal must weigh a maximum of 26 lbs to travel as an emotional support pet.
If your pet will travel in a carrier, they may do so in fabric, sturdy plastic carriers, or bubble backpacks.
The combined weight of your pet and the carrier must not exceed 26 lbs.
Required documents for service dogs and emotional support animals –
Vaccination card –
You must present the vaccination record, including the first administration of a rabies vaccine or a current booster dose (validity of 1, 2, or 3 years).
If your emotional support animal is receiving the rabies vaccine for the first time, it must be administered at least 30 days before your flight.
For pets aged 15 months or older, a current booster dose of rabies vaccine is necessary to fly without waiting for 30 days.
Animal Health Certificate –
You must provide an animal health certificate (original and copy) indicating that your emotional support pet has undergone prior inspection and is clinically healthy.
The certificate should be issued on letterhead paper
You must present a copy of the veterinarian's professional license.
Flights from the United States to Mexico –
A health certificate is not required. SENASICA personnel will conduct a physical inspection upon arrival.
SAGARPA/SENASICA animal health certificate –
For flights from Mexico to Central America, present the original and a copy of the animal health certificate for export issued by SAGARPA/SENASICA.
Sanitary Inspection Certificate (CIS) –
If traveling from Colombia, you must present a Sanitary Inspection Certificate (CIS) issued by the Colombian Agricultural Institute (ICA).
Volaris Assistance for Unaccompanied minors
The airline offers Volaris trip assistance to unaccompanied minors. Below are the requirements that passengers need to know –
As per Volaris unaccompanied minor policy, the age criteria include –
| Age Range | Travel Requirements |
| --- | --- |
| 5 to 12 years old | Must use the Volaris is With You service. |
| 13 to 17 years old | Optional to use the Volaris is With You service. |
| Under 5 years old | – 2 to 4 years old: Must use the Volaris is With You service, accompanied by a family member between 13 and 17 years old. Both the child and the accompanying family member will be considered unaccompanied minors. |
Volaris Special Assistance service offers tailored support to passengers with specific needs or disabilities. The airline ensures that every individual can experience safe, comfortable, and enjoyable air travel.
Frequently Asked Questions – FAQs
How do I add a Volaris wheelchair assistance after booking?
Passengers can request a wheelchair at the time of booking, at the airport or simply call +52 (55) 1102 8000 in Mexico +1 855 VOLARIS (8652747) in the US.
What does special assistance mean at the airport?
Special assistance is the special services provided to passengers in certain circumstances such as wheelchair assistance, disability assistance, and assistance to pregnant women.
Where do you check in for Volaris assistance at the airport?
You can also request assistance upon arriving at the Volaris check-in counter at the airport.
Is Volaris flight assistance free?
Flight assistance is not free but airlines may provide you with a free method of requesting assistance when you book your ticket.
How do I book assistance while booking a flight?
You need to notify the airlines about the request for Volaris Assistance 48 hours prior to your scheduled flight.