When you're flying with a big airline like United, there's so much that can go wrong. Whether you don't check your bag into the hold or it's lost somewhere along the way. If you're checking luggage, there are many places where mistakes are made and even the most careful passengers can find themselves re-routing their trip to retrieve lost baggage. United Airlines lost and found policy is what you need to learn today!
If you happen to have misplaced, lost, or left behind something on United Airlines then this guide is your best chance of recovery of your lost belongings.
An Overview of United Lost and Found Policy
United Airline lost and found customer team has a different approach to helping their passengers find lost items. The airline handles lost item requests by itself, rather than outsourcing to any third-party agencies.
Hence the airline is required to reimburse passengers if their luggage is damaged, delayed, or lost under any international treaties (for overseas travel).
Let's understand how you can reduce the risk of damage, delay, or loss, and you can learn how to pack, check in, and claim your luggage.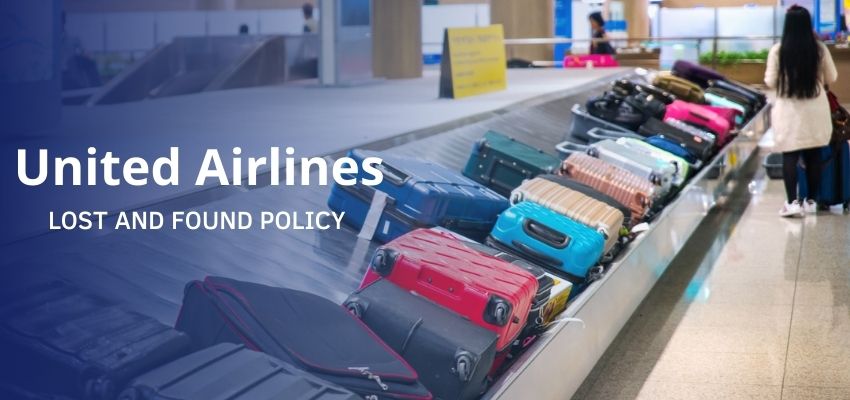 United Airlines Lost and Found Policy for Damaged Bag
When damage to a passenger's baggage and/or its contents occurs while the bag is under the airline's control during transit, the United flight Lost and Found team is responsible for repairing or reimbursing the passenger (subject to maximum limits on liabilities).
Airlines are not liable for damage to the bag that occurred prior to its arrival or damage caused by incorrect packing. When a bag's damage is irreparable, airlines will negotiate a compensation figure based on the bag's value and depreciation.
However, United Airlines avoids the liability of certain items –
Items that are fragile, or in the form of electronics, cash, perishable items, other valuables, etc.).
The Airlines are not compelled to pay passengers for items they have excluded from their contracts of carriage when traveling within the United States.
In addition, United Airlines is accountable for these items if they have accepted them for transport for INTERNATIONAL travel (including the domestic segment of an international itinerary). This is true even if travelers did not reveal that these items were packed in the suitcase when they checked in.
Although, the United Airlines lost and found team shall not compensate for over-normal wear and tear. However, United Airlines would still be accountable for damage to checked baggage wheels, handles, straps, and other components.
United Lost and Found Policy for Delayed Bag
United Airlines will do everything necessary to get your luggage to you as quickly as possible. The next step is to file a delay report on your luggage via United com lost and found or with the United baggage claim desk at the airport.
Passengers can continue their journey as planned at this point, and the airline will contact the affected passengers directly to arrange for the delivery of the reported luggage whenever it arrives. Here are the next steps –
Receive a Message About Delayed Baggage –
The United airlines will do its best to send an SMS or email with further instructions concerning the delayed baggage.
If a passenger received a communication from the United Lost and Found department, please follow the steps to complete the luggage delay report.
We advise you to do it either online or with our ground crew at the airport, depending on your destination. The next step would be –
How to File a Baggage Delay Report –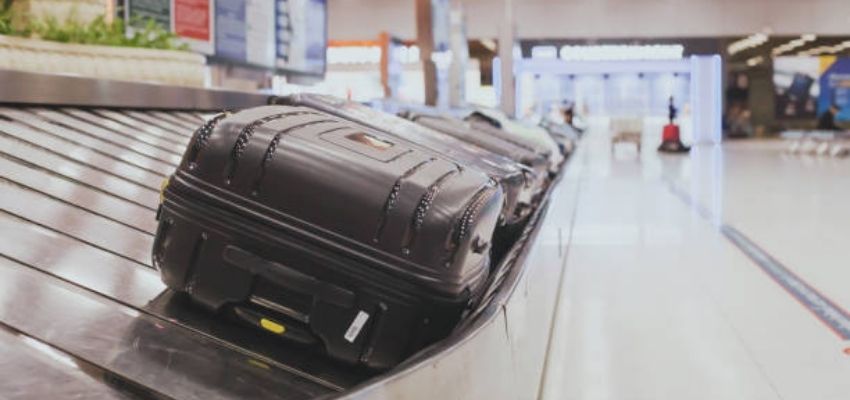 If you didn't receive any additional instructions through SMS or email, your options for filing a baggage delay report from your destination airport.
You can fill out the report online, or contact our ground crew at the United Lost and Found desk if you'd want them to do it for you.
Please keep in mind that transporting your suitcase at some airports may necessitate customs processing. You may need the following report to file a delayed baggage report with the United Airlines baggage lost and found team –
Passenger's names and contact details
Your flight information
The baggage receipt number
Description of the delayed baggage
The airlines will issue a Property Irregularity Report (PIR) that will help you trace your delayed baggage. The next step would be to track your baggage –
How to Track Your Delayed Baggage –
You will receive a property irregularity report (PIR) with a report number after completing the delay report. You can use this number to track the status of your United lost bag using the WorldTracer platform.
The United Airlines lost and found customer service can assist you if you have queries about your delayed baggage.
If your luggage has not been discovered after 72 hours, You can go ahead fill out the United lost item form to provide more information to the airlines.
Compensation for the United Airlines Delayed Baggage –
You can seek compensation for the delayed baggage with the airline if the baggage was delayed beyond 72 hours.
The airlines will reimburse passengers for day-to-day expenses such as medications, toiletries, clothes, etc.
In the case where passengers received baggage anytime after 72 hours from the date when the delayed baggage report was filed, they are required to complete the compensation form within 21 days of receiving the luggage.
Please keep all of the documents and receipts intact until your delayed baggage issue gets resolved.
Lost and Found Policy for Misplaced Baggage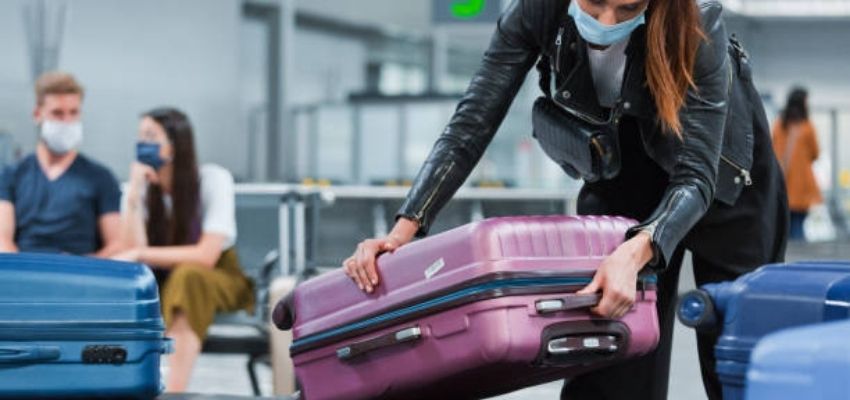 The Airlines will generally declare a suitcase missing between five and fourteen days from the date of the missing baggage report filed by the passenger.
The type of route (international vs. domestic), where the itinerary involves more than one airline, the baggage authority searching conduct, and other factors, as per United lost baggage policy.
Responsibility of the United Airlines If the Baggage is Declared Lost
Once a United airline concludes that your luggage has been lost, they are liable to compensate passengers for the contents in the misplaced bag, subject to depreciation and maximum liability restrictions.
The Airlines is required to refund the baggage fee or additional baggage fee charged during the United Airlines check-in.
For all the important things or contents that were in the missing baggage, the United Airlines lost baggage team may seek receipts or other proof to accurately assess the lost baggage compensation.
Here's what the liability or compensation amount looks like for United Airlines domestic and international travel –
Domestic Lost Baggage Liability –
United Airlines lost and found teams exercise the right to compensation and are permitted to restrict their obligation for a lost, damaged, or delayed bag on domestic flights, as per DOT guidelines.

Airlines can pay more than the amount in lieu of the actual value of the missing bag. The regulation allows for a maximum liability sum of 3,800 USD.
International Lost Baggage Liability –
United Lost and Found claim desk governs the carriage of luggage on most INTERNATIONAL flights. For any baggage that is misplaced, passengers are liable to get 1,780.00 USD. United Airlines can pay more than the amount if they choose to, but they are not obligated to.
Liability for the Missing Assistive Devices –
On domestic flights, United airline's liability for lost or damaged assistive devices is equivalent to the device's original purchase price.
For instance, if the airline destroys or loses an assistive device worth 20,000 USD, the United Airlines baggage lost and found team is liable for 20,000 USD.
If a 20,000 USD worth of assistive device is damaged but not destroyed by an airline, the airline is liable for the cost of the damage up to the original purchase price.
Any piece of equipment that aids a passenger with a disability in coping with the symptoms of his or her disability. The Assistive Device includes Braces, Wheelchairs, Hearing Aids, and Oxygen Concentrators.
United Airlines Lost Item on Flight
While the chances of recovering your United lost item are minimal, there are a few actions you may take to improve your chances of recovering it. Not all scenarios are straightforward. Here's a look at a few potential circumstances and what you should do to (hopefully) reclaim your belongings.
If you're still at the airport when you discover you've misplaced something and haven't gone past security. Go approach the airline desk.
When United Airlines lost carry-on items go missing on an aircraft, approach the claim office's Lost & Found section.
Realizing right away that the item is missing, it's unlikely that it'll be at the office, but notifying the employees and filing a claim will help you receive your lost items quickly.
If you've already left the airport and aren't close enough to return, your best bet is to call United Airlines lost and found a phone number to verify whether the item has been returned to the United lost and found claim desk; if that fails, use the airline's hotline to submit a formal lost item complaint.
List of United Lost and Found Airport Centres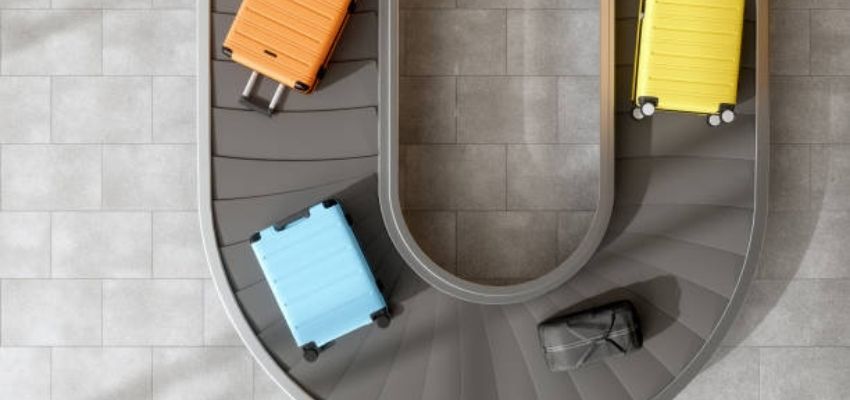 Contact the lost and found United Airlines airport center using the information below if you have any concerns, assistance, or comments about baggage delays, or damaged bags. Below is the airport terminal information you need to know in case of delayed, missed, or damaged baggage –
| | | | |
| --- | --- | --- | --- |
| List of Airport | City | Airport Code | Terminal Information |
| Denver International Airport | Denver, Colorado | DEN | Jeppesen Terminal, on Level 5 |
| George Bush Intercontinental International Airport | Houston, Texas | IAH | Terminal C |
| Newark Liberty International Airport | Newark, New Jersey | EWR | The main terminal building, lower level |
| O'Hare International Airport | Chicago, Illinois | ORD | Terminal C and Terminal A |
| Washington Dulles International Airport | Dulles, Virginia | IAD | Terminal 7, Terminal 8, and in Terminal TB |
| San Francisco International Airport | San Francisco, California | SFO | Gate F11 and E4 of Terminal 3 |
| Los Angeles International Airport | Los Angeles, California | LAX | Terminal 7, Terminal 8, and Terminal TB |
| Boston Logan International Airport | Boston, Massachusetts | BOS | Terminal B 200 |
| Daniel K. Inouye International Airport | Honolulu, Hawaii | HNL | level 1 with 5 baggage claim areas labeled D, E, F, G, and H |
How to report lost or misplaced baggage with United Airlines?
To report lost or misplaced baggage with United Airlines, you can follow these steps:
Immediately contact the United Airlines baggage service department at the airport if you notice your baggage is missing.
Go to the United Airlines baggage service office, which is located in the baggage claim area, and complete a Property Irregularity Report (PIR).
Provide the United Airlines representative with your flight details and a description of your baggage.
Keep your baggage claim tag, as you will need this for United lost baggage tracking.
You can also report your lost baggage online through United Airlines' website or mobile app. Click on the "Baggage" tab and follow the instructions to report your lost or misplaced baggage.
United Airlines will provide you with a file reference number, which you should keep for future reference.
You can track the progress of your lost baggage online or by calling United Airlines' customer service.
If your baggage is found, United Airlines will notify you and arrange for its return to you. If it is not found within 21 days, you may file a claim for United lost Baggage reimbursement for the lost baggage and its contents.
It is important to report lost or misplaced baggage as soon as possible to increase the chances of it being located and returned to you.
In conclusion, United Airlines has a comprehensive lost and found policy in place to help passengers retrieve their lost items. Passengers can report their lost items online, through the mobile app, or by calling the customer service hotline. United Airlines will make every effort to locate and return the lost item to the passenger as quickly as possible.
Frequently Asked Questions – (FAQs)