United is happy to transport guests who require special help. The United Airlines Special Assistance team has solid connections with several groups that support people with disabilities across the globe.
The airlines also have an Accessible Travel Advisory Board composed of people with varied disabilities. The airline introspects on a regular basis to address topics concerning air travel and accessibility, as well as to make comments and advise on how to improve the services.
The airline's goal is to ensure that United will continue to provide reliable, clean, safe, and accessible transportation for all customers, including those with disabilities.
In this post, we will understand how passengers make the most of travel for passengers with disabilities or who need to request any special service. Besides, we have covered what all requests fall under United Airlines disability services, and more.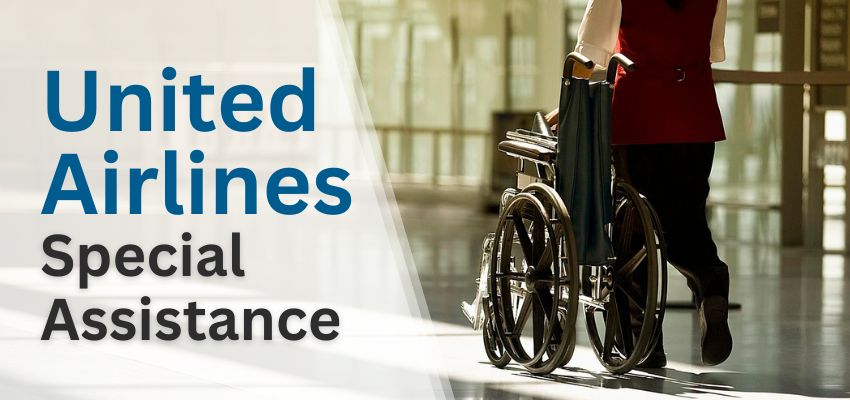 United Special Assistance for Passengers with Disabilities
Below, you may discover details regarding accessibility, safety requirements, how to request United wheelchair assistance, medical clearance, and more.
Accessibility of United Aircraft –
United Economy seats with movable armrests are designated by aircraft type, tail number, and location. Except for the exit row and the bulkhead, all new Boeing aircraft will have adjustable armrests in the United Economy section. In addition –
Different aircraft seats have different armrest release systems.
To avoid unintended release during flight and landing, all release mechanisms are covertly concealed as a safety measure.
The United accessibility release mechanism can be discovered inside the armrests or under the armrest covers.
Some release mechanisms are hidden beneath the rubber armrest cover, around the pivot point where the armrest connects to the seat frame.
Search for an indent on the rubber armrest cover's bottom edge to locate the release, push the button, and raise the armrest.
The armrest must be returned to its "down" position in order to lock it back into place.
Passengers who choose to pre-board are given priority to have their wheelchairs stowed in an onboard closet or compartment upon request.
United Airlines Wheelchair Assistance While Travelling –
The United Airlines disability services team is here to help you every step of the way, from asking for a wheelchair at the airport to using your own. In addition –
Passengers travelling with their own wheelchairs are free to check their wheelchairs or assistive device. This is allowed in addition to your checked bags.
Passengers can carry canes, walkers, scooters, and both manual and electric wheelchairs. They could be collapsible, not foldable, or neither.
If you've already booked your travel, go to My Trips to inform United that you'll be carrying your own wheelchair. Additionally, you can do this when booking at the airport.
Your wheelchair will most certainly need to be checked and transported in the plane's cargo hold if it is powered or non-folding.
To determine whether your wheelchair is eligible for cargo transportation.
You can check your wheelchair hassle-free, all you need to do is fill out the United Airlines wheelchair assistance form, attach it you your chair, and follow these steps –
Check-in at the airport 1 hour before the scheduled departure.
Speak with the agent. You can check your wheelchair at the ticket office or the gate.
Once you check the wheelchair, you can use the wheelchair available at the airport.
Requesting Wheelchair
If you require a wheelchair during your flight or at the airport and have already purchased your ticket, you can request one in My Trips. On the day of departure go to the ticket window or the wheelchair help area in the lobby to pick up the wheelchair you've ordered. Following are the types of wheelchairs available at the airport –
Airport wheelchair – At all of the major airports, manual wheelchairs are available for usage. The standard width of these chairs is 18 inches.
Aisle wheelchair – You can use our specifically made aisle wheelchairs to help you board a plane. The United Airlines disability assistance team helps you access the wheelchair to and from your seat.
Onboard wheelchair – Every plane with more than 60 seats has an onboard wheelchair that can be utilised to get to the restroom.
Passengers Travelling With Ventilators, Respirators and CPAP Machines
United Airlines accessibility desk allows passengers to carry portable respirators, CPAP (Continuous positive airway pressure) devices, and even portable ventilators on board.
Here are the important points to consider –
You need to inform the United Airlines special assistance team at least 48 hours before the scheduled departure.
The United Airlines accessibility desk will confirm that the device you intend to use is included in the list of presently accepted devices.
Seating restrictions may apply due to FAA safety regulations.
Please be aware that there is no guarantee that the in-seat power will work and that it is only accessible on a small number of aircraft.
Guidelines for Requesting Medical Oxygen
In case, passengers need to travel with medical oxygen, the United Airlines airport assistance team may ask for proof from a qualified medical professional to attest to your ability to do so.
Liquid oxygen isn't permitted aboard United aircraft. You can transfer an empty unit as long as the valve is kept open during the flight.
Compressed gas cylinders are permitted in checked luggage or as carry-ons only if the regulator valve is totally detached and the cylinder is no longer sealed. The other guidelines include –
If you're flying to or from Micronesia, you must request inflight therapeutic oxygen at least 48 hours in advance.
United only offers in-flight oxygen.
Each flight segment necessitates the use of an oxygen setup.
The in-flight oxygen system is $150 USD for each flight segment.
If you need oxygen while making ground connections, get in touch with an oxygen supplier.
In Manila (MNL), the cost of using a stretcher is $80 USD.
Usage of Portable Oxygen Concentrators (POCs)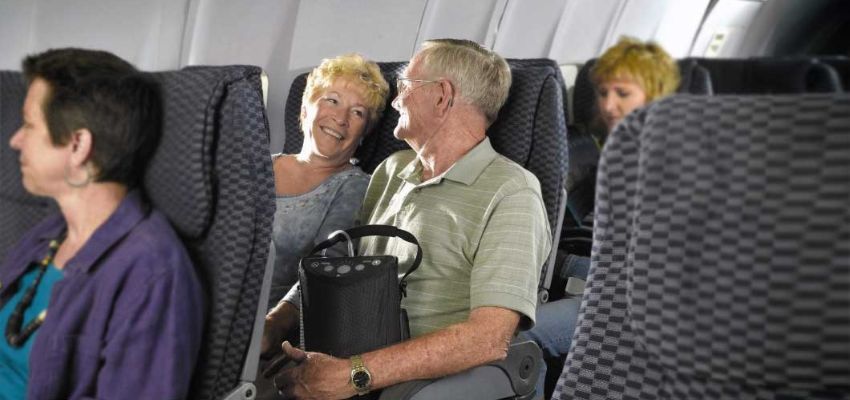 Personal oxygen devices contain compressed gas or liquid oxygen, which are classified as dangerous materials by the Federal Aviation Administration (FAA), hence using them during flights is typically prohibited.
However, the FAA does permit some portable oxygen concentrators (POCs) to be used onboard.
POCs certified by the FAA may be carried and used on certain United flights worldwide at no cost and in accordance with FAA regulations.
If you intend to use a POC on board, you must notify us at least 48 hours in advance. You can find out if the gadget you intend to use is FAA-approved at the United Airlines handicap assistance desk.
If you want to use a POC on board, you must first meet the following requirements:
If a POC will be used on the aircraft, you must let airlines know in advance.
When using a portable oxygen concentrator, you must have a written, signed medical certificate. It is recommended to print the Medical certificate for the POC form from the United's website.
The Medical certificate must specify that oxygen use is necessary for all portions of the flight.
Make sure you bring enough batteries to power the POC for the entire trip.
Hire United Airlines Disability Assistant
Under the United Airlines disability assistance service, the airline will assign disabled passengers an escort that helps passengers with boarding as well as disembarkment.
Personal safety assistance is required to accompany a disabled consumer who has any of the following limitations:
A passenger with a mental illness who is unable to follow the flight crew's safety procedures, including the safety briefing.
A passenger who has severe hearing and vision impairments
A passenger with significant mobility issues who needs assistance physically boarding or getting off the plane
Providing Special Seating for Visitors with Impairments
If you have a disability, the United Airlines disability desk gladly assists you in securing a comfortable seat that best meets your needs in the same quality of service that you have booked. It is advised to make your request at least 24 hours before the scheduled flight. Travellers with a disability who require one or more of the following will be accommodated as much as possible:
Need support using an aisle chair to board the plane.
If you have difficulties moving over a fixed armrest, you should sit on a row with a moveable aisle armrest.
If you're flying with a helper, request adjacent seats so they can help you.
To accommodate a disability, you'll need more legroom.
Note:-
If you want to request this type of accommodation because of your disability, or if you intend to travel with a specialist seating device, please contact the United Airlines disability assistance team.
Please keep in mind that making an online request does not ensure that a certain accommodation will be made.
If you are travelling on a Basic Economy ticket and require special accommodations because of your disability, you will not be allowed to choose a seat during the booking process. Once your reservation is finalised, call United or fill out form.
You should call rather than submit your request online if you need to make a seating arrangement for a trip that takes place within the next seven days.
United Special Services – Frequently Asked Questions (FAQs)
How to request a wheelchair with United airlines?
If you've already booked your travel, go to My Trips to inform United that you'll be carrying your own wheelchair. Additionally, you can do this when booking at the airport. 
Can I use my own wheelchair at the airport?
Checking your wheelchair can wait until you reach the gate. In addition, you can pick up your chair at the gate rather than baggage claim once you land. Just inform the gate staff prior to boarding.
Do I have to pay to fly with a wheelchair?
It is free of cost to avail of the United Airlines wheelchair service. Additional wheelchairs or other assistive devices, even those used for sports, may, however, incur baggage fees.
How can I board my flight in a way that is accessible?
United offers in-build armrests on all of its seats, which makes it an easy transition for handicapped passengers. If unable to locate it, approach the crew member on board for assistance. 
Where can I find assistance at the airport with my wheelchair?
Some airports feature wheelchair assistance facilities. You can also seek assistance from any United agent at the ticket desk.
How will my manual wheelchair be transported?
Every aeroplane has a designated area in the cabin where at least one adult-sized wheelchair can be stored while folded or collapsed. You should expect your wheelchair to be stored in the cargo hold if it doesn't fit properly.