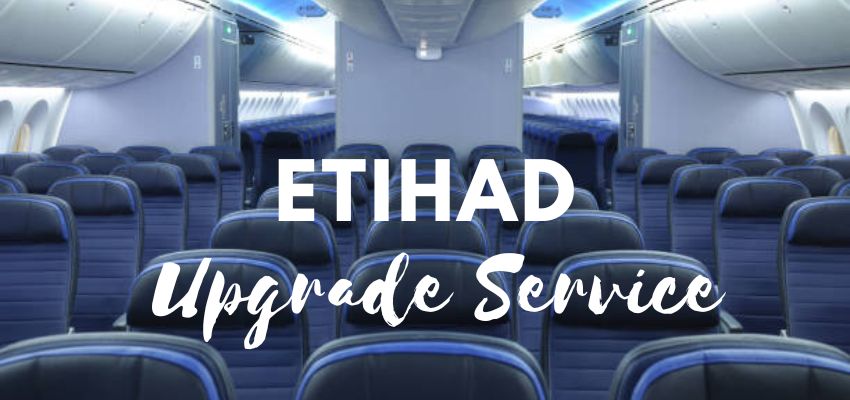 Want to request an Etihad upgrade on your next flight? If you are not a top elite member of Etihad's Guest Miles program, your odds may appear to be less than ideal.
However, you should not lose hope. There is generally a method for you to fly into the premium cabin even when there is great demand and limited availability if you:
Learn how the upgrade procedure works.
Learn how to use your frequent flyer miles to get free upgrades.
Take advantage of low-cost premium flights when they are available.
We'll also learn about getting upgrade for Elites and non-Elites member.
Types of Upgrades on Etihad Airways
A wide variety of a la carte options are available, and you can relax on a totally flat bed with extra room and solitude on board. There are various ways to request the Etihad upgrade, whether you prefer First Class or Business. Here are the ways to get on the upgrade list –
Etihad Guest Miles Upgrade – Once you've accrued enough miles, it's time to redeem those to experience the premium travel.
Etihad Airways Upgrade Bid – Provide a bid and an offer to upgrade to Business or First. You need to pay the minimal fee, and the airline will notify you about the same 24 hours before scheduled departure.
As Airlines for an Upgrade – To upgrade your flight, call the Global Contact Customer Service or reach the Etihad flight executive at the airport.
Push Upgrade – Book a Push Upgrade up to 48 hours before your flight by speaking with one of our representatives. To get started, just give the airline's Customer Service a call, and they'll handle the rest. If an upgrade is available, it will depend on the fare you've booked. You can use a credit card to pay for your Push Upgrade.
Upgrade at airport – When you check in at the airport, there is still time to get an Etihad seat upgrade. After you've upgraded, you can use the airport lounge and bring extra baggage for free. Your fare will decide whether you are qualified to upgrade, subject to availability. Pay using cash, a credit card, or Etihad Guest Miles. For Instant Airport Upgrades, the airline's Chauffeur service is not accessible, and you will only accumulate Etihad Guest Miles in accordance with your original ticket.
How to Upgrade Etihad Flight?
Let's talk about how you can request the Etihad guest upgrade with miles and points, and other options.
Etihad Guest Miles Upgrade
The amount of miles required for an upgrade varies by route and is also determined by the type of ticket you purchased at first.
Take the 'Economy Saver' option and you'll need twice as many miles as a Flex fare, which is 91,198 miles. For instance –
Flying from Sydney to London through Abu Dhabi will cost you:
73,553 miles to upgrade from a 'Economy Flex' ticket.
103,342 miles to upgrade from a 'Economy' fare.
143,612 miles to upgrade from a 'Economy Saver' flight.
Please note – The restricted or Basic Economy fares cannot be upgraded at all.
| | | | | | |
| --- | --- | --- | --- | --- | --- |
| To/From | To/From | From Economy | From Premium Economy | From Business Class | From First Class |
| Abu Dhabi | North America | 75000 + 150 USD | 68000 | 25000 | 15000 |
| Abu Dhabi | Middle East, Africa | 70000 + 175 USD | 59000 + 175 USD | 29000 + 100 USD | 15000 |
| Abu Dhabi | Sub-Continent | 70000 + 175 USD | 68000 | 34000 | 15000 |
| Abu Dhabi | Central America | 70000 + 175 USD | 68000 | 34000 | 15000 |
| Abu Dhabi | Columbia, Guyana, Ecuador, and Peru | 35000 + 350 USD | 25000 | 34000 + 550 USD | 10000 |
| Abu Dhabi | Argentina, Brazil, Uruguay, Chile, Paraguay | 35000 + 350 USD | 25000 | 34000 + 550 USD | 10000 |
| Abu Dhabi | Hong Kong, Japan, South Korea, China, Australia, New Zealand | 35000 + 350 USD | 25000 | 34000 + 550 USD | 10000 |
Etihad seat upgrade Bid
Did you know that you can request an Etihad seat upgrade through bidding using the cash or Guest Miles?
Here's how it works –
Choose whether you want to bid with money or Etihad Guest Miles. You won't be charged unless your bid is accepted.
Make your Etihad upgrade offer; this is in addition to the price you have already paid for your flight.
If your bid is successful, Etihad will notify you.
If you've been outbid, you can increase your bid.
Due to the limited number of seats, we advise you to place your bid as soon as you can. Click here to bid in order to request an upgrade.
If you change your mind about your bid, you can change or cancel it at any time before your upgrade is confirmed; this includes up to 6 hours before departure.
What's next? – After reviewing your offer, the airline will let you know if it was accepted. After it has been submitted, your bid may be accepted at any moment. The airline will notify you 24 hours before the scheduled departure.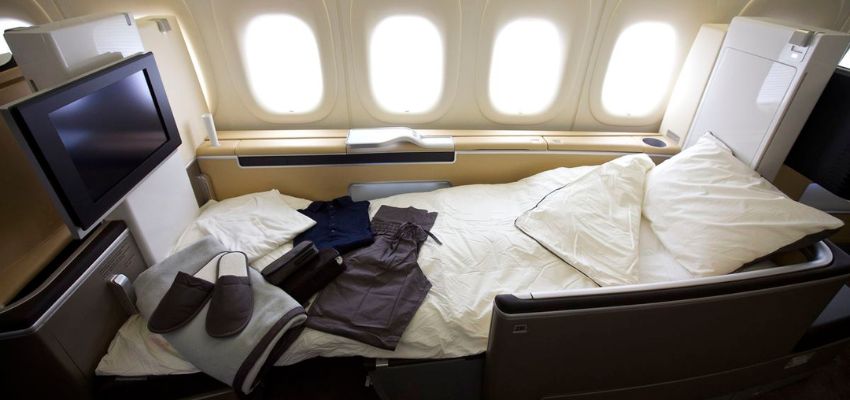 When your bid is accepted
A further email will be sent to you by the airlines to confirm your upgrade. You will be charged the sum of the bid, which is not refundable. In addition – 
When you check in online or at the airport, you'll get your enhanced boarding card.
Once your offer has been approved or if there are fewer than six hours left before your flight, you won't be able to modify or cancel it.
When your bid is unsuccessful
There is nothing you need to do; your original ticket will be kept, and there will be no fees.
What to expect when you request Etihad Business Upgrade Bid? – Here are five reasons for upgrading with your hard-earned miles:
Earn 10% more miles in addition to the miles from your initial booking.
Priority check-in and boarding with a fast track through the airport
Complimentary access to the lounge
Recliner your chair into a fully flat bed when you're ready to sleep.
Dine whenever you want on board with our Etihad's anytime menus.
Call Etihad to request an upgrade
Etihad's friendly staff would love to help you with the upgrade request. Call 24 hours a day, 7 days a week in order to request cash upgrades, through miles, and more. Here are the important conditions that you should consider – 
An Etihad upgrade to Business Class gives you a premium experience and priority service. However, your original ticket's fare restrictions and baggage allowance will still be in effect.
The upgrade is valid for your selected flight. Other flights included in your booking that you didn't elect to upgrade will continue to operate in the original booking class.
If the Etihad upgrade eligibility says that you are eligible for a refund of the original ticket price under the terms, the amount of the upgrade will be repaid to the original form of payment.
Upgrade with Partner Airlines
You can use frequent flier miles from other airlines to request Etihad free upgrade to Business Class. However, using Etihad Guest might also be a terrific way to ticket business class, depending on the transferrable points you have.
The best frequent flier program will also depend on the specific route you're taking. Listed below is a table that shows you how much miles from the Air Canada and Asiana Airlines, costs on some of the well-known Etihad flight routes:
| | | | |
| --- | --- | --- | --- |
| Route (One-Way) | Etihad Miles Cost | Aeroplan Points Cost | Asiana Miles Cost |
| Chicago (ORD) – Abu Dhabi (AUH) | 100,000 miles + 350 USD | 85,000 points + 50 USD | 60,000 miles + 350 USD |
| Johannesburg (JNB) – Abu Dhabi (AUH) | 66,250 miles + 200 USD | 45,000 points + 50 USD | 60,000 miles + 185 USD |
| London (LHR) – Abu Dhabi (AUH) | 62,500 miles + 230 USD | 45,000 points + 350 USD | 30,000 miles + 185 USD |
| New York (JFK) – Abu Dhabi (AUH) | 100,000 miles + 330 USD | 85,000 points + 50 USD | 60,000 miles + 330 USD |
| Paris (CDG) – Abu Dhabi (AUH) | 62,500 miles + 185 USD | 45,000 points + 50 USD | 30,000 miles + 185 USD |
| Seoul (ICN) – Abu Dhabi (AUH) | 72,500 miles + 175 USD | 60,000 points + 50 USD | 60,000 + miles + 175 USD |
| Sydney (SYD) – Abu Dhabi (AUH) | 100,000 miles + 68 USD | 100,000 points + 50 USD | 82,500 miles + 175 USD |
| Tokyo (NRT) – Abu Dhabi (AUH) | 86,250 miles + 185 USD | 80,000 points + 50 USD | 60,000 miles + 185 USD |
| Washington, D.C. (IAD) – Abu Dhabi (AUH) | 120,000 miles + 350 USD | 85,000 points + 50 USD | 60,000 miles + 330 USD |
| Zurich (ZRH) – Abu Dhabi (AUH) | 62,500 miles + 185 USD | 45,000 points + 50 USD | 30,000 miles + 185 USD |
How can you secure a confirmed upgrade with Etihad?
It can be hard to get an upgrade on Etihad Airways. There are ways to boost your chances of getting an upgrade or book a premium cabin directly despite the limited supply and high demand.
With Elite Membership Status
Achieve Executive Platinum Elite status to receive system-wide upgrade certificates. These SWUs are valid on all international flights operated by Etihad tickets for any fare class except restricted fares.
Use GuestMiles to buy first- or business-class reward tickets. The simplest approach to get upgraded to business or first-class tickets is to use miles.
Purchase an upgrade at the gate. Requesting upgrades at the time of airport check-in may be discounted and a good deal. Elite members would be given priority.
Without Elite Membership Status
Request the sponsorship of a top elite member. If you're both taking a flight that qualifies, knowing a top elite member may entitle you to an upgrade. Just submit an upgrade request to the highest elite member.
Buy first- or business-class reward tickets with miles. The simplest approach to reserve a seat in the front of the plane is to use miles to purchase a premium class award ticket. Although there are several methods to earn a lot of Etihad Guest Miles, the sign-up bonuses for credit cards frequently provide enough miles to book a business or first-class award ticket.
Use miles to upgrade. If there is room, request Etihad upgrade with miles that are available for even cheap economy tickets.
Set up fare notifications for business class fares. You can set up fare alerts with websites like Google Flights to receive notifications when the route you're looking for has a decent business or first class deal because discounted business class and premium economy tickets can occasionally be cheaper than the economy.
Trip cancellation or voluntary denial of boarding. You might be able to request an upgrade on the subsequent flight if you miss your connection due to an airline-caused disruption or give up your seat when an aircraft is overbooked.
How to figure out that the upgraded space seat is available with Etihad?
Wondering how to upgrade my Etihad flight? Finding an Etihad seat upgrade is one of the most difficult aspects. An upgrade is not guaranteed just because a business-class seat is available for purchase.
You can check whether systemwide upgrades or mileage upgrade awards are available when you search for a flight on the Etihad Portal. If you have Concierge Key or Elite Diamond status with Etihad, you can easily get to know whether the upgrade is available for a particular class or not.
Call Etihad Customer Service to find out whether upgrade space is available and if miles or 500-mile certificates (elite members) can be used to upgrade on a certain trip.
You can also use a third-party portal to see if there is any space for an upgrade. You will get to know –
C inventory is required if you want to upgrade from Economy to Premium Economy.
You require an 'A' inventory if you are moving from Business class to First Class.
You require C inventory to upgrade from Premium Economy to Business Class.
Frequently Asked Questions (FAQs)
How many miles to upgrade to an Etihad flight?
It depends on the route you take  For instance, if you purchased an Economy Saver ticket on a one-way trip from Los Angeles to Abu Dhabi, you would need about 75,000 Etihad Guest points to upgrade to Etihad Business Class. However, the same airfare for the flight from New York to Abu Dhabi required 68,000 miles. 

How much should I bid for the Etihad upgrade?
Log on to the airline's website www.etihad.com. You'll need the booking reference and the passenger's last name. You'll find it in your flight confirmation email.

A higher offer will increase your chances of receiving an upgrade, so keep that in mind.

How to upgrade Etihad flight?
There are plenty of ways to upgrade the Etihad flight, such as – 

Upgrade with guest miles
Place bid to upgrade
Push upgrade
Instant airport upgrade
How many Etihad miles to upgrade from economy to business?
The number of miles required for an upgrade varies according on the route, but it also depends on the type .

While passengers on mid-range "Economy" fares would require a greater number of miles—63,799 to upgrade to business between Sydney and Abu Dhabi, those on "Economy Flex" fares may do so for just 42,399 Etihad Guest miles.

How to get a free upgrade on Etihad airways?
On Etihad, placing the bid is typically all that is required to receive a complimentary upgrade to business class. Make no mistake, you have a lot of chances to win because flights might be very empty at times. Just give it a shot. But you should do it the day before your flight.

How much does Etihad charge for the upgrade?
The airline charges a change fee between 200 and 550 USD. In addition, if upgrading for cash, passengers are required to pay any applicable fare difference. 

How much do I need to bid for an upgrade?
The starting bid is nearly 350 USD. The maximum bid to upgrade to premium class goes up to 1000 USD. However, this is still far less to spend on the Business Class flight.