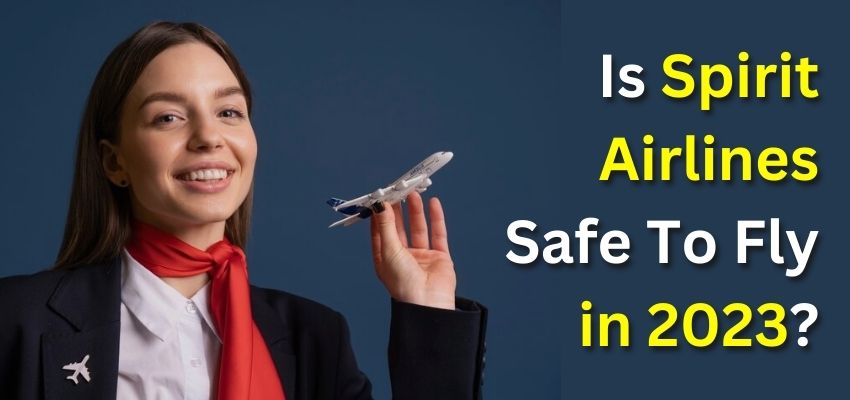 Spirit Airlines is known for offering budget-friendly flights, making it a popular choice for travelers looking to save money. However, because their prices are so low, some people might have a question – Is Spirit Airlines safe to fly? It's natural to wonder if you're getting a lower level of safety when you pay less for a ticket.
If you're a traveler who's considering flying with this low cost carrier on your upcoming trip, you might be feeling a bit anxious about the Spirit Airlines safety.
Here we discuss the aspects of safety on Spirit Airlines that provide you with a clear understanding of what to expect when you choose to fly with this airline.
General Information about Spirit Airlines
Here we delve into the general information about Spirit Airlines, providing insights into its history, operational practices, and most importantly, its safety record.
| Information | Data |
| --- | --- |
| Founded Date | 1983 |
| Fleet Size | 197 aircraft (as of 2023) |
| Aircraft fleet | A320 and A320neo family fleet |
| No. of Destinations | 83 destinations across the Americas |
| Headquarters | Miramar, Florida, United States |
| Email | Not publicly disclosed |
| Contact Number | 801-401-2222 (Customer Support) |
| Official Website | Spirit Airlines Official Website |
| Number of Crashes | Spirit Airlines has had no recorded fatal crashes. |
| Number of Fatalities | Zero (till date) |
Is Spirit Airlines FAA-certified?
When you compare Spirit Airlines to other airlines in terms of safety, you should know that they all have to meet the same safety standards.
FAA certified – In the United States, airlines are checked regularly by a group called the Federal Aviation Administration (FAA) to make sure they're following all the safety rules. This applies to Spirit Airlines which has been certified since its inception.
No major incident – With over 30 years in the skies, Spirit Airlines safety record boasts. They've never lost a plane or a life due to a crash. There are some instances where they've had to make emergency landings for reasons like bird strikes or strange odors onboard.
What is Spirit Airlines safety record?
If you are wondering is Spirit Airlines safe? Spirit Airlines has an excellent safety record in terms of crashes and fatalities. Let's dive into Spirit Airlines safety record, so you can soar the skies with confidence.
Very Few emergency landings
While they've had a few emergency landings in the books, these were all about looking out for passengers' safety. When something doesn't seem right, Spirit Airlines takes swift action to keep you safe.
Zero fatal accidents
The answer to the question – Is Spirit Airlines Safe? is the fact that Spirit Airlines has a sparkling thirty-year history with no fatal accidents. That's right, not a single one. So, rest easy knowing you're in good hands.
Is Spirit Airlines safe in terms of accident?
Spirit Airlines has not experienced any major accidents in its history. But there are few notable incidents that made the headlines in 2023 without any casualty –
| Date | Aircraft Type | Incident Description |
| --- | --- | --- |
| Sep 18, 2023 | Airbus A320-200 | Bird strike |
| Aug 16, 2023 | Airbus A320-200N | Runway incursion |
| Aug 4, 2023 | Airbus A320-200N | Smoke in cabin |
| Jul 20, 2023 | Airbus A319-100 | Turbulence injures 3 cabin crew |
| Jul 8, 2023 | Airbus A320-200 | Engine problem |
| June 20, 2023 | Airbus A320-200 | Smoke indication |
| Jun 11, 2023 | Airbus A320-200 | Engine failure |
| May 4, 2023 | Airbus A319-100 | Cracked cabin window |
| Mar 8, 2023 | Airbus A320-200 | Engine stall |
| Mar 2, 2023 | Airbus A320-200 | Passenger's battery on fire |
Related: Learn which airlines have never had a plane crash.
What are the Spirit Airlines safety measures?
Spirit Airlines takes passenger safety seriously. They regularly maintain their planes, follow strict safety protocols, and train their crews rigorously. They also use advanced tech and a modern fleet of aircraft clearing the doubt that – Is Spirit Airlines Safe.
Regular maintenance – When it comes to Spirit Airlines safety, keep their planes in tip-top shape. They stick to strict schedules for inspections, repairs, and upgrades to ensure that their aircraft are always in prime condition.
Highly trained crew – At Spirit Airlines, they've got qualified manpower. Certified pilots and experienced flight attendants are ready to handle any situation, even emergencies, ensuring your safety.
Cutting-edge technology – Spirit invests in modern aircraft packed with advanced safety tech. These planes come equipped with state-of-the-art navigation systems, weather-monitoring tools, and top-notch safety features to make your journey secure.
Airport security measures – Airlines work closely with airport authorities and security agencies to ensure that passengers and their belongings are safe. Expect rigorous security checks and custom screenings at the airport.
Safety audits – Spirit goes through regular safety audits and regular inspections by the FAA. These checks ensure they meet safety regulations and standards.
Related: Check out here what are the top 10 reasons for plane crashes.
What is Spirit Shortcut Security program?
Spirit Airlines has a little-known secret that can turn your travel experience from chaotic to smooth. The Spirit shortcut security is a game-changer for all travelers. But what exactly does "Spirit Shortcut Security" entail? –
Navigating the airport
It gives you access to the priority/first-class security lane. This means you can breeze past approximately 100 people in the regular TSA line, and it's even shorter than the TSA Precheck line by about 10-15 people.
Simple setup
While checking in for your flight online, you can select "Spirit Shortcut Security." It requires your credit card details. When you select this service, the "shortcut security" will appear on your boarding pass.
Is Spirit Shortcut Security worth it?
For you, who value your time and prefer a hassle-free airport experience, Spirit's Shortcut Security is an add-on well worth considering. At just 6 USD it significantly saves time by eliminating the waiting associated with airport security lines.
Conclusion
Answering the question – Is Spirit Airlines Safe? is that Spirit Airlines offers a wallet-friendly yet safe journey. They've been soaring the skies for over three decades without any fatal accidents, earning your trust. Rigorous maintenance, top-notch training, and modern tech ensure a top-notch Spirit Airlines safety rating. Plus, the "Spirit Shortcut Security" program grants you a hassle-free airport experience. For those valuing time and ease, this add-on is a game-changer.
Frequently Asked Questions – FAQs
How does Spirit Airlines rank in safety?
Spirit Airlines has maintained a commendable safety record throughout its more than 30 years of operation. They have never lost an airplane or experienced a fatal crash. 
What are the top 5 safest airlines?
Some of the top airlines renowned for safety include Qantas, Air New Zealand, Singapore Airlines, Emirates, and Cathay Pacific.
Do Spirit flights get canceled often?
Spirit Airlines occasionally experiences flight cancellations, but the frequency is not very high.
What are the most complaints on Spirit Airlines?
Passengers mostly complain about Spirit Airlines related to baggage fees, cramped seating, and additional charges for services like seat selection and carry-on bags.
What is Spirit Airlines crash record?
Spirit Airlines boasts an impressive safety track record, with a history free from any fatal accidents.