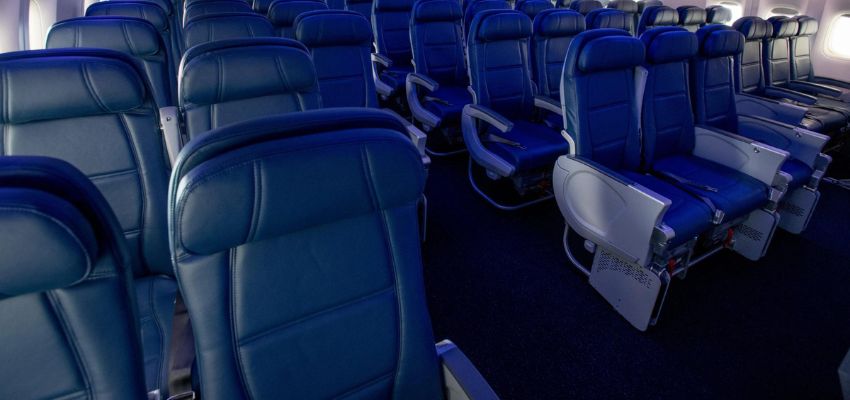 Basic Economy is the newest and cheapest airline ticket available, but it comes with new restrictions that some passengers may not be familiar with. Although Basic Economy seats are situated in the same spot in the aircraft as full-fare seats. It's crucial to comprehend the Delta Basic Economy vs Main Cabin narrative.
Let's compare Basic Economy and Main Cabin on Delta Air Lines, go through the benefits of each, and offer some tips to bear in mind as you buy your ticket. Depending on how you plan to travel, you might prefer to buy one ticket type over another in various situations.
Why did Delta Airlines introduce Basic Economy?
Basic Economy was introduced by Delta Airlines several years ago to appeal to the price-conscious passengers who also do not want to pay for unnecessary services and add-ons.
Traditional legacy carriers like Delta Airlines had to alter their business models in order to attract passengers who were switching to other airlines as numerous low-cost carriers, like Frontier or Spirit.
Some airlines, such as Delta, used to include checked bags in their standard fares. There were no restrictions on seating arrangements, and anyone who had the money may upgrade. As time went on, it became clear to travelers that they did not want to pay for services they were not using, and fare stratification was established.
Worldwide low-cost carriers started to segment flights and offer a base fare with extra fees for items like checked luggage, seat assignments, upgrades, and even meals.
This is how Delta and other legacy carriers introduced Basic Economy fare.
What is Basic Economy on Delta Airlines?
Delta's Basic Economy tickets differ significantly from ordinary Main Cabin tickets, therefore it's vital to understand these limitations so you may fly wisely.
Baggage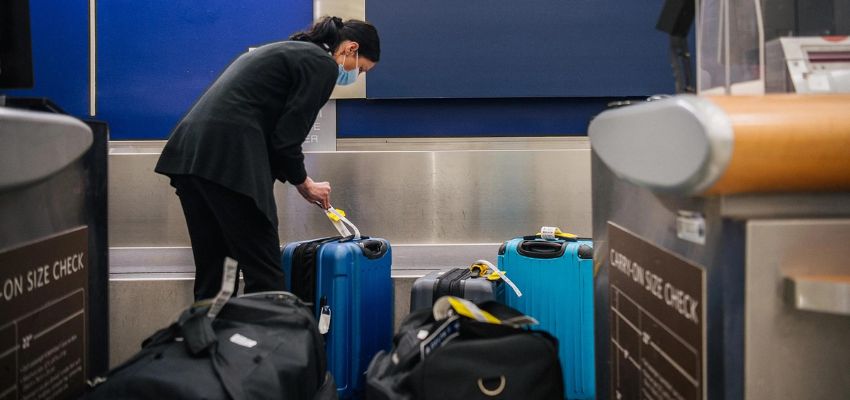 If you're flying in Basic Economy, you can bring the same amount of luggage as a Main Cabin passenger. One carry-on baggage that fits under the seat in front of you and a larger carry-on bag that fits in the overhead bin above your seat.
However, because Basic Economy passengers board last, there may not be much room in the overhead bins for luggage. If you're traveling on a Basic Economy rate, make sure to pack little.
Whether flying domestic or international, the checked baggage for Basic economy economy passengers is not included in the ticket.
Flight changes
Basic Economy tickets are Delta's most restrictive ticket choice, with no changes permitted under any circumstances.
If changes are not allowed no change fee and applicable fare difference would be levied. In other words, there is no amount of money you can spend to change your ticket.
In case, passengers still need to change the Delta airlines reservation, you will forfeit the full fare value of your ticket and will effectively have to book your flight again.
Flight cancellation
As per cancellation policy, you must pay a penalty of 200 USD if you wish to cancel the booking, and get the credit on the remaining value of the ticket. However, bear in mind that the majority of Basic Economy tickets will cost less than this.
But, passengers flying in and out of the United States may cancel the reservation within 24 hours of purchase for free provided that the scheduled departure date must be at least 7 or more days at the time of purchase.
Note – The takeaway from this is that you should only buy a Basic Economy ticket if you are certain about your travel itinerary. Buy a regular Main Cabin ticket with the option to change if you aren't.
Standby request
Basic Economy tickets are also not eligible for any same-day changes, even for elite passengers.
Boarding
Basic Economy customers are the absolute last to board the plane. To avoid this, a Basic Economy traveler can board earlier if they are an elite member or have a credit card with the Delta brand.
Seat selection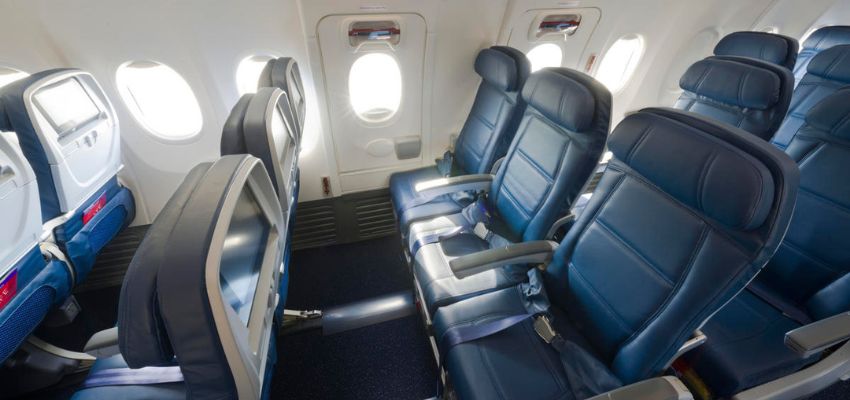 At check-in, seats in Basic Economy are assigned at random, without the passengers having any say in the matter. As a result, Basic Economy prices should be avoided by families who prefer to sit together, as there is no guarantee that you will be able to sit together.
Upgrades
Sadly, passengers traveling in Basic Economy are not eligible to upgrade, either through a paid upgrade or as part of elite rewards.
Rebooking
If you purchase a Basic Economy ticket, you will be among the last people on your airplane to receive protection on alternate flights. Those with conventional Main Cabin fare will be given priority.
In general, elite status holders will get assistance regardless of the type of ticket they are on, however if you are traveling on a Basic Economy ticket without status, it could be challenging to get rebooked because other possibilities might be fully booked.
Acquiring miles and status points
SkyMiles, Medallion Qualifying Miles, Medallion Qualifying Dollars, and Medallion Qualifying Segments are not awarded by using Delta's Basic Economy.
If you want to get status, keep in mind that you must purchase standard Main Cabin tickets because they are less expensive.
What is the Main Cabin on Delta Airlines?
Want to delve deeper in order to have a comprehensive view over Delta Main Cabin vs Basic Economy fare?
Purchase Main Cabin to gain more flexibility and autonomy. To plan your travel more easily and with greater peace of mind, reserve an available seat in advance. Additionally, you have the option to upgrade to one of our premium experiences.
Baggage
One carry-on bag can fit under the seat in front of you, and the other one can go in the overhead compartment when you purchase a standard Delta Main Cabin ticket. Additionally, for domestic flights 1 checked bag is free.
Ticket Changes
Passengers can make changes within 24 hours of purchase without any fee. Elites on Main Cabin tickets can standby for alternative flights for free or make same-day changes for free, according to their elite tier rules. They pay the appropriate cost if it is not free.
Boarding
If you buy a Main Cabin ticket, you'll board with either Main Cabin group 1, 2, or 3, depending on your elite tier, if you have one.
Seat selection
One of the best advantages of purchasing a Main Cabin ticket is that you can guarantee yourself a moderately comfortable seat without worrying that, as with Basic Economy tickets, you will be given a middle seat at check-in.
Upgrade
In contrast to Basic Economy tickets, all Main Cabin tariffs are upgradeable:
Elite members may request for complimentary Delta airlines upgrade –
You can pay to upgrade to Comfort Plus.
On lengthier flights, you can use a regional or global upgrade, but you will only be upgraded to Premium Select.
You can pay the price difference between first class and economy class.
Rebooking
You will be given precedence for seats on other flights in the event that your flight is delayed or canceled, and you will be rebooked before passengers in Basic Economy.
Acquiring miles and status points
You will be given precedence for seats on other flights in the event that your flight is delayed or canceled, and you will be rebooked before passengers in Basic Economy.
A Summary of Delta's Cabin Class
There are various classes of service offered by Delta that are available to different passengers and on various flights. Reviewing these class options is necessary to comprehend how Basic Economy and conventional Main Cabin fit in.
The difference between Basic Economy and Main Cabin is incomplete without having an overview of all cabin classes.
First Class
First class is available on all narrow-body jets flying domestically as well as to Canada, Mexico, and the Caribbean. Typically, these seats are arranged in a 1-2 pattern on regional jets and a 2-2 layout on mainline aircraft.
Priority baggage and boarding, dedicated baggage bins, complimentary meals and beverages are all included in first class.
Delta One
This is Delta's premier cabin on long-haul or premium flights. Delta One seats are all flat-bed seats that are available on a range of aircraft types, including 757s and 767s.
These flat-bed seats are available on most international flights to Europe, Asia, Oceania, and Africa. It also features upgraded meals, premium lounge access, priority boarding, and many other benefits.
Premium Select
The seat in Delta's Premium Select is comparable to the one in its domestic first class cabin. It is an A-grade substitute of the Premium Economy.
The majority of wide-body aircraft include these seats, which offer additional legroom, seatback televisions, and improved meal service. Despite having more space than a coach, this cabin's service flow is identical to that of the Main Cabin offering.
Delta Comfort Plus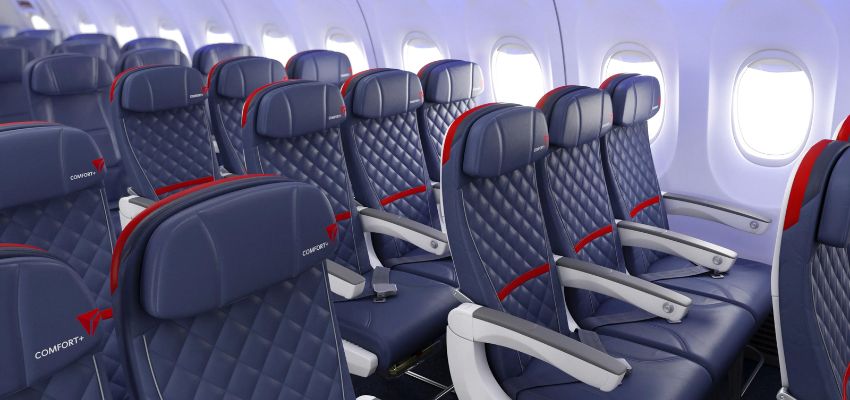 Delta Comfort+ is extra legroom seating in the Main Cabin. These might be bulkheads, escape rows, or other spaces with more space.
Although they remain in the Main Cabin, these seats offer complimentary alcoholic beverages and small nibbles. Usually, these seats are available for free selection by elite members.
Basic Economy
Basic Economy is a ticket category that enables passengers to sit in the Main Cabin with few amenities and no assigned seat in advance.
The ticket holders will not be able to choose their seat. The seats will be assigned to them in the Main Cabin within 24 hours of departure or at check-in.
Is Main Cabin Better Than Economy on Delta Airlines?
Basic Economy is not for everyone.
People of the following categories should refrain from engaging in Basic Economy:
If travelers with elite status are interested in upgrading, they must purchase a regular economy fare.
Those who frequently change their tickets.
If you need to check in luggage.Main Cabin and other fares include complimentary baggage.
Passengers who prefer specific seats on the plane ].
For passengers on a tight budget who only care about getting from point A to point B and don't care about the facilities included in the ticket, a Basic Economy ticket is ideal.
Frequently Asked Questions (FAQs) – Delta Basic Economy vs Main Cabin
Does Delta Basic Economy allow carry on?
Yes! Similar to Delta's standard Main Cabin service, you are permitted to check in one carry-on bag to be stored in the overhead bin and one personal item to fit underneath the seat in front of you. Remember that Basic Economy customers are the last to enter the aircraft, so there may not be much room for storage if the trip is overbooked.
What is the difference between Delta Basic Economy and Main Cabin fare?
In summary, Delta Basic Economy tickets do not include any upgrade chances, advanced seat selection, or checked baggage. A Delta Basic Economy fare is not for you if you typically check a bag, who loves to upgrade, or care about which spot in the aircraft you sit in.
Does Basic Economy provide a seat guarantee?
No. You will get a random seat allotted by the Delta Airlines staff when purchasing a Basic Economy ticket.
Does the basic economy include a checked bag?
Tickets in the Basic Economy do not include a complimentary checked bag. If you do not have elite status, you will need to pay the necessary fees in order to check a bag.